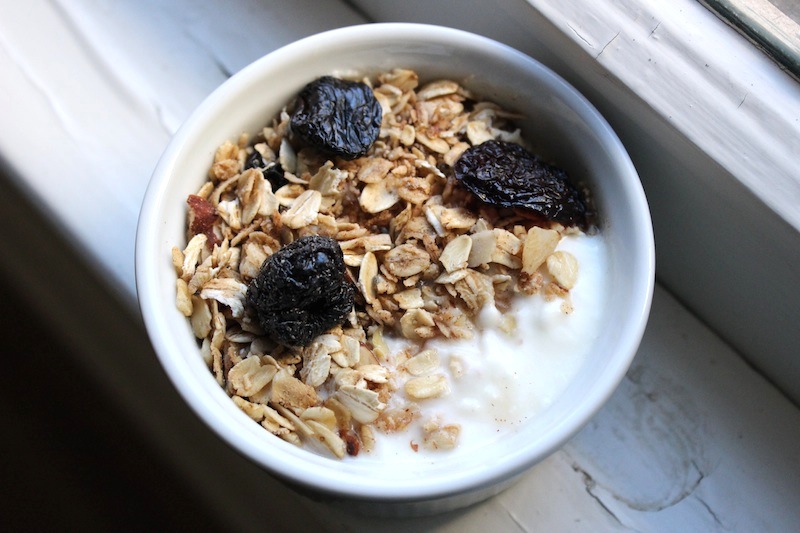 I bought mint chocolate chip ice cream last week. It's something I rarely do, because I have no control over myself when it's in the house. But I did. I bought it. The super premium, extra rich and delicious kind, that's actually white, with tons of chocolate slivers. On Thursday night I had to go out for an hour, and when I walked back in the door at 8:30, I headed straight to the freezer. The kids were tucked in already, Brian was on Skype with a friend, and I just wanted to decompress. So I filled a small ramekin with my ice cream (proud of myself for attempting portion control,) and curled up on the couch. Intending to pull up Downton Abbey on the DVR,  I turned on the TV and what's on live but The Biggest Loser season finale. It's not like I even watch this show, but it's impossible not to get sucked in. There's one incredible transformation after another, with stories to boot about the importance of making healthy choices so you can live a happier, longer life. So I watched… and ate my ice cream. And then there was a commercial, and because it wasn't recorded, I actually had to wait for the show to resume. So while the participants changed into their "weigh-in" clothes, I went back to the freezer for what was now a heaping second helping of ice cream. And as I saw before and after images of 100 pound weight losses, I continued to spoon my ice cream in, fully noting the irony.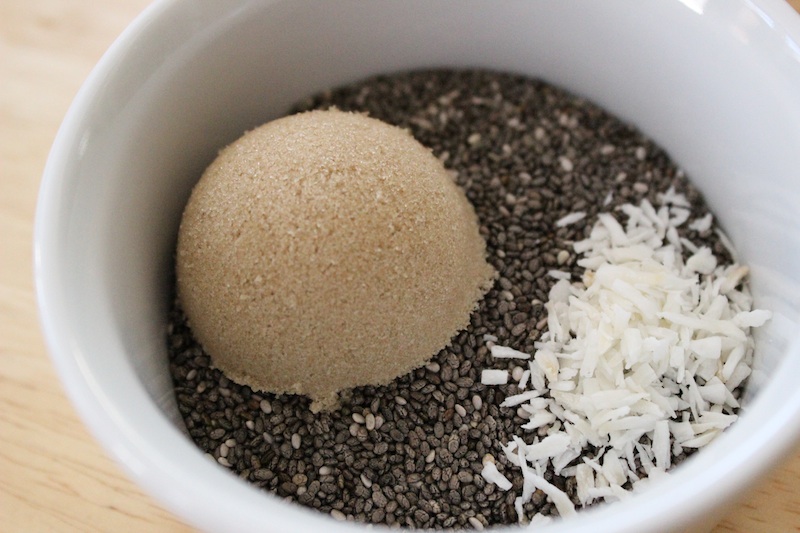 But that's normal, right? Knowing logically what the smart thing is, the healthy thing, yet consciously doing the opposite? And when I say normal, I don't mean that it's something to be proud of, it's just something that is. It's reality. So that night I indulged myself with the ice cream, and then I did in fact watch Downton Abbey, and then I realized that the final episode Parenthood was on. And since I was already emotional, I knew that I would be guaranteed to have a good cry if I stayed up to watch it too, and so I did. (I stayed up, AND I cried. Did you see it? So good.) And none of those decisions were smart or healthy. I was still recovering from the plague that hit our house, and I had a full day on Friday, but I was up until almost midnight. There goes healthy choices…..
But I redeemed myself. While Thursday night was a wash, I knew I could start the next day with a clean slate. A smart breakfast with some plain yogurt, fruit and granola. In the same way I told you about making homemade toasted oatmeal with flax and chia instead of buying the super sugary packets all the time, for the last many years I've been making my own granola. I mean, have you ever looked at the nutritional information in store bought granola? Most of the time, it's just not pretty. But if you make it yourself, you have control over what goes in it: the kind of sweeteners and how much, the use of healthy fats, and you keep the artificial out of it. Oh, and of course, it tastes amazing.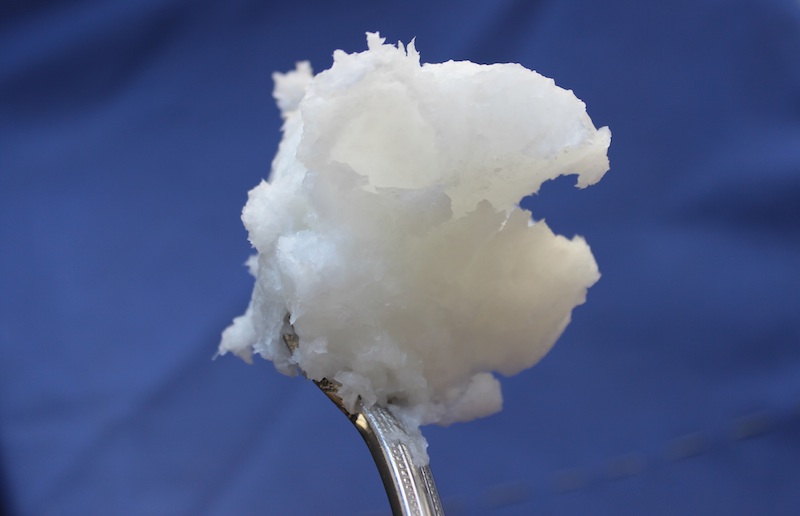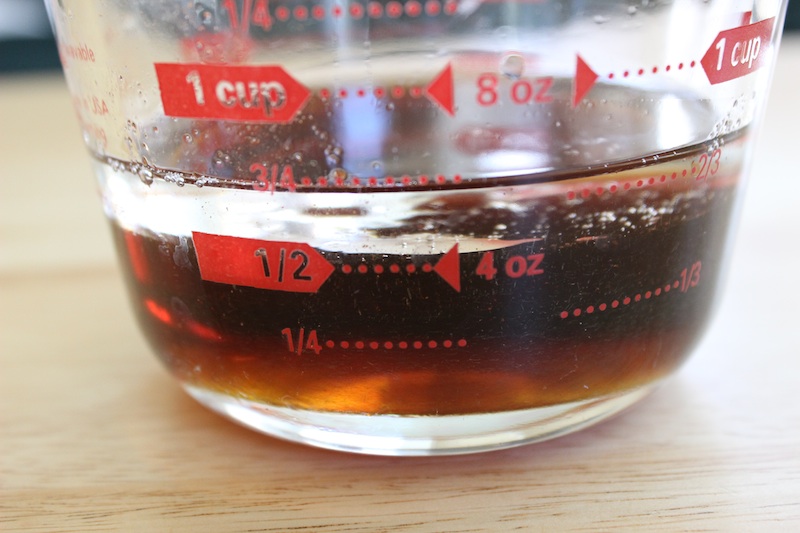 I've played around with my recipe more times than I can count, but this Coconut Maple Granola I'm posting today is my all-time favorite. Only lightly sweetened, it's crunchy with a hint of salt, extra flavor from cinnamon, ginger and maple, and has toasted coconut laced throughout it. I use almonds for a little protein boost, but any seeds or nuts you like will work. In the time it takes to preheat the oven, you can throw everything together, and thirty minutes later you have a giant batch of granola that can be stored for weeks. But if you're like me, there's no chance it will last that long. Serve it with yogurt and berries, in a bowl with milk, or eat it straight up off the baking tray or sprinkled on vanilla ice cream. Or be a good neighbor, and throw some in a plastic bag and deliver it down the street to the friend that's been asking for the recipe for at least a year. (Better late than never, Shelley?)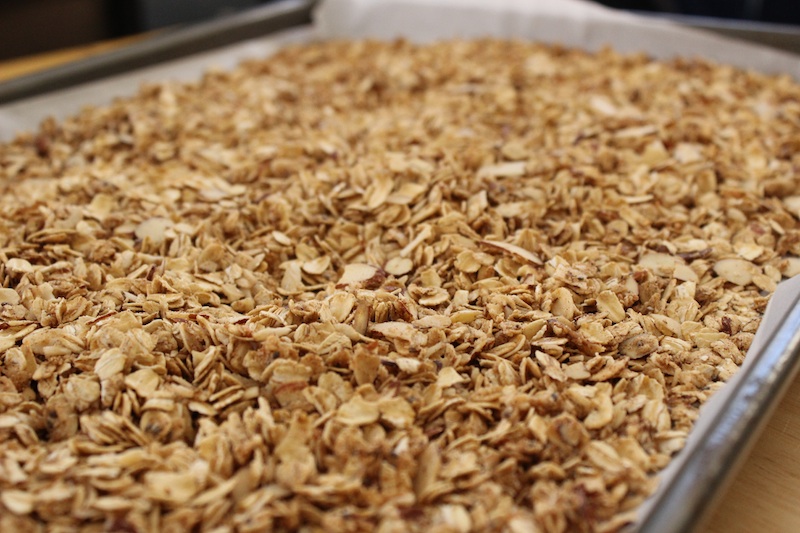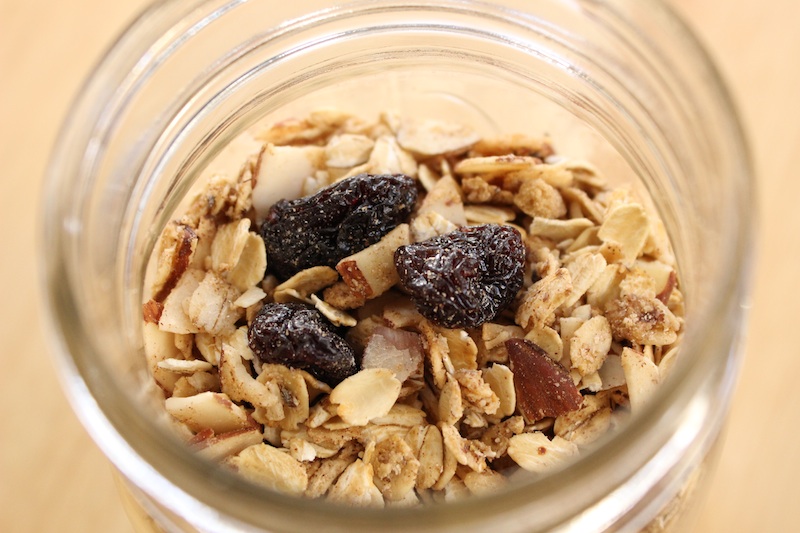 This granola is flexible, fast and easy to make, healthy and full of flavor. It's a smart choice to make the morning after an ice cream binge, because it's something you can feel good about baking and eating. If you're looking for other breakfast/oat options, I've also shared Toasted Oatmeal with Flax and Chia, Chewy Sesame Granola Bars with Dark Chocolate Chunks, and Martha Stewart's Buttermilk Pancakes. And if my talk of ice cream has sparked a craving, stay tuned for the best Extra Dark Chocolate Ice Cream recipe I'll be posting soon. It's definitely worth the indulgence.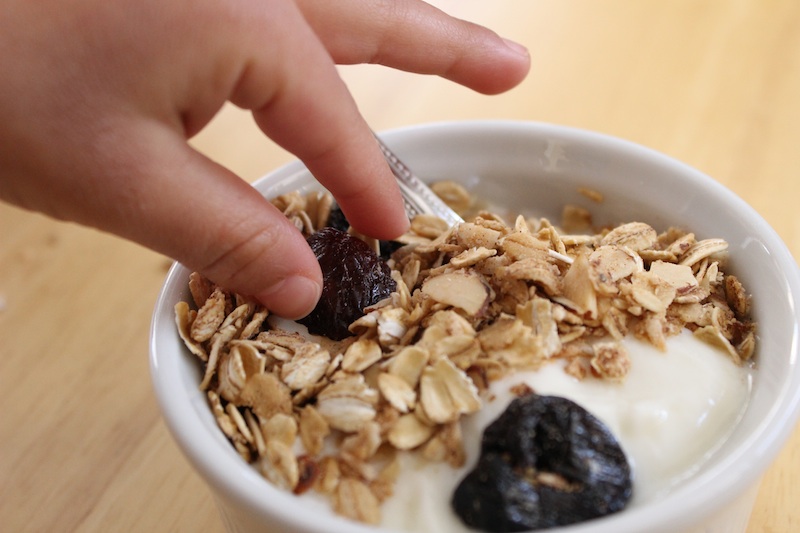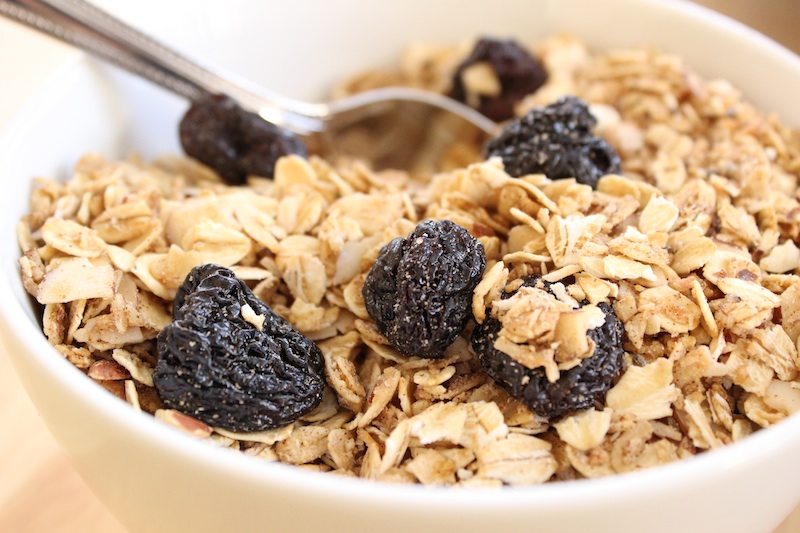 This Coconut Maple Granola is flexible, fast and easy to make, and healthy. Only lightly sweetened, it's crunchy with a hint of salt, extra flavor from cinnamon, ginger and maple, and has toasted coconut laced throughout. Perfect for a quick breakfast or snack, it's something you can feel good about baking and eating.
Ingredients
6 cups old fashioned oats (565 grams)
1 cup unsweetened shredded coconut (80 grams)
1 cup raw sliced almonds (115 grams)
1/4 cup ground flax meal (25 grams)
1/4 cup chia seeds (38 grams)
5 Tablespoons light brown sugar (70 grams)
1 Tablespoon ground cinnamon
1½ teaspoons ground ginger
1 teaspoon kosher salt
¼ cup coconut oil, melted
½ cup maple syrup
1 cup dried fruit, optional (cherries, cranberries, raisins)
Instructions
Preheat the oven to 300°F/150°C. Line two baking sheets with parchment or silpats. Set the oven racks so that you can bake both sheets at once in the top 1/3 and bottom 1/3 of the oven.
In a large bowl, mix all of the dry ingredients together (do not add the fruit yet though!) In a large liquid measuring cup or a small bowl, mix together the coconut oil and maple syrup. Pour the oil and syrup mix into your granola bowl, and toss so that it is all well combined.
Divide the granola between the baking sheets and spread out evenly. Bake for 30 minutes total, stirring the granola at 10 minute intervals, until it has darkened in color to a toasty brown. (After ten minutes, and after 20 minutes.)
Let it cool completely, and then add in the optional dried fruit, and serve with plain yogurt, fresh fruit, or eat it on its own.
Notes
*If it's summer, your coconut oil is probably already melted in the jar. If it it's solid, heat the coconut oil and maple syrup in a small saucepan or the microwave until it is liquid and stir to combine.
**No coconut oil? Just use extra virgin olive oil instead.
***Play with your ingredients. Use whatever nuts you like, substitute honey for maple syrup, use flaked coconut instead of shredded, add a teaspoon of cardamom. This is a very flexible recipe.
****This will keep stored in an air-tight container for at least 3 weeks. (If it lasts that long!)
http://tastyoasis.net/2015/02/04/coconut-maple-granola/
© Tasty Oasis 2017
Related posts: