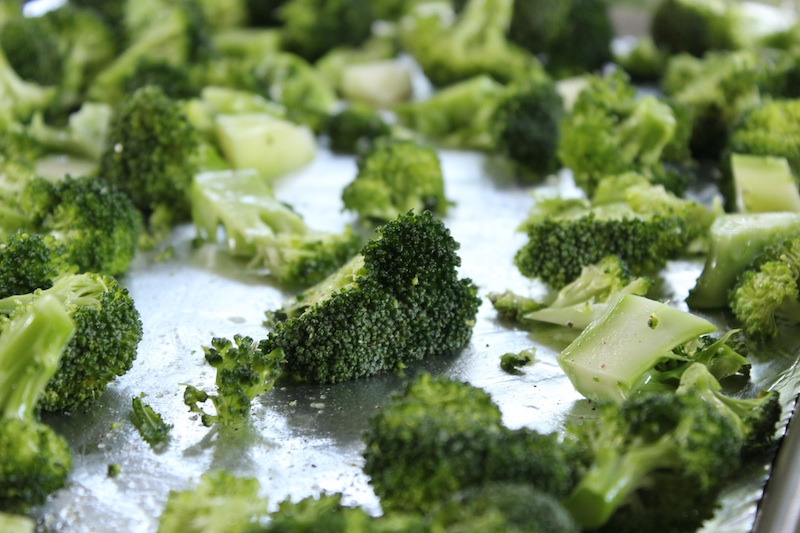 A million years ago, (by which I mean August,) I posted a recipe for Spice-Crusted Roasted Salmon, and in the comments my friend Amanda asked about the broccoli that I served to go alongside it. In my response I told her that it was just the simplest of dishes: broccoli roasted at a high temperature with extra virgin olive oil, kosher salt and black pepper. I also promised I would do a post about it soon, even though it is so easy you don't even need a recipe.  But summer turned to fall, and fall to winter, and here we are.  Better late than never, right?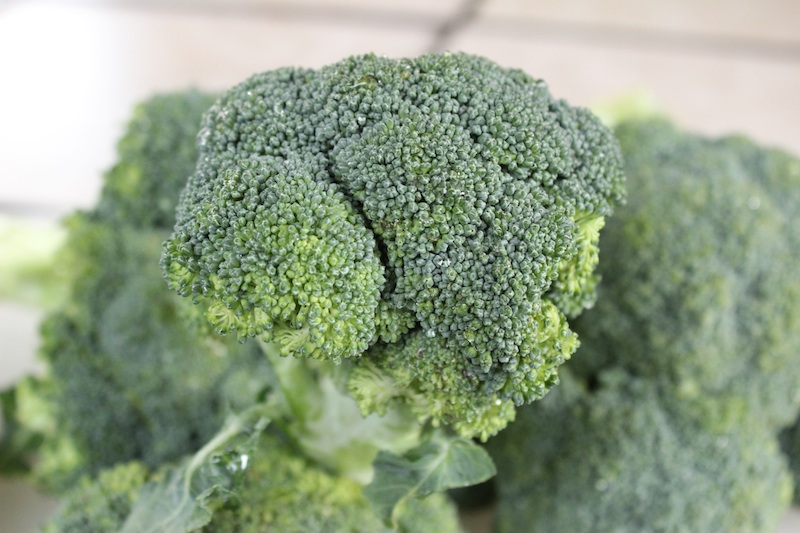 And since it's been a couple of weeks since my last post, I came to the computer tonight determined to get something to you, and quick and easy (in the cooking and the writing both) are my watch words. You see, my house has been under quarantine the last week and a half: like everyone else, we got hit by the flu, by bronchitis, by random fevers and by unending cacophonous coughs that make you want to cry. Sure we all had our flu shots, but as the media has reported, this year was a misfire on that front. So all four of us were home this week, looking and feeling as pathetic as can be, and cooking and blogging were the last things on my mind. But the fog has lifted, and we're all heading back to school and work tomorrow. And healthy, bright and green seems a smart way to go. Oh, and did I mention quick and easy? Because that's key.
While I'm happy enough to have broccoli raw in a salad, the stalks sliced up in a slaw, or simply steamed in the microwave, roasting this vegetable transforms the ordinary into something crispy, salty, sweet and utterly addictive. As long as you have plenty of air circulating around each little piece, the high heat allows the natural sugars in it to caramelize, and you get a great mix of crunchy and tender all at the same time. (If you pile it all onto your baking sheet, you just end up steaming it in the oven, so make sure to spread it all out!) Instead of an obligation, it's more of a finger food that you just can't stop picking off of the tray, even before it hits a serving bowl or your plate. My kids will eat tons of it, and it's so surprising that I even set it out as a snack one night at book club. Just like chips would have, it disappeared quickly. (Don't worry, I offered plenty of cheese, wine and chocolate too, so I wasn't trying to make a statement or anything. I'm not crazy…)
If roasted broccoli hasn't been on your radar, or if you've tried it with little success, please pick some broccoli up at the store the next time you go. If you're lazy like I mostly am, you can even buy a bag of already cut and washed broccoli in the produce section, and your prep time will be around 3 minutes. And if you line your baking sheet with foil or parchment paper, and toss everything right on it, your clean up will be about the same. And it doesn't have to be the height of summer for this, because even slightly sad and dying broccoli will perk right up with this treatment. When I've left mine in the fridge for a bit too long, this is the salvation.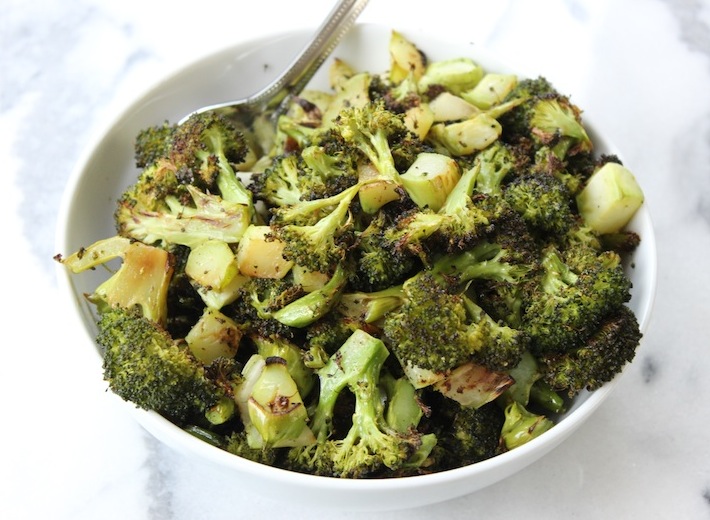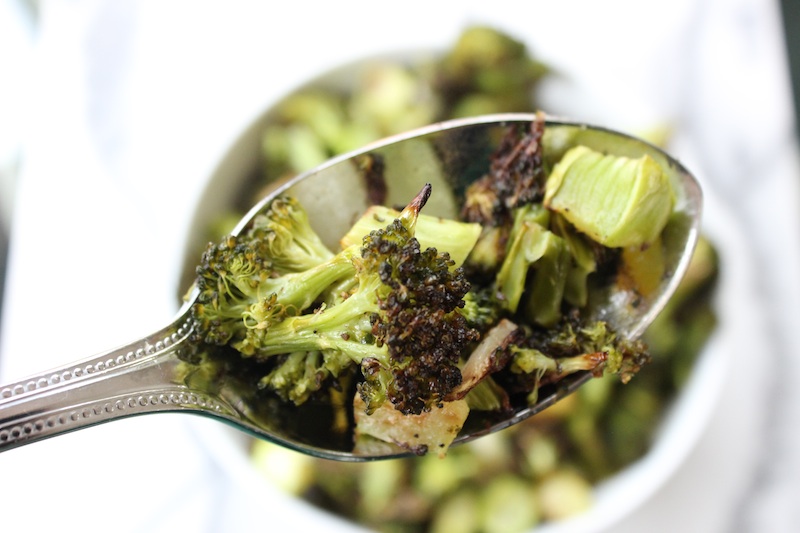 Of course, if you are feeling more ambitious and want to take it to another level, my favorite recipe to do that is one that I found in The FOOD52 Cookbook. (All the recipes are from their website, which you should really check out. But while the website can be overwhelming with so many options, the book narrows it down to the ones you really want to cook.  It's an affiliate link, but only because I use it all the time and I think you'll love it too.)  Roasted Bagna Cauda Broccoli adds a few more steps that include butter, anchovies, garlic, lemon, parmesan and almonds, and will make you moan with delight. (Over broccoli. Moan. Seriously. Not a "When Harry Met Sally" moan, but an "I can't talk to you, I'm enjoying every minute of this broccoli" moan.) But you know, that takes some extra effort, ingredients and planning, and doesn't happen for me on a weeknight. But when I have some time, it's absolutely worth it.
But back to basics: this super simple, quick and easy, extra healthy roasted broccoli is a side dish you can make while trying to accomplish other things (like trying to recover from the plague.) And once you have it, you can eat it on it's own, or toss it into a salad, or use it to top a pizza with some red onions, feta and a sprinkling of fresh herbs. Add it to your repertoire and you won't be sorry.
The Simplest Roasted Broccoli
Roasting broccoli transforms the ordinary into something crispy, salty, sweet and utterly addictive. The caramelized crunch that comes from cooking at a high heat makes this quick and easy dish the perfect snack or side for any meal, with minimal prep or clean up allowing you time to do other things.
Ingredients
1 large head of broccoli
1/4 cup extra virgin olive oil (more or less, depending on how big your broccoli is)
kosher salt and freshly ground pepper to taste
the juice of half a lemon (optional)
Instructions
Preheat your oven to 425°F/220°C, and line a rimmed baking sheet with aluminum foil or parchment paper (for easy clean up.)
Trim the stalks of your broccoli by carefully slicing off any particularly tough parts, or peeling the tough outer layer with a vegetable peeler. Cut the stalk into small cubes (about an inch long/thick,) and the top into bite-size florets. In a medium size bowl (or directly on the baking sheet if you want even less to wash) toss the broccoli with the olive oil so that it is all lightly coated. Take a heaping pinch of salt and several grinds of black pepper, and again toss everything. Spread the broccoli out so that there is space around each piece. You need the air to circulate around it so that it gets browned and crispy, and if they're too close it is just going to steam and be soggy. (If that means you need a second baking sheet, go grab it! It will make all the difference.) Once it is spread out, throw some more salt on and a few more grinds of pepper. Pop it into the middle of the hot oven for 20-25 minutes, making sure you use a spoon or a spatula to flip your broccoli around after the first 15 minutes. You want it all to get toasty brown spots, but not burned beyond recognition, so keep an eye on it at the 20 minute mark.
Before serving, you can squeeze some fresh lemon juice on it, but it's not a deal breaker if you don't have it. It's perfect just as it is.
Notes
http://tastyoasis.net/2015/01/19/the-simplest-roasted-broccoli/
© Tasty Oasis 2017
Related posts: