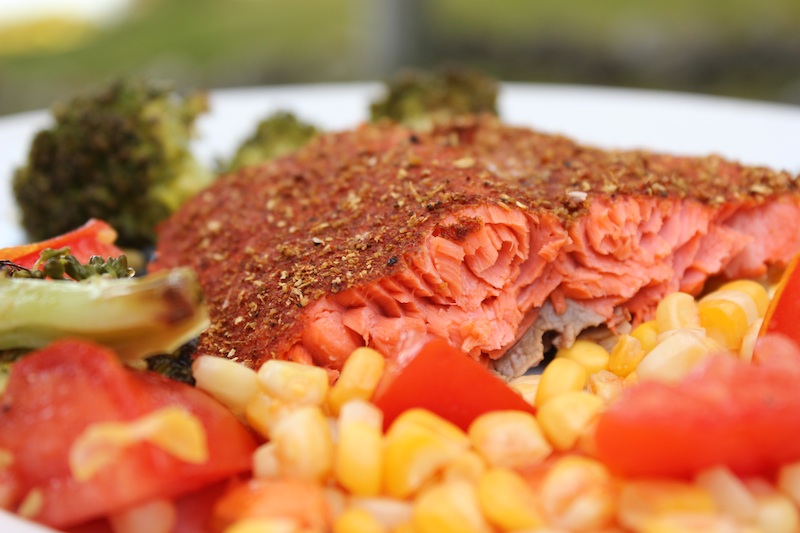 Fish is one of those things that everyone says they want to make more often. I know I do. Healthy for you, fast to prepare and usually a hit, I always intend to cook it more frequently than I do. Truth be told, the reason is a matter of convenience and cost. I typically do my main grocery shopping once a week, and often at a place without a proper fish counter or one that leaves something to be desired. And when you factor in buying sustainable fish, you're looking at wild caught varieties or the ethically farmed ones, and it can become expensive.  So I fall back on tilapia most of the time, or defrost something frozen, but am always so happy when I throw fish into my kitchen rotation.
But I was on vacation last week in Maine, and seafood was a daily part of our eating. From lobster rolls, to fried clams, to haddock tacos, I was in heaven. We rented a cottage right on the water, with a tree house and plenty of rocks to climb on and tide pools to explore.  Although I had a list a mile long of places to go, we ended up hanging out most of the time in this picture postcard setting.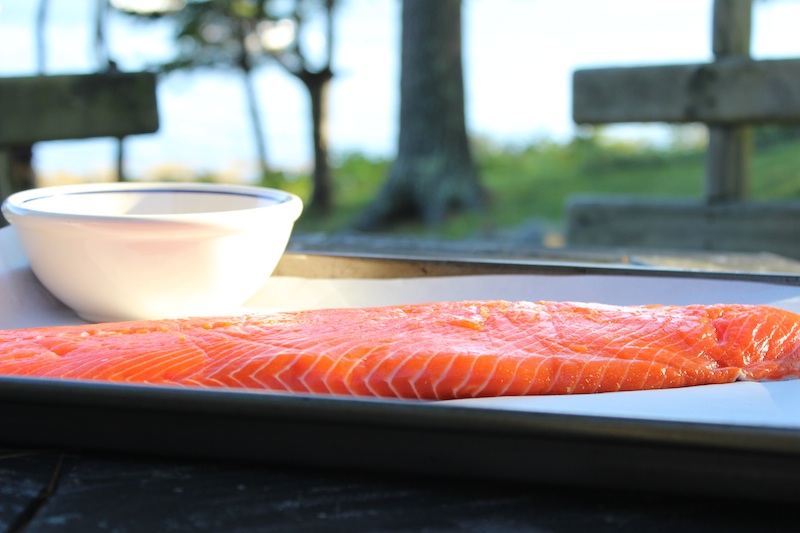 And as luck would have it, there was an amazing deal on wild caught Alaskan Sockeye Salmon at the local market.  As part of my arsenal I happened to pack a selection of spices, which worked out perfectly for this recipe which is a tried and true favorite. My sister-in-law started making a version of this years ago for family gatherings, and I've adapted it only slightly. As I wrote about recently, I toast and grind my own cumin and coriander for this recipe, which is such a simple step that coaxes out amazing flavor from something that can be stored in your pantry. (If this sounds like a deal breaker for you, I am all for using already ground spices so please don't tune out!) I switch the paprika to smoked paprika, double the amount of spices, and keep it simple by just roasting the fish on its own.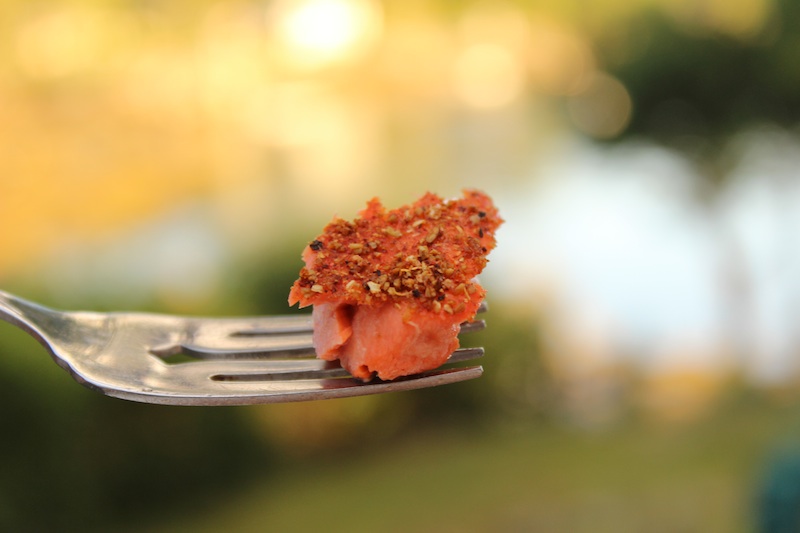 This is a dish that can be thrown together in less than the time it takes to preheat the oven, so it is ideal for a weeknight meal, serving to company for brunch or a formal dinner, and even on vacation when you just want to be reading a good book or sitting with wine on the dock as the sun sets. With roasted broccoli and summer corn and tomatoes from the farm stand, it really is a perfect meal.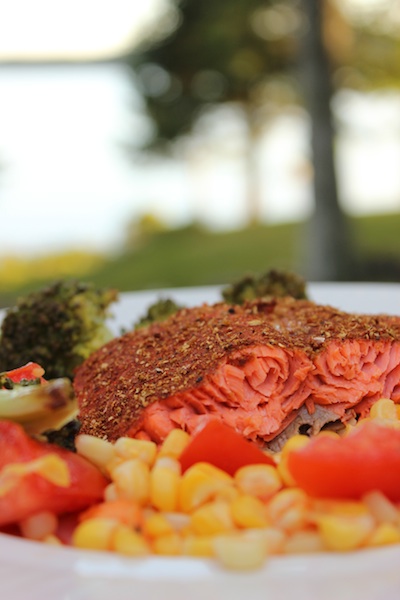 Spice-Crusted Roasted Salmon
This Spice-Crusted Roasted Salmon is fast and easy to prepare, combining cumin, coriander, smoked paprika and cinnamon to give this dish flavor in every bite. Beautiful to look at, healthy and delicious, it's perfect for a weeknight meal or serving to company, and can be made in just 30 minutes.
Ingredients
1 wild caught salmon fillet (1.75 pounds)
For the Spice Mix

1 teaspoon ground cumin
1 teaspoon ground coriander
1 teaspoon kosher salt
1/2 teaspoon smoked paprika
1/4 teaspoon cinnamon
1/4 teaspoon ground black pepper
Instructions
Preheat the oven to 400 degrees Fahrenheit.
Line a baking sheet with parchment paper, and place the salmon skin-side down in the middle of the sheet.
In a small bowl, mix together your spices.
Liberally coat the entire top of the fillet with the spices, making sure to rub it into the flesh with your hands.
Roast the fish uncovered for 15-20 minutes (depending on the thickness of the cut,) so that the salmon flakes easily when tested with a fork.
Immediately remove from the pan to stop the cooking and transfer to a serving platter.
Notes
*This is just slightly adapted from MyRecipes.com
**A perfect option to serve to kosher or gluten-free guests, this is sure to impress with very little effort.
***This spice mix can also be used on steak, chicken, ribs, or anything else you can think of. If you are missing an ingredient, swap it out for whatever you have on your shelves, and don't be shy to add some cayenne to the mix.
http://tastyoasis.net/2014/08/18/spice-crusted-roasted-salmon/
© Tasty Oasis 2017
Related posts: