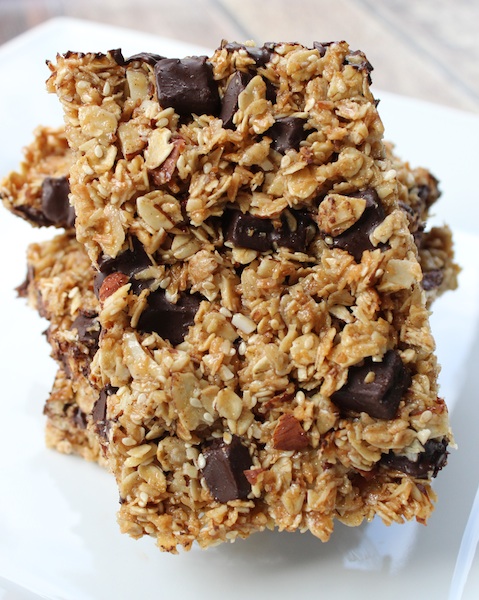 Have you ever watched your favorite movie or television show and felt envious of the soundtrack that magically enhances the lives on the screen? From the opening credits to a certain character's theme song, the music changes the mood of a scene and influences your reactions as you watch. Well, my house seems to have a built in soundtrack. Okay, it wasn't actually installed in 1928 when the house was first constructed, but with the brilliance of modern technology (otherwise known as our Sonos system that Brian controls remotely,) music miraculously pours through speakers all over my house when I least expect it.
Sunday morning, butterflies flew about my stomach as I mentally prepared to run my first ever 5K.  Like I mentioned before, back in July I couldn't even run for sixty seconds without huffing and puffing and feeling like I needed to collapse.  After years of avoiding it, I embarked on the Couch to 5K program, and consistently trained for the first 9 weeks, working up to running nonstop for 30 minutes, which covered two out of the three miles I needed. But summer ended, the mornings have been dark, life got in the way, and I let my new found exercise routine slide. I'd been in denial that October 19th was just around the corner, the date of our town's annual 5K. But sure enough it had arrived.
I'd been deep in suds as I attacked the dishes, worrying that I was going to be walking more of this race than I wanted to, when the music started playing and Melissa Etheridge's "I Run for Life"  pumped into my kitchen. Luckily, I'm married to a man who has the uncanny ability to pick just the right tune for every occasion. And although I've loved this song for years, I never would have thought to put it on myself. (Honestly, I'm the one always listening to audiobooks, NPR, and podcasts, and sadly music often falls off my radar.) Have you heard it lately? Well, if you lived on my block you might have heard me belting it out my kitchen windows at the top of my lungs early Sunday, because it changed my whole attitude about the day. Minutes earlier I had been anxious that I was going to disappoint myself, "failing" to run this race the way I originally intended to, but then Melissa reminded me why I decided to do this in the first place.
I run for hope, I run to feel
I run for the truth for all that is real
I run for your mother, your sister, your wife
I run for you and me my friend
I run for life
–Melissa Etheridge, " I Run For Life"
After nine months of struggling with health issues that left me in pain, lethargic and lower than I had been in years, I finally had a simple answer to what had been ailing me: an unbelievably low level of Vitamin D in my system. I felt such relief that there was an identifiable reason for all my symptoms, and that they could be gone with the help of one easy pill a week. It took around eight doses before I started to feel like my old self, and so when July rolled around I was so excited to have my energy back. And more than anything, I appreciated it because it had been missing for so long. But here's the rub: I was out of shape, and I felt like I was squandering this gift of health. With a close friend's illness occurring simultaneously, I've been very aware of how precious my own health is, and that I am unbelievably fortunate to be able to run around with my kids. But back in July, I felt like I just couldn't keep up with them, and I knew that had to change. I took on this challenge because I wanted to prove to myself that not only could I follow through on something, but that I am physically capable of pushing myself beyond my limits and my comfort zone.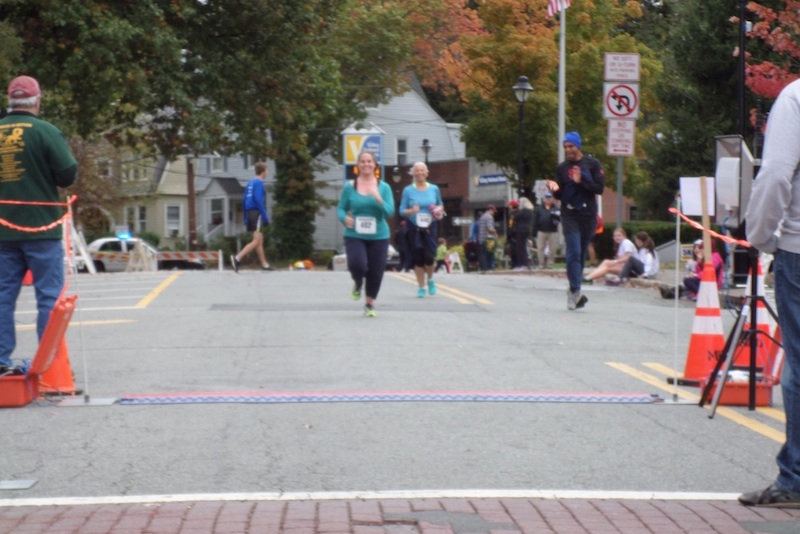 And on Sunday I did it. With Brian and my dear friend Natalie by my side, I ran 44 of the 47 minutes it took me to complete the race. Yes, I walked up one of the hills, and I came in 150 out of 157 runners, but I did it. And in the last minute, as I opened up my stride and went as fast as my little legs could carry me, entering the village that I've called home for the past eight years, I took in the clapping and cheers from the sidelines, raised my arms up high and crossed the finish line. My kids and their grandparents, aunt, uncle and baby cousin were waiting smack in the middle of the street as I crossed (the benefit of being one of the very last runners,) and my little guy came bounding toward me with his arms out wide calling, "I'm so proud of you, Mommy!"  (As his seven year old brother was busy snapping pictures, including the one above.)  I felt on top of the world.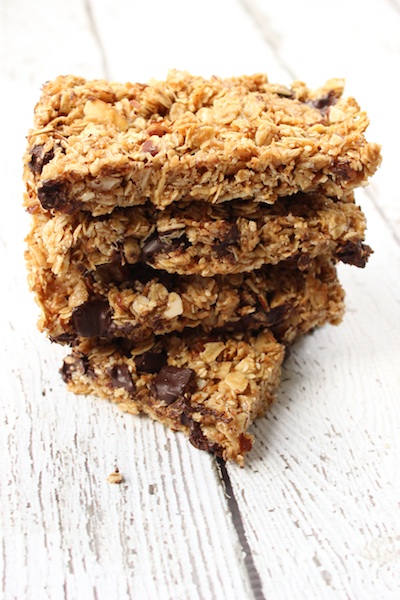 And then, somehow, the day got even better. After rushing home for a quick shower, I took my older guy to a birthday party at a skating rink. It had been 30 years since I had worn roller skates, and it was his first time ever on rollerblades, and we laughed ourselves silly at the party as he fell every twelve seconds like a newborn foal learning to stand. But he kept at it, and as we drove out of the parking lot at the end of the party, he went on about how fun it was and how he just wished he could do it more because he was starting to get the hang of it. So we killed 20 minutes waiting for the rink to open up to the public and we went back and skated together for two more hours!
On the way home, I told him how proud I was of him for getting up after every fall. His response is one I will always carry with me. "Mom, that's just what our family does. We push through, even when it's hard. That's why you ran the 5K today, and dad's run a marathon, and why Grandma plays golf and the little guy…bakes. (It took him a minute to come up with something for his brother, and I give him credit for trying.) That's just what we do. So that's why I kept going. Because even though it was really hard, I think I got it by the end. And it was awesome."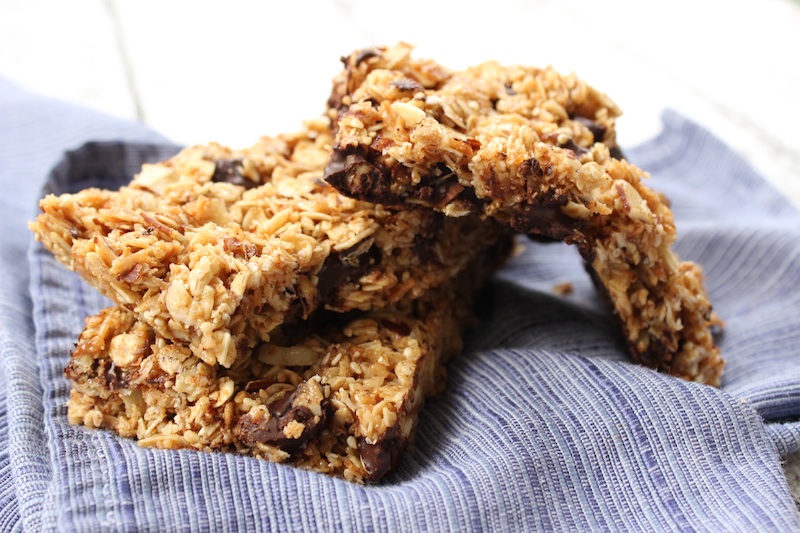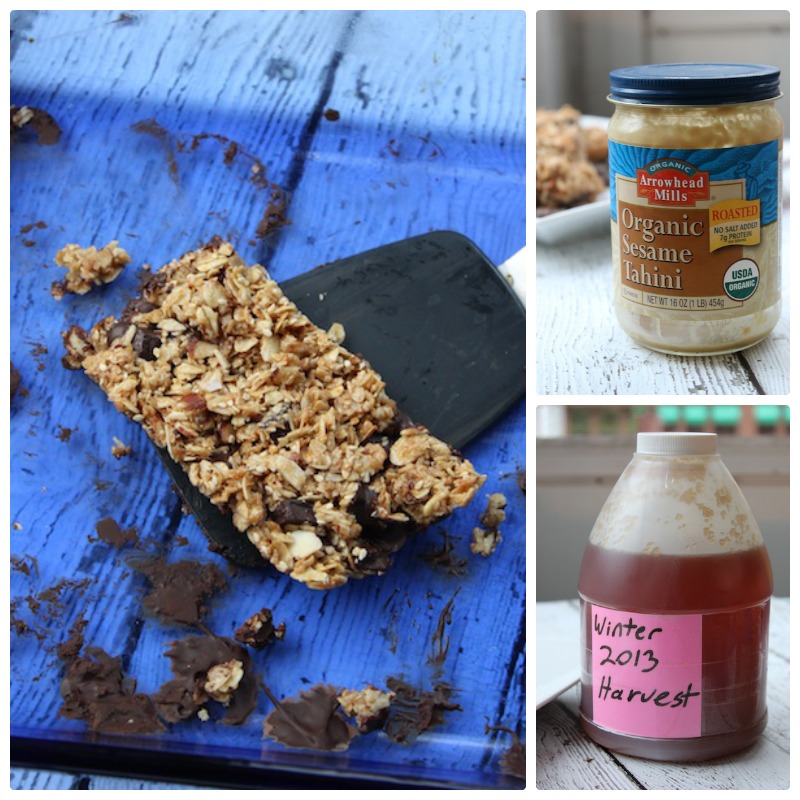 Which brings me to these Chewy Sesame Granola Bars with Dark Chocolate Chunks. For years I have been working on making the perfect granola bar, one that you can bend in half without creating a mess of crumbs, doesn't taste too sweet, and is filling enough for breakfast on the go. I've tried more recipes than I can count, and my binder is filled with notes on decent versions and failed attempts. Bars you bake, bars you don't, made with almond butter, filled with dried fruit, filled with fresh fruit, pumpkin flavored…you name it, I've probably tried it. But for some reason, they were never good enough. Yes, most of the time they were better than anything you can buy in the store, but they weren't amazing. But these, the ones I am sharing with you today, they win. The star of this bar is the tahini, because sesame paste gives a nuttiness to this bar that is separate from the almonds. It's a flavor I love, especially in treats, and when combined with honey it makes these bars just sticky enough that they happily stay together. And guess what, they're still chewy after five days sitting on the counter, which is incredible in my book!  The oats, almonds, coconut and sesame seeds are toasted for a few minutes before mixing them in with all the rest of the ingredients, but you can obviously mix and match any fillings you please. You can replace the almonds for other nuts or none at all, add in dried cherries or cranberries, or use white chocolate chips instead of dark if that's your thing. But if you do follow this recipe exactly, it will work for you. Because as my kid put it: I kept at it, and even though it was hard, I got these by the end. And they're awesome.
Chewy Sesame Granola Bars with Dark Chocolate
These Chewy Sesame Granola Bars with Dark Chocolate Chunks are perfect for breakfast on the go or an afternoon snack. With tahini and honey binding them together, they're so chewy that they're bendable, yet not too sweet. The toasted oats, almonds, coconut and sesame seeds give a nuttiness that's balanced by the chocolate, and are packed with energy to get you through your day.
Ingredients
2 cups of old fashioned oats (190 grams)
1 cup of sliced almonds (100 grams)
1 cup of unsweetened shredded coconut (100 grams)
3 Tablespoons sesame seeds (30 grams)
3 Tablespoons coconut oil, melted or solid (35 grams)
3 Tablespoons tahini sesame paste (56 grams)
1/4 cup light brown sugar (53 grams)
1/2 cup honey (175 grams)
1 teaspoon vanilla extract
1/2 teaspoon kosher salt
1/2 teaspoon cinnamon
1/2 teaspoon ground ginger
1 cup dark chocolate chunks or chips (170 grams)
Instructions
Preheat your oven to 350 degrees Fahrenheit/ 180 degrees Celsius. On a rimmed baking sheet, mix together the oats, almonds, coconut and sesame seeds, and toast in the oven for 12 minutes, stirring halfway through.
While the granola mix toasts, spray a 9" x 13" baking dish with coconut oil or regular nonstick spray. Combine everything else except the chocolate chunks in a large bowl, stirring well. If your coconut oil is very hard, you can melt it in the microwave first, but it isn't really necessary.
Add the toasted mix to your bowl and stir to coat the granola evenly. Gently stir in the dark chocolate chunks.
Reduce the oven temperature to 300 degrees Fahrenheit/ 150 degrees Celsius.
Spoon the granola into your prepared dish, then use wet fingers to evenly press down the granola. When the oven has cooled down sufficiently, bake your granola bars in the middle of the oven for 25 minutes or until lightly browned on top.
Immediately place the baking dish on a cooling rack and don't touch them for an hour. I know, it feels like a ridiculously long time, but you need the bars to stick together and they have to mostly cool before you cut them. At exactly one hour, slice them into the sizes that you like best. I think 10 is the perfect yield, but feel free to make smaller portions. (If you wait too long to cut them, they will be very difficult to slice smoothly.) At this point, go ahead and eat them still warm with chocolate oozing, or wrap them individually to freeze for future snacks.
Notes
*The technique was inspired by a Barefoot Contessa recipe.
**Leave out the almonds and you have a nut-free granola bar safe for kids' lunches.
http://tastyoasis.net/2014/10/20/chewy-sesame-granola-bars-with-dark-chocolate-chunks/
© Tasty Oasis 2017
Related posts: