Sometimes the simplest foods become special because you take the time to make them from scratch. There's nothing more basic than a bowl of oatmeal, but with a few extra steps it can go from being a sensible heart-healthy breakfast to a dish that you actually look forward to with anticipation.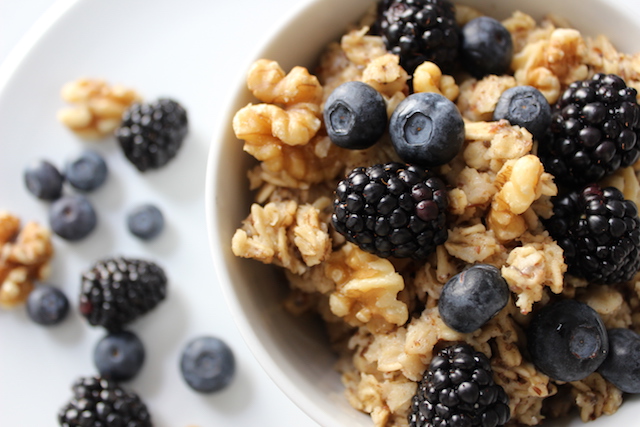 I didn't grow up eating oatmeal.  Maybe it's because my mom didn't like it and so she didn't offer it, or that warm mornings in sunny California didn't call for it. But I discovered it as an adult, and admit to being a frequent buyer of the quick cooking oat packs. In order to make myself feel better about these sweetened conveniences, I tried to stick with the Oats and Flax ones, but even those have more sugar than I feel comfortable with, especially since my toddler began requesting them daily for his breakfast at daycare.
So when a couple of months ago I noticed several food bloggers posting about the same oatmeal recipe from the cookbook "Whole-Grain Mornings," by Megan Gordon, I decided to give it a shot. We had family coming for breakfast, and instead of my typical homemade granola with fruit and yogurt or waffles I serve to feed a crowd, I went a different route. Toasted oatmeal for company certainly isn't the obvious choice, but that morning it was a huge hit. And it couldn't have been simpler.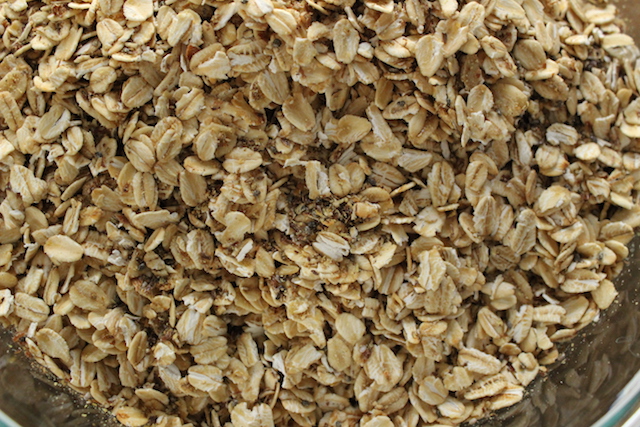 What makes this better than any oatmeal I've had before is that you take a few extra minutes to toast your oats in melted butter. Not a huge amount of butter, but just enough to give a little richness to the oats as they cook, becoming slightly nutty as the heat hits them. And the proportion of liquids to oats gives a creaminess, while finding the right balance so that they're not dense or gummy, but smooth and satisfying.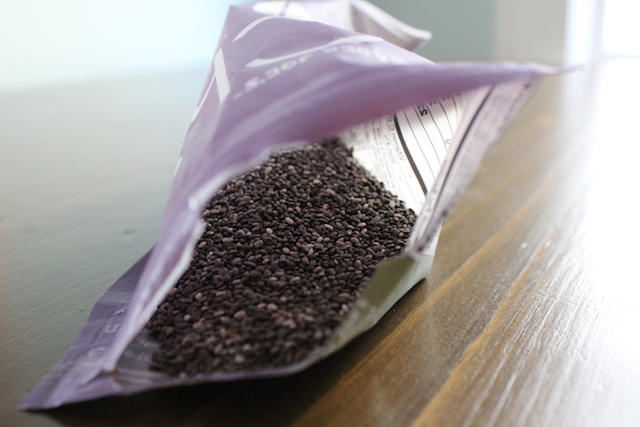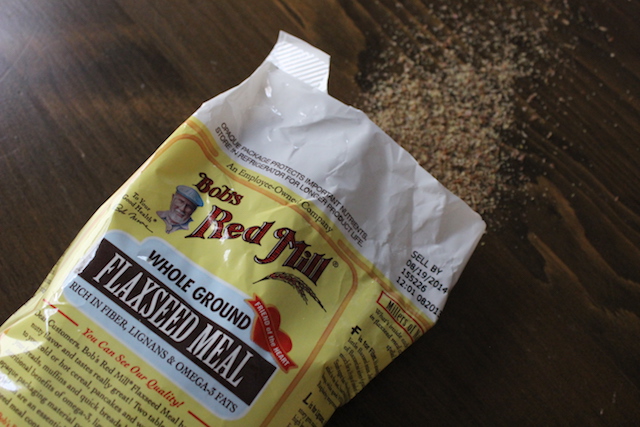 I now make a huge pot of these oats every Sunday night to get ready for the week. I divide the servings into little containers for the kids and larger servings for the grownups, so when I pack bags at the crack of dawn it's just as easy as a pre-made packet would have been, but so much better. For an extra dose of fiber and omega-3 fatty acids, I add ground flaxseed meal and chia seeds, and mine isn't nearly as sugary as what comes out of a box.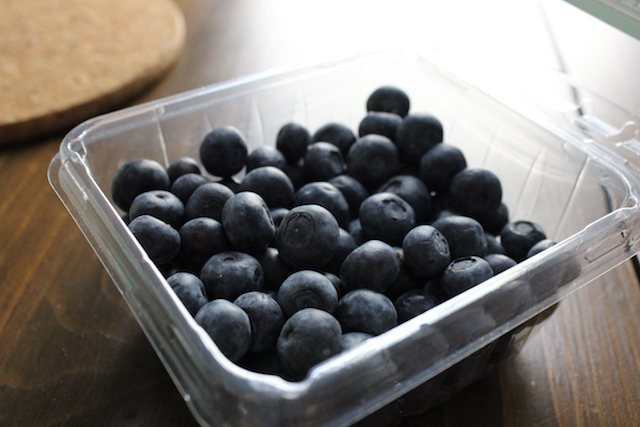 Fresh fruit and nuts are ideal toppings, but I often will pour frozen berries, cherries and mangoes into my container and when I reheat it all in the microwave the fruit warms and the juices spill into the oats and it is perfectly sweetened. Brian normally adds a spoonful of almond butter to his as well, and the extra protein is great fuel to start the day.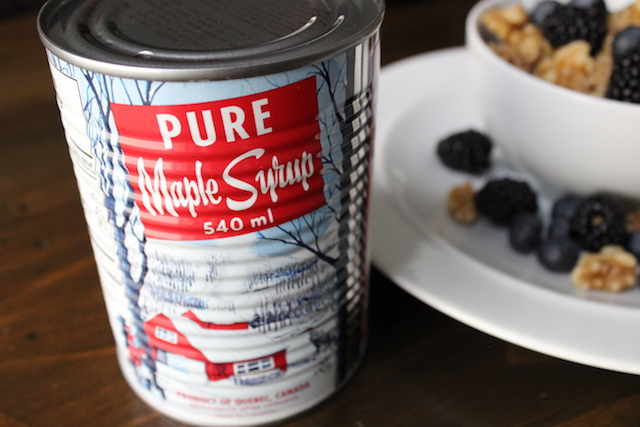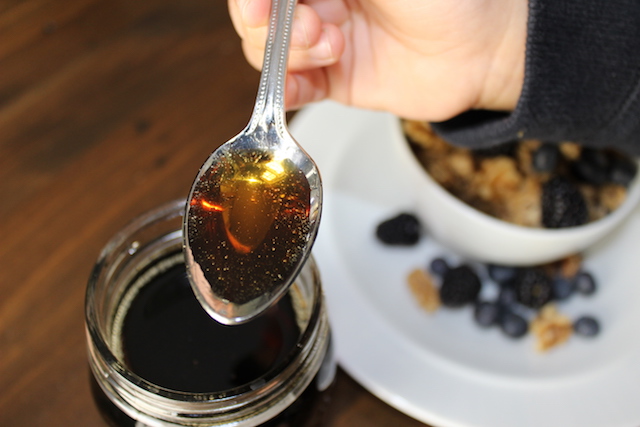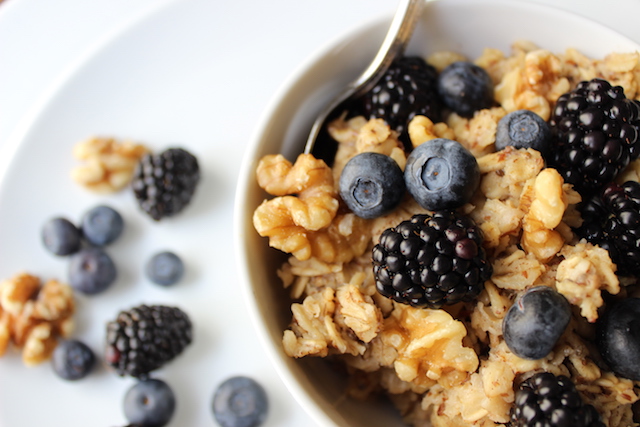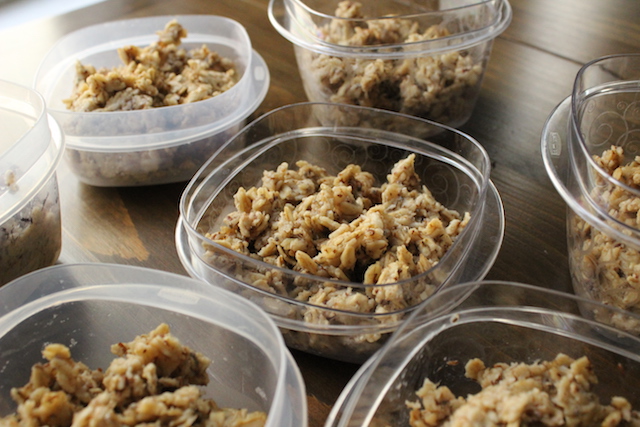 This toasted oatmeal is quick and easy, filled with healthy ingredients, and can be made in large batches to last the week or frozen in individual portions if you want to plan ahead for delicious and nutritious breakfasts. It's a staple in my house now, and makes my crazy mornings just that much calmer.
Toasted Oatmeal with Flax and Chia Seeds
Toasted oatmeal with flax and chia seeds, and a touch of cinnamon and sweetness turn this warm cereal into a delicious and healthy breakfast. In less than 20 minutes you will have a week of meals prepared, and you can say goodbye to those sugar-filled instant packets.
Ingredients
4 cups old fashioned rolled oats
1 1/2 tablespoons butter
4 tablespoons ground flaxseed
2 tablespoons chia seeds
3 cups water
1 cup milk
1 teaspoon kosher salt
1 teaspoon ground cinnamon
3-4 tablespoons brown sugar OR pure maple syrup
Instructions
In your largest covered pot, melt the butter over a medium heat. Add the oats and toast until they're fragrant, stirring frequently to distribute the butter and to make sure they don't burn. It only takes around 4 minutes.
Transfer the toasted oats into a large bowl, and stir in the ground flaxseed and chia seeds.
Use your same measuring cup to add the liquids to the hot pot, water first so that the milk doesn't scald. (This isn't baking, so using the dry measuring cup for the milk and water is totally fine and saves on washing.) Then add in the salt, cinnamon and either the brown sugar or maple syrup, stirring it all together. Over a medium heat, allow the liquids to come to a simmer (around 3-5 minutes.)
Return the oat and seed mix to the pot, and stir everything together. Cover with a lid and let it all steam for 8 minutes, untouched.
Top with your favorite fruits and nuts, or store in containers for easier breakfasts in the week ahead.
Notes
*Adapted from a recipe on The Faux Martha blog .
**I use skim milk, but have no doubt that low fat or whole milk would make this even more fabulous, so use whatever you've got in the fridge.
http://tastyoasis.net/2014/03/31/toasted-oatmeal-with-flax-and-chia-seeds/
© Tasty Oasis 2017
Related posts: