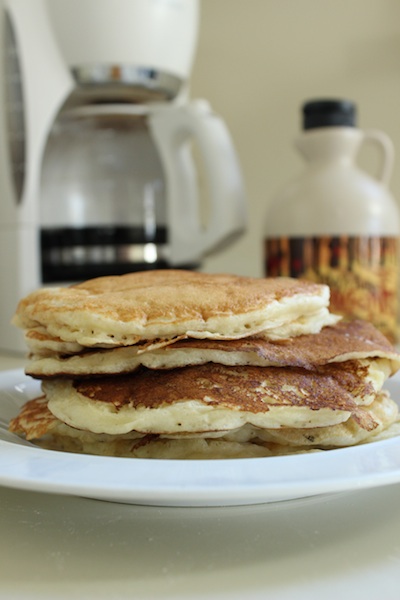 Have you heard of the show Master Chef Junior? It's a cooking competition show for kids ages 8-13 that airs on Fox on Tuesday nights. We missed the first season entirely, just finished the second season this weekend, and are so excited for the third season to start tomorrow night (Tuesday, January 6th.) If you haven't seen it yet, pause what you are doing and go set your DVR. I can honestly say that it is my favorite cooking competition show of all time. While the grown-up versions are often filled with drama, pettiness, and conniving, self-absorbed chefs with more tattoos than compassion, Master Chef Junior is inspiring in every way. First of all, these tiny home cooks have more skill in the kitchen than I do, by far, and I am four times their age! Knocking out cream pies, smoked aiolies, breaking down giant Alaskan salmon, and frying up chicken, with knife skills and flavor pairings that have never crossed my mind, I learned something from every episode. And I've actually been moved to tears while watching because these children and judges are nothing but encouraging and supportive of each other. Gordon Ramsey might be foul-mouthed and mean as hell to adults that he judges, but here the man is like a good-hearted dad who speaks honestly and fairly to these kids, with the goal of building them up to be the best they can be. All of us should have such a mentor.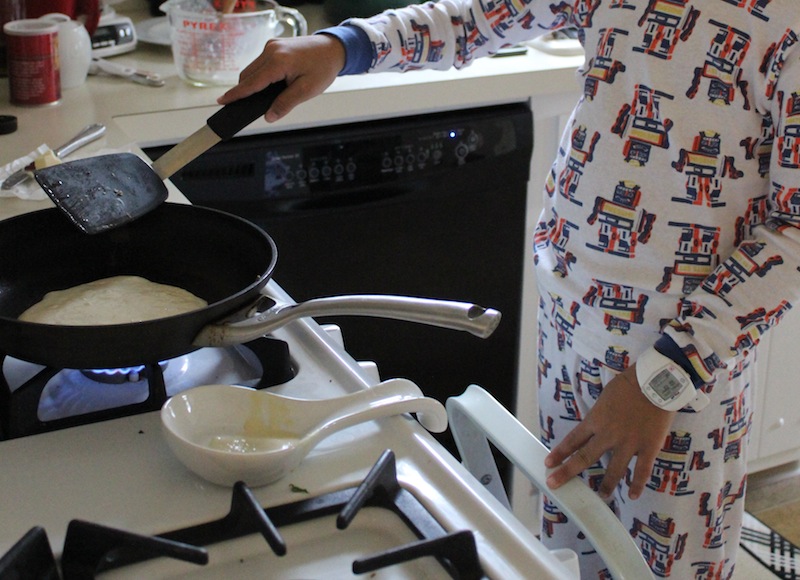 When we started watching this show together as a family, my big guy was on the edge of his seat. His jaw dropped as they wielded their knives, and he couldn't get over how sophisticated their plates and palates were. When it was time for contestants to be sent home, he was anxious, and then upset that someone could "lose" with a dish that was so far ahead of anything he knew how to do.
But mostly, he's been excited. While he stood by my side and mixed cookie dough and made muffins as a toddler, it had been years since he had any real interest in the kitchen. All of a sudden, that's changed. "Hey Mom,  Sean's only 10! How can he do all that??!!??" was quickly followed up by,  "I want to do that! Can you show me how?"
So the morning after watching the above pancake challenge unfold, my soon to be 8 year old and I were at the stove with a tried and true recipe: Martha Stewart's Best Buttermilk Pancakes. My friend Steve passed this one along several years ago, and it's now a permanent part of our weekend repertoire. As long as there's buttermilk in the fridge, I know that our homemade breakfasts can rival anything we'd get at the diner.  These pancakes are fluffy and flavorful, and couldn't be any easier to mix together. You whisk your dry ingredients in a big bowl, then add all the wet ones in so that you have a slightly lumpy batter. It doesn't need to be smooth, so there's no need to fuss over getting it just right (which makes it perfect for kids to try!) The trick to pancakes is knowing when to flip them over, and that just comes with practice. A good rule of thumb though is when bubbles cover the top, and the edges are slightly dry looking you're good to go. Getting a 7 year old to wait patiently though can be a challenge, but I'm happy to say my guy is finally getting it!
Cooking with kids takes extra time and a whole lot of patience. It means a batter (like this one) that you can knock out in five minutes might take 25 minutes, and there's guaranteed to be spilled flour and drips all over the place. But if you can get past that, the reward is worth it. My guys learning confidence in the kitchen means that I can dream of breakfasts in bed, and dinners waiting for me when I get home.  We're not quite there yet, but we're on our way: three weekends of kid made pancakes, five rounds of kid made scrambled eggs, and kid made breaded cod and kale salad have me hopeful! (Now if I can get past my fear of him using my big chef knife….)
And it appears I may soon have a partner here at Tasty Oasis! I promised to tell you all that my big guy not only cooked these gorgeous buttermilk pancakes, but he styled them on the plate above with the butter and syrup, and even snapped the photo! I'm one proud mama.
(Oh, just in case pancakes aren't your thing, I have another easy breakfast option on the site that would be perfect for a young chef to make: Toasted Oatmeal with Flax and Chia Seeds is a weekday favorite in our house that's so good it's company-worthy. Topped with fresh fruit and nuts, it's a healthy and filling meal that's going to keep you going on a cold morning. Click the link! Pin it!)
Finally,  just as another plug for my new favorite show, there were two contestants on season 2 of Master Chef Junior that stood out as role models. Eleven year old Logan won us all over with his attitude; when asked why he wanted to stay on the show, he answered, "I'm here to learn. I'm here to be a better chef."  And 8 year old Abby, the youngest of the bunch, faced every challenge with a can-do spirit; her motto "I've got this!" is one I want my own kids to embrace, and think we should all have more of in the kitchen and beyond. Do check it out. And if you try these pancakes (or the oatmeal,) I would love to hear what you think!
Martha Stewart's Buttermilk Pancakes
Martha Stewart's Buttermilk Pancakes are fluffy, flavorful, and so easy that a 7 year old can make them. Just remember to pick up a container of buttermilk the next time you're at the store, and breakfast will be amazing. There's no need to mess with a classic.
Ingredients
1 cup all-purpose flour (130 grams)
1 teaspoon baking powder
½ teaspoon baking soda
¼ teaspoon kosher salt
1½ teaspoons sugar
1½ cups buttermilk (low fat is fine)
1 large egg, lightly beaten
2 Tablespoons unsalted butter, melted (plus more for the skillet or griddle)
Instructions
If using an electric griddle, preheat it to 375°F. Otherwise, a nonstick pan or cast iron skillet are your best bets.
Melt your butter first, so that it has a chance to cool while you do everything else.
In a large bowl, whisk together the dry ingredients: the flour, baking powder, baking soda, salt and sugar. Add the wet ingredients, either directly into the large bowl, or by combining them first in a large measuring cup: the buttermilk, egg, and melted butter. Whisk until you have a slightly lumpy batter, but everything is incorporated.
If using a pan or cast iron skillet, heat it over a medium low heat . You will know it is ready when a drop of water sputters and bounces off of it. Put a small pat of butter in the pan and push it around with your spatula, or use a brush to cover evenly with extra melted butter. Use a ladle to make the pancake size you prefer, pouring the batter into the pan, leaving two inches between pancakes. Your pancakes are ready to flip when bubbles start to form all over the tops, and the sides start to dry around the edges. (For 1/2 cup portions, this can take around 2½ minutes.) Flip and cook one more minute until they appear golden on both sides.
Serve immediately with butter and maple syrup.
Notes
*This recipe is originally Martha Stewart's, and she doubles the ingredients and the yield. If you go with the larger batch and want to keep your stack of pancakes warm while you continue to make new ones, place them on a heatproof plate in an oven warmed to 175°F.
**This amount serves 2-3 people. Extras keep in the fridge, or can be frozen.
***Try adding blueberries, banana slices or chocolate chips too!
http://tastyoasis.net/2015/01/05/martha-stewarts-buttermilk-pancakes/
© Tasty Oasis 2017
Related posts: