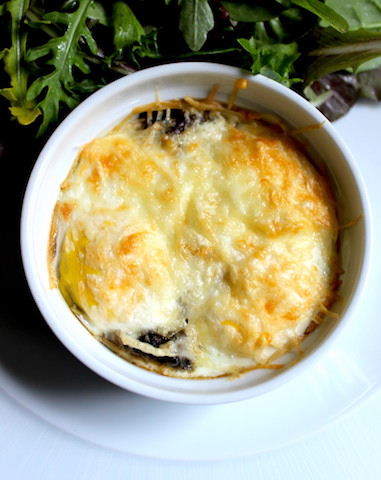 Remember last year when I wrote about trying to reduce the sugar in my life? I did a good job of it for a while, but then my love of all things chocolate and pastry related got the better of me. I went from cutting out sugar, to slowly introducing it back in, to full on "let's sit at the kitchen table on a Saturday night with two giant batches of cookie dough and two spoons and just go to town." Because while I know what's good for me, I don't always follow through with healthy choices. That's human, right?
But I am trying to get back on track, making the effort to stay away from refined sugar for a little while. It's been a few weeks of reading labels, and focusing more on getting satisfaction from the savory foods in my life. Yes, I'm still enjoying fruit, and haven't shied away from putting a touch of maple syrup and cinnamon into the almond cashew butter I make, but I haven't had a bar of chocolate or a cookie in 24 days. (That's huge. You've got to know that is huge.) And I'll be honest, while it's gotten easier, the cravings STILL haven't gone away entirely. There's no doubt that my body had to go through some serious withdrawal, and I had a good five or six days of insane crankiness because of it, but I'm trying to reset my habits. 3pm doesn't have to mean it's time for a scone, it could very well be time for some carrots and hummus. (I know, crazy talk.)
To which end, last week I was inspired to recreate a meal I had on vacation in April. I already told you a little about our time in the Catskills, but here's a bit more. On our first day, we had lunch at a restaurant called Lekker 209. In Stone Ridge, NY, it's a small cafe that seemed to have more specials listed on the chalkboard than food on the menu. Homemade baked goods (like lavender honey scones and chocolate chili cookies that I'm currently dreaming about) and creative housemade sodas (like the vanilla cream my kid ordered,) complemented all the locally sourced ingredients that made our mouths water. The meal was so good that we returned for breakfast on our last day. I ordered the Baked Mushroom Skillet, and fell in love. (I even posted a picture of it here.) Luckily, as we were walking out of the restaurant, the open kitchen allowed me to stop and ask the chef how he had prepared it. Generously, he told me the basics of how to make it, and I quickly wrote it all down when I got back into the car.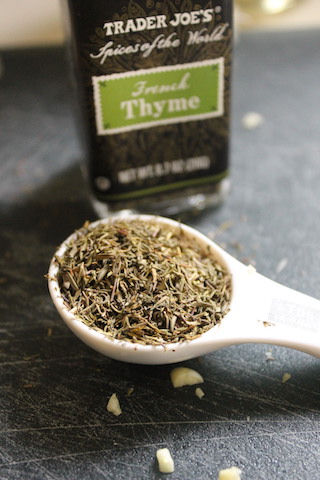 He'd used three different kinds of mushrooms, and cooked them with garlic, butter, wine and thyme for an hour or so. Using little individual cast iron skillets, he took the already sautéed mushrooms and placed them on the bottom, cracking a couple of eggs over the top, and then covering it all with a healthy handful of freshly grated parmesan cheese. Baked at 400 degrees in the oven for 10 minutes, you've got a woodsy, hearty dish that can be served for any meal of the day.
Since I don't have individual cast iron skillets, (who does?) I intended to make this to serve a crowd (or at least 4-6 people.)  I bought a bunch of mushrooms at the store, hoping to make a large one in my regular skillet. So last Sunday, when I had plenty of time, I threw all the mushrooms into my dutch oven, and let them cook down for a good hour and 15 minutes. I knew if I had them ready, then on Monday I could make a quick dinner of it all when I got home from work. That was the plan at least…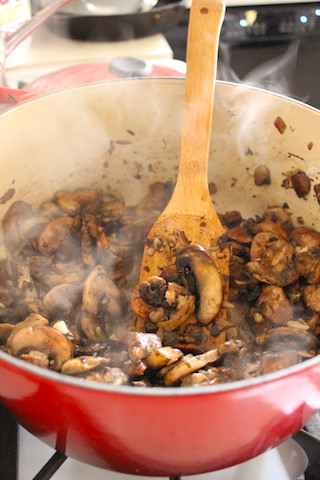 But on Sunday night, as the mushrooms sat on the stove, I kept picking at them. I couldn't stop myself. So I gave in and threw a good cup of them into the pot of Trader Joe's Shells and White Cheddar Mac and Cheese we were having for dinner (so fancy, right?) And then the next day I added some to the lunch I was taking to work, and then by Wednesday I realized that I was down to only three eggs left in the house anyway, so my plans had to change. Home for lunch, I grabbed two large ramekins, and put half a cup of mushrooms in each. One got treated to two eggs, the other to just one, but both had their fair share of parmesan on top. (I'll be honest, I didn't bother to grate my own. Sometimes convenience just has to win.) I did put them in the oven for 10 minutes, but then I popped them under the broiler for another 2, and the cheese topping started to bubble up and turn toasty brown. With some mixed greens sprinkled with dried fruits and nuts, I ate one of the best lunches I'd had in a long time. The second ramekin came with me to work the next night, and reheated in the microwave beautifully, telling me that this can be an easy make ahead meal to take for lunch or a hot breakfast.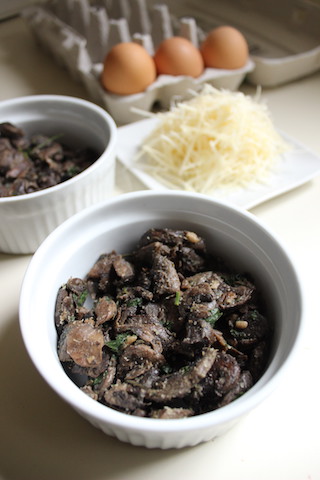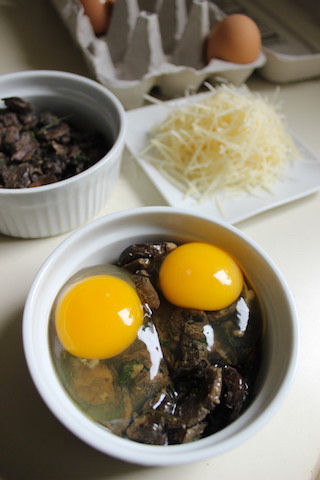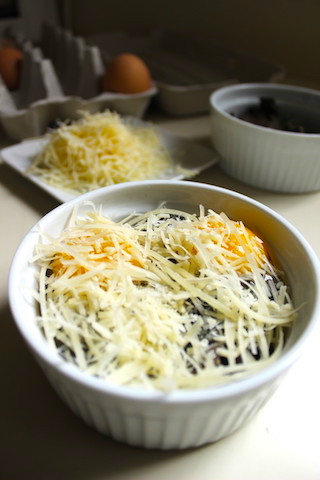 And truthfully, this is so flexible. It doesn't always have to be Baked Eggs with Sautéed Mushrooms.  I'm thinking I'll take some of the Alice Water's Ratatouille that I made a few months ago, that's sitting in my freezer now, and use that as the base for my baked eggs next time. You can cook it less if you like runny yolks, or you could scramble the eggs before pouring them in if you prefer a smoother covering, it's all just a matter of taste. Once your mushrooms (or other vegetables) are cooked, this is a fast and easy dish to make. Take it to work for lunch, but know that it's definitely company worthy too. Individually prepared, or all in a large skillet, you'll win either way.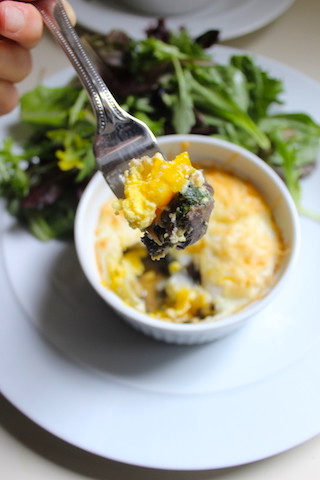 So while pancakes, waffles and french toast may be off my menu for a little while, with baked eggs in the rotation I know my brunch plans can still be satisfying. And if you're looking for other refined sugar-free recipes, just click the tags underneath, and you'll see a ton of other Tasty Oasis recipes to choose from like the Chocolate Pumpkin Nut Butter, the Healthy Homemade Chocolate Milk or the Thai Lime and Lemongrass Sauce You'll Want to Put on Everything (Including Roasted Salmon.)
Baked Eggs with Sautéed Mushrooms
Baked Eggs with Sautéed Mushrooms is an easy, healthy meal any time of the day. It's a concept that's flexible, and with a little prep of your vegetables, you can throw the final dish together in 15 minutes. Perfect for company, or a quick breakfast for one, you'll wonder why you haven't always made this.
Ingredients
For the Sautéed Mushrooms:

16 oz plain mushrooms (pre-sliced is nice, or slice them yourself)
16 oz baby bella mushrooms (sliced)
6 garlic cloves, minced (2 Tbsp)
1 1/2 Tbsp extra virgin olive oil
1 Tbsp dried thyme
1 teaspoon kosher salt
Freshly ground black pepper
3 Tbsp white wine, sauvignon blanc (if you've got it, or double it if you like)
2-3 Tbsp unsalted butter
1/2 cup chopped fresh parsley
For the Baked Eggs:

12 large eggs
3/4 cups grated parmesan cheese
Instructions
In a large pan with a lid, or a dutch oven, heat the olive oil over a medium heat, and sauté the garlic for 1 minute, then add the mushrooms. Stir together with the thyme, salt and pepper, let cook for 10 minutes, until the liquid starts to release. Then add the wine, stir, and cover the pot, leaving the lid slightly ajar, and reduce the heat to a low simmer and cook for 50 minutes longer. Remove the lid after 15 more minutes, and drain off most of the liquid, then stir in the butter, raise the heat to medium and cook five more minutes. (This last bit is to make sure they're not too wet.) Add the parsley, stirring it all together.
When you are ready to make the eggs, preheat your oven to 400F/204C. If you would like to make individual portions, place 1/2 cup of sautéed mushrooms into the bottom of a medium size ramekin. Pour over two cracked eggs (scrambled them if desired, or leave whole, so that you can have the whites and yolk separate if you prefer.) Top it all with grated parmesan cheese (about 2 Tbsp.) Alternatively, cook for a crowd, and put all of your mushrooms into the bottom of a 12 inch cast iron skillet. Crack the eggs over the mushrooms, spacing them out so that everyone who cuts in will get some. Cover the whole thing with parmesan cheese (about 3/4 cup, but it's all according to taste!) Bake in the middle of the oven for 10-12 minutes, depending on how cooked you like your eggs to be. (If you want runny yokes, try 8 minutes instead.) Then move the eggs to the top rack of the oven and broil for 2 minutes, leaving the oven door slightly open so that you can watch as the cheese starts to bubble and become speckled brown. Serve with a green salad and some good bread, and enjoy!
Notes
http://tastyoasis.net/2016/05/11/baked-eggs-and-mushrooms/
© Tasty Oasis 2017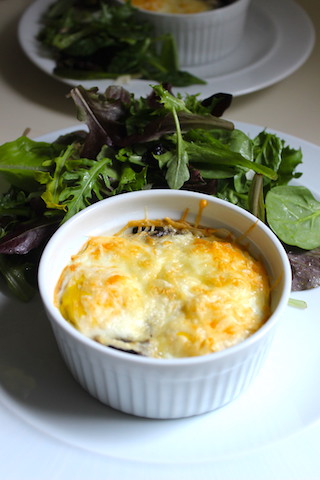 Related posts: