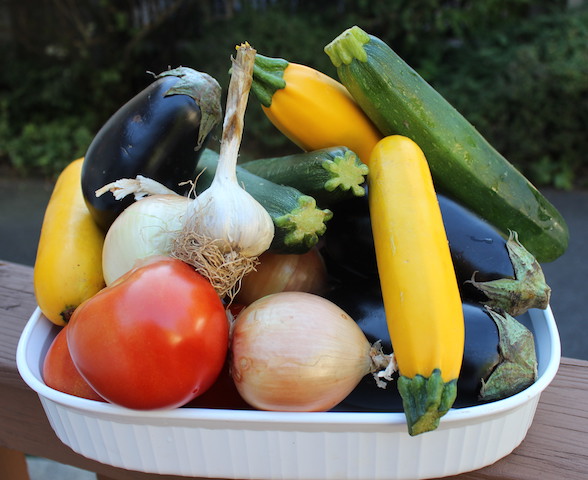 Before the warmth of summer is completely forgotten, I wanted to make sure to share this ratatouille recipe with you all. While the farm markets may be closing, I have no doubt you'll still be able to find zucchini, eggplants, peppers and tomatoes around, because this dish uses all the best that season had to offer. In a perfect world I would have gotten this to you weeks ago, but please indulge my off-season post! Fresh and flavorful, this warm and hearty vegetable stew is comforting on its own, elegant when served as a side to Coq au Vin, and perfect as a topping to polenta or a bowl of your favorite pasta. Sweetness from the tomatoes gets balances by bright thyme and woodsy rosemary, and fresh basil completes it. It is one of those "genius recipes" that is guaranteed to work, and Alice Waters deserves all the credit for it.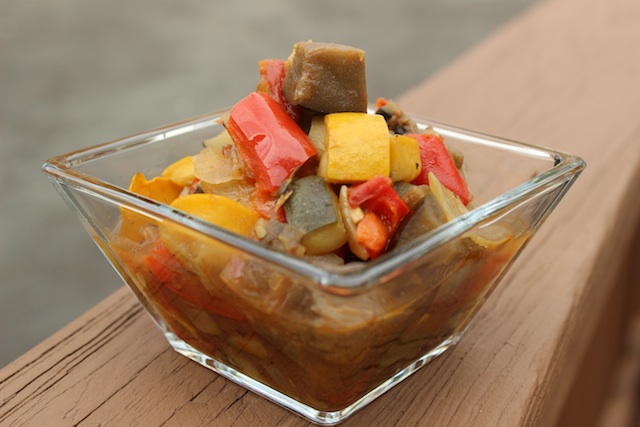 I'd always wanted to make ratatouille, but never took the time to follow through on it. But when September's cooking club theme was announced, I knew immediately what I would contribute. French night, and I was on for vegetables? Ratatouille!!! Obviously, this was the push that I needed. The first time I made this I doubled the recipe and had two pots going at once, and I am so glad that I did. The leftovers are freezer-friendly, and perfect to pull out on a fall night. It also meant I had enough extra to deliver to my friend Al, whose doorbell I rang, all frazzled, still in my apron, who let me take kitchen shears to his herb garden an hour before I had to get to my supper club when I realized that I was terribly short of basil. It was a night of fabulous food and even better company, and participating in this is always a highlight of my month. (The roasted endive and pear salad, the piped french potatoes, and the chocolate pots de creme  were all hits, as was the coq au vin. Really, everything was delicious.)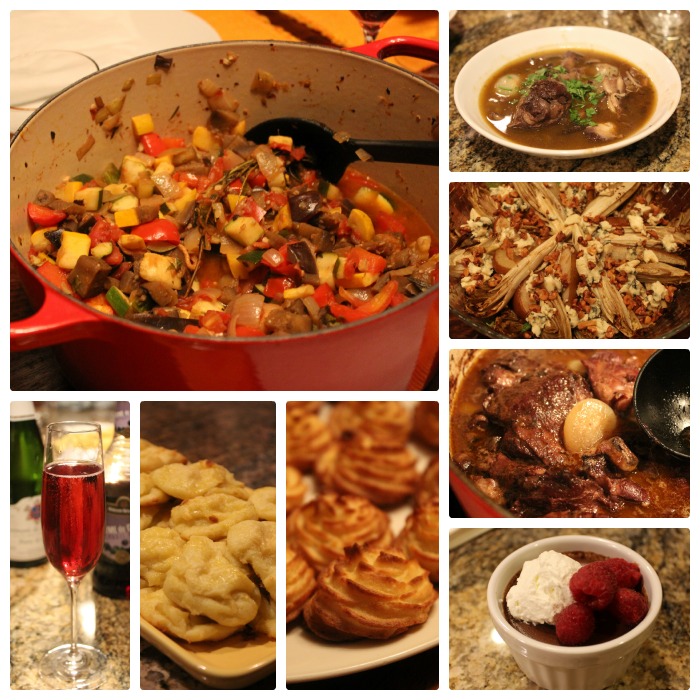 The second time I felt inspired to make it though was all thanks to my neighbor Catherine. Creator of the amazing gardening and food blog The Winebox Gardener, she sent me an email asking if I would take all of her ichiban eggplant that she'd just harvested from her garden. Since she was in the middle of a kitchen remodel, and wouldn't have a chance to cook it any time soon, she had plenty to share. Who's going to turn down homegrown eggplant? Certainly not me! I would love to have seen what she would have done with it though, because her writing, adventures around NY and NJ, recipes and photography always inspire me. You really should go check out her blog! (Follow her on social media too, in all the usual places: Facebook, Instagram, Pinterest, Twitter!)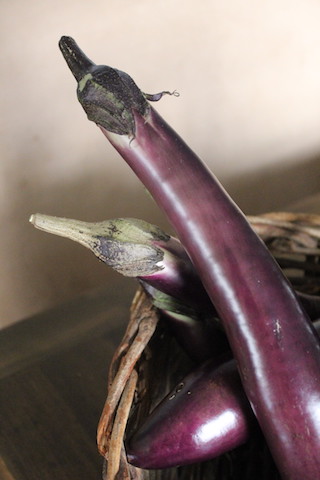 So if you're looking for something that's healthy, freezer-friendly, vegan, gluten-free, and all those good things, pick up some vegetables and herbs the next time you're at the store and try Alice Water's Ratatouille. It's worth the effort. It's satisfying and cozy all at the same time. And if you're like me, and you find yourself falling into the pumpkin trap that surrounds us these days, there's no reason you can't throw some butternut squash or pumpkin into the mix, and with a little added sage, it will embody fall for you too. See, there, everybody wins. Now it's seasonal! And please, let me know what you think in the comments, because I would love to hear if you make this or any other recipe on Tasty Oasis. All of your experiences and feedback helps me, and other readers, so please keep me posted!
Alice Waters' Ratatouille
Alice Water's Ratatouille is a Genius Recipe, and there's no reason to fool with it. A few added herbs was my only adjustment, and the layered flavors of summer stand on their own. It is a recipe that takes some patience, so don't try to rush it and add everything together at once. Healthy and freezer-friendly, it's a hearty vegan stew that's just as satisfying on a hot summer day as it is on a cool fall night.
Ingredients
1 medium or 2 small eggplants
4 Tablespoons extra virgin olive oil, divided
2 medium onions, cut into 1/2 inch dice
6 garlic cloves, minced
1/2 bunch basil, 6 sprigs fresh thyme, 6 sprigs fresh rosemary, all tied together with kitchen twine
2 red bell peppers, cut into 1/2 inch dice
2 zucchinis, cut into 1/2 inch dice
1 yellow summer squash, cut into 1/2 inch dice
3 ripe medium tomatoes, cut into 1/2 inch dice
salt and pepper to taste
Instructions
First cut your eggplants into cubes, sprinkle them with a teaspoon of salt, and place them in a colander to drain for around 20 minutes. While it sits, chop all the rest of your vegetables, and tie your herbs together into a bouquet. By the time you are done with your prep, you should be about ready to pat the eggplant dry and then get ready for the cooking. Be prepared: It's all about the layered flavors, so it all happens in stages. Don't try to add everything at once, just take it step by step.
In a large, heavy bottomed pot (my Le Creuset dutch oven is perfect for this,) heat 2 Tablespoons of the oil over a medium heat. Once hot, add the eggplant first, and sauté it until it is golden. You may need to add some extra oil so that it doesn't stick. When it is browned, remove it to a bowl.
In the same pot, add 2 Tablespoons more of oil, and sauté the onions until they are soft and translucent, about 7 minutes. Then add the minced garlic, the herb bouquet (basil, thyme and rosemary,) and 1/2 teaspoon of salt, and cook for 3 more minutes. Next add the peppers, and stir for 3 more minutes, then add the zucchini and squash and stir for another 3 minutes, then add the tomatoes, and let it all cook together for the next 10 minutes. Finally, add the eggplant back in, and let it cook for 15 more minutes until everything is soft and your kitchen smells amazing.
Using tongs, pull out the herb bouquet. It's going to be very hot, but use the back of your stirring spoon to push on it and get all of the juices and flavor out of it. If you can bear to do it with your fingers, you'll get more out, but don't burn yourself! Stir it all together, and add salt and pepper to season it, tasting as you go. Serve it over polenta, a bowl of pasta, or as a side to Coq au Vin. Enjoy the flavors of summer on all year long.
Notes
http://tastyoasis.net/2015/11/11/alice-waters-ratatouille/
© Tasty Oasis 2017
Related posts: