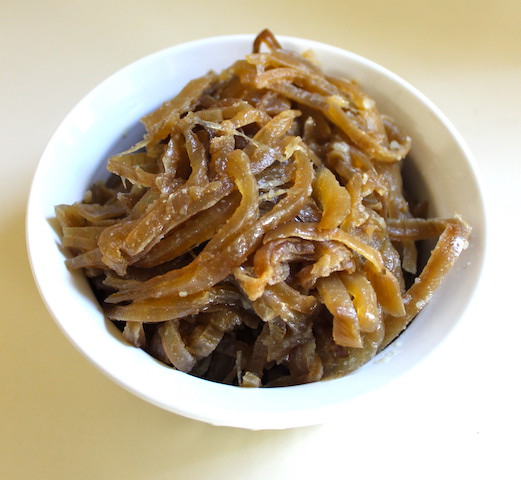 Caramelized Onions. Two beautiful words. If you combine that with Slow Cooker or Crockpot, you've got a phrase that's even more brilliant: Slow Cooker Caramelized Onions. (Do you hear angels singing? You already know how I feel about the slow cooker, don't you? Remember The Easiest Crockpot Ribs and Chipotle Barbecue Pulled Pork in the Crockpot?) Because a simple onion effortlessly gets transformed into rich and flavorful goodness that can be added to any variety of dishes. With less than ten minutes of prep work, you can get all of your onions sliced thinly, then you toss them with melted butter and olive oil. It all sits in the slow cooker on low for 10-14 hours, and it makes your home smell heavenly. It's so easy, you'll wonder why you've never done this before. Typically, caramelizing onions the traditional way requires standing at the stove for at least 45 minutes and stirring regularly, making it somewhat labor intensive.  This recipe is the opposite of that. You can even set it up to cook overnight while you sleep, which all by itself is pretty cool.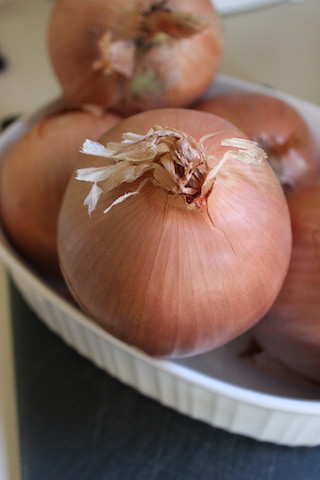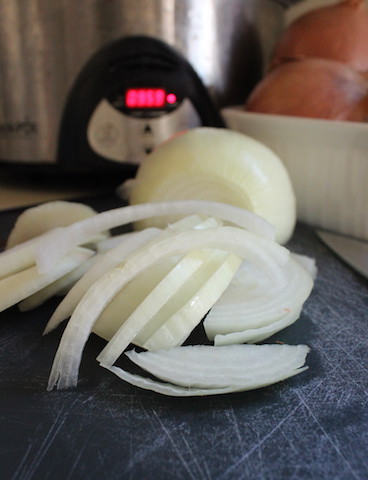 It's comfort in a pot. And there are some days more than others that we can all use comfort. I recently interpreted something about coping skills, and the participants were asked to create their "Island of Calm." When you face challenges, when you're under stress, who can you turn to, where can you go, and what can you do to feel safe, peaceful and hopeful? Being able to fill in those blanks is a privilege, and in that moment, I felt very fortunate to have a long list of answers floating through my own head. Listening and interpreting the responses though, I was reminded that not everyone is as lucky. We often take for granted having people in our lives that we can count on, and places and activities that make us feel whole. I often work with individuals who don't have that wholeness. I witness it, and because of my professional boundaries, I can't actually do anything to make that emptiness less lonely. Yes, it allows me to reflect on my own life and gain perspective, but it also can be heartbreaking. At the end of a day like that, I end up looking for comfort. I can get it from my family when I get home, I can call a friend while I'm driving, or I can take myself to my happy place, because I have one. The Kitchen. (Truthfully, I have many happy places, and that is another lucky thing.) But in the kitchen, I know that slicing and prepping will bring me good food to feed and nourish my family. That is comfort.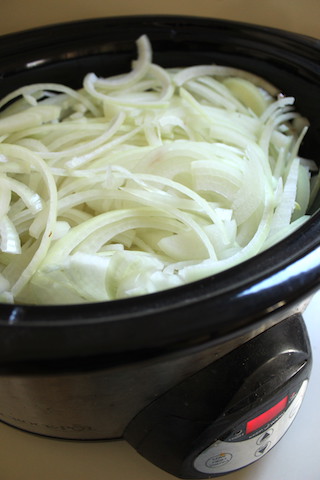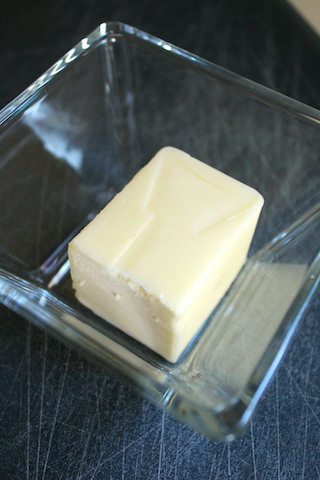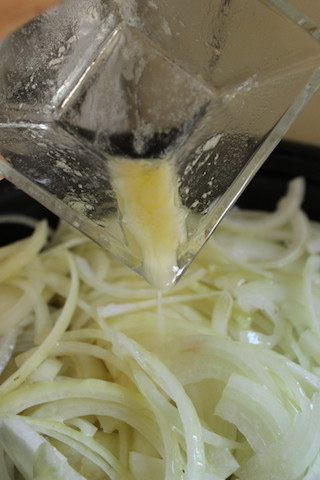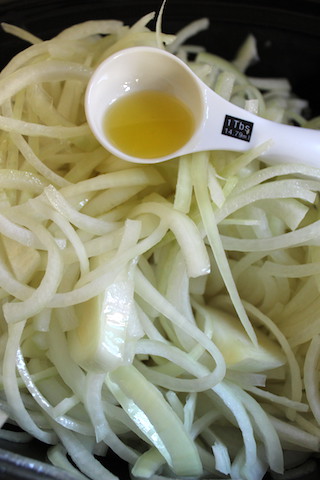 And on top of that, this recipe for Slow Cooker Caramelized Onions is smart cooking. I seriously feel like a champion when I can plan ahead and set myself up for success, knowing that there are going to be days when I need a little extra help in the kitchen. You know what I am talking about, right? When you open up your fridge, and think that there is absolutely nothing special happening in there? That there is going to be a flat, uninspired dinner because you haven't been to the grocery store in way too long?   The best thing about this recipe is that you make a giant batch of onions (fill your slow cooker up, using 4 large onions,) and then freeze packs of the caramelized onion bounty to use in your future. All you have to do is fill little sandwich bags with individual portions, sticking them all into one larger container or freezer bag.  When you're ready, pull one out to throw into whatever you're making to take it to a whole new level.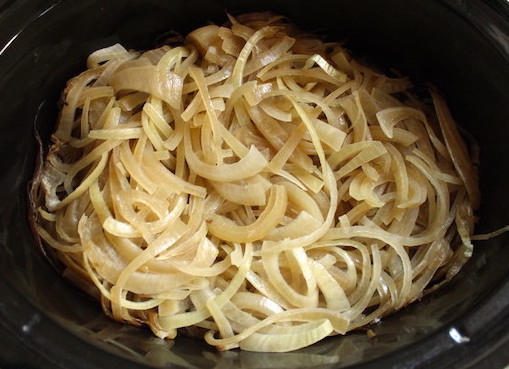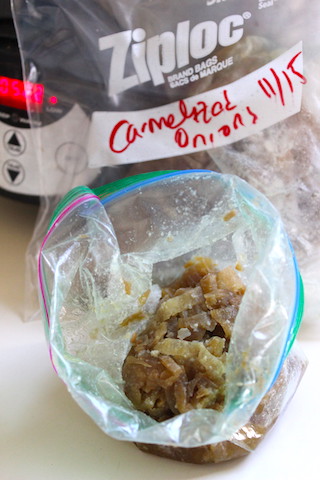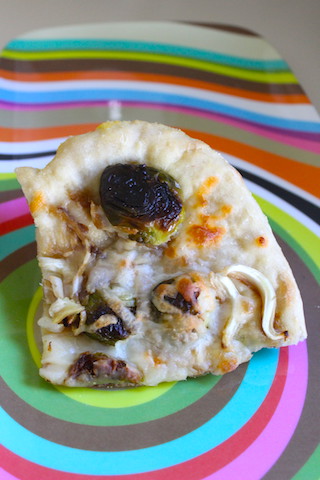 The sweetness of these onions allows you to pull out your last eggs, and have a caramelized onion omelet with a smattering of dried herbs that is going to make you ooh and ahh at every bite. Or you can start cooking some whole wheat spaghetti, toast up some random nuts from your cupboard, toss in some caramelized onions and you've got an amazing dinner. Or you can do what I did last night, and pull out a pack of caramelized onions to add to pizza. I like making my own dough (which I told you about in my Peach, Ricotta and Basil Pizza post,) but last night I simply used the Trader Joe's fresh pizza dough I had picked up in the afternoon. I made one pepperoni pizza that I scattered with the onions, and another I covered with roasted brussel sprouts, fennel and the caramelized onions, with some mozzarella on top. (The latter might be my new favorite pizza, and I probably should do a whole post just on that because you really should try it!)  And if you take a close look and see the date on the bag above (please ignore my messy handwriting and misspelling), you'll notice that these onions have been frozen since November 2015. I made a big batch then for our family's favorite Thanksgiving gravy, and have been rewarded for months now with the results. I hope you take the time to throw these into your slow cooker soon, and reap the benefits for months to come as well. And if you do, please let me know!
Slow Cooker Caramelized Onions
These Slow Cooker Caramelized Onions take less than ten minutes of prep work, and result in a sweet flavorful yield that can be used in a variety of dishes. Make a big batch, then freeze small packages for last minute cooking. It's so easy, and totally worth your time.
Ingredients
4 large onions (yellow or white, either is fine) about 4 1/2 pounds
5 Tablespoons melted butter (preferably unsalted)
2 Tablespoons extra virgin olive oil
Instructions
Thinly slice your onions, and place them in your slow cooker. Pour the melted butter and olive oil in and toss everything together. Set your slow cooker for 10-12 hours on the lowest setting. If you happen to be home, or awake half way through, feel free to stir the onions, so that they all cook evenly. (If you don't have the chance, it's not a big deal though.) After 10 hours, you can check the onions and see how brown they have become. The darker they are, the sweeter they will be, so if you have the extra time leaving them in longer is always a good idea. But if you notice that there is lots of liquid in the pot, set the lid ajar leaving an inch opening or so. Let it then cook longer (another 1-4 hours) if you have the patience. They should be a warm brown color when they're finished, and mostly dry.
These have not been salted, so you can doctor them as you wish for future recipes. Keep some aside for the week, and freeze the remaining onions in small batches in individual plastic bags or containers, all housed inside one larger labeled and dated freezer bag. I like having different amounts that are then easy to defrost based on need, i.e. 1/4 cup for sandwich toppings, 1/2 cup for pizzas. 1 cup for pastas.
To defrost, either let the onions thaw overnight in the refrigerator, or run the plastic bag under warm water until the onions are soft enough to pull apart with a fork. You can add slightly frozen ones directly to what you're cooking on the stovetop or in the oven, or you can microwave if you are adding them to something room temperature.
Notes
*One of my favorite tricks is to let these cook overnight. When I wake up, I remove the lid, and an hour later just throw the finished onions into a bowl in the fridge before heading to work. I then divide them up when I get home, and use some for that night's dinner.
**If you are vegan, you can simply substitute the butter with more extra virgin olive oil. It will still be delicious.
http://tastyoasis.net/2016/03/07/slow-cooker-caramelized-onions/
© Tasty Oasis 2017
Related posts: