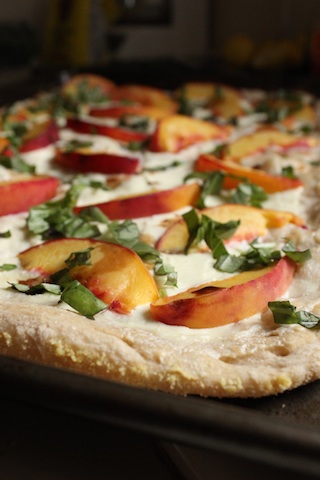 Hello! I know you haven't seen me here much these last few months, but that doesn't mean I haven't been in my kitchen. I've said it before: it's my happy place. My oasis. When there's nonsense going on, I retreat to the place where nothing can go wrong, and where I can get a few minutes of solitude. Okay, maybe you are looking at that last sentence and thinking, "But everything can go wrong in the kitchen!" Sure, flour can be spilled, dough can be too sticky, crust can get burned, but really, is it the end of the world? No. Is it a disaster? Never. Unless you're slicing a digit and bleeding all over the place, or burning yourself on a hot pan (all things I can proudly say I've done, more than once,) mistakes in the kitchen aren't tragic.  So just take a deep breath and embrace the fact that you can be creative, you can feed yourself and people you care about wholesome food, and it's going to taste damn good in the end.  Oh, and that solitude? Sometimes it happens, and pushing dough to the edges of a pan is meditative, and other times I've got whining kids cranking out saying they're hungry, or that their brother was mean. But truthfully, just being in the kitchen calms me down, and my reactions are kinder there.
So what have I been cooking? I've made 9 pizzas in the last seven days. Yes, nine. Four had peach, basil and homemade ricotta, two were avocado, corn and basil, a pesto pepperoni and a standard pepperoni, and then one with garlic oil, figs, mozzarella, Maldon sea salt and a splash of balsamic. I just got on a kick, and I can't seem to stop. Here's the thing: pizza is really easy. It's one of those tricks, that once you learn how to do it, you wonder why you never did it before. And you can throw anything you want on top, and most of the time it works. This week, they all worked. And they worked so well that I just kept repeating them.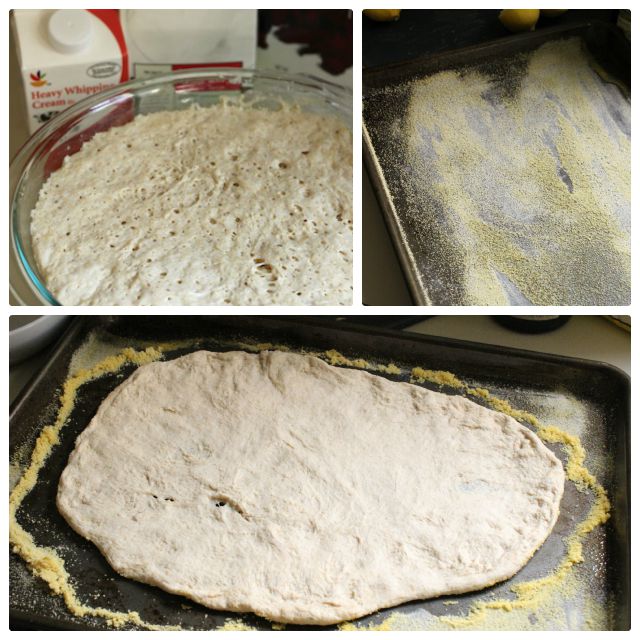 I've been making my own dough for a few years now. I've tried tons of recipes, but my all time favorite is from the cookbook and blog, Dinner: A Love Story, by Jenny Rosenstrach. Her recipe is pretty much Jim Lahey's no-knead dough recipe, and it's a winner. It takes five minutes to throw together, it uses no special equipment or ingredients, only needs two hours to rise, and it makes 2 balls of dough at a time.  I like to use a combination of white whole wheat flour with regular all purpose, but there's no reason you can't tip the scale in either direction you choose. The great thing about this dough is that you can use a spoon or your hands to mix everything together in one bowl, cover it with plastic wrap, and walk away for a bit and it's done. If you want to plan ahead, you can store the dough after rising in your fridge and use it some time in the next three days, or you can freeze a wrapped ball of dough for months. With a salad, it makes for a quick and easy meal, no matter what toppings you choose. And just to get things straight, I buy my fair share of ready made dough, so don't think you HAVE to do this if you want pizza. Just that if you do it once, you'll see that it's so simple, and it makes a thin and crispy crust that has pockets of pillowy goodness that you'll want to eat all the time.
So how did this pizza binge come about? I was inspired by the challenge of my cooking club this week. Our theme was peaches, and every dish had to contain them. I had starch as my course, and instantly I thought about one of my favorite ways to make peaches ever: Roasted Peaches with Basil and Ricotta (in the toaster oven!) I actually shared it with you all last summer.
In order to repurpose the flavor combination, I decided it would make for a great pizza, especially if I took the time to make homemade ricotta cheese. The whole point of our cooking club is to go that extra step, and try something new. As always, I started with Smitten Kitchen, and Deb did not let me down. Her recipe for Rich Homemade Ricotta needs no adapting. Again, it's one of those things that once you make you wonder why you haven't done it before. Making cheese isn't complicated! I know that may come as a surprise, and you might not believe me, but it only requires whole milk, heavy cream, lemon juice, salt, a thermometer and a cheese cloth. Everything else I guarantee you already have. You let your milk, cream and salt come to 190F (right before boiling,) take it off the heat, add your lemon juice, let it sit for five minutes, then pour it through cheese cloth that's set in a colander over a bowl. Let it sit for an hour, and you have creamy, sweet ricotta that you will want to eat straight from the spoon. In fact, after making my first batch of it last Sunday, I began a second batch Sunday night at 8pm because our family devoured the whole thing. I simply washed out my cheese cloth and started all over again. (You can pick up a cheese cloth for $5 or less at any large grocery store, and they're normally found in the baking section. And yes, they are reusable.)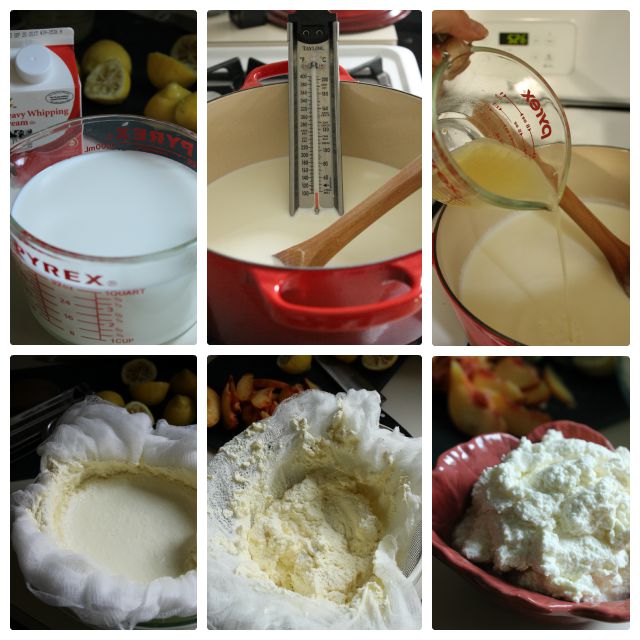 I topped the dough the first time with a slick of extra virgin olive oil, then spread a thick layer of ricotta over the whole crust. Sliced peaches decorate it, sprinkled with crunchy sea salt. When I pulled it out of the oven, I added chopped up fresh basil and a drizzle of good quality balsamic vinegar. There's sweet/salty/tangy flavors happening with crispy/creamy/chewy textures all balancing each other out. It's a savory pizza in the end, but one that would be welcome cut up as appetizers, as an entree, or even to end the meal with a cool glass of Riesling.
And here's a quick tip: just like that roasted peaches recipe, if you don't want to turn your whole oven on and heat up your kitchen, use the toaster oven for a quick cool pizza! You can make your big batch of dough, and portion it out for individual pizzas that you can top however you choose. It's ideal for using up random leftovers in your fridge, and it's a happy meal for one. 12 minutes in a 450F oven and you're good to go.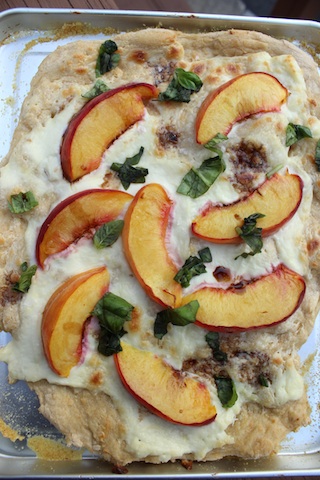 And in case you're wondering, that cooking club meal this week was delicious! Sparkling Spiked Peach Lemonade, Grilled Peach and Mozzarella Salad and grilled peach summer rolls, Peach and Tomato Gazpacho with Sauteed Shrimp, Kale, Peach, Corn and Feta Salad, Grilled Chicken with Sweet Potatoes, Grilled Peaches and Spiced Pecans, and a Summer Fruit Crostata. I'm behind sharing other supper club meals with you all, but trust me, it is a highlight of my month and I have several past themes waiting in the line up to write about.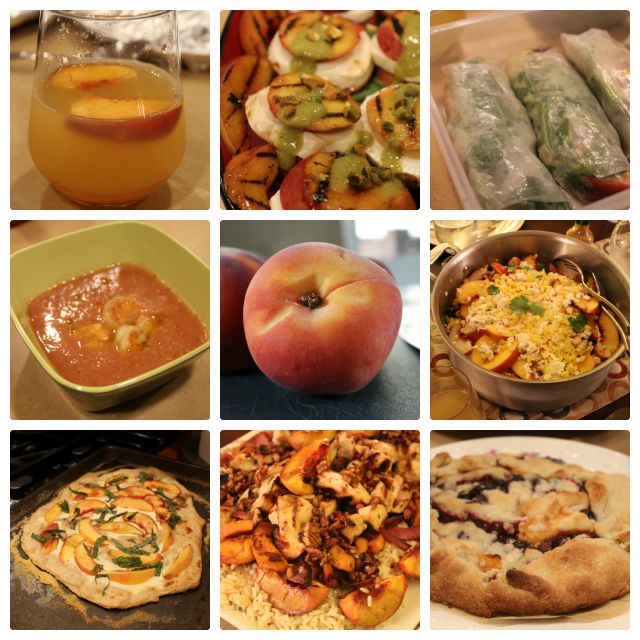 So even if things are crazy in your life, and it feels like there's never enough time, I hope after reading this you realize that you do have enough time for pizza. And while summer graces us for just a few more weeks, run and buy yourself some peaches and give this one a try. You don't have to make a big deal of it either. Store-bought dough and ricotta won't let you down, so don't think you have to go all or nothing. And if you do make it, please let me know how it turns out!
Peach, Ricotta and Basil Pizza
This Peach, Ricotta and Basil Pizza tastes like summer. At once creamy, sweet and salty, every bite is balanced, so this quick and easy dish is perfect on its own, or served as an appetizer for company. You can go the extra step with homemade dough and ricotta, or just keep it simple with store-bought ingredients. Either way it will be delicious.
Ingredients
1 16-ounce ball of your favorite pizza dough (I use the recipe from Dinner: A Love Story, with 1½ cups white whole wheat flour, 182 grams, and 2¼ cup all purpose flour, 295 grams)
3/4-1 cup of homemade ricotta or store bought (I use the recipe from Smitten Kitchen, using 3½ cups whole milk and ½ cup heavy cream)
2 peaches, halved and sliced into even pieces
1/4 cup fresh basil, sliced into thin strips
1½ teaspoons crunchy sea salt, such as maldon
3 Tablespoons extra virgin olive oil
good quality balsamic vinegar, just a drizzle
2-3 Tablespoons cornmeal for dusting the baking sheet
Instructions
Preheat your oven to 450°F/232°C. Using your fingers, lightly coat an 11 x 17 rimmed baking sheet with 1-2 Tablespoons of extra virgin olive oil. Sprinkle on the cornmeal and shake it all around, so that there is a dusting all over the pan. This will help you remove your pizza easily after baking. Place your dough in the middle of the pan, and slowly work it out towards the edges with your fingers. There is no need for a rolling pin or anything fancy. It will seem impossible to do, but if you work it gently, you will be able to make it into a very thin crust. Your best bet is to work out as much as you can, then let it sit for five minutes. Everything relaxes, and you miraculously can then push it out even further. Most of the time, you can get it to cover the whole sheet. If you can't though, just make it into whatever odd shape it wants to be. You can call it rustic, and everyone will be happy. Just make sure that there are no holes in it, so pinch pieces together if you have to.
Pour the remaining oil onto the top of the dough, and again spread it all over with your fingers. (It's just a light coating.) Using a spatula, dollop the ricotta on top of it, and then spread it evenly over the entire crust. Arrange your peach slices on top, and then sprinkle the crunchy salt over everything.
Bake the pizza for 12 minutes, or until the crust and cheese are slightly browned. Decorate the top with the fresh basil, and carefully drizzle the balsamic over the top of the finished pizza. I suggest putting your thumb over the opening of the bottle, and use it to control the flow. A little bit goes a long way.
Notes
*Any stone fruit will work, so try nectarines or plums if you have them handy.
**If you make the dough, you can either use it immediately after its two hour rise, or simply stick it in the fridge for up to 3 days after its rise. (Leave it in its covered bowl with plastic wrap if you are refrigerating.) I've left it rising for up to 6 hours, but haven't tried longer than that. It makes it very flexible if you want to prep the dough earlier in the day, or the night before you use it. Before baking, let it sit out for at least 30 minutes. You can always freeze a ball of dough, wrapped in plastic wrap and then bagged in a ziploc. Just let it thaw for 3 hours before use.
***Homemade ricotta takes about 90 minutes from start to finish, most of it hands off time, so you can make that while your dough is rising. It is amazing. Seriously.
http://tastyoasis.net/2015/08/27/peach-ricotta-and-basil-pizza/
© Tasty Oasis 2017
Related posts: