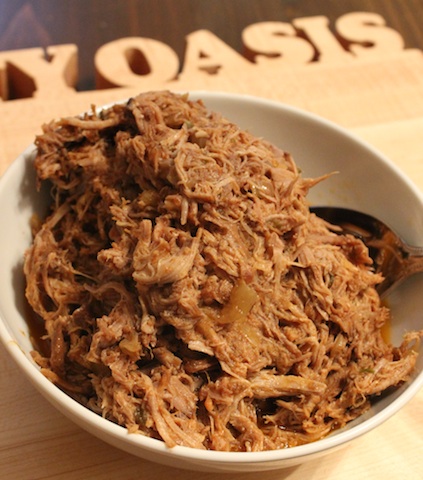 As the weather cools, the crockpot starts living on the counter again, instead of down in a cupboard. I love my crockpot. It's brilliant. I love it so much that I often have two of them going at the same time. Because if you're going to bother cutting and chopping ingredients, you might as well spend a few more minutes and get twice the payoff. Of course, that's only worth it if you're thrilled with the results. And let's face it, there are some definite crockpot fails out there, and I'll own several. Dried out chicken, burned sauces stuck to the bottom that are impossible to remove, flavorless mushy carrots floating in a stew. But those fails haven't deterred me. I have my favorite recipes that never go wrong, and I am always on the lookout for more. I've already told you about the easiest ribs in the crockpot (with a dry rub they're sweet, spicy and smoky all at the same time!), but I have held out on my family's other favorite recipe: Chipotle Barbecue Pulled Pork in the Crockpot, which I've been making for years. My first notes in my binder for it go all the way back to 2007. (The binder that my sister-in-law says is the one thing she would grab from my house in case of a fire. Just sayin'. I promise to write more about that one day.)  I've got a stained, ripped page that was printed off of AOL a million years ago, covered in 6 different pens with all my changes and comments like AMAZING!!!!, and FIFTH BIRTHDAY 2012, but no source on where the original recipe came from. With a little internet searching, it turns out the base recipe I began with is from Real Simple, but I have adapted it over the years. Since then it's graced our table for parties, holidays, and filled ziploc bags in my freezer for countless last minute meals and deliveries to friends who need a bit of a boost. It is so easy to put together, makes your house smell amazing, and is always a crowd-pleaser. Freezer-friendly, it is a great make ahead weekend project so that you can have dinner ready on a crazy Thursday night when you get home late from work, kids are starving, and nobody feels like cooking.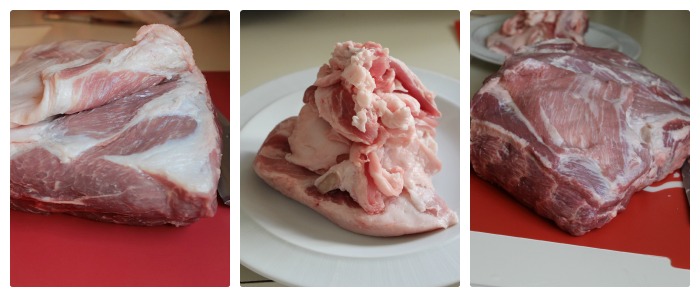 The basic premise is a bunch of pork gets thrown into the slow-cooker. The only time consuming part is trimming the fat off the pork. If you're lucky, your butcher will do this for you. I've scored at some grocery stores asking for this assistance, but other times (like when I am buying at Costco,) I have to do this laborious task myself. It isn't fun. It's kind of gross to be honest, and it is a bit of a pain, but it is worth it so that you don't have a greasy mess at the end of it all. So stick on some good music or a podcast, and just get this part done. But make sure to use a really sharp knife, otherwise you will be cursing the whole way through it. (Not that I am speaking from experience or anything. I'm totally innocent.) Once that's done though, the rest is so EASY.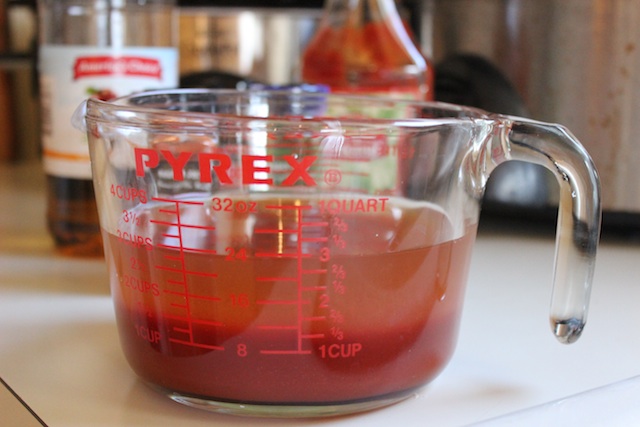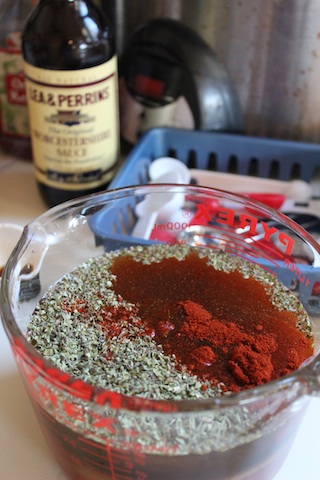 In a large measuring cup combine all the remaining ingredients and pour it over the pork, and let it cook for 5 hours on high, or 8 hours on low. Easy, right? I wasn't lying.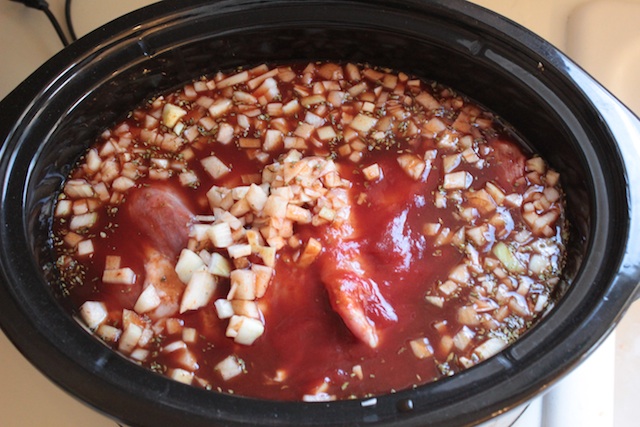 When it finishes cooking, the meat should just fall apart. At this point, you're going to want to shred the pork with two forks and reduce the sauce in a sauce pan. You'll then return the meat to the pot, and then toss all of this amazingly sweet and spicy homemade barbecue sauce back into the pork, coating every bite. It's comforting and delicious, and perfect served on a soft roll, on top of a bowl of spinach and kale, or alongside some macaroni and cheese. This week I pulled a batch out of the freezer and served it wrapped in a corn tortilla with avocado, and I couldn't have been happier. Cold weather comfort food that would be just as happy at a summer potluck with your neighbors.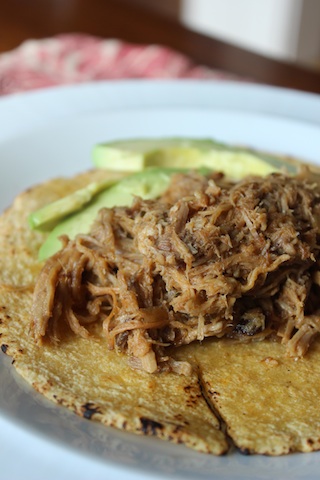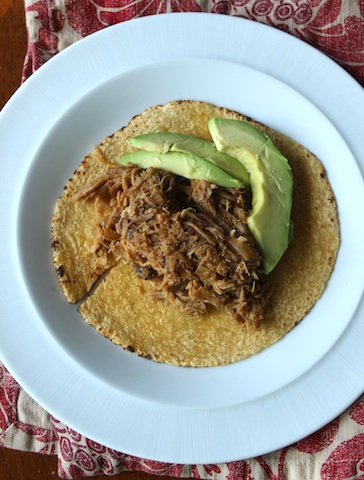 I hope this inspires you to pull your crockpot out too, and I would love to hear if you do! Let me know how it goes in the comments, and if you have other crockpot recipes you love, please help a girl out. I am always looking for something new!
Chipotle Barbecue Pulled Pork in the Crockpot
This Chipotle Barbecue Pulled Pork in the Crockpot is one of the easiest ways to get comfort food on your table with very little effort. It's smokey, sweet and spicy all at the same time, and it can serve a crowd or fill your freezer with leftovers.
Ingredients
7½ lb. pork butt (with the bone), trimmed of the fat*
1 large onion, diced
1½ cups ketchup
1½ cups apple cider vinegar
¾ cup light brown sugar
3 Tablespoons Worcestershire sauce
1½ Tablespoons dried oregano
1 Tablespoon kosher salt
1½ teaspoons dried chipotle powder
1½ teaspoons smoked paprika
Instructions
Using a very sharp knife, trim as much fat as possible off the pork butt, then place the pork in your crockpot. Combine all the remaining ingredients in a large bowl or measuring cup, stirring it together. Pour all of it, including the onions, on top of the pork and cook in the crockpot for 5 hours on the HIGH setting, or 8 hours on the LOW setting.
When it is finished, and falls apart with gentle prodding, remove the meat to a large, rimmed cutting board. Transfer all of the sauce to a large pot. You want to reduce the sauce down to thicken it, so over a high heat, let it boil rapidly with large bubbles for 5-10 minutes, or the amount of time it takes you to shred the meat.
While the sauce reduces, use two forks to shred the pork so that it looks like traditional pulled pork. Remove any excess fat you notice, and discard the bone. When all the meat is loose and shredded, return it to the insert of the crockpot, and ladle in the now thickened sauce. Toss your desired amount of chipotle barbecue sauce into the pork so that each bite is sweet and spicy and just as you like it. Serve it on a roll, in tortillas, or over a bowl of greens.
Notes
*The prep time accounts for trimming the fat off of the pork butt. It may or may not take you that long, but that is the most labor intensive part of the recipe. If you can buy it already trimmed, your prep time is really only 5 minutes, and then the amount of time post-crockpot to shred the meat and reduce the sauce, which is about ten minutes.
**This is extremely freezer-friendly. It will store in the freezer in a ziploc bag for 4-6 months.
***Adjust the spice according to your taste. You can always reduce the chipotle, but make sure to at least give it a shot.
****This is slightly adapted from a Real Simple recipe.
http://tastyoasis.net/2015/10/12/chipotle-barbecue-pulled-pork-in-the-crockpot/
© Tasty Oasis 2017
Related posts: