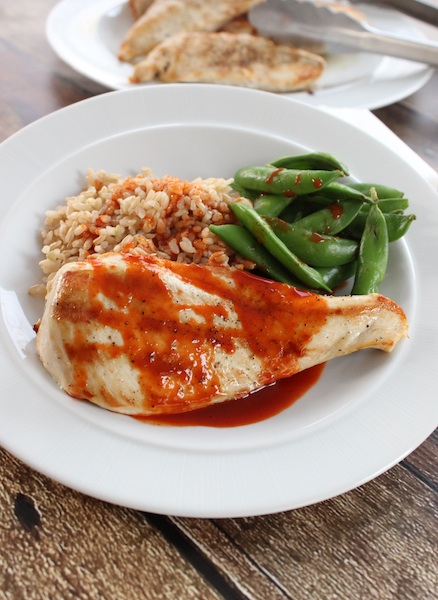 I get so tired of my own cooking. I know I've said this before, so forgive me, but how many times can I feed my family turkey burgers or pasta? But normally, when I'm in a rush, I know I can knock those out with no thinking in 20 minutes, and it will be good enough. Will it be wild and exciting? No. Will it satisfy everyone at the table? Yes. But I am so BORED of it. And truthfully, so are they.
So even though I have been distracted with all the baking and sweets lately, I've been pushing myself to incorporate new flavors into our standard repertoire.  The easiest way I've been doing that is by stocking my fridge and pantry with a selection of random ingredients from different cuisines. Za'atar from the spice markets of Israel improves all roasted vegetables, dried pasilla chilies from the mexican grocery story make for an amazing tortilla soup, and light and dark soy sauces and Chinkiang vinegar have brought chinese cooking into my home this week. And when I went to a new Korean store that opened up near a job I was on a couple of weeks ago, I brought home this Gochujang (Korean chili paste) that just makes everything taste sweet and spicy and fantastic.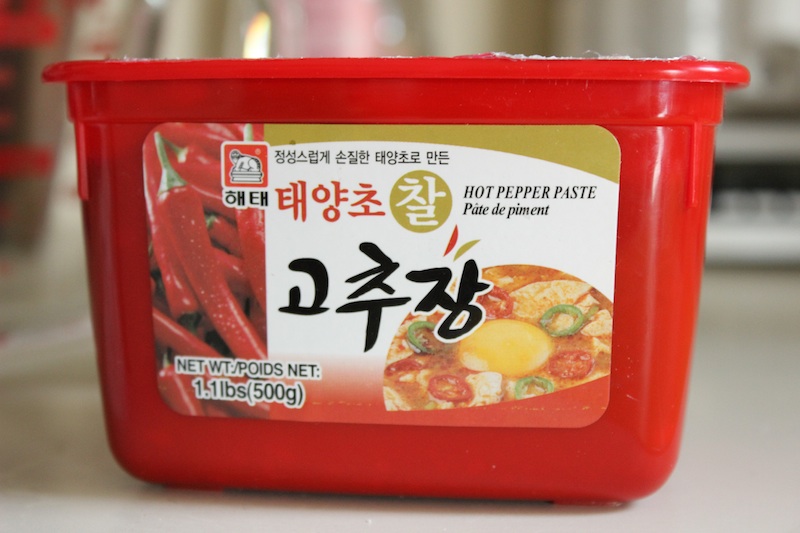 A few years ago I bought a container of Gochujang for a specific recipe I was making, and that container sat in the door of my refrigerator for an embarrassingly long time. I would toss a spoonful into chilies and soups, or use it as part of a sauce on a stir-fry. It always reminded me of going to my favorite Korean restaurant in Manhattan on 32nd Street and ordering Bibimbap in a Hot Stone Pot. (Isn't that fun to say? It's almost as fun as eating this mixed rice dish with ground meat, vegetables and a freshly cracked egg on top that sizzles from the heat of the pot that it is served in, all tossed with Gochujang.) But even I am leery of cooking with something that has been opened for YEARS, and so I hit the new store on my lunch break with a plan in mind. I wondered the aisles and finally found the one with this prime ingredient. But of course, as luck would have it, there had to have been at least 15 different varieties of this red pepper and soybean paste that is so fundamental to Korean cooking.  So being resourceful, I tracked down a little old woman who was also shopping and through a comical series of gestures (seeing we didn't speak a common language,) she selected the brand I photographed above and made it clear that this was the best of the bunch. Honestly, I am not sure if I would have known the difference between the many options, but I can tell you that I love it.
I got home that night and I threw together this Korean Chili Honey Sauce and tossed it on a big bowl of vegetables, and immediately knew that it was going to be a game changer. I played around with proportions, and what I came up with is my happy place where sweet and spicy meet. The sauce alone takes all of 3 minutes, and you can put it on ANYTHING. Just hot water, Gochujang, and honey, it is packed with flavor and will brighten up whatever quick and healthy dish you have going on. Equally fitting for carnivores or vegans, your options are endless. (I'm sorry my gluten-free friends, it looks like some of the brands contain wheat or glutinous rice in the fine print. Make sure to double check if you want to try it.)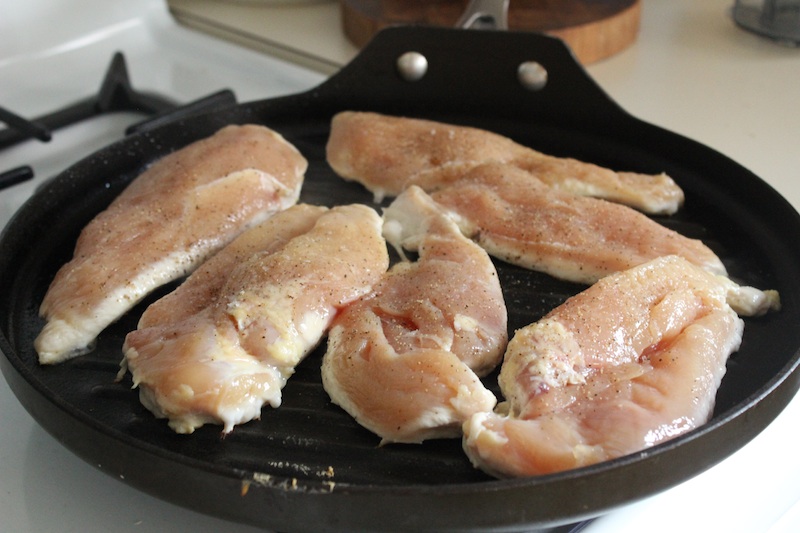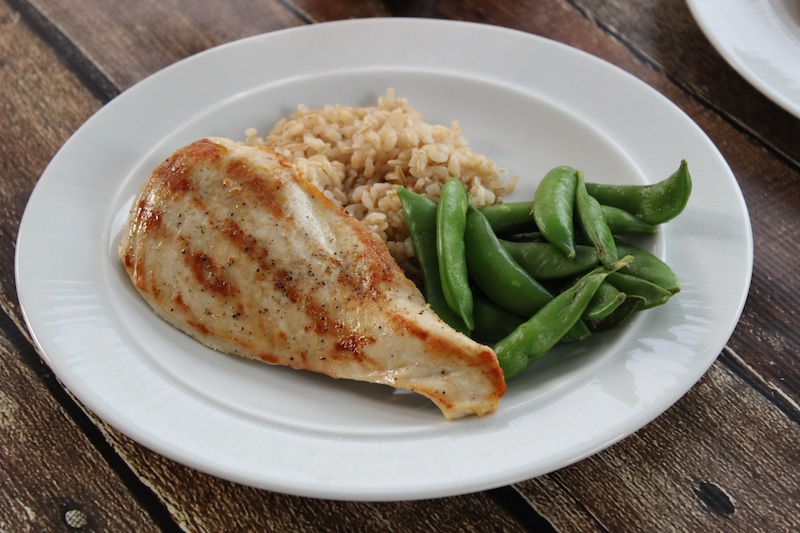 A pretty standard dish for us on those rushed nights is basic grilled chicken, and this Korean Chili Honey Sauce turns it from something practical and admittedly boring into something to savor. In less than 20 minutes, and with only 3 ingredients (not counting water, cooking spray, salt and pepper,) you've got dinner on the table that's so much better than takeout, and healthier and cheaper too.  If you've got picky eaters in your house, give them the plain version, but spoon on the sauce for everybody else. Both my kids kept asking for more sauce to dip their chicken in, and my little guy even said to me, "Mommy, this is SO good! You should put this on Tasty Oasis!" (The kid definitely earned some points that night.)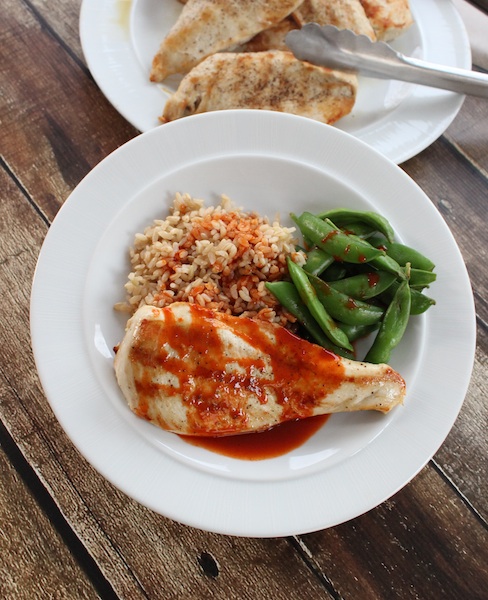 This Korean Chili Honey Sauce tastes complex and layered, but is so fast and easy to make. If you can get to an asian grocery store, Gochujang is inexpensive (my 500 gram container was only $3.99 and will last me forever,) but if you can't, you can always order it from Amazon. (Just an FYI, every time I link to Amazon it is an "affiliate link," which means Tasty Oasis will earn a few pennies from your purchase. I'll only put things I have or want to buy myself, so I hope it's a helpful resource.  And it's not like I'm going to be rolling in the dough any time soon from it, but it might buy me a stick of butter to make my own dough one of these days. Or cookies. Because as you know, I make a lot of cookies….) Just by having this one extra ingredient in your arsenal you will open up so many possibilities. Brown rice, steamed snap peas and chicken don't have to be a eaten as penance, they can pop and make you want more.  Even humble frozen broccoli shines with this sauce, and since I've made it I've used it to top pork, tofu, spinach and mushrooms, and all have been fantastic. And if spicy scares you off, know you can always swap the proportions to mellow it out and lean towards the sweet.
So if you've also been bored by what you've been cooking, but just want to keep your time in the kitchen short and simple, get some Gochujang and make this sauce. It will help push you out of your rut. I promise. It doesn't have to be complicated to be good.
Korean Chili Honey Sauce and Grilled Chicken
This Korean Chili Honey Sauce is sweet and spicy, and fast and easy to make. Perfect on grilled chicken, you only need 3 ingredients and you can have dinner on the table in less than 20 minutes. Gochujang, the red pepper and soybean paste that is the basis for the sauce, transforms any meal, and is just as good on meat as it is on a vegan dish. It's sure to get you out of any cooking rut.
Ingredients
3 large boneless, skinless chicken breasts (2 pounds total)
3 Tablespoons Korean chili paste: Gochujang
1½ Tablespoons honey
6 Tablespoons boiling water
salt and pepper to taste
Instructions
First slice each chicken breast through the middle, so that the top and bottom layers are each around ¾ of an inch thick. This will speed up the grilling time, leaving you with six pieces that will each cook evenly. Season the top of each piece with salt and freshly ground black pepper.
Spray a grill pan with oil (cooking spray, canola oil, coconut oil, whatever you've got), and heat it over a medium high heat. Once it is hot, place the chicken pieces seasoned side down and set your timer for 5 minutes. Quickly season the tops of the grilling chicken, and get to work on your sauce.
Heat 6 Tablespoons of water in a kettle or microwave until close to boiling. Mix the hot water, 3 Tablespoons of chili paste and 1½ Tablespoons of honey until you have a thin sweet and spicy sauce. If it's too hot for you, add more honey and water until you find your own perfect balance.
When your timer rings, lower your flame to a medium heat, flip the chicken over for another five minutes and let it continue cooking.
After the total ten minutes of cooking time, remove the chicken to a plate and let it rest for a few minutes.
Serve the chicken with some brown rice and a steamed green vegetable, spooning the sauce over everything. Be amazed that a healthy dinner is on the table in well under 20 minutes, and you have very little to clean up. Remind yourself that fast and flavorful home-cooking is easier than you think.
Notes
*If you can't buy Gochujang locally, at an asian market, you can order it from Amazon. This version seems to have great reviews.
**Use this sauce on tofu, pork, beef, fish, vegetables, rice, quinoa, or anything else that strikes your fancy.
***This sauce keeps in an airtight container in the refrigerator for at least 10 days, if it lasts that long.
http://tastyoasis.net/2015/03/20/korean-chili-honey-sauce-and-grilled-chicken-3-ingredients-in-under-20-minutes/
© Tasty Oasis 2017
Related posts: