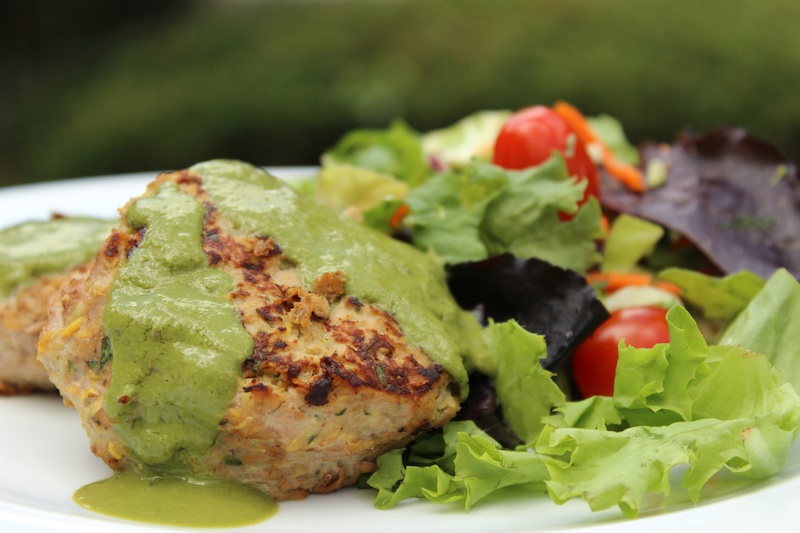 My boys are now 7 and 3, and they're pretty good eaters. Actually, they're kind of awesome, but it wasn't always that way. The big one ate everything until he was 18 months, then boycotted vegetables for almost two years. I freaked out about it, worried that he was going to be deprived of all essential vitamins, and experimented with sneaking vegetables into his diet. (Zucchini muffins were the only place I had any success.)  But sure enough, by the time he was four he just started eating the vegetables that we had been putting on his plate night after night, year after year. I was of the mindset that I would rather offer the food and toss it (yes, wasteful in some eyes,) than give in to the notion that this toddler had control over what I served. He ate what we ate. Period. Or at least he was served what we ate, because he certainly didn't always eat it. But you know something? I now have a second grader who is a very expensive dinner date. When we go to restaurants he gets insulted when he's offered the kids' menu, because he'd rather have the mussels with fries than chicken fingers, or seared ahi tuna with wasabi wonton chips instead of mac and cheese. Truthfully, he can be a bit of a snob about it, and we have to remind him that the the kids' menu is not just dumbed down food but portions that are sized appropriately for his appetite. But he's proud of himself for being adventurous, and that's pretty cool.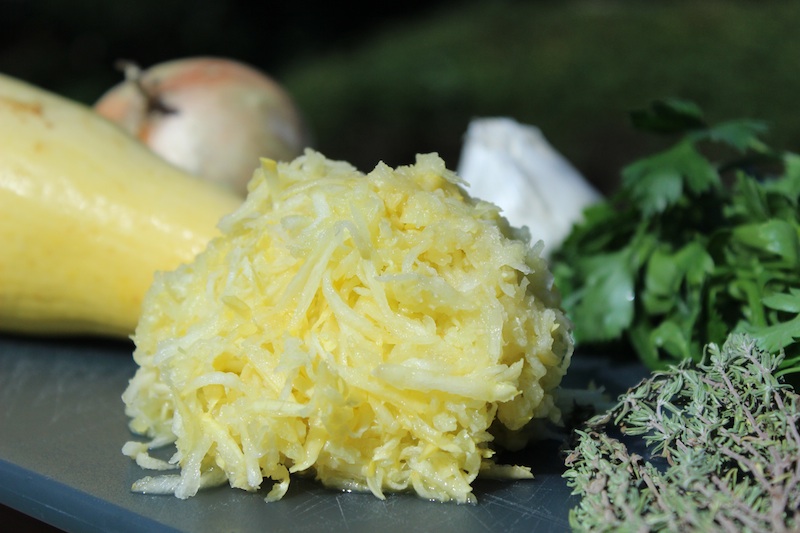 And then there's my little guy, who was a big pain in the rear end for the first year and a half of his life. He was a preemie, so it wasn't really his fault, but let me tell you that doesn't make it any easier when you're the parent. The short story is that he was six weeks early and hadn't had a chance to cook long enough, and so he had a whole bunch of delays. He was exhausted all the time, because he couldn't self-soothe. Which meant that until he was 14 months old he only slept in stretches that were 45-90 minutes, and then he would wake and need help going back to sleep. He was constantly cranky, and so was I. He also had sensory issues, and one way they manifested was in a difficulty with textures, specifically foods. So while he nursed and had his formula, he had zero interest in solids. He barely ate anything for a very long time, and took teeny to a whole new level. And when he finally did start eating, he was picky. And for a while I indulged it in ways I hadn't with his brother. He also pulled the whole "no vegetable" thing for a couple of years. (Maybe I could get spinach and carrots into him if they were in fruit smoothies encased in refillable solid plastic squeeze pouches so he wouldn't see the dreaded green color, but that was about it.)   But after a while with early intervention, and simply more time left on his own to develop, he started sleeping regularly, and everything started to get better. We all began to feel human again, because sleep deprivation is an unbearable form of torture (as any new parent can tell you.)  Then sure enough, one day he said, "Mom, can I have that carrot?" A real, crunchy, orange carrot. And he ate it. Because he saw us eating them, and because that's what's normal for our family. And now he's 3 and a half, and he doesn't get any special treatment when it comes to food. I think I've finally even convinced his grandparents that they can stop prepping pasta as a backup every time they bring over chicken curry, because he may scrunch up his face and say it's spicy, but he just reaches for his water, takes a sip, and keeps on eating.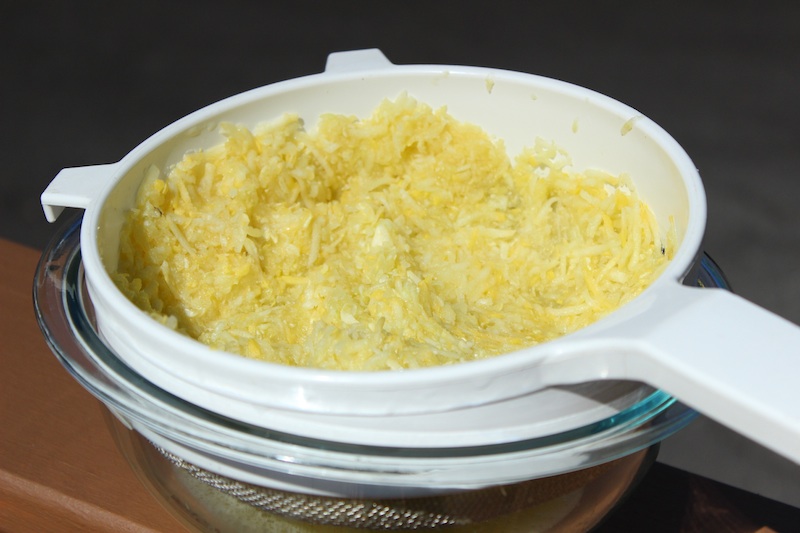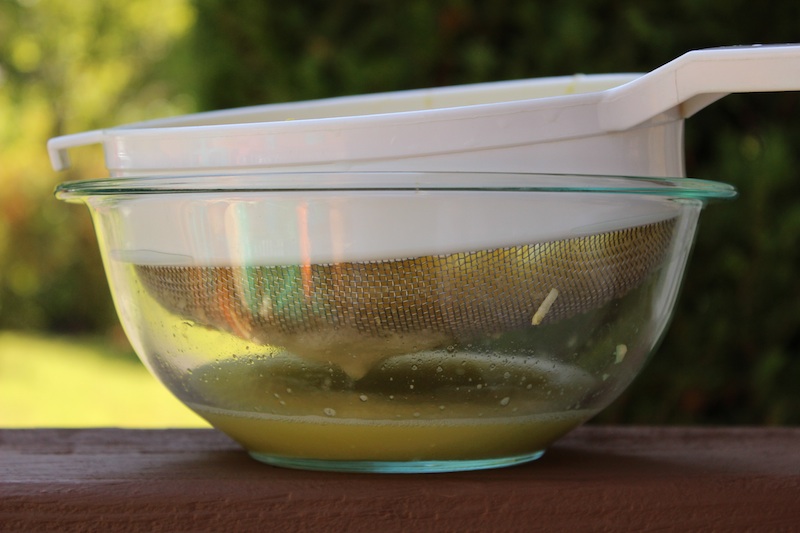 Now I don't write this to brag, because I've had more than my share of food headaches and fails when it comes to my kids. And I don't have any magic advice, except to just keep putting the food you want them to eat onto their plates. We don't force them to eat everything, but we are very insistent that they take at least one bite. Because maybe they didn't like peppers last week, but this week their tastes may have changed. And yes, we resort to bribing. I'm not proud, but it's true. And if there's parents out there who don't, I want to meet you because I don't know how you do it. We absolutely pull the "there won't be dessert" card, or the "you're done with dinner then" line, and there can be crying and fussing, then I worry that I'm causing horrible food issues down the road.  But really, I think it's worked. And I think a big part of that is because the food is mostly home cooked, so they recognize the work that's gone into preparing it. And for that I have to give credit to Brian, because he always reminds them, "You need to thank Mommy for making this for us." Oh, and when we're at a restaurant the line of choice is, "If you're not going to try that, do you want me to go tell the chef you don't like it?" That seems to work too somehow.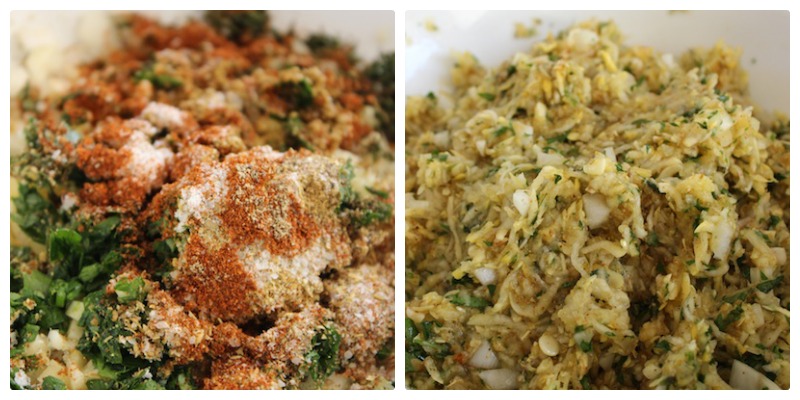 Which all goes to say, I'm not really one for tricking kids into thinking there's no vegetables in a dish. But I am all for including them in unexpected ways that may make them more appealing, or just no big deal.  So when I was paging through the cookbook "Jerusalem," by Yotam Ottolenghi and Sami Tamini, and I saw a turkey burger recipe with shredded zucchini stuffed into it I knew I had to make it. Turkey burgers are our go-to weeknight dinner, but even though they make everyone happy time and again, they can get boring. And since everything these guys write about makes my mouth water, these hit the top of my to-make list.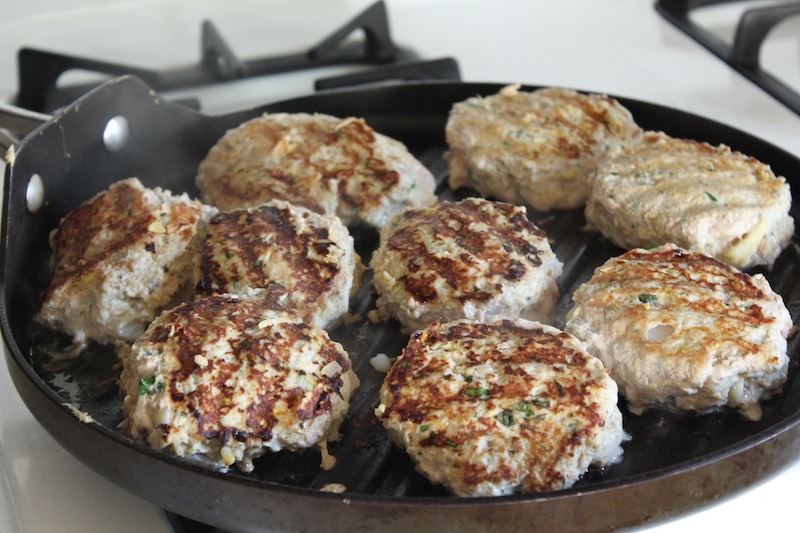 The night I wanted to make them I had only a few of the ingredients their recipe called for, but I wasn't about to let that stop me. So instead of zucchini I had yellow squash, and no green onions meant the random half onion sitting in a tupperware in my crisper drawer was going to get repurposed. And since I'd already been on a cumin kick for a while, I decided to replace their spice of choice for coriander.  And while they wanted cilantro and mint, I only had fresh parsley and thyme. So basically I swapped everything out, because what was the worst that could happen? Use what you've got is my motto, because last minute runs to the store are rarely realistic in my life.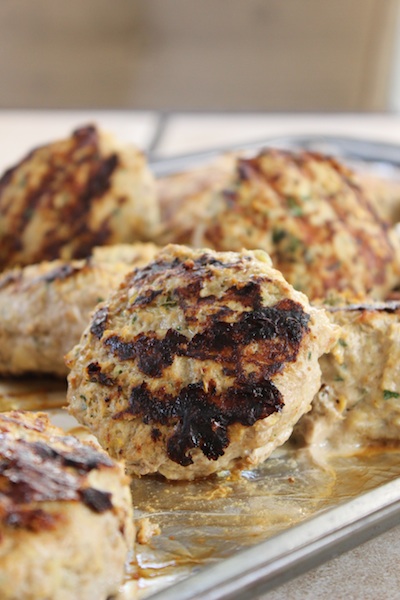 Something I loved about their recipe was the idea to start the burgers on the stove, but finish them in the oven. Instead of frying them in oil to start with though, I pulled out my trusty grill pan for the first step, making these just a bit healthier. And as always, I increased the amount of burgers by basically making triple the original recipe, because if I am going to put the effort in to shred, and strain, and chop and mix, I certainly want enough for a few meals. Turkey burgers freeze well, so why wouldn't you do it all at once and save yourself the hassle a week from now?
And one more thing, here's why you should make these Turkey and Yellow Squash Burgers with Coriander and Parsley: they're full of flavor from the fresh herbs, garlic and onions, and an optional spicy kick of cayenne. The shredded squash makes them moist and healthy and packed with vitamins A and C, as well as magnesium, and they're something you can feel good about eating.  If you're someone who thinks the only tasty burgers are made from beef, please give these a chance!  In less than an hour you can whip up 17 burgers, and freeze however many you want or share with friends. My kids loved them, and the older one even asked to have leftovers the next day for breakfast. They're really worth your time, so let me know how they go!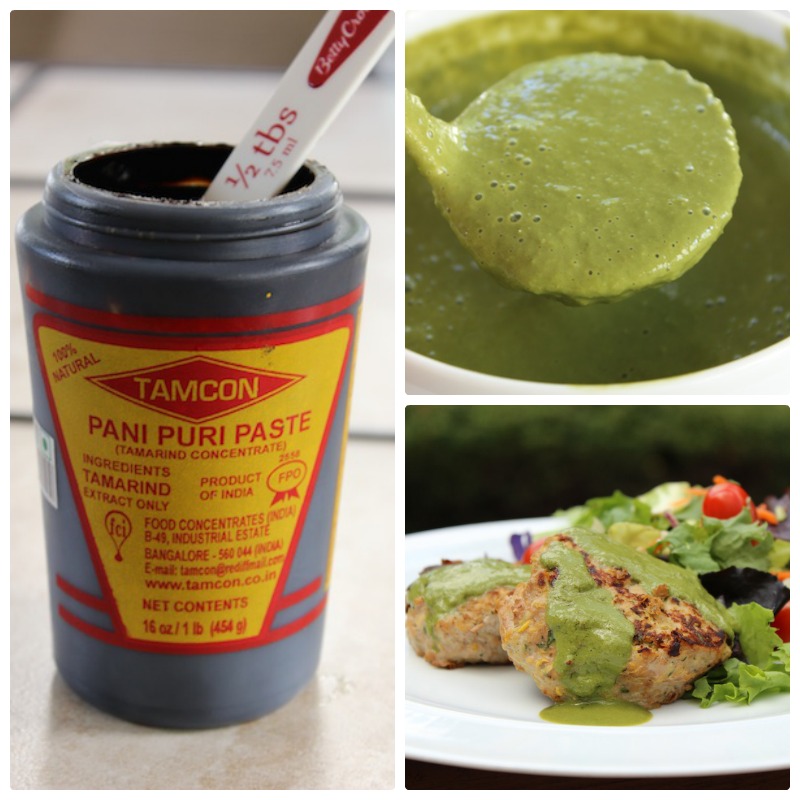 Oh, and their recipe has a sour cream and sumac sauce to be spooned on the side, and since I'm not a huge sour cream fan and sumac isn't easy to find locally, I decided to raid my fridge and make a tamarind parsley chutney to go with it. Because again: Use What You've Got. And while I tested these burgers a few different times to make sure I give you a delicious recipe that will work for you, I'm not quite ready to share this latest chutney. Although I liked it, and poured it on everything during the week, it got mixed reviews at home. So I'll get back to you on that one. Tasty Oasis isn't about, "Hey, look what I made! This didn't turn out well, but you should make it too!" My goal is to provide you with recipes that will make you feel successful in the kitchen, and leave you wanting to come back for more. So please let me know if that's the case! I would love to hear if you make anything on here, or have a suggestion or opinion about what I write, because I get ridiculously excited when people leave comments. Seriously. I do. (Not that I'm fishing or anything, but if you've gotten all the way down to the bottom of this post then you must be interested or really kind, because it's gone on forever. So thanks for sticking with me!)
**And time for a confession: This morning, at the crack of dawn, my little guy comes into the room and asks to cuddle. So we're lying there and I tell him I was up way too late writing about the "fancy" turkey burgers, the ones that he ate in their entirety three times, and he says, "Mommy, I don't like those. There's too much stuff in them. The plain ones are better." So, yeah, kids are maddening, and even when you think you've got them where you want them, they assert their preferences. But you know something, I'm not going to stop serving them to him, so he'll just have to deal.
Turkey and Yellow Squash Burgers
These Turkey and Yellow Squash Burgers with Coriander and Parsley are full of flavor and a kick of spice. The shredded squash makes them moist and healthy, so you have a burger you feel good about eating. And in less than an hour you can have dinner on the table and extra meals to freeze for busier nights ahead.
Ingredients
3 lbs of ground dark meat turkey (1500g)
2 cups of shredded yellow squash, juices strained and packed down (from 2 large squash)
1/2 cup onion, diced (from 1/2 an onion)
4 garlic cloves, peeled and minced
1 large egg (yolk and white)
1 large egg white
1/2 cup chopped parsley, packed down
1 Tablespoon fresh thyme leaves (or 2 teaspoons dried thyme)
1 Tablespoon ground corriander
1.5 teaspoons kosher salt
1/2 teaspoon ground black pepper
3/4 teaspoon cayenne pepper (more or less depending on spice preference)
cooking spray or oil for your grill pan
Instructions
First, place a strainer on top of a medium sized bowl, because you'll need it in a second. You'll also need a large mixing bowl, and two big plates set up for forming your burgers.
Using a box grater, shred all of your squash and place it in your strainer. Push down to get all of the watery juices out, because you don't want your burgers to be too wet. While the squash sits there, cut up your onion, garlic, and herbs and toss all of your ingredients into the large bowl. GIve your squash one last squeeze through the strainer so that it is as dry as can be, and throw that in too. Use a wooden spoon or your hands, and mix everything together until it is well combined.
Form all of your burgers at once and set them up on your two plates. (Try for 17.)
At this point the mess is over, so wash your hands, and set your grill pan over a medium high heat, and spray it with a thin layer of cooking spray (oil). When it's hot, use a spatula to transfer over half of the burgers, and cook them 5 minutes per side so that you get nice grill marks on them.
While they're on the stove, set up a baking sheet lined with tin foil or parchment (to reduce your mess later,) and preheat your oven to 425 degrees fahrenheit. After the fist batch has browned for ten minutes total, transfer it to the baking sheet (but don't put them in the oven yet,) and go ahead and brown your second batch for another 5 minutes per side. When finished, place the rest of your burgers on the baking sheet (they all should fit on one sheet.)
Bake all of them at once in the middle of the oven for 15 minutes, or until all the burgers are cooked through.
Serve topped with a favorite chutney and a big salad, and enjoy!
Notes
*This makes 17 burgers, but it all depends on the size you make your patties.
**This recipe was inspired by Turkey and Zucchini Burgers in "Jerusalem, A Cookbook."
***If you aren't throwing a party or expecting to eat the leftovers all this week, let the extras cool and wrap them in plastic before placing in tupperware or Ziploc freezer bags. Portion out however many you think you'll want per meal, and don't forget to write the name and date on the bags so they don't get lost in the freezer!
***If you're worried your two squash yield less than 2 cups shredded, it's really okay. It doesn't have to be exact. More or less and you'll still be fine.
http://tastyoasis.net/2014/09/17/turkey-and-yellow-squash-burgers/
© Tasty Oasis 2017
Related posts: