Dinner is often a scramble in my house. Most days I'm lucky enough that the kids are already home from school (thanks to their grandparents,) but at 5:30pm I rush through the door and head straight to the kitchen, barely saying hello and giving kisses. I drop my bags, and before I do anything else I put a pot of water on to boil and turn on the oven. Even if I haven't planned what I'm going to cook, I do these two things just to get the process moving. Only then do I wash my hands and check in with everyone, asking if homework's been done and how the day's been. For our night to go smoothly, not only do I need to get our meal prepped, but our family dinner needs to be enjoyed and completed within an hour and fifteen minutes. It's a tall order, and not always successful, but it certainly is the goal.
I have my standard kitchen fallbacks, the dishes I throw together without thinking and without a recipe, but they're not exactly exciting. How many times can I possibly cook turkey burgers, or toss pasta with a quick turkey meat sauce? I love pulling a bag of something homemade out of the freezer and just reheating, but it's not always an option. So I'm thrilled when I find a great recipe that's fast and flavorful, pleases all four of us, and can even be doubled so I can freeze half for another night. Chipotle Turkey Meatballs fits the bill perfectly.  It's slightly adapted from one of my favorite cookbooks,  "Mexican Everyday," by Rick Bayless. It's a book that uses easy to find ingredients, most recipes can be made in less than an hour, and for dishes that take longer he has crockpot cooking instructions so your meal can be waiting for you when you get home. I've made several dishes and every single one of them works. It's a book you should have on your shelf.
According to Bayless, these meatballs are traditionally made with bacon and ground pork, but I have lightened the recipe by replacing the bacon and pork with the leaner choice of uncured turkey bacon and ground turkey. (Have you noticed a theme? We have a lot of turkey in my house. And I always buy the darker mix of meat because the breast meat dries out too easily in everything I make.) If you haven't used turkey bacon before, you'll notice right away that there is no marbling and so the amount of fat is greatly reduced. I use it all the time in a lightened spaghetti carbonara (another great weeknight dinner), so I often have it ready to go in the fridge.  The original recipe also calls for fresh mint, but I'm more likely to have cilantro in the crisper so that's what I use, but any leafy green herb will do. I know people have strong opinions on cilantro, so feel free to use mint, parsley or even basil.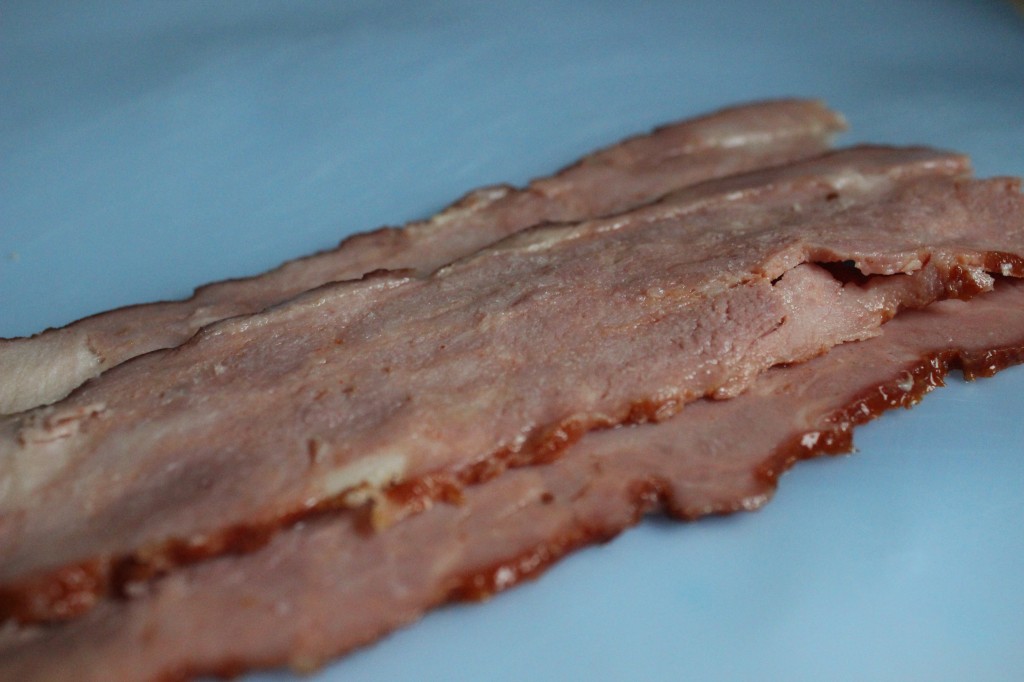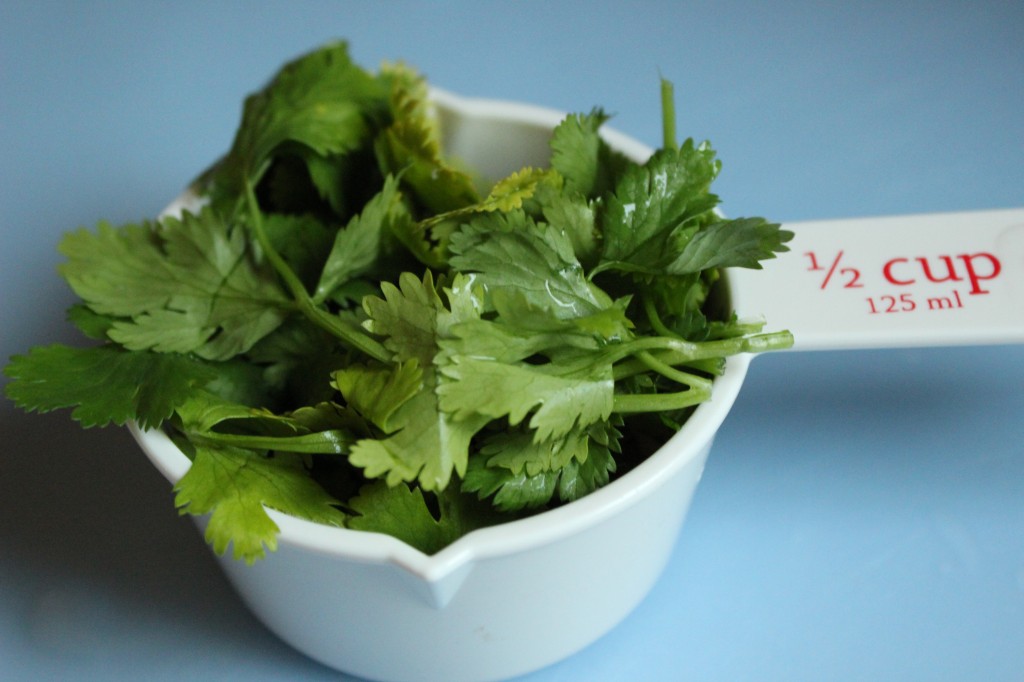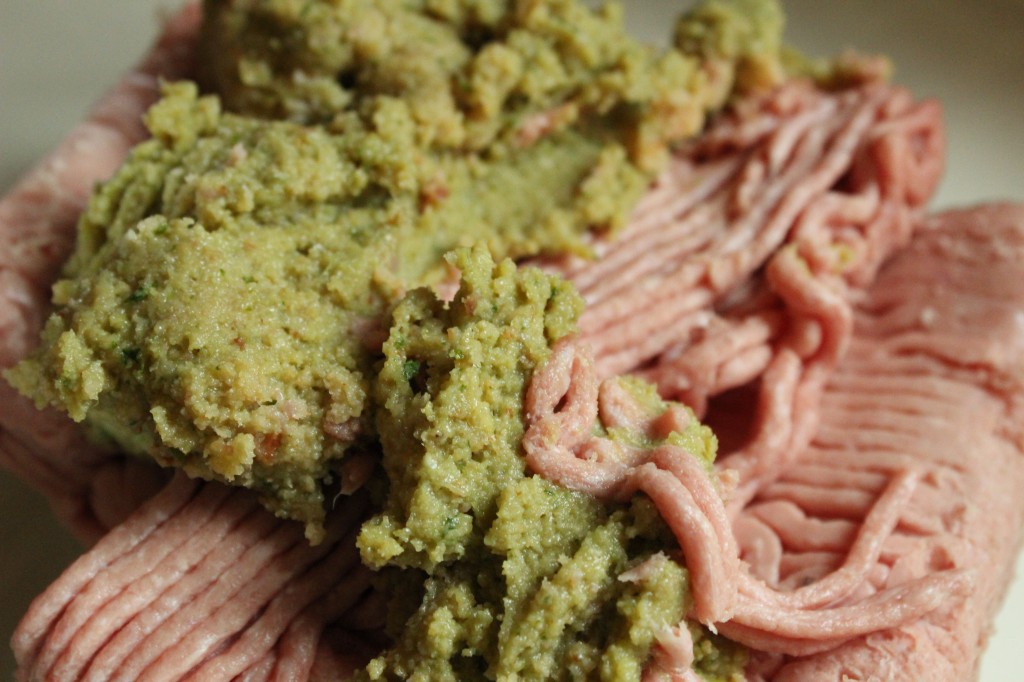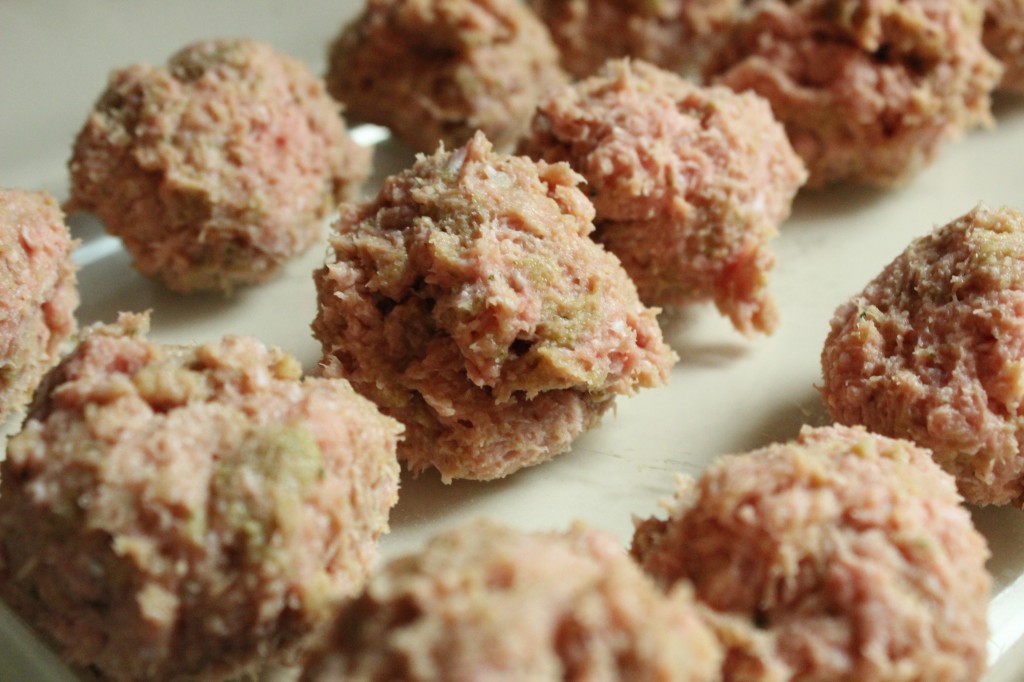 For the sauce, fire roasted tomatoes and chipotle peppers give this dish a smokey layer, and the heat can be modified to suit your taste. If you prefer a mild kick, slice open one chipotle pepper and with a knife scrape out the seeds inside and remove the stem. This will temper the strength of the pepper. My family enjoys the bite of two whole chipotles with two tablespoons of sauce, but we're also a house that keeps multiple bottles of sriracha on reserve. If you don't know how hot you can handle it, start with less because adding more is a whole lot easier than trying to turn back. By baking the meatballs in this sauce, they stay moist while they cook, and will remain so even a couple of days later. (If you manage to make them last that long!) Honestly, you'll just want to put the sauce on everything; it is that good.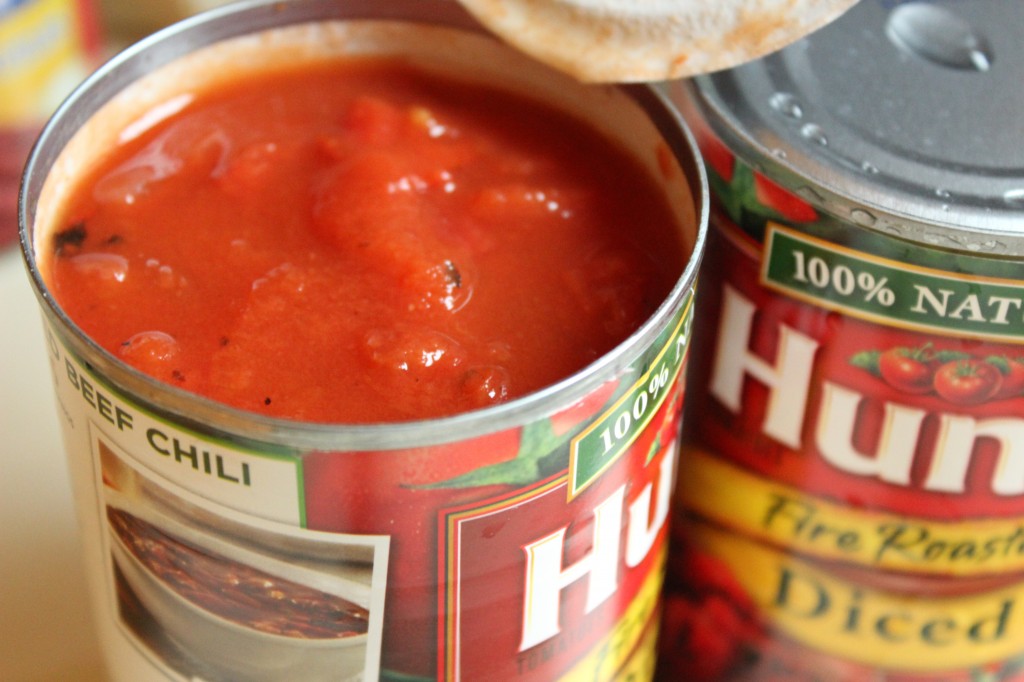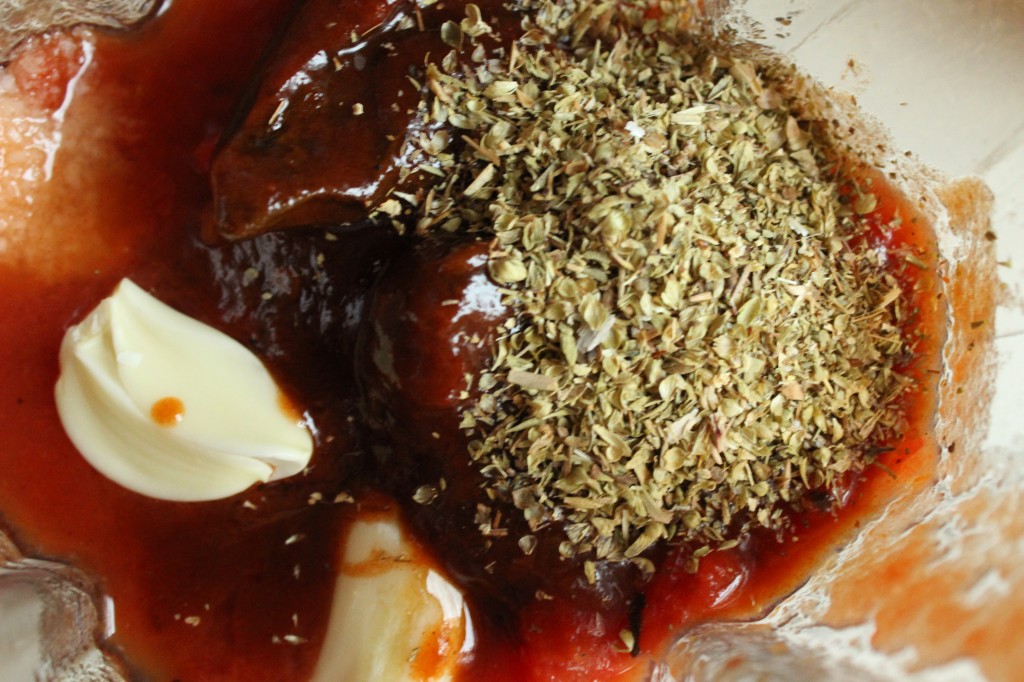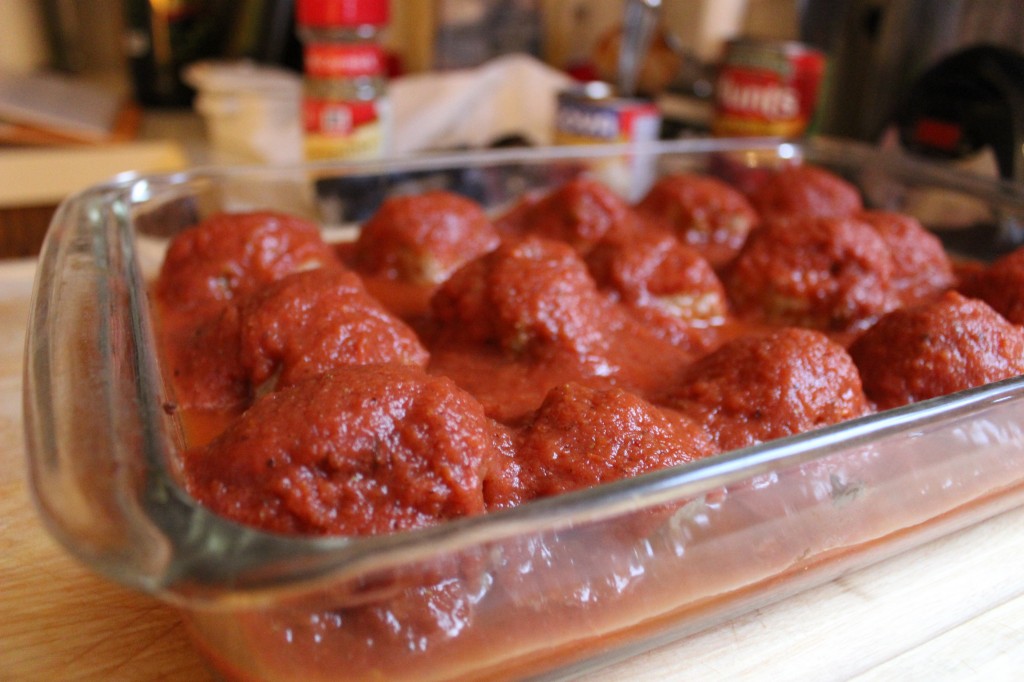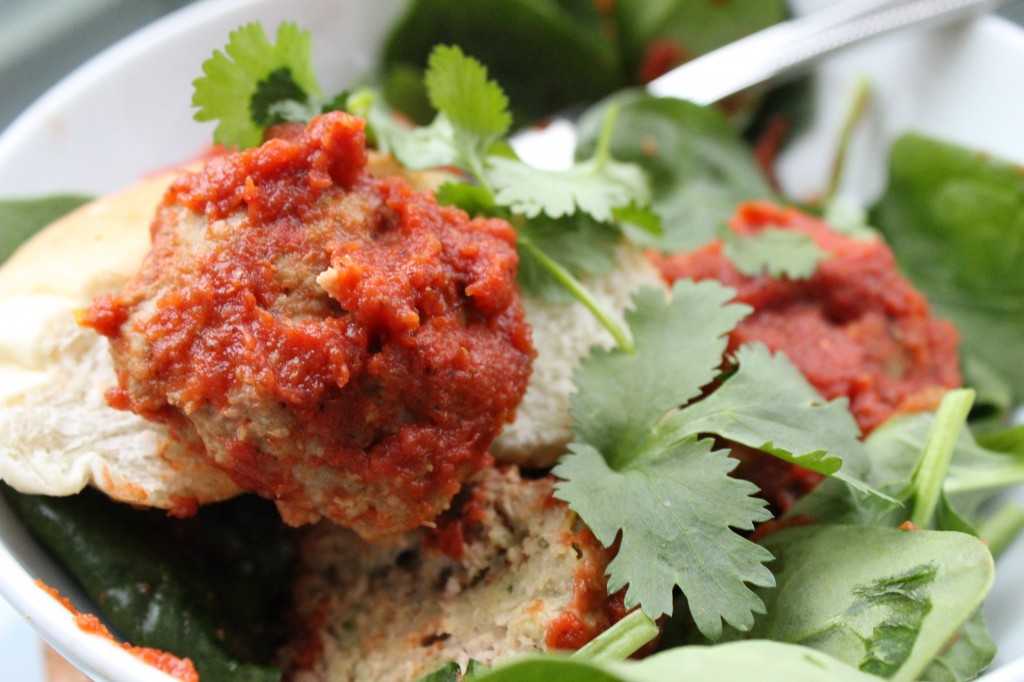 On a busy weeknight, I don't often make more than one part of the meal from scratch, so it's unlikely that I would have pasta or rice to go with these meatballs.  I prefer to serve it on top of fresh baby spinach (again, because I probably haven't actually cooked any vegetables,) and the heat of the meatballs and sauce wilts it perfectly.  And as in all cases, some good bread makes this even better. So if everything goes according to plan, this is a meal that lets us sit down to dinner by 6:15, and by 6:45 we are ready to move on to the next phase of our night: bath time routines, living room dance parties, and cuddling and reading in bed with lights out at 8pm. An easy dinner makes for an easier night, which is something everyone can appreciate at the end of a long day.
Chipotle Turkey Meatballs
Chipotle Turkey Meatballs are fast and easy to prepare. With 10 minutes of prep time and 30 minutes in the oven, it is the perfect weeknight meal. The chipotle peppers give a smokey heat that makes this Mexican dish warm you from the inside, but the level of spice can easily be adjusted to your taste.
Ingredients
3 slices uncured turkey bacon
3 garlic cloves, peeled (divided use)
2 large eggs
1/2 cup dried bread crumbs
1 teaspoon kosher salt (divided use)
1 1/4 pounds ground turkey (94% lean)
1/2 cup loosely packed cilantro, and extra for garnish
Two 14 oz cans of diced tomatoes in juice (preferably fire roasted)
2 canned chipotle chiles en adobo
2 tablespoons chipotle canning sauce
1 teaspoon dried oregano
Instructions
Preheat the oven to 450 degrees.
Set out a 9 x 13 glass baking dish. (There is no need to grease the dish.)
In a blender, combine the uncooked turkey bacon and one garlic clove until a paste forms. Scrape down the sides of the blender and add in both eggs, bread crumbs, cilantro and 1/2 teaspoon kosher salt and blend until smooth.
In a large bowl, use your hands to combine the ground turkey with the blended mix until everything is well incorporated. With wet hands, form into 15 balls, placing them into your baking dish in 3 rows of 5. The easiest way to make sure they are relatively even is to take the original bowl of meatball mix and score it with your hand into three even sections, and then attempt to get five balls from each.
Once you have managed to wash off your hands, bake the meatballs for 15 minutes in the middle of your oven, uncovered. They will brown more on the bottom than the top, but don't worry about that.
While they are baking, wash out the blender and then fill it back up with the rest of your ingredients to make the sauce. Pour in the diced tomatoes with their juice, 2 peeled garlic cloves, the chipotle peppers and canning sauce, dried oregano and 1/2 teaspoon kosher salt and puree until smooth.
Pour the tomato sauce over the partially cooked meatballs, covering them evenly, and bake for an additional 15-20 minutes, until the sauce has thickened slightly and the meatballs are cooked through.
Serve over spinach, rice, or pasta, and garnish with extra cilantro and some good crusty bread.
Notes
*The recipe is adapted from the cookbook "Mexican Everyday," by Rick Bayless. He originally calls for the meatballs to be made with pork and traditional bacon, and if you choose to do that make sure to spoon off any rendered fat from the baking dish before adding the sauce for the second round in the oven. He also says that a combination of beef and pork works well, as does lamb.
** Mint is the traditional herb for the pork version, but use whatever green herb you prefer or have handy.
***To reduce the heat from the chipotle peppers, you can open them up and remove the seeds (being careful to wash your hands immediately afterwards,) and use only one pepper and one tablespoon of the canning sauce. Of course, you can always add more to taste.
****Homemade breadcrumbs are ideal, but I often use store bought (with as few additives as possible) and they're perfectly fine. Panko is another option, but increase the amount to 3/4 cup. To make these gluten free, replace the breadcrumbs with an equivalent amount of cooked quinoa.
*****This can easily be doubled. Simply use two 9 x 13 glass baking dishes, filling each with 15 meatballs, and bake them simultaneously, adding on an extra 5 minutes if necessary. Enjoy one batch for dinner, and freeze the second in a large plastic freezer bag, which can then be stacked in the freezer and quickly defrosted another time under hot running water.
http://tastyoasis.net/2014/03/03/chipotle-turkey-meatballs/
© Tasty Oasis 2017
Related posts: