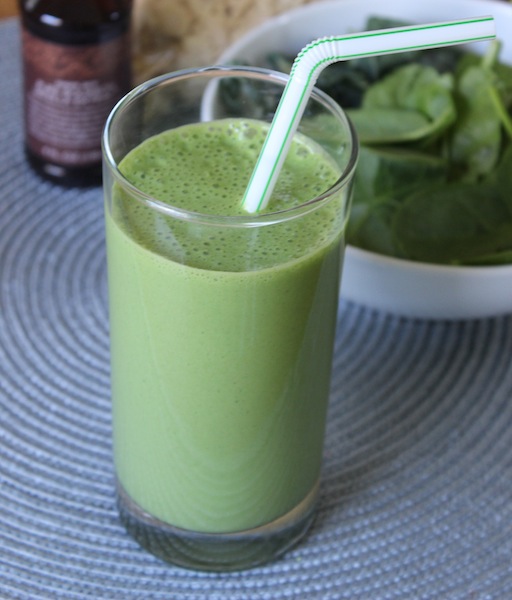 My family loves a good ritual, and I find comfort in traditions that remind me to take time out of my everyday nonsense and reflect on where I am, how I've gotten here, and who has filled my heart along the way.
My brother Brian's birthday was St. Patrick's Day, and when we were little we always celebrated with Shamrock shakes. They were a special green treat, and I always looked forward to the trip to McDonald's for that cold and creamy drink that went so perfectly with hot and salty fries.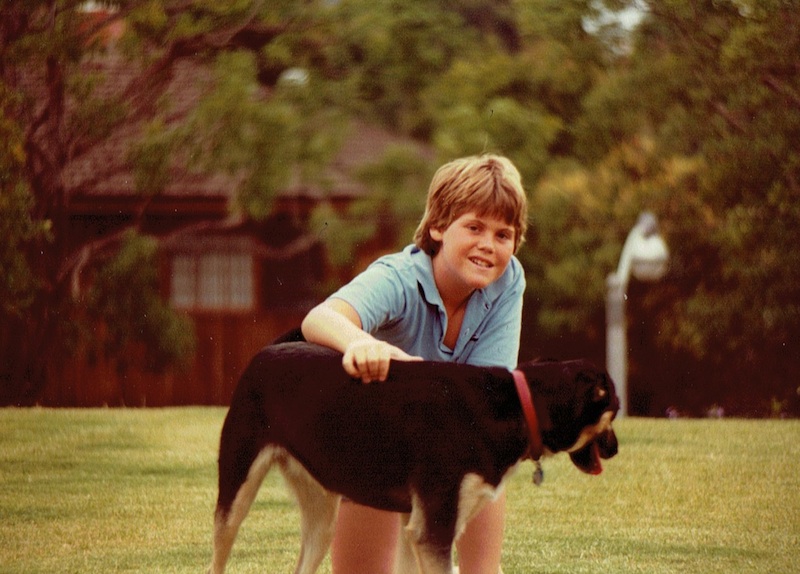 Tuesday will be the 30th anniversary of a different birthday tradition though. Every March 17th since I was 9 years old, I have celebrated my brother's birthday with six green helium-filled balloons: one for him, one for my mom, one for my dad, one for my brother Andrew, one for my abuelita Julita, and one for me. The people who loved my brother the most. But these balloons aren't headed for a party; they're headed for the sky. While others hold tightly to make sure their balloons don't fly away, we consciously and deliberately let ours go. In the beginning, we all stood together with our arms around each other, as we craned our necks and watched the green balloons float up and away. We kept our eyes on them until they became faint dots that disappeared far up into the clouds. We whispered happy birthday wishes, and we cursed him for missing out on turning another year older, depending on the mood.
I've never skipped a single year. I've let balloons go with family, and I've let them go all on my own. I remember there was one year I went by myself to my college bookstore to get the balloons and the person behind the counter questioned, "Big party?" and I answered, "No, just for my brother's birthday." When she then asked, "How old is he?" I didn't know how to answer. But it's grown easier with time. I now can say that he was two months shy of 15, and he would have been 45. Easier, but not easy.
These days I still buy six balloons, but I give my kids the chance to decide how many we're sending up for Uncle Brian. Some years they want to send just one, keeping the rest to play with, and other years they let them all go, trying to win at who can see them soar the longest. I've had balloons get stuck in branches, I've watched them sail above the New Mexico desert while driving across the country, and I've had them pop on the car ride home from the store. But no matter what, I always take the time to make the moment happen. I do it in honor of my brother's memory and the son my parents lost, to mark the passing of the years, and now as a way for my kids to connect to this part of my life that they will never fully comprehend.
This year, like so many before, my mom timed a visit to be with us for the birthday. The tradition we share allows us to celebrate and remember. With my own little guys, the balloon release is something oddly fun to look forward to, and I know that they would have loved the Shamrock shakes that we sucked down as kids on those birthdays so long ago.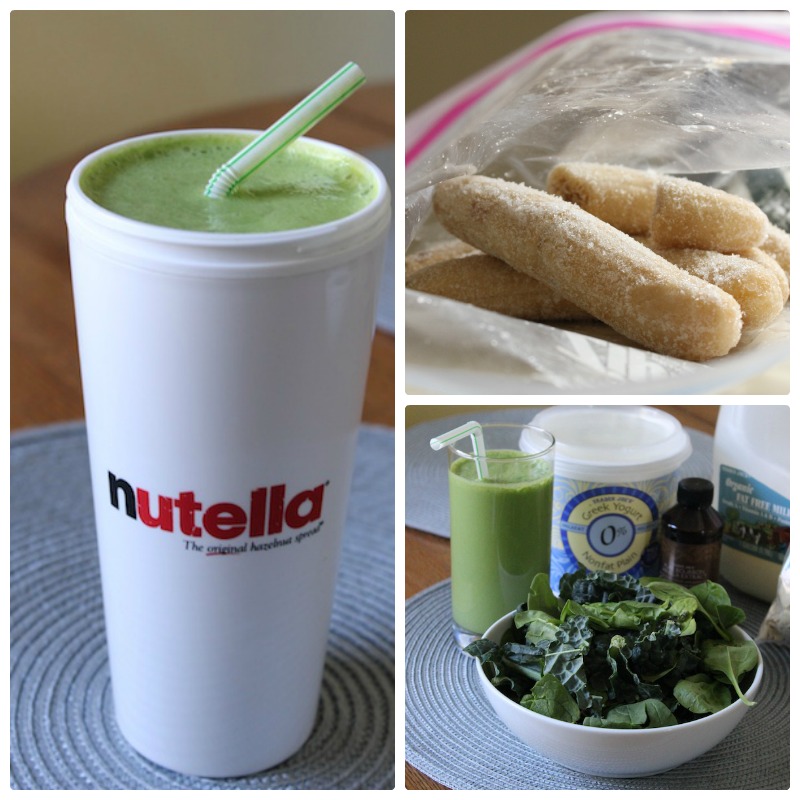 But since I'm "That Mom," my kids have never been to McDonald's, and the closest they're going to get this week to that milkshake of my memories is a homemade cold and creamy green smoothie. It's going to pop with color and flavor, it's going to taste like a treat, but it's also going to be super healthy. The bright green effect is from spinach and kale, but a frozen banana makes this breakfast, snack, or popsicle filling surprisingly sweet. Made in under five minutes, and packed with protein from nonfat plain greek yogurt, skim milk and almonds, I know it will fill them up, because it can easily carry me through a morning.  It may not be minty sippable ice cream,  but the good thing is that they won't know what they're missing. (Don't worry, I'm clearly not depriving my kids of dessert. Need I remind you of the Brown Butter Brownies with Dark Chocolate Chunks or the always present Vegan Chocolate Cake? I mean, just look at the travel mug I pour my morning smoothie in! Nutella Crunch Cookies didn't taste test themselves! They're fine. Really. Some vegetables might even balance it all out.)
**Oh, and for any grownups out there who might be looking for a more adult version of a Shamrock shake to honor the day, there's always my Indonesian Avocado Shake (Jus Alpukat) with Kahlua and Godiva Liqueur  that I posted a few months ago. Still green and sweet, but this one's got a kick.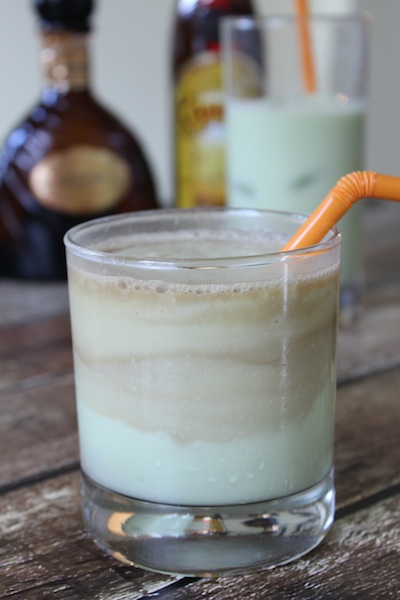 So on this St. Patrick's Day, my brother's birthday, we'll have our green smoothies and we'll let our green balloons go. My mom and I will tell stories and pull out photos and find comfort in a tradition that helps keep memories alive.
Healthy Green Smoothie with Spinach, Kale and Banana
This Healthy Green Smoothie is filled with spinach and kale, but the sweet frozen banana makes this taste decadent and satisfying. It's fast and easy, packed with protein, and is perfect for breakfast on the go or popsicles.
Ingredients
2¼ cups fresh baby spinach
¾ cup kale
1 large frozen banana
1 cup plain nonfat greek yogurt
¾ cup skim milk
2 Tablespoons slivered almonds (unsalted)
¼ teaspoon pure vanilla extract
Instructions
Combine all of your ingredients into a blender and puree until smooth. (Really, it's that simple.)
Notes
*No kale? Use all spinach. No almonds? Try using any kind of nut butter you like instead. Non-dairy? Skip the yogurt and use almond or soy milk.
**Does the green color scare a small person in your house? Add in frozen cherries or berries (and maybe a few carrots,) and your hue will change to a reddish, purple or even a slightly brown color.
***Make sure to store your overripe bananas, peeled, in a Ziploc bag in the freezer. Pull them out for these smoothies, because frozen really is better than fresh. Or use them in banana bread!
****These make great popsicles!
http://tastyoasis.net/2015/03/13/healthy-green-smoothie-with-spinach-kale-and-banana/
© Tasty Oasis 2017
Related posts: