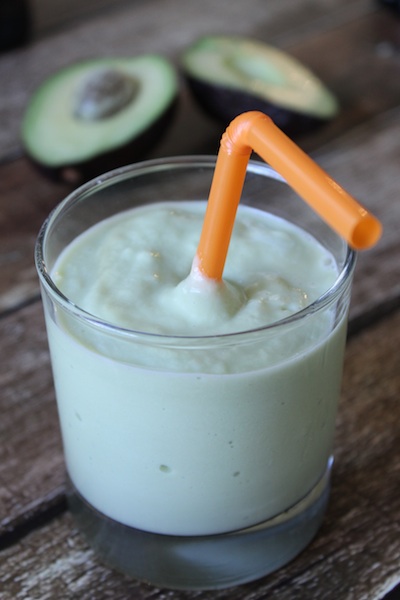 I keep getting caught. Caught yawning. Shifting in my chair. Not by one person. Not by two, or even three or four. But by countless people.
Should I blame the weather? It's been cold, wet and dark outside. Should I blame the alarm that routinely rings at 5:30am or even earlier? I set it after all, to go to perfectly decent days of work. What about my little guy who keeps tip-toeing in at 2am to ask to be tucked back into the covers that he kicks off? The poor kid's cold, and he needs help. (But seriously, the kid has got to learn how to pull the damn covers up already.)
No, really, I take responsibility for my own glassy eyes and dark circles. Because night after night I stay up way too late, long after I should go to bed. Granted, I can be productive at times. One night a few weeks ago was turkey stock, started at the foolish time of 5 o'clock, so that it was midnight by the time it was cool enough to freeze in pre-portioned Ziploc bags. Another night was sorting and backing up all of the photos from the last couple of months. Especially important, since I just managed to completely lose three weeks of pictures this month. All my "before" kitchen shots would have been fun to share, but the bigger disappointment was erasing my husband's birthday pictures. (Remember I told you my computer and technology skills were at least a decade behind when I started this project? Well, I'm learning, but I still managed to royally screw this one up. And no, they can't be recovered. They're gone. Yay me!) Then there was staying up at the kitchen table with my brother who lives 6000 miles away,  or spending hours trying to figure out how to interpret jury instructions,  also reading through a stack of new books I got at the library, and laundry. Endless laundry.
But there was one night a couple weeks ago that I got sucked into the internet, as I researched Indonesian drink recipes for our cooking club gathering that happened last week. I've had Malaysian food, Singaporean food, Thai, and Vietnamese, but I don't think I'd ever had an Indonesian meal,  so I certainly had no idea what a traditional drink would be. But as you all know, the internet can be a beautiful thing. And it can also suck your brain…. That night, it was a bit of both.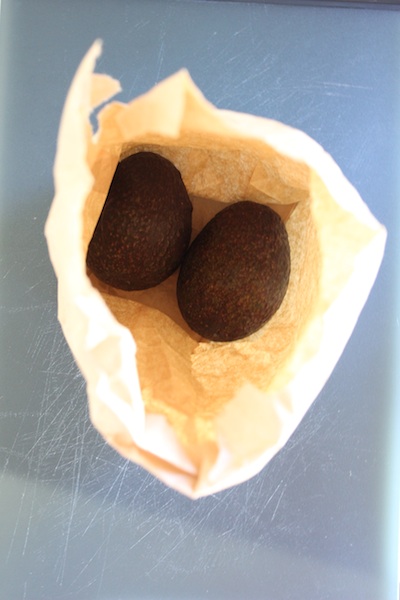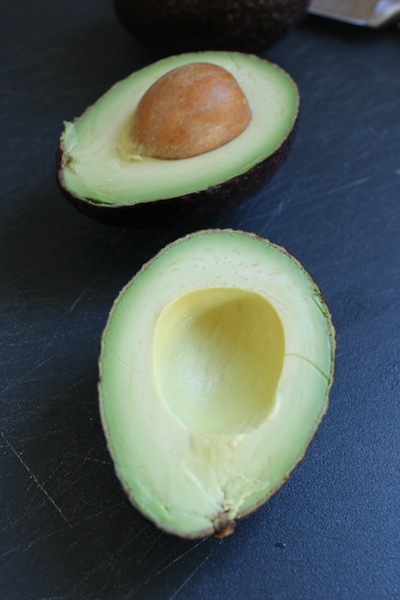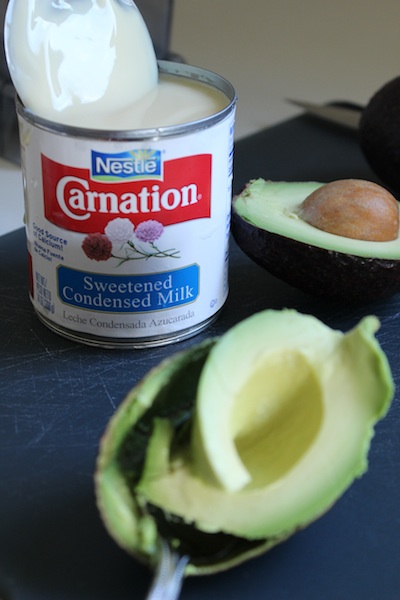 It started innocently enough: I googled "Indonesian drink recipes." I'll spare you the blow by blow, but the first one I landed on was for an avocado shake made with sweetened condensed milk, called Jus Alpukat. Intrigued, I then found at least six different versions of it, this very simple cold beverage that's often served with a shot of coffee in it, or chocolate syrup. I tend to think of avocado as something savory, but there's plenty of desserts that make use of it. (This is one I've wanted to try for a while now. Perfect for my gluten-free, dairy-free mom.) Although the combination of avocado and coffee seems bizarre at first glance, remember that avocado is rich and creamy,  and has an underlying sweetness that when pureed mirrors the luxury of sweetened condensed milk. And if you've been to a Thai restaurant, then it's already been established that sweetened condensed milk and coffee (or tea) is heavenly, so avocado isn't that big of a stretch.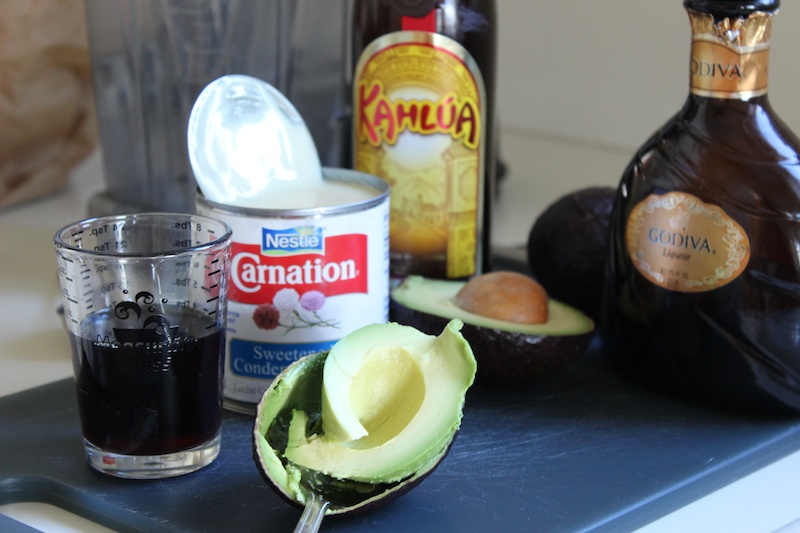 Now,  if I'm going to be honest, when I started searching drink recipes I had hoped to find something I could call a cocktail, but not surprisingly it proved illusive. Remember, Indonesia is a Muslim country, and alcohol is frowned upon. I did stumble upon a hot drink that's reminiscent of a chai tea called Bandrek, and discovered a spiced "beer, " but it's non-alcoholic like a ginger beer would be. But since this was for a group of women who appreciate a bit of a kick during the meal, I decided to create my own cocktail, Spiked Jus Alpukat. Taking a hint from the typical additions of coffee and chocolate syrup in this avocado "juice," I tested shots of Kaluha (a coffee flavored liqueur) and Godiva Chocolate Liqueur stirred into the otherwise child-friendly version. And let me tell you, this new grownup drink is definitely worth having.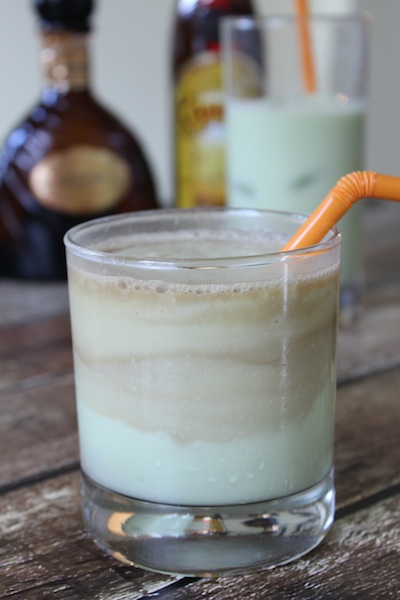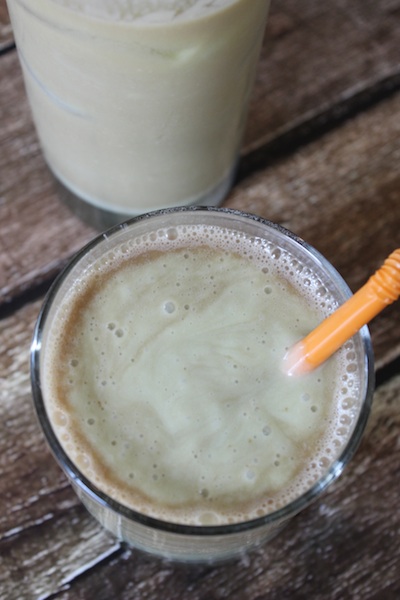 Cold, sweet and frothy like a piña colada, avocado, sweetened condensed milk, water and ice are blended together for the base of this drink. You can serve it on its own, or with a drizzle of chocolate syrup or coffee poured in for an authentic Indonesian experience. But to elevate it, please do try stirring in the Kaluha and Godiva Liqueur. It brings this to a whole other level of flavor,  perfectly paired with a slightly salty appetizer to start your evening, or as a dessert drink to end it. Poured over a handful of ice and with a colorful straw, it's a rich and boozy version of iced coffee. And since it has avocado in it, you are definitely justified in calling this healthy! (Don't you like how I think? It's a good kind of fat, right?) You'll feel like you're on an exotic trip to somewhere tropical,  and that's the kind of escape that's worth staying up late for.
Indonesian Avocado Shake (Jus Alpukat) with Kahlua and Godiva Liqueur
Spiked Jus Alpukat is the grownup version of an Indonesian Avocado Shake with Kahlua and Godiva Liqueur. Quick and easy to make, without the alcohol you have a sophisticated milkshake that even the kids will like, but with coffee and the extra kick you've got a creamy, frothy, decadent cocktail that will surprise people and please a crowd.
Ingredients
2 ripe avocados
1/4 cup (60 ml) sweetened condensed milk
1 cup ice (plus more for serving)
3/4 cup (180 ml) cold water
2 oz. (60 ml) Kahlua
2 oz. (60 ml) Godiva Chocolate Liqueur
4 oz. (120 ml) cold or room temperature brewed coffee
Instructions
In a blender, combine the avocado flesh, sweetened condensed milk, ice and water and blend until smooth. This should yield around 2 and 1/2 cups of Jus Alpukat. Depending on the size of your avocados, you may choose to add more ice or water to achieve a frothy, sippable drink. Divide the shake into 4 glasses, adding extra ice cubes if you like, and serve immediately with a fun straw.
If you prefer your shake spiked, to each glass add 1/2 oz. (15 ml) Kahlua, 1/2 oz. (15 ml) Godiva Liqueur, and 1 oz. (30 ml) coffee. Use that trusty straw to stir it all together, and enjoy. Then contemplate how good this would be as a popsicle....
Notes
*Yield: 4 servings
**You need ripe avocados, so if you plan ahead you can stick hard avocados into a closed brown paper bag, and within 2-3 days they should be just right.
***Prefer the non-alcoholic/extra kid-friendly version? Try adding a swirl of chocolate syrup to the shake before serving.
http://tastyoasis.net/2014/12/18/indonesian-avocado-shake-jus-alpukat-with-kahlua-and-godiva-liqueur/
© Tasty Oasis 2017
Related posts: