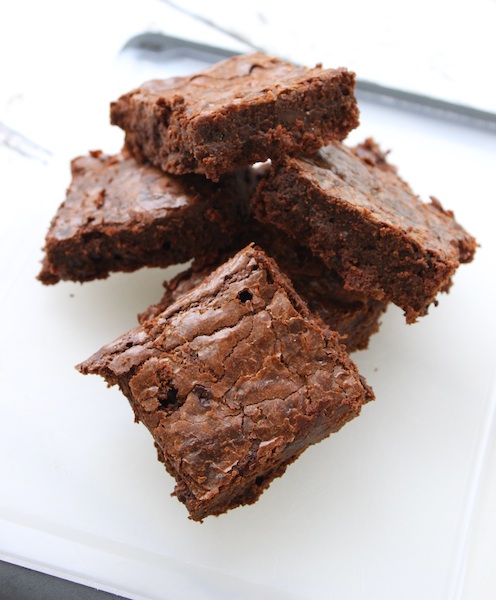 It's 8:27pm, and my big guy begs, "Just one more chapter??" He holds on to my arm and gets clingy, when all day long he's been too cool to answer my questions or make eye contact. Three minutes to bedtime, and all of a sudden he wants to tell me all about his day and ask about mine, and then, out of nowhere, "Did Hitler shoot himself in the head? Why would anyone do that? I mean, for Hitler… well, I'm glad he did, but why would anyone else do that?"
He's seven. My son is seven, and I am not ready to have this conversation. On so many levels.
A month or so ago, while reading a comic book with his dad, there was a reference to the Nazis, and Brian did his best to give a basic explanation. But last week he came home from his school library session with a book of historical fiction titled, "I Survived the Nazi Invasion, 1944," by Lauren Tarshis.  (Have you heard of this series? Apparently this one was just published this year, but there were eight before it, including "I Survived the Attacks of September 11th, 2001," and "I Survived the Japanese Tsunami, 2011." You know, light reading.)  Did I mention he's seven? A seven year old who's curious, and has a lot of questions.
Growing up in the Jewish community in Los Angeles, I don't even remember when I learned about the atrocities of the Holocaust. I just always knew. Maybe it was from Sunday school, or the fact that my dad would curse anything he saw that was German, but it was just part of the fabric of my life. I knew about Anne Frank long before I read her diary at ten, and even played her in my high school's production. So I'm not sure why I am so surprised to be having these conversations now.
I guess it's because as a parent I want to preserve my child's innocence as long as possible. I want him to still see the world as one that's filled with rainbows and gumdrops, and I'm much more comfortable with his fantasy books about wizards, Greek gods and fictitious monsters. Real life monsters are much harder to talk about.  But I have learned that I don't always get to choose the conversations we have. Yes, I can steer them in certain directions. That's my responsibility as the mom. But I can't predict where they're going to go, because kids are surprising.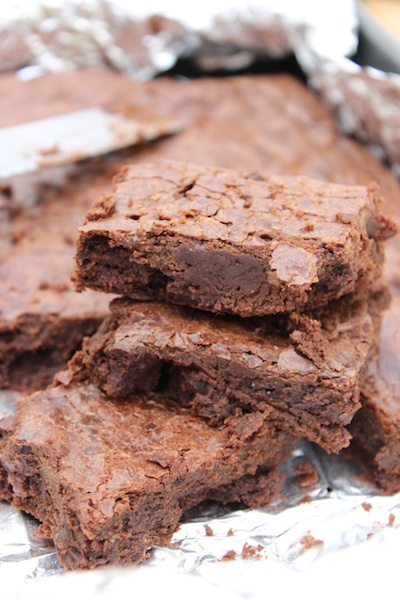 Years ago I was given some great advice: only answer the question that was asked. Don't go offering up a lengthy explanation when one isn't necessary. Most of the time it works brilliantly. When first asked, "Mommy, where do babies come from?" I replied, tapping my belly, "They come from the mommy's uterus, which is right here. Does that answer your question?" Thankfully, I got a "yep" in response. (A few months ago I wasn't as lucky, and ended up having a bizarre birds and bees conversation while driving and trying to make eye contact in the rear view mirror. "Does that answer your question?" was returned with, "No. I want to know how the sperm gets to the egg. How does it get into the woman? How does it come from the man? I want an answer." Seven. The kid is seven.)
So I tried to keep that advice in mind the other night, as my head was spinning and my heart was racing. "Yes, kiddo, most people do say that Hitler killed himself. There've been different theories about what happened to him though." Hoping that was enough, I paused. Then again, "But why do other people shoot themselves? Why would they do that? It's so stupid." While taking a deep breath, I just repeated to myself, don't offer more than what was asked. And while I felt the warmth of his head cradled in the crook of my arm, his sweetness and innocence still intact in the most important ways, I made a decision. I took even more control of myself and the moment. I looked at him and said, "I wish I could give you an answer to that. I can't. It's a really hard thing even for grownups to understand, and I need some time to think about how to answer you. I hope that's okay." He looked up at me, grabbed my hand and said, "Yeah, but could you just stay and cuddle for a while?" I pulled the covers up, and stayed until his breathing changed and sleep overcame him. So very, very grateful to be his mom.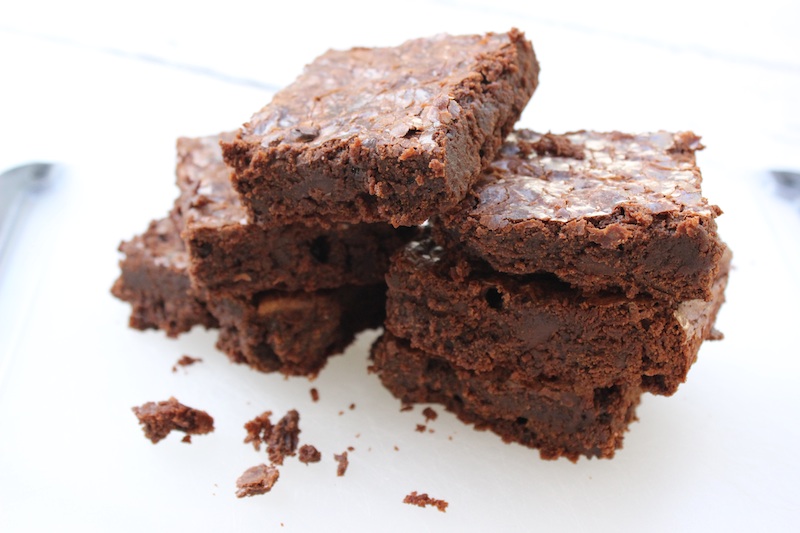 …. And then I snuck out of his bed, walked straight to the kitchen and grabbed an obscene amount of brownies, which I ate all by myself in front of the television. Because when big emotional things happen, that's what I do. It's not the best coping strategy, but I have to tell you, I didn't regret it. These brownies are worth it. Brown butter (and you know how I feel about this stuff,) a little coffee, a crackly top and so much deep dark chocolaty chewiness… they really make things better. Watching other people's dramas on the screen in front of me, I took bite after bite, and my tension and heartache slowly eased. Now I'm not advising you should handle your emotions the same way I did, but if you happen to find yourself in a place where you would typically reach for the Double Stuff Oreos or the pint of Ben and Jerry's in the freezer,  consider these brownies. (Wait, what?!? I'm the only one who has ever done this? Good to know.)
In fact, if you want to be smart about these things, and you've got an hour right now, make these brownies. I mean, now. Or tonight, after you go get the ingredients. Because they're that good. And here's the secret: they're pretty fabulous frozen too. So if you make them now, you'll totally be ready for that moment when everything feels like it's just too much, and you lumber into your kitchen to stock up on some homemade comfort to enjoy in front of the TV. Or, if you are better adjusted than I am, feel free to make these for your co-workers, the kindly neighbors or even your kids, but then you'll have to share them. And trust me, you won't want to. They're something you may just want to be a little bit selfish about. And really, there's nothing wrong with that.
.
Brown Butter Brownies with Dark Chocolate Chunks
These rich and chewy Brown Butter Brownies with Dark Chocolate Chunks use cocoa powder and coffee to give a deep chocolate flavor, and the few extra minutes it takes to brown your butter gives a hint of nuttiness. You won't want to share these, so freeze part of your batch to have for emergencies and late-night emotional snacking.
Ingredients
16 Tablespoons of unsalted butter, cut into chunks (226 grams or 2 sticks)
2 cups sugar (400 grams)
1½ cups unsweetened cocoa powder (112 grams)
1/2 teaspoon kosher salt
1/2 teaspoon baking powder
2 teaspoons vanilla extract
2 Tablespoons strongly brewed coffee/decaf (or water)
5 large eggs
1 cup of unbleached all purpose flour (130 grams)
¾ cup 72% dark chocolate, chopped into small chunks (112 grams from a 4 ounce bar)
Instructions
Preheat your oven to 325° F, and line a 9 x 13 inch (preferably metal) baking pan with foil, leaving two inches on either side to help pull the brownies out later on. Coat the foil with coconut oil spray or regular nonstick spray.
In a medium saucepan, you are going to brown the butter over a medium heat. This will take around 8-10 minutes, and you don't want to leave the stove while this is happening. Let the butter melt, stirring frequently. It will turn from a bright yellow to a white bubbling foam that hisses and crackles. When the foam starts to die down keep a close eye on the butter because it will quickly start to form brown bits on the bottom of the pan, and you have to keep stirring it so that they don't burn and turn black. Once you see lots of light brown flecks floating around your butter, quickly remove the pan from the heat.
Right in your saucepan, add the sugar, cocoa powder, baking powder, salt, vanilla and coffee, mixing it all together with a wooden spoon. At first it'll seem grainy, but it will smooth out. Let it cool for 5 minutes, and then add the eggs to the warm mixture, one at a time, stirring quickly so that there isn't a chance of the eggs cooking. After about a minute of constant stirring, the batter starts to look shiny and thick. Once it does, add in the flour, mixing it all together for another minute. Gently stir in the chunks of dark chocolate at the last second, right before you put the batter in the oven. (If you do it too early, the chunks will melt into the batter, and you don't want that to happen.)
Transfer the batter to your pan, making sure it is spread out evenly and fills all the corners. Bake in the middle of the oven for 25-27 minutes, or until a toothpick inserted in the middle comes out mostly clean. (If it is is completely gooey at this point, you may have hit a chocolate chunk, so try another spot.) Immediately lift the brownies out of the pan, using the tin handles, and cool entirely on a wire rack. (Try to be patient!) Cut into whatever size servings you like, and accept that you may want to eat the entire batch by yourself.
Notes
http://tastyoasis.net/2014/10/08/brown-butter-brownies-with-dark-chocolate-chunks/
© Tasty Oasis 2017
Related posts: