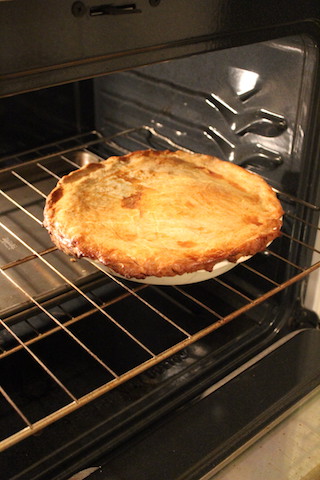 Last St. Patrick's Day, I shared a quick and healthy green smoothie, and wrote about my brother Brian, who would have been 46 today. This year, in honor of both Pi Day on Monday, and St. Patrick's Day, I feel obligated to share Donna Hay's Beef, Guinness and Mushroom Pie with you all. I have been sitting on this since November, and that's just ridiculous, since there are so many reasons to make this savory pot pie as soon as you can. (Donna Hay, by the way, is Australia's version of Martha Stewart, but younger, minus the crafts and the jail time, and I will be writing more about her, and our Donna Hay themed cooking club in my next post.) From one of my new favorite cookbooks,  it uses a method for the pastry crust that I've never heard of before, but is so much simpler that the traditional cold butter version. It's a hot water pastry that actually melts the butter with water before stirring it into the flour, which results in a kinder dough. It comes together quickly, is sturdy enough to hold up to a hearty filling, yet still flakes. If you're intimidated by the idea of making a pie, then this is your crust!!! (Or skip it, buy a pre-made shell from the store, and everyone will still love you for making whatever you stick inside of it. I promise. But to be honest, this is totally worth the extra 10-15 minutes of your life.)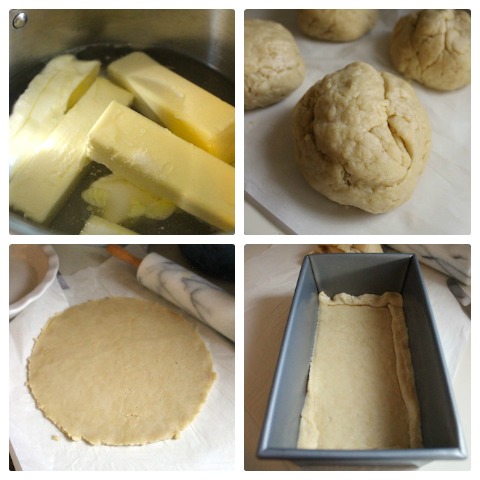 But here's the thing, you'll want to get started on cooking your brisket first, because this is not a 30 minute meal. Trimming your meat, cubing it, browning it, and finally braising it is time consuming. It's the type of activity that you can do while listening to a good story though. (I'm currently enjoying this audio book if you're looking for something entertaining, which is soon going to be a TV series.) And in its own way, it makes for a relaxing time in the kitchen.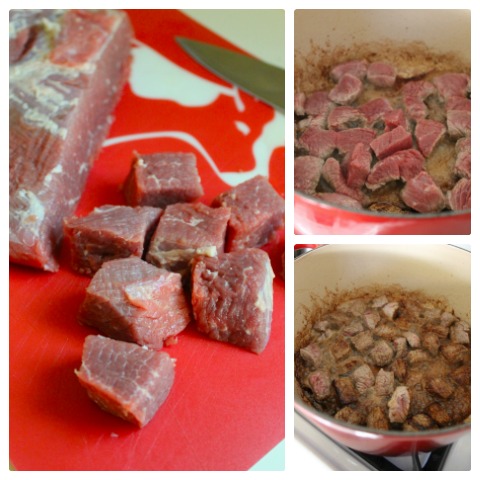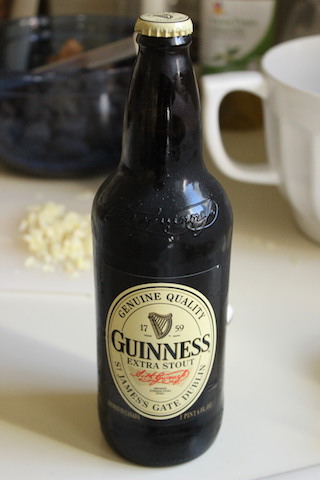 And of course, as the name states, this beef becomes tender and slowly cooks at a low heat in a bath of Guinness. And if it's your thing, your cooking time will probably be even more of an escape if you pour an extra glass for yourself. Honestly, I'd much rather sip on wine while cooking, but beer and brisket are made for each other. Oddly, the only time I seem to buy beer though is at Hanukkah when I make my yearly brisket. But Guinness brings an even deeper flavor to the meat, and I'm tempted to try it next December in my standard recipe. (And it reminds me of one of my favorite vacations of all time: a week driving around Ireland with two girlfriends back in our mid-20's, where we even went to the Guinness factory, so this feels especially appropriate at St. Patrick's Day.)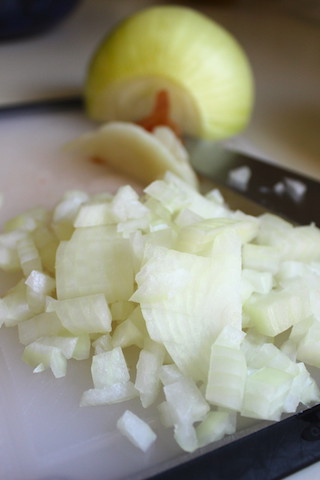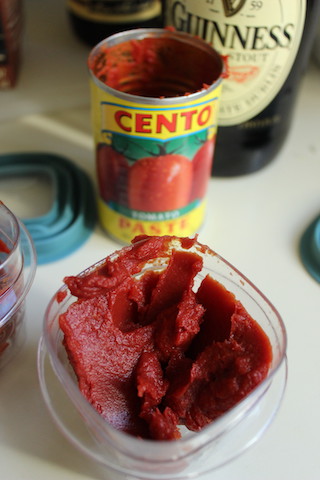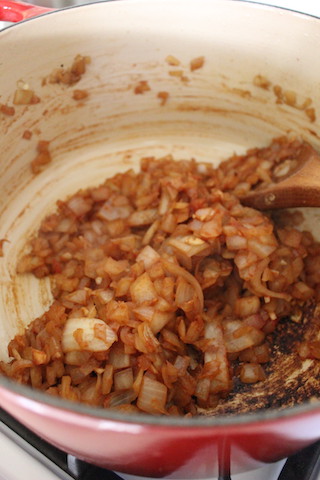 Once the meat browns, you sauté up some onions and garlic, and mix that together with tomato paste which sweetens everything up, along with some Worcester sauce, beef stock and a touch of brown sugar.  I cooked my brisket with the Guinness and all the rest over a low flame for a little over three hours, but it's less about the clock, and more about being able to shred the meat with a fork when it's done. It needs to fall apart,  and there's a large window of time that can happen in. In fact, the next time I make this I'll probably take the browned beef with the sautéed onions and throw it all in my slow cooker. Crockpots are made for these slow braises, and you never have to worry about sticking around the house or staying awake while they happen. It means dirtying another pot, but you can also go out and live your life while it does its thing. That's a win in my book.
Now, to be efficient, in the last 30 minutes of your cook time, it's time to make your hot water pastry crust. As I said before, it doesn't take long for it to come together, and then all you have to do is roll out the dough, placing it in your pans.  Once that's done, you add a whole mess of mushrooms to your shredded brisket, which take on the meaty, boozy sweetness they're cooked with. (Even my kid who doesn't typically like mushrooms admits they were amazing.)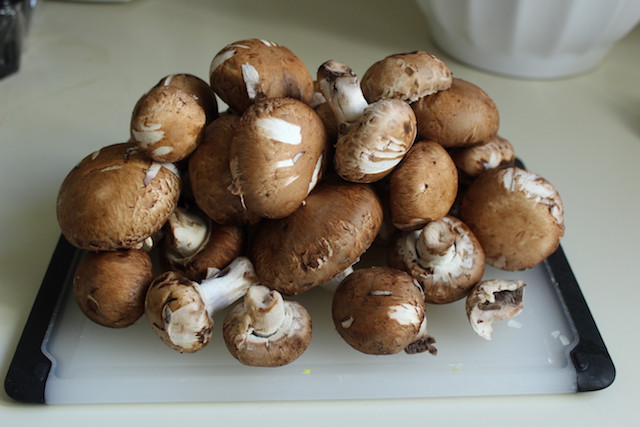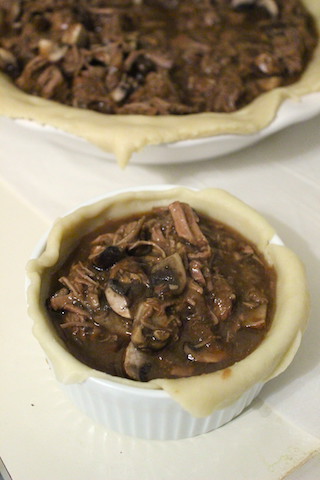 When I made this, it was the week before Thanksgiving, and not only did I plan to serve it to my supper club girlfriends, but I figured I'd make a second pie, freeze it, and serve it on Black Friday to all of our family that was in from out of town. We had a photo shoot that morning for 13 of us, and I needed to have lunch ready when everyone got back. I knew we would need more than turkey leftovers, and this warm and rich Beef, Guinness and Mushroom Pie ended up being the star of the table. It had frozen beautifully, and just needed to be reheated. Granted, while the extra time it took to double the recipe wasn't insignificant (there was a lot of time with a knife,) the payoff was huge. If you've got time on your weekend and freezer space, I definitely recommend making two. Actually, by doubling the recipe I chose to make one round pie, one loaf pan version, and two individual pies in ramekins. My family definitely appreciated the effort, and keeps asking when we'll have it next!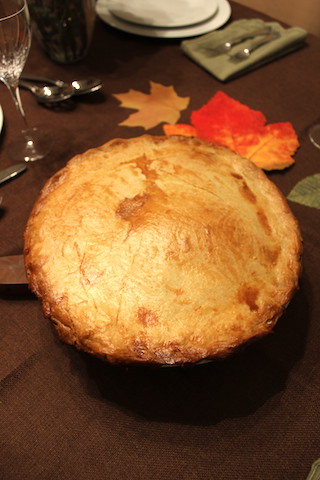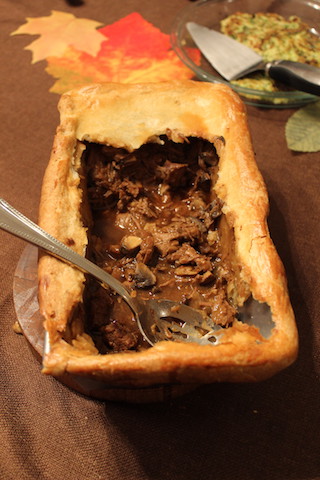 As always, details and notes are in the recipe below, but I will be sharing more about why I chose this recipe, my new appreciation for Donna Hay and her gorgeous cookbook The New Classics (where this recipe is from,) and the cooking club meal that let us try six Donna Hay dishes and a fun cocktail to boot. And as a bonus, here's one of my favorite photographs from our family photo shoot the day I served this Beef, Guinness and Mushroom Pie.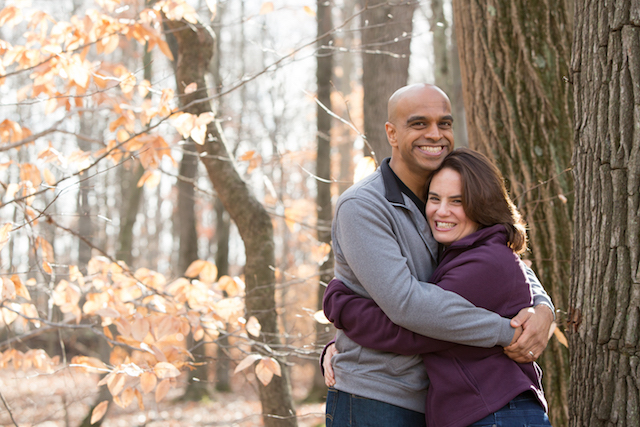 Donna Hay's Beef, Guinness and Mushroom Pie with a Hot Water Pastry Crust
Donna Hay's Beef, Guinness and Mushroom Pie with a Hot Water Pastry Crust is a hearty meal that's a perfect weekend project. You can double it, and make an extra pie for your freezer or a friend. The pastry dough is easy to make, stands up to a heavy filling, and is flaky and buttery. It's definitely worth the effort!
Ingredients
Beef, Guinness and Mushroom Pie Filling:

3.3 lbs (1.5 kg) of beef brisket, trimmed, and cut into 2" pieces
1 teaspoon kosher salt
1-2 Tablespoon olive oil
1 large yellow onion, diced (around 2 cups)
2 garlic cloves, peeled and crushed
1 Tablespoon tomato paste
2 teaspoons Worcestershire sauce
1 Tablespoon brown sugar
2 cups (500 ml) beef stock
1 3/4 cups (430 ml) Guinness stout ale
2 Tablespoons all-purpose flour
12 ounces (340 grams) baby bella mushrooms (or regular brown mushrooms), cut into quarters
Hot Water Pastry Crust:

21.5 Tablespoons unsalted butter (300 grams, which means you'll need to have a little less than 3 sticks of butter if that makes it easier for you)
1 1/3 cups water (360 ml)
1 teaspoon kosher salt
5 cups (750 grams) all-purpose flour
1 egg (plus 2 Tablespoons cream if you have it, or milk, or even water if that's all you've got.)
Instructions
For the Pie Filling:
Start by trimming your beef brisket, trying to cut away as much of the fat as you possibly can. You'll then need to cut your meat into 2" cubes. (They don't have to be perfect, because in the end you'll be shredding them.) Sprinkle the meat with the salt.
Once that's done, in a large dutch oven heat 1 Tablespoon of oil over a medium-high heat, and add your brisket in batches to brown it. Since you don't want to overcrowd the bottom of your pot, you probably won't be able to do this all at once, so work in stages. Meaning that when your oil is hot, spread out the cubes, and don't move them for a few minutes. You want a good sear on each piece before flipping it over, so that it doesn't rip apart if you try and turn in too soon. It should get nice and brown in about 4-5 minutes.
While the meat browns, dice your onion and peel and crush your garlic. When the meat is done, set it aside in a bowl. Then sauté the onion in the same pot for about 6 minutes over a medium heat, until it's soft and slightly translucent. (You might need to add a little extra oil, so use your judgement.) Then add in the garlic and sauté for 2 more minutes. Then add the tomato paste and Worcestershire sauce for 2 minutes, stirring everything together, followed by the stock, Guinness and sugar.
Finally, return the browned brisket cubes to pot, and turn the heat down to low, covering the pot. Simmer everything for 2 hours, and then remove the lid and simmer for another 30 minutes, until the meat is tender and shreds easily with a fork.
While the meat cooks, clean your mushrooms (by taking a damp towel and rubbing the dirt off of them, and trimming their ends,) and cut them into quarters, because you will need them later. Start preparing your dough at this point too. (See below.)
Once the beef is ready, use a slotted spoon and remove just the meat to a large bowl. Using two forks, shred the meat into thin strips. Then add the flour to the remaining liquid and onions in the pot, stirring for 3 minutes, until the sauce/gravy is thickened. Then return the meat to the thickened sauce, along with the cut mushrooms, mixing everything together.
For the Hot Water Pastry Crust:
In a medium pot over high heat, combine the butter, water and salt, and bring it to a boil. While you wait for this to happen, sift (or if you're lazy, whisk) your flour into a large bowl, and make a well in the center. Also, while it's boiling, prepare your counter space because you are going to be placing your dough onto it. My favorite way to do it is to take some parchment or wax paper and sprinkle it with flour. Alternately, you can just put the flour right onto your counter, a couple of tablespoons worth just to make sure your dough doesn't stick all over the place.
Once your water and butter has come to a boil, pour it into the middle of the well in the flour bowl. Using a butter knife or even a wooden spoon, mix it all to combine. I warn you though, it will be hot! As you mix everything together though, it will start to cool, and you'll be able to handle it. Once it seems pretty solid, turn in out onto your floured counter. You will knead the dough for several minutes, until it becomes smooth and elastic. That means that you need to flip it over, back and forth, folding it over onto itself. From boiling to the finished dough, it should take you about 10-15 minutes.
Once you have the dough made, you will need to roll it out. I like to add a little more flour to the surface at this point, and using a rolling pin make a large, even sheet around 1/4-1/2 inch thick, depending how thick you like your crust. If you are making a round pie (9 inches is ideal), you'll want a large deep dish pie plate if possible, because there is a lot of filling. I think it is easiest to measure the size you want my turning the pie dish over and cutting a circle around it with an extra 2-3 inches all the way around so that you can push the extra up the sides of the dish. Then take the scraps, roll it out again, and do the same thing, but with less of a rim, which will be your top crust. If you prefer to do the loaf pan/pie tin version (a large one is best), use the same idea, making sure to roll out enough dough to line the bottom and all sides of the pan. As well as a sheet to cover the top.
Assembling and Baking the Pie:
Preheat your oven to 400 F/200 C.
Lightly spray your pie dish, or grease it with oil, laying out the dough along the bottom and sides. Pour in your filling so it reaches the top, but isn't overflowing. Cover the pie with the second sheet of dough, pinching around the edges to seal it, so that the filling doesn't bubble out. Trim any excess pastry dough. Brush on the eggwash to the top of the pie crust, which is the egg mixed with the cream or milk. This is going to make the top of your pie nice and brown and shiny.
Bake your pie for 40-45 minutes in the middle of your oven, until the top is golden. Serve immediately, or let cool and freeze to enjoy later.
Notes
*This is slightly adapted from Donna Hay's cookbook, The New Classics.
**Instead of simmering the meat on top of the stove for 2-3 hours, I think you could put it in a slow-cooker on low heat for 6-8 hours. I haven't tried it, but if YOU do, let me know how it goes!
***If you find you have more filling than room in your pie dish, you can always roll out more dough and bake smaller pies in extra ramekins, and since you probably will have some extra dough this shouldn't be a problem. Or simply eat the filling straight up on its own, cooking it a tad longer if you do so that the mushrooms cook through.
****For freezing: I highly recommend doubling the recipe so that you can bake two pies today, but cool, wrap and freeze one of them to reheat and serve at a later date. If you want to do that, bake both pies normally. When the second pie is cool, wrap it in aluminum foil first, then in a layer of plastic wrap, all the way around it. Finally, put it into a ziploc freezer bag if it fits. If it doesn't, just make sure it is wrapped multiple times, tightly, so that you won't have any freezer burn. When you are ready to have the pie, you should ideally remove it from the freezer the night before to thaw (putting it in the fridge,) and then you can heat it in the oven, only covered by the aluminum foil, not the plastic wrap. In a 350 F oven, bake the thawed pie for 30 minutes, or until it is hot all the way through. If you didn't thaw it, stick it in a 350F oven for 1 hour, checking to see if it is hot all the way through and adding more time if necessary.
*****Use this hot water pastry crust for any other pie you're in the mood for!
http://tastyoasis.net/2016/03/17/donna-hays-beef-guinness-and-mushroom-pie/
© Tasty Oasis 2017
Related posts: