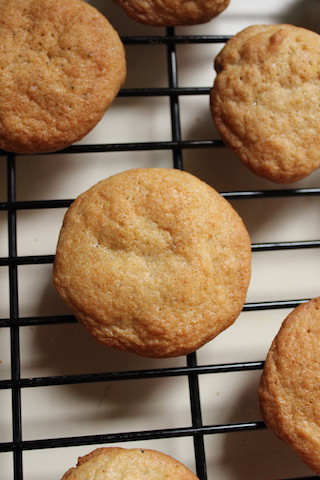 December flew by, and while I have lots I want to share with you all about the last month, I'm going to save it for after the new year. (Here're two highlights though: I went as a plus one to The White House staff holiday party (!!!), and we just got a kitten (!!!). Two crazy exciting things in my world that I promise to tell you more about.) But as the ball gets ready to drop, I just wanted to make sure to wish you all a happy and healthy 2016, and thank you for reading and cooking along with me this year. I love your comments and hearing about what you've made, and appreciate you taking the time to share it all with me.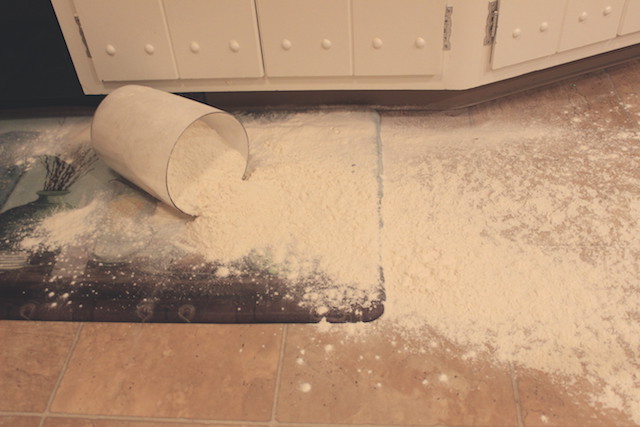 And while I hope that the coming year is smooth and easy for you, I have do doubt there will be bumps along the way. There always are. Whether they're silly and trivial, like the mess I made the other night before these cookies (my Oasis isn't always so peaceful,) or they're more serious ones, involving health, loss, or big life choices, remember that you can look for comfort in your kitchen in the form of healthy food to feed yourself or those you love, or a big bowl of cookie dough. Both are equally important. Both make things better.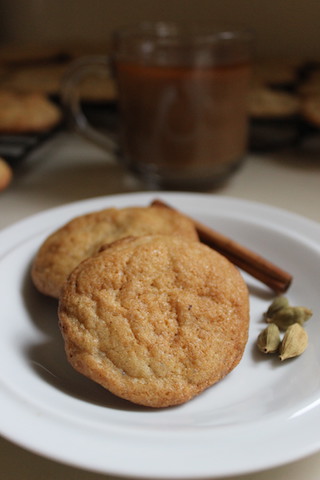 And since so many people out there make all sorts of pledges to start diets after January 1st, I figure I better squeeze one solid cookie recipe in before midnight. I came up with these Cardamom Snickerdoodles on Christmas, and have made them a couple of times this week just to make sure I got the recipe right for you all. (I don't know if you remember, but I kind of have a thing for all things snickerdoodle. Remember these: Snickerdoodle Cupcakes with Brown Sugar Cinnamon Frosting? They were one of the most popular recipes on the blog in 2015!)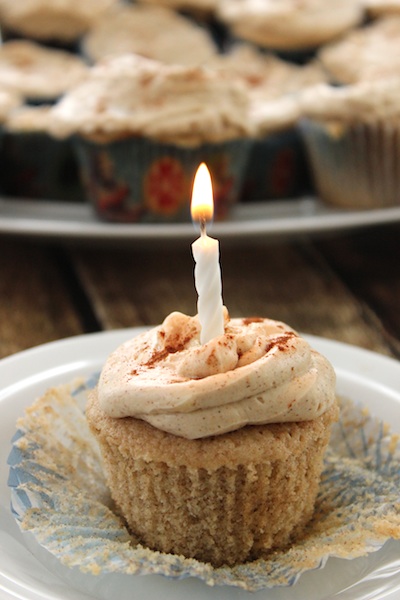 They're soft and chewy cookies, spiced with a good amount of cardamom and just a hint of cinnamon, but not too sweet. The dough is addictive, but once baked these are perfect with a cup of tea. Cardamom is hard to describe, but you'll recognize the flavor from Indian cooking or from Swedish desserts, and I even have a recipe on here for Cardamom Almond Matzoh Brei. It's expensive, but if you can get yourself to an Indian store, you can buy it at a fraction of what you'll find it for at the supermarket. I either buy the whole pods, or a bag of the seeds. I then grind them myself into a powder, which results in a strong taste and aroma that maybe you could call smokey and citrusy if you want to be creative.
These cookies puff up in the oven, but flatten out as they cool on their racks. It's so tempting to eat them warm, but they have the best texture if you can just hold off. They'll be crispy around the edges, but chewy on the inside, and stay that way for a couple of days.  I hope these Cardamom Snickerdoodles and Tasty Oasis bring more sweetness into your life in the year ahead. Happy New Year!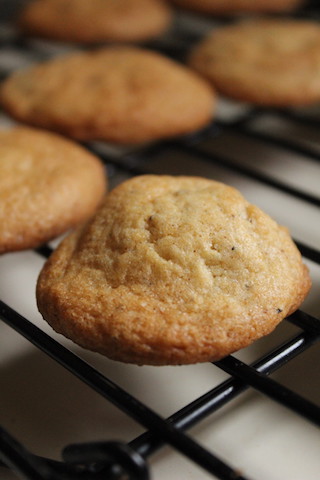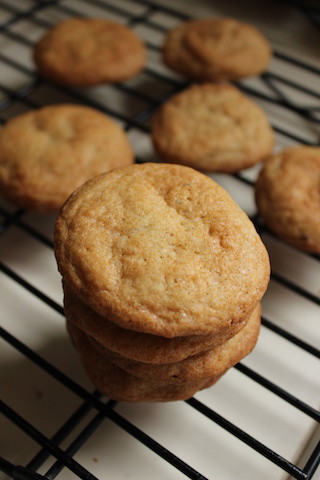 (And in case you want even more cookies or dough in your life, there are always Brown Butter Chocolate Chip Cookies and Nutella Crunch Cookies!)
These Cardamom Snickerdoodles are chewy cookies with crispy edges, spiced with smokey cardamom and a hint of cinnamon. They're not too sweet, and are perfect with a cup of chai in the afternoon, or to serve for company at a party. The dough and cookies both will freeze well, so make a big batch and enjoy them anytime you like.
Ingredients
1 cup unsalted butter, room temperature (2 sticks)
3/4 cup white sugar (150 grams)
3/4 cup light brown sugar (150 grams)
2 large eggs
2 3/4 cups all purpose flour (358 grams)
2 teaspoons cream of tartar
1 1/2 teaspoons ground cardamom
1/2 teaspoon cinnamon
1 teaspoon baking powder
1 1/4 teaspoons kosher salt
Instructions
In the bowl of an electric mixer, cream together the butter and both sugars at a medium speed until light and fluffy. Scrape down the sides of the bowl, and add in the eggs, one at a time.
While the butter and sugar mix, combine the dry ingredients in a medium bowl, whisking them all together. (You can sift them if you like, but it isn't really necessary.)
Slowly add the dry ingredients into the butter, sugar and egg base, until everything is incorporated.
Chill the dough for at least 30 minutes, or overnight if you like.
Before you are ready to bake the cookies, preheat the oven to 350 F. Line your baking sheets with parchment paper or silpats, and using spoons or an ice cream scooper, make small balls with around 1 Tablespoon of dough. Make sure there is plenty of space in between the cookies, because they will spread out. 9-12 cookies per sheet is reasonable. Bake the cookies for 11-12 minutes, depending on your oven, switching the trays from top to bottom and around at 6 minutes, so that they cook evenly. The tops will be slightly browned, and just barely start to crack. They will seem undercooked when you pull them out, but only let them stay on the hot baking sheet for one minute before removing them to wire racks to cool completely.
Notes
*Chilled dough helps your cookies keep their shape and not spread too much in the oven. If you don't have time to chill, they'll still be delicious.
**You can freeze balls of dough, and then just add an extra 2-3 minutes at baking time. You can also then have frozen dough balls to snack on. Shh. I won't tell.
http://tastyoasis.net/2015/12/31/cardamom-snickerdoodles/
© Tasty Oasis 2017
Related posts: