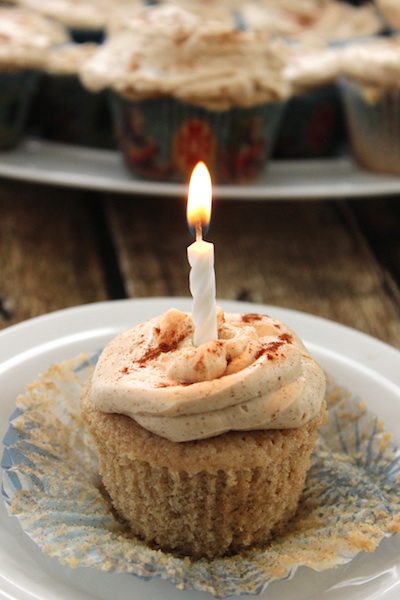 Becoming a parent is one of the biggest leaps of faith out there, and Friday marked four years since I crossed that threshold for the second time. When you make that decision, you're filled with dreams. Dreams of who your child will be, and what your family will look like. It doesn't matter if you become a parent by birth, by adoption, or by marriage, because all the hopes are the same. You want your kid to be healthy. First and foremost, that's what everyone says.
So what happens when things don't go according to plan? My little guy was a preemie, and I'll never forget the panic I felt when I knew he was coming six weeks early. The heartbreak I had when the nurses in the NICU told me I couldn't hold him yet, because for him the stimulation of touch was too much. Seeing him hooked up to wires, and confined in a little tiny box, wearing an eye mask to protect him from the harsh lights. But I was so lucky, because that fear was short-lived. After ten days, we took our guy home, a whopping 4½ pounds.
That first year and a half wasn't easy. Our guy had missed out on key development in the womb, leaving him one grumpy baby. He had no internal way to sooth himself, and so he never slept longer than 45-90 minutes at a stretch. The kid had issues; a smile or a laugh was rare, and that's exhausting and heartbreaking for a parent. Besides healthy, we all just want our kids to be happy.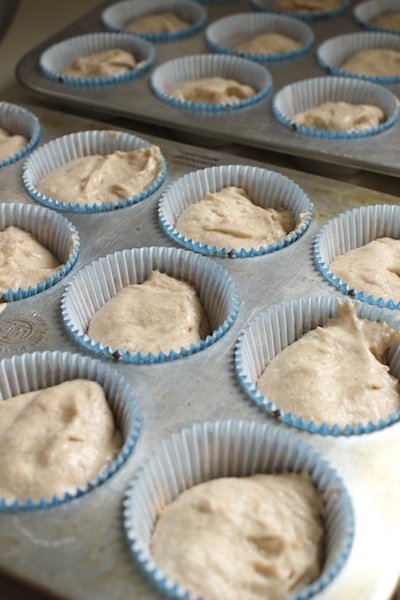 Jump ahead a few years, and everything's changed. Early intervention made a difference, but mostly it was time. Our little one had just needed more time to cook. These days, you won't meet a happier child. He sleeps for 12 hours, and still takes 3 hour naps, and is bright eyed and bushy tailed the rest of the day. He's just happy. Flat out happy. It's the first word that comes to mind when people ask me to describe him. But let me tell you, for an excruciating 14 months that was not the case. I would have said cranky, angry, clingy, fussy, or difficult, but not happy.
And so now it's especially sweet when I see him dance, and sing and tell his silly pre-school jokes. When he climbs up into my lap and says, "Mommy, I love you so much. You're the best Mommy,"  it makes me want to burst.
But I don't take this health and happiness for granted. I can't. Not when there are people in my life who dreamed the same dreams, but whose lives have taken different paths. Whether it's my own mom, who lost a son too young, or a dear friend whose days are just plain harder than mine, and whose dreams have to be rewritten. Out of respect for their stories, their hearts, and their sons, I count my blessings every day, grateful for another candle on the cake and just one more cuddle.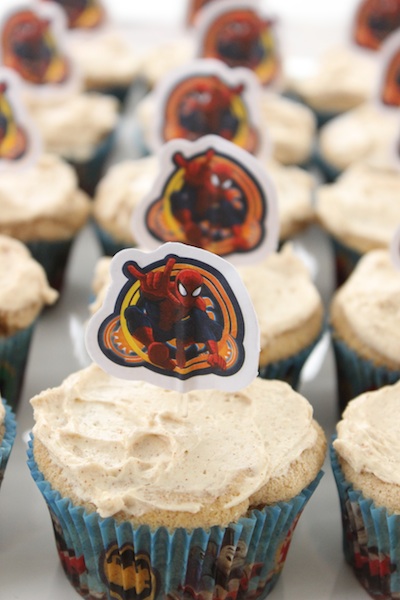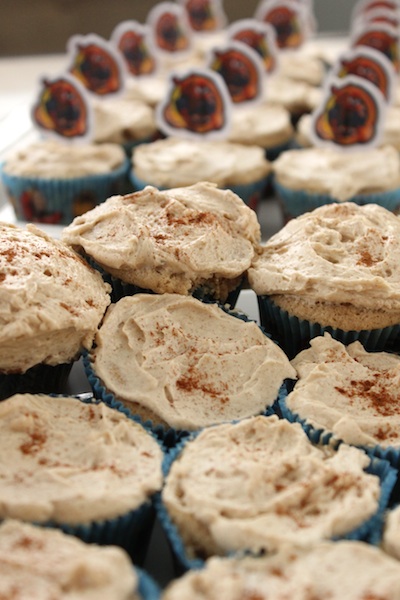 As I've written about before, when my heart is full, when my head is spinning with thoughts, and when my emotions start to take over, I head for the kitchen. It's my oasis; it's where I find comfort. Sometimes, without thinking, I'll find myself in front of the mixer creaming sugar and butter together, simply because I know it's something I can count on. Dreams don't always work the way we hope and expect, but I know I can turn to the science of baking to bring results I want. The process itself is reassuring, and the final product not only tastes good, but is something I can share with people I love. As my own comfort, or as a way to bring comfort to others. So lately, my kitchen has been cranking out batch after batch of cookies, and lots of cake.
And speaking of cake, to celebrate this year we switched it up from the family's favorite chocolate cake with chocolate almond frosting (remember Mickey Mouse last year?,) and we gave Spiderman and Thomas their place on Snickerdoodle Cupcakes with Brown Sugar Cinnamon Frosting. The recipe for the cake portion is slightly adapted from a fabulous website called Foodie With Family.  When I saw Rebecca's post for this cake, I knew I had to try it. That said, while I barely changed her batter, (simply using all all-purpose flour and regular sugar instead of cake flour or superfine sugar, and obviously making cupcakes instead of a layer cake,) I took one look at her original buttercream and knew it wasn't for me. (It had 4½ sticks of butter and 10 cups of sugar!!!)  The Brown Sugar Cinnamon Frosting I am sharing today is totally my own recipe, and complements her light and tender cinnamon flavored cake perfectly. It's only barely sweetened, (comparatively, it just uses 2 sticks of butter with ½ of a cup of sugar,) so even those who typically shy away from cupcakes can't resist. These are delicious and comforting, so the next time you have occasion to reflect on your own blessings, I hope these make it to your table.
Snickerdoodle Cupcakes with Brown Sugar Cinnamon Frosting
These Snickerdoodle Cupcakes with Brown Sugar Cinnamon Frosting are light and tender with a hint of warmth. This cooked icing is barely sweetened, meaning these are perfect for a birthday party or just with a cup of afternoon tea.
Ingredients
For the Snickerdoodle Cupcake Batter:

2 sticks unsalted butter (8 ounces), room temperature
1¾ cups granulated white sugar (350 grams)
3 cups all-purpose flour (390 grams)
1 Tablespoon baking powder
1 Tablespoon ground cinnamon
½ teaspoon salt
4 large eggs
1 Tablespoon vanilla extract
1¼ cups whole milk
For the Brown Sugar Cinnamon Frosting:

1 cup whole milk
5 Tablespoons all-purpose flour (40 grams)
2 sticks unsalted butter (8 ounces), room temperature
¼ cup light brown sugar (50 grams)
¼ cup granulated white sugar (50 grams)
¼ teaspoon kosher salt
1½ teaspoons ground cinnamon
1½ teaspoons vanilla extract
For sprinkling the tops of the frosted cupcakes:

1 teaspoon ground cinnamon (optional)
Instructions
For the Snickerdoodle Cupcakes:
Preheat the oven to 325°F, and line your muffin pans with paper liners. Place the baking racks in the top and bottom thirds of the oven.
Using an electric mixer with the paddle attachment (if you have one,) cream together the butter and sugar until it is light and fluffy. While the mixer is going (it takes a few minutes, so you have time,) in a small bowl whisk together the flour, baking powder, cinnamon and salt. Once the butter and sugar are pale and ready, add in one egg at a time, scraping down the sides of the mixer with a spatula, and then add the vanilla. Pour in 1/3 of the milk to the batter, then add 1/3 of the flour mixture, scraping down the bowl as necessary, and repeat the process until everything is incorporated.
Divide your batter into the lined muffin trays. Baking two trays at a time, bake them for 25 minutes total, rotating the trays from top to bottom half way through the time. When a toothpick comes out clean or with tiny crumbs (no wet batter,) the muffins are ready. Immediately remove from the tray and allow to cool on wire racks.
For the Brown Butter Cinnamon Frosting:
Before getting started, you might want to check out my post on Cooked Frostings, which provides photos of the process.)
In a small saucepan over medium heat, constantly whisk together the milk and flour until it becomes thickened. It takes about two minutes, and should cling to the whisk when you lift it up. Remove it from the heat and let it cool completely.
While the mixture is cooling, beat together the butter and both the sugars in a stand mixer until light and fluffy, periodically scraping down the sides of the bowl. This takes at least five minutes, but have a tiny taste to see if it is still grainy before moving on. Add in the salt, ground cinnamon, and the vanilla extract.
Add the cooled milk and flour roux into the mixer, and beat on a high speed for a ridiculously long time, until it resembles whipped cream. This could take as long as 7 minutes, but taste test as you go and see how you like it.
Frost the tops of the (completely cooled) muffins with a piping bag if you want to be fancy, or just spread the frosting on with a knife or flat spatula. Sprinkle with ground cinnamon, and enjoy!
Notes
*The Snickerdoodle Cupcake batter is only slightly adapted from a recipe on Foodie With Family, but the Brown Butter Cinnamon Frosting is a Tasty Oasis original recipe.
**This yields 36 cupcakes, with enough frosting for all.
****This recipe will also make a 9 x 13 cake, baked at 325°F for 35 minutes, with enough frosting to cover the top completely. If you are going to make two 8 or 9 inch round cakes (35 minutes,) you will probably need to make 1½ times the frosting to have enough to frost in between the layers, (or even double it.)
****If you only have one or two muffin tins, and need to reuse one for the final muffins, make sure to allow it to cool for a few minutes before spooning new batter into it.
*****These cupcakes can be kept for 4 days at room temperature in an air tight container, or freeze them to enjoy later!
http://tastyoasis.net/2015/02/17/snickerdoodle-cupcakes-with-brown-sugar-cinnamon-frosting/
© Tasty Oasis 2017
Related posts: