A few weeks ago, I shared my Apple Cider Rum Punch recipe that I created for last month's Caribbean themed cooking club (or supper club.) As I have written about before, I've recently started getting together with a new group of women once a month so that we can all get a chance to play in our kitchens. Trying new foods, recipes, techniques, or ingredients, we all want to expand our cooking skills and have a night out with friends while enjoying a gourmet meal. It's meant to be low stress, and so far the first two nights have been a ton of fun.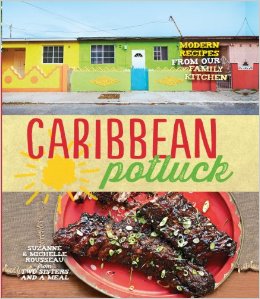 Our recent meal had a Caribbean theme, and our host based her selection off of a gorgeous cookbook called "Caribbean Potluck," by  Suzanne Rousseau and Michelle Rousseau.  Most of us had very little experience cooking from this part of the world, but after just one night we all felt inspired to explore this area more. Paging through this book, I can't even begin to tell you how many dishes called out to me. One member actually made the appetizers from one of the preview pages that she saw on Amazon while "browsing" the book online.  Spicy Back Bean and Corn Wontons With a Papaya Dipping Sauce marked her first ever foray into the world of wontons, and they were outstanding. They paired well with the cocktail I made, and it was a great start to the night.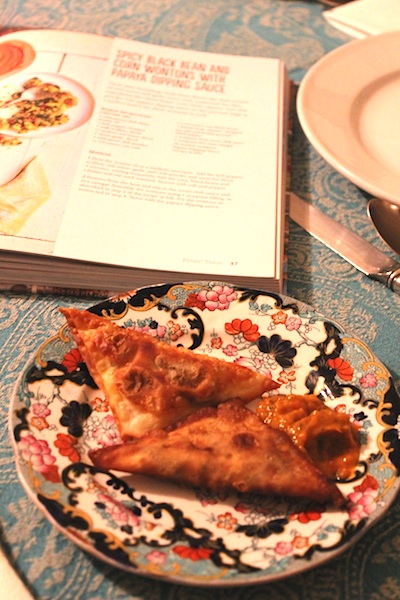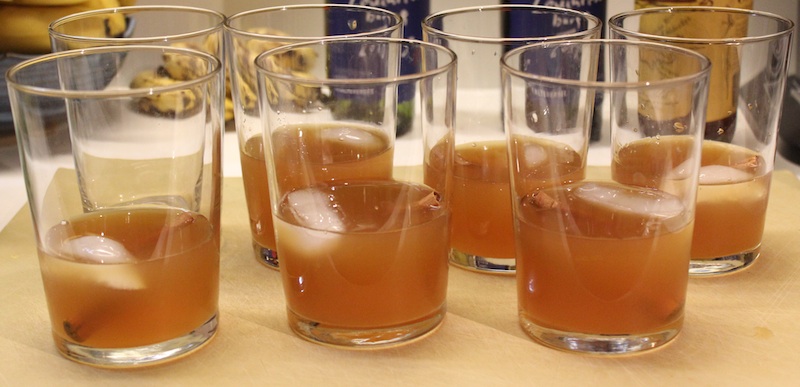 Next came our soup course, which was Caribbean Sweet Potato Soup with Okra, Kale and Black Eyed Peas. It was inspired by a recipe on a website called Taste of Home, but the one big change was to puree the soup before adding in the fixings (the okra, kale and peas.) Smooth and creamy, the frozen okra worked incredibly well, surprising all of us. You would expect it to be slimy (a terrible word to put in a description of food, I know,) but it wasn't at all! You want to make this soup. Trust me.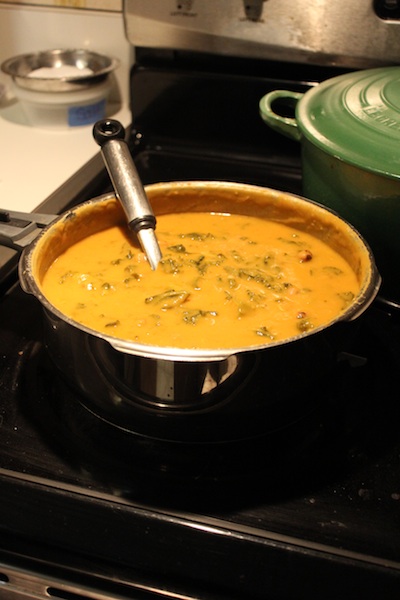 The entree was Trinidadian Chicken & Rice Pelau (also from "Caribbean Potluck,") which was warm and spicy, with a hint of sweet throughout, and an ideal stew for a cool fall night. Hearty, it was a perfect one pot meal, and I hope to recreate it for my family very soon. This one dish alone is reason to pick up this book. (And you never know, your local library may have it. I LOVE getting cookbooks from the library first to preview them and make sure they are worth the investment. That's how I discovered Marcus Samuelsson's "The Soul of a New Cuisine: A Discovery of the Foods and Flavors of Africa." I must have checked it out of the library at least three times, and the first was originally for a supper club gathering way back when.)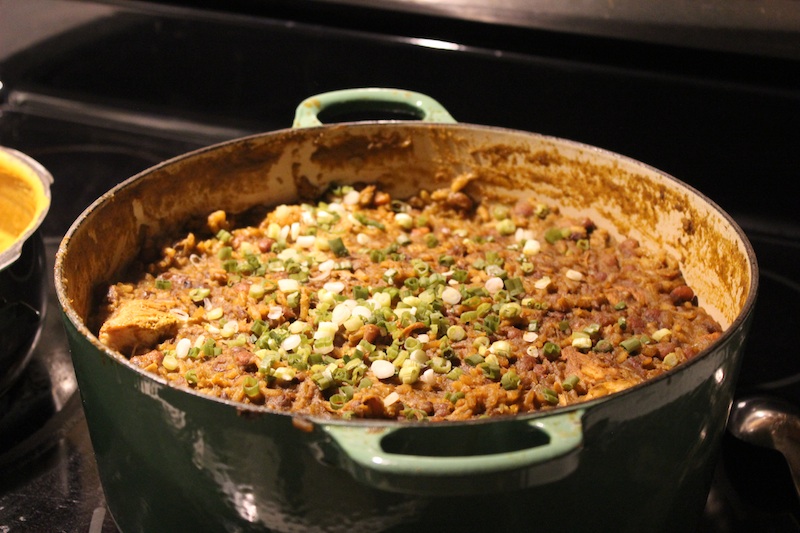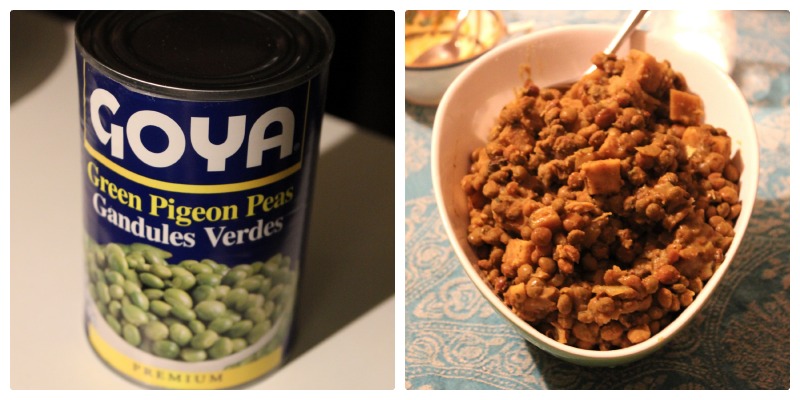 As a side we had a tasty pigeon peas dish with all sorts of chilies and spices. They were supposed to be served with fried plantains, but the person cooking them ended up with a kitchen injury that sent her to the ER instead! We've all had our scrapes, cuts, and burns in the kitchen, but getting stitches is the worst. I think I had been in my house for three days before I had to drive myself to the ER, having used my brand new chef's knife for the very first time to slice an onion…and my thumb. It wasn't pretty, but I went and knocked on a neighbor's door who'd told me that she was an EMT, and she kindly guided me to the local hospital. The scar has since faded, but the memory certainly hasn't!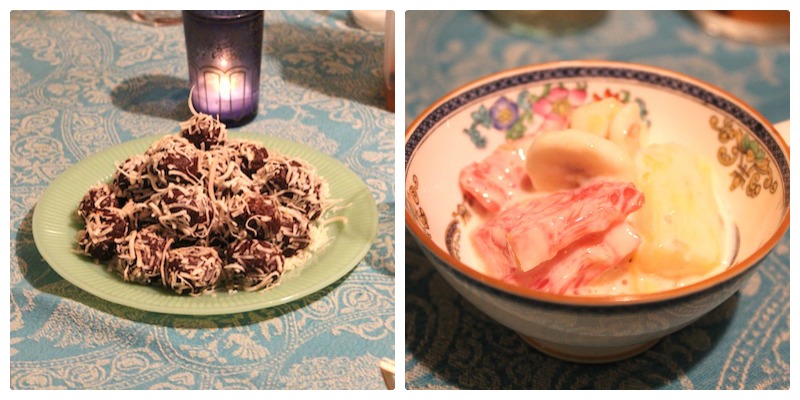 Dessert was two parts: Chocolate Honey Coconut Balls and Fruit Salad with Sweetened Condensed Milk. The first was from the cookbook authors' website, and sounded and looked fantastic. But this was an instance where most of us agreed that they were a bit intense, and we kicked around some ideas for how to make them creamier. We came up with the idea of adding some almond butter to the recipe, and I bet they would be even better. The fruit salad on the other hand was a revelation! Why had I never thought to put citrus and sweetened condensed milk together??? Seriously, this is going to be a new company-worthy dessert that takes absolutely no time to prepare. The tartness of the grapefruit cuts some of the sweetness of the sugary milk, and the result is decadent.  I could not get enough of this. Please look at the link and add this to your recipe files. So simple. So easy. Especially if you grab already cut up fruit at the grocery store. It's not to be missed. Toss a little shredded coconut in and you'll really feel like you're on vacation.
Next up is Indonesia, and I am on drinks again. I haven't even begun to figure out what to make, so if you have any suggestions please let me know! And I hope you get a chance to check out some of the recipe links. Please leave a comment if you try any of them or have other Caribbean dishes you can recommend.  There's so much to explore!
Related posts: