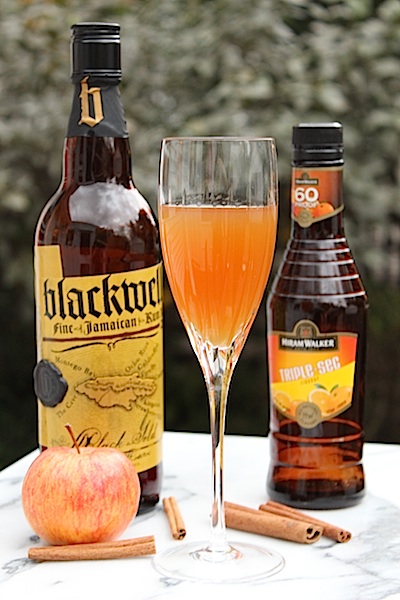 June Cleaver? Betty Draper? Carol Brady? Any housewife from generations past that's waiting at home at 6pm in full makeup and heels for her husband to come through the door, ready to mix his favorite cocktail?
I'm so not these women. I typically walk through my own door close to that time, trying to balance my work bag, my little guy's lunch box,  sweaters, my coffee mug from the morning, and the giant stack of mail, all while trying to get the key in the lock and the alarm off while reciting for the millionth time, "Please go right upstairs, use the bathroom and wash your hands. With soap. Now. Don't make me start counting. One, two, three, four…." Tired and hungry, my makeup-less face attempts to hold it together. My shoes are kicked off and left in the pile of footwear covering our foyer floor, and I head straight to my room for pajamas. Pretty dress and heels to greet Brian as he returns home? More like an oversized grey t-shirt that says "Stanford Special Olympics '95" paired with pink and yellow striped drawstring pants. I'm so fancy, right? (Just writing that makes me think of one of the funniest songs I have ever heard: "Business Time." I just re-watched the video, and I dare you not to laugh.)
So on Monday night, when I offered Brian a cocktail as he walked in the door, he looked at me confused. "A cocktail? Now???" I should probably mention that we're not big drinkers, and I can't think of a time that we have ever come home from work and just had a drink. Yes, I love having wine with dinner, or with girlfriends on a Friday night, but it's not really Brian's thing. And sadly, an open bottle of wine is going to sit around for weeks unless I throw it into something I'm cooking. And mixed drinks have always been for restaurants and vacation in my mind. (I know, such foolishness!)
But on Monday night I was trying to create a cocktail for our Caribbean themed cooking club that was happening the next evening, and I was taking my task very seriously. I was actually an "alternate" on the assigned rotation, so I was covering for the member on beverages. She had a business trip, and generously offered to supply the wine, so I only had to bring a fun drink. But if you ever look up Caribbean cocktail ideas, you'll know the options are endless, which doesn't help someone who has a hard time making decisions.
Luckily, my friend Stacy (our host for the evening) mentioned that she had an unopened bottle of Blackwell Fine Jamaican Rum that wasn't getting any love, and offered to share it. We had a pass off on the elementary school grounds, which meant that the contraband was actually disguised in a blue plastic Gap bag, handed over with the cover, "Here are those 'shirts' you wanted to borrow, Karen." Having at least one part of my drink now decided, it was time to narrow it down.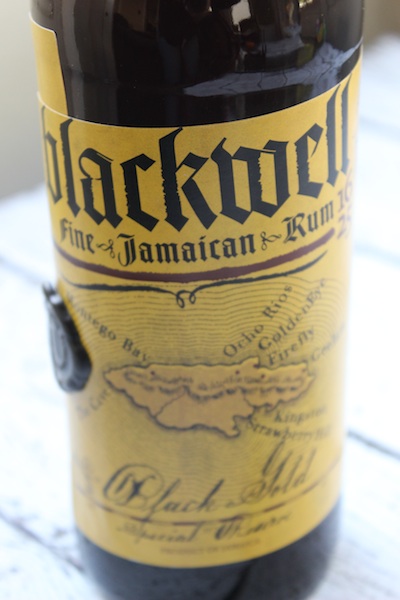 Should I go the sweet route with pineapple and coconut, or keep it simple with a Dark and Stormy (rum and ginger beer?) Did I want to buy any other liquor or use what I had? I needed guidance, so I called my brother Andrew, who before becoming a professional artist and gallery owner was a "certified mixologist" for about a minute in his early twenties.  I listed all the bottles in my cabinet and we tossed around some possibilities. I'll spare you our path, but in the end I arrived at the idea of making a rum punch that tasted like fall. And my brother gets the credit because he's the one that suggested apple cider. Brilliant.
All that to say, on Monday I had to play around with making a recipe for this Apple Cider Rum Punch, and I needed Brian to taste test. Being the helpful husband that he is, he didn't let me drink alone. He told me when the mix was too syrupy, and then when it was too watery. When I attempted freshly grated nutmeg he was quick to warn me that while the flavor was there, it felt funny with all these little flecks floating about. So I switched the spice to cinnamon sticks, and that nuisance was gone.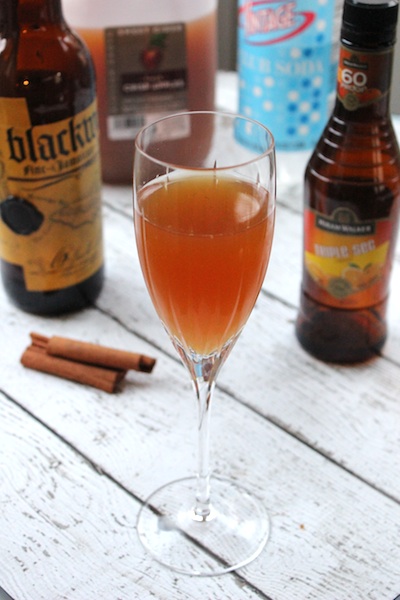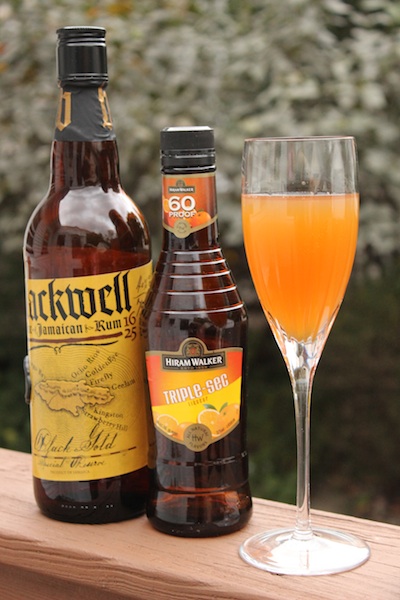 It's such a simple drink: Blackwell Jamaican Fine Rum, Triple Sec (which is an orange flavored liqueur similar to Grand Marnier,) fresh apple cider and orange seltzer. Cinnamon sticks are optional for serving, but help give the sense of the season, and compliment both the apple and orange flavors. It's a drink that you just want to keep sipping: an adult apple juice that's not too sweet, yet tangy all at the same time, with the warmth that comes from  a rum that's described as woody with a toasted coconut finish.
And as I mentioned before, this Apple Cider Rum Punch was served the next night at our second supper club gathering, and I will be following up soon with a recap of Cooking Club: All Things Caribbean. (Here's how the drinks looked that night!)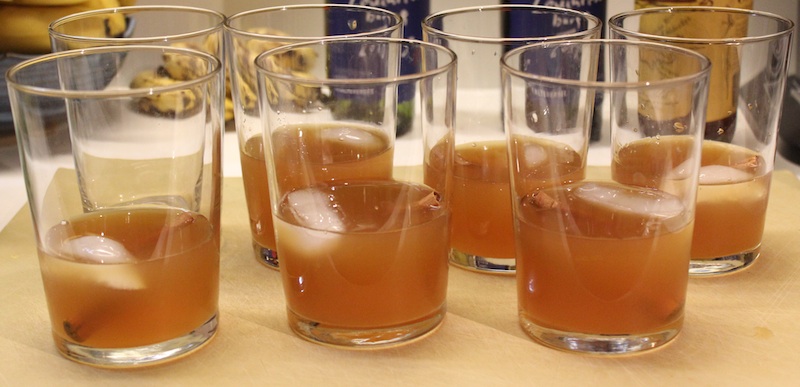 I may not be the glamorous housewife from days gone by, but this week I was reminded that a Monday (or Tuesday, Wednesday or even Thursday) night can be a little more fun when you throw caution to the wind and change up the routine. If you want, have a cocktail at home every now and then. Whip the kids up a mocktail of apple cider and seltzer, and let everyone enjoy a little something that sparkles.
Apple Cider Rum Punch is the perfect cocktail for fall. Fast and easy to make, Jamaican rum is mixed with Triple Sec, fresh cider and seltzer to give you a cold sparkling drink that is full of warm spices. Serve it for a party or just make yourself one on a random Monday night and enjoy!
Ingredients
Serves 2 (Make one for a friend, or have both!)

2 oz (60 ml) Blackwell Fine Jamaican Rum
1 oz (30 ml) Triple Sec (or other orange flavored liqueur)
4 oz (120 ml) fresh apple cider
3 oz (90 ml) orange flavored seltzer (or club soda)
2 cinnamon sticks (optional)
4 ice cubes (optional)
Serves 8 (If the thought of mixing drinks and doing math is too much, I already calculated the larger amounts for you!)

8 oz (240 ml) Blackwell FIne Jamaican Rum
4 oz (120 ml) Triple Sec (or other orange flavored liqueur)
16 oz (480 ml) fresh apple cider
12 oz (360 ml) orange flavored seltzer (or club soda)
11 cinnamon sticks (optional)
16 ice cubes (optional)
Instructions
In a cocktail shaker (or a large plastic tupperware beverage container if you're like me, and not fancy enough to have a cocktail shaker,) combine the rum, Triple Sec, apple cider and ice and shake until combined. Pour into two glasses, and top each with orange seltzer. Add a cinnamon stick to each and enjoy!
If you're serving a crowd and planning ahead, you can combine the rum, Triple Sec and apple cider in a large container and chill it in the fridge overnight with 3 cinnamon sticks. Right before serving, add the seltzer and stir or shake well. Pour into individual glasses, and serve each with with a cinnamon stick, and ice if you want it even colder.
Notes
*Have another rum on hand? Swap out Blackwell for any other dark rum you like.
http://tastyoasis.net/2014/10/23/apple-cider-rum-punch/
© Tasty Oasis 2017
Related posts: