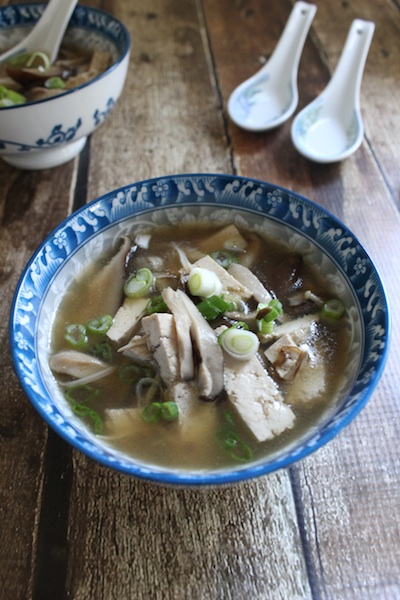 It's been a while since I updated you on the cooking club I participate in. I wrote a general "how-to" guide for cooking clubs, I told you about our inaugural Israeli night, I shared the Apple Cider Rum Punch from the Caribbean dinner, and I filled you in on Indonesia by way of an Avocado Shake with Kahlua and Godiva Liqueur. But there have been three others that I've kept you waiting on! While Mexico and Greece are on standby, I'd like to catch you up on our incredible Chinese meal and let you know about one of my new favorite cookbooks.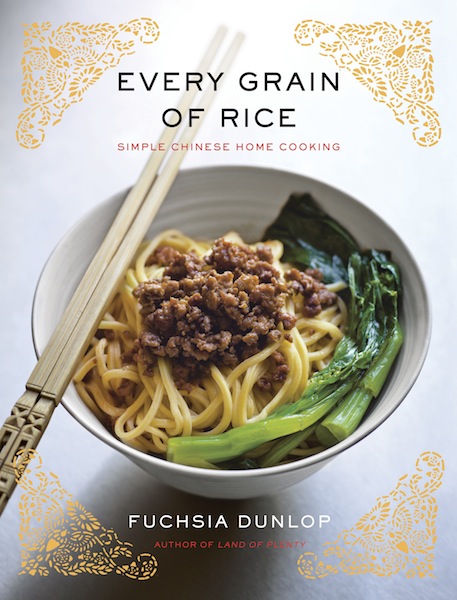 In order to expand my options in the kitchen lately, I keep ordering new cookbooks at the library and actually (shockingly!) cook out of them.  But after years of collecting cookbooks for the sake of collecting, I have become much more selective.  If I find one I really like, that I am willing to make a permanent space for on my bookshelf, I go ahead and buy it. This is one of those books. Fuchsia Dunlop was the first Westerner to study at the Sichuan Institute of Higher Cuisine in central China, and while not a native Chinese cook, she has become a prominent cookbook author. Her latest book, Every Grain of Rice: Simple Chinese Home Cooking is easy to follow, filled with healthy recipes and beautiful photographs that show food you'll want to cook on a regular weeknight basis. Experimenting with Chinese cooking was on my to-do list, but this book pushed me to finally do it. It's a perfect introductory book, and I can't recommend it enough. (Full disclosure, the link is an affiliate link. It doesn't mean you'll be charged any extra, it's just that I'll get a few pennies to buy an extra mushroom or two if you purchase anything after clicking through.)
The one thing to know is that you will need to pick up a few specialty ingredients for your pantry, but once you have them you'll be prepared to throw together quick and easy meals that will beat Chinese take-out ten times over. It will be healthier, more flavorful, cheaper, and can be made in less time than it takes to place an order and get it. That's definitely true of her Spicy Buckwheat Noodles, her Sweet and Spicy Cold Noodles (which I've already made at least half a dozen times!,) and her Spicy Sesame Noodles, which all can be made in the same amount of time it takes to make boxed mac and cheese. Seriously. They're incredible. But admittedly, for a girl who's definition of soy sauce was the low sodium bottle from Trader Joe's, I had some shopping to do to stock my pantry. I was lucky though to have a Taiwanese friend take me on a tour of our local new Asian grocery store, and after 90 minutes of wandering the aisles, I was ready to go. If you don't have the same resources near you, remember you can always find ingredients online. Don't let your location stop you!
Which brings me back to the recipe that I chose for cooking club: Fuchsia Dunlop's Hot and Sour Mushroom Tofu Soup….