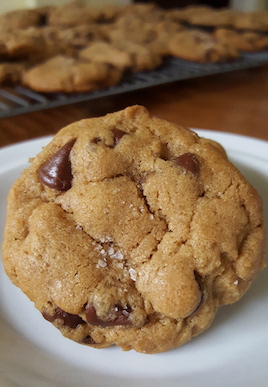 So here's what's up: I have the day off of work, and I sat down at the computer to write. As you know, I haven't posted in a while, which means that since September a lot has changed in the world, when the outlook for our country was very different than it is today. During early fall, there was hope and an excitement about what January 20th would mean, and I fully expected that today would be a celebration. Instead, I find myself watching a reboot of The Twilight Zone. As the months have passed, I've often thought about using this space to write how I feel about the election, and the conversations I have had to have with my kids about the way people voted and what this means for their lives, and for all of our lives. But instead, I've talked with my friends, I've talked with my colleagues, I've talked with my family, and I chose to spend my time in other ways.
I believe in honesty, and when I worked on this blog more frequently, one of the most valuable things I got from it was the chance to tell my story. It isn't always pretty. In fact, our holiday card this year tried to reflect that. The first lines were "Wouldn't it be nice if everyone's year was all sunshine and roses like most holiday cards try and make it look? Well, our 2016 had its ups and downs. There were some professional disappointments, cranky bodies (thanks to our age), cranky kids (thanks to their age), and a cranky house (thanks to its age). But thank goodness it was balanced by some pretty awesome moments!" Which is true. All of it.  And so as I began to write this morning I tried to dig down to that honest place. And you know what I found? I wanted to escape. I didn't want to deal. I had a few paragraphs written, and the ideas mapped out for telling you what I think of the latest recipe for our country, and miraculously was going to tie it in to my new favorite dinner recipe (impressive, right?), but instead….I said screw it, and went upstairs to grab some coffee and breakfast.
But then I did something on auto-pilot. Instead of taking out the hard boiled eggs, I reached for two sticks of butter. I popped them in the microwave at half power for a minute. Then I put my mixer bowl on the scale, and reached into my cupboard for the sugars. Three of them. White, turbinado, and dark brown. No recipe in front of me, just a formula in my head. Not my formula, mind you. But a brilliant woman named Ashley Rodriguez's. I set the butters and sugars to cream, then put a pound of flour in another little bowl, and whisked it with my baking soda and salt. Reaching back into the fridge I got my two eggs, not the breakfast ones, cracked them into the mixer, and then added a generous dousing of vanilla. More than Ashley would suggest, but what works for me. Once I scraped my bowl down, I tipped those first few spoonfuls of white into the brown, and watched as puffs of powder sprinkled onto the counter because I forgot to go slowly. A rookie mistake, but one I make all the time. Finally the chocolate chips, clinking against the metal as the paddle pushes them into the batter. As I transfered my dough back into that bowl I used for the flour, the smaller bowl, I recognized this as habit too. I never chill something in the mixer bowl, because what if I want to make something else with it? Shouldn't I always be prepared for the next batch of cookies?
In less than ten minutes, my very favorite chocolate chip cookie dough was ready. But what for? Why did I make it without thinking? Not that you really need a reason for cookies, but come on, I think normal people plan these things. Okay, so it's not rocket science. I do have insight into my behavior, especially since there is a pattern to it. I made them for comfort. Because when I don't know what to do, I go to the kitchen. (Yeah, I also can retreat to my bed, and hours of Netflix or a book, but that's not news.) And this morning, walking my kids to school I felt so sad. There's a new president today, and I have no respect for him.  But when my soon to be 10 year old picked up a pinecone and made a childish gesture showing off his own lack of respect for him, it upset me. Granted, there was a part of me that wanted to laugh, but the responsible parent in me tried to step forward and said, "Would you ever do that to refer to President Obama?" The presidency should not be a joke, but today it becomes one. That's devastating. And it's powerful. And there are repercussions.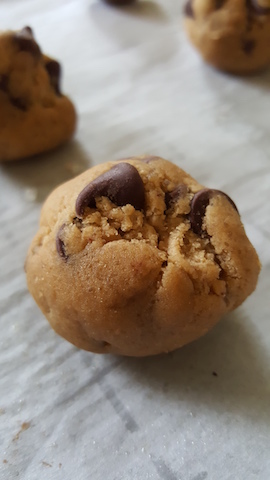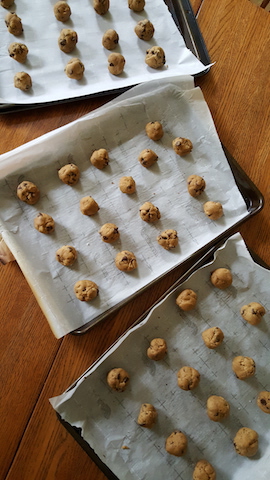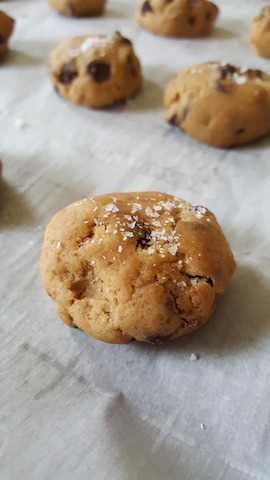 And so now there are cookies. Or, at least, there is dough. It's getting cold right now, and all sorts of fun science is happening to make for better baked cookies. The fat is solidifying (so that the cookies won't spread out as much), and the flavors are deepening because the flour is breaking down and the dough is drying out so the sugars are more intense, which all means that they'll brown up nicely and will be chewy cookies, not just soft and doughy. And let me tell you, it is by far my favorite chocolate chip cookie dough. And it's dangerous. Because it calls to me, and I have very little resistance to its siren song.
I've been making these cookies since April, when I was on vacation. And while my Brown Butter Chocolate Chip Cookies that I posted two years ago still hold a solid place in my heart, these are now my go-to. So easy to make, and perfect every time. I've made them for company, I've packed them for holiday gifts, I've delivered them to friends who are struggling, and I even took them when we went bowling at The White House. (We did!! We really did! In October, thanks again to my dear friend Ali who then took us all on tours of The West Wing!) Chewy with crunchy salt on top, they're just sweet enough without going overboard, and they make everyone happy.  Oh, and they freeze well too. In fact, they're unfairly good when they're frozen, so if you have a bag in the freezer just steps from your computer, you may find yourself putting a photo from when you're 26 taped to the top of the freezer with big red letters on it saying "STOP! REMEMBER YOUR GOAL!" (Ummm, wait, that's just me, isn't it?)
Because I didn't plan to make these today, or write this, I didn't take photos in the eight minutes it took me to make this dough. But I want you to have this recipe, so I hope you don't mind you're only seeing the final product. I hope these cookies make it into your kitchens, and bring you comfort today too, or whenever you need it. This batch? Obviously, some for my guys, but it will also be shared with some friends tonight. I'm seeing Hamilton with nine other interpreters this evening. When we got the tickets, we thought it would be the perfect cap to an already phenomenal day. Now….now it's a different story. But these tucked into my backpack for an intermission snack? I'm hoping they'll make things a little better, in my very small way.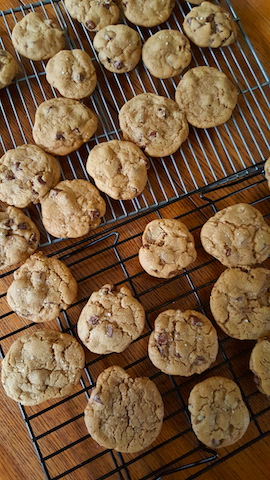 ** If you are looking for more sweet treats, I'd love for you to try these ones too:
Nutella Crunch Cookies- Two Ways
Brown Butter Chocolate Chip Cookies
Brown Butter Brownies with Dark Chocolate Chunks
Whole Wheat Banana Bread with Coconut Sugar
My Very Favorite Chocolate Chip Cookies
These Chocolate Chip Cookies with Sea Salt are my very favorites, and just barely adapted from Ashley Rodriguez's recipe. They are easy to make, freeze well, chewy and perfectly balanced between sweet and salty, and best when you use dark chocolate.
Ingredients
2 sticks of unsalted butter at room temperature (8 oz)
1/4 cup white sugar (2 oz)
1/4 cup turbinado sugar (2 oz)
1 3/4 cups dark brown sugar ( 12 oz)
2 large eggs
1 Tablespoon pure vanilla extract
3 1/2 cups all purpose flour (1 lb)
1 1/2 teaspoons baking soda
3/4 teaspoon kosher salt
10 or 12 oz bag of dark chocolate chips (I like Ghiradelli's 60% dark chocolate)
1/2- 1 teaspoon Maldon sea salt (or other crunchy salt) for sprinkling on top
Instructions
In the bowl of a stand mixer, combine the butter and three sugars on medium high and cream them together for 5 minutes.
While that's mixing, in a medium size bowl, whisk together the flour, baking soda and salt.
Once the butter and sugars are very light and fluffy, scrape down the bowl with a spatula and add in the eggs, one at a time until they're incorporated. Then add in the vanilla. Scrape down the bowl again, and reduce the speed of the mixer to low. Slowly add in the flour mixture. So that it doesn't blow white powder everywhere, I like to turn the machine on and off at the lowest setting for the first few seconds that I am pouring the flour in. This helps reduce the mess, and as it starts to combine you can just let it run at the slowest speed. Make sure not to overmix the dough. Then pour in the chocolate chips and let it all combine.
Let your dough chill in the refrigerator, covered, for at least an hour, and up to four days. I know that sounds like a really long time, but it is worth it. (And don't worry, you can certainly snag some dough before that.)
When you are ready to bake the cookies, preheat the oven to 360 F/182 C. (Yes, it is a weird temperature. Please trust it.)
Line your cookie trays with parchment or silicone baking sheets. Scoop the dough, and roll them into small balls, leaving 2 inches between cookies. Slightly flatten the cookies with the palm of your hand, so that you can sprinkle a bit of coarse sea salt on and it doesn't immediately fall right off.
Position the racks in the upper and lower thirds of the oven, and bake the cookies for a total of 12 minutes. Switch the sheets from top to bottom at the 8 minute mark. They should be lightly golden when you take them out, and still a little gooey on the inside. If you touch the top, it will seem to fall a bit, and that's fine. Immediately transfer them to wire racks to cool.
Notes
*These cookies are barely adapted from Ashley Rodriguez's recipe on Not Without Salt. I made a few slight changes: she calls for light brown sugar, I prefer dark. She uses 2 teaspoons vanilla, I like 3. She says to use 1 pound of the best chocolate you can find, chopped. I am lazy, and while that would be absolutely amazing, I mostly just use a bag of really good dark chocolate chips, which is less chocolate. Shockingly, less chocolate is a better balance for me. But I promise you, you won't go wrong either way.
*These cookies freeze well in a Ziploc freezer bag for months. (If they last that long, since they're way too good frozen.)
http://tastyoasis.net/2017/01/20/my-very-favorite-chocolate-chip-cookies/
© Tasty Oasis 2017
Related posts: