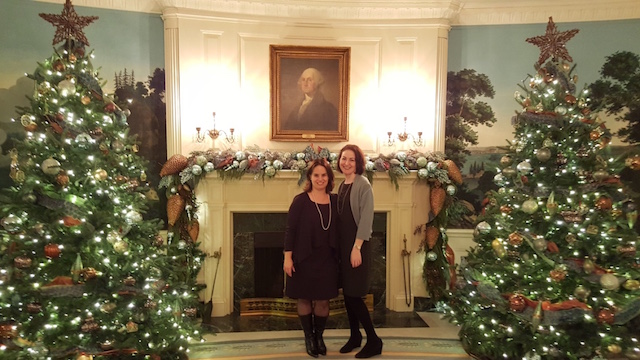 So a few weeks ago I mentioned that I went to the White House holiday party, and promised I would share more. Admittedly, it's two months later, and the holiday season has long passed, but this was a life highlight so I don't want to let it slide any longer. You see, when one of your oldest, closest friends in the world is so super cool that she works at the White House, and she invites you as her plus one to hang out in the East Wing with the Obamas, it's kind of hard not to burst and brag all about it. Okay, so the President and Mrs. Obama only made a ten minute appearance, and were across the room, but I'll be honest- it was amazing.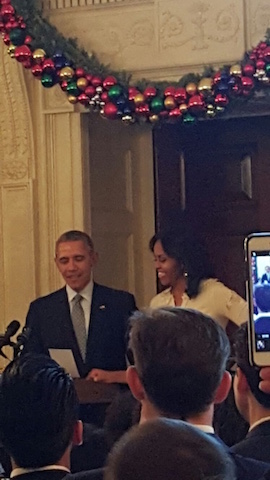 Apparently there are 20 holiday parties in three weeks, with 25,000 cookies baked, and 62 trees and massive amounts of lamb chops and latkes. The party I got to attend was on a Tuesday afternoon for White House staff, and I took the train down to DC just for the day. We arrived a bit early for me to get through security, and we ended up being some of the first people to enter, and I was pretty much the very last person to leave. No joke. Scheduled from 2-4pm, my friend Ali had to "get back to the office" after a couple of hours, which she did by walking through the West Wing and the Rose Garden to get to the Old Executive Building. I wasn't supposed to meet her there until 5pm, and I wasn't going to leave until they kicked me out. On public tours of the East Wing, there are normally ropes set up so that you can't go into certain rooms or touch anything, let alone sit on the furniture. But on this incredible day, not only were there no ropes preventing you from entering the library, or the "dish room," but you were meant to sit and enjoy it while having a glass of champagne, some spiked eggnog, or one of 14 desserts that they offered. So I made it a point to place my behind on every chair, couch and settee I possibly could.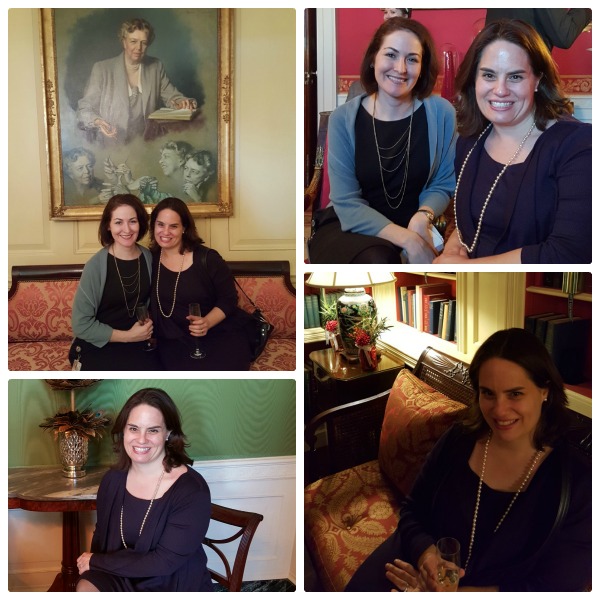 And while I'm not one for taking selfies, at the end of this party, as the marines kindly escorted guests out room by room, I ended up being ALONE, and the very last person in the room with the all of the presidents' china and crystal glassware, and I was overwhelmed to be surrounded by such history. (Andrew Jackson's silver platter that's engraved "The President's House," Lincoln's goblets, the Obama's 2015 state service china- it's jaw dropping.)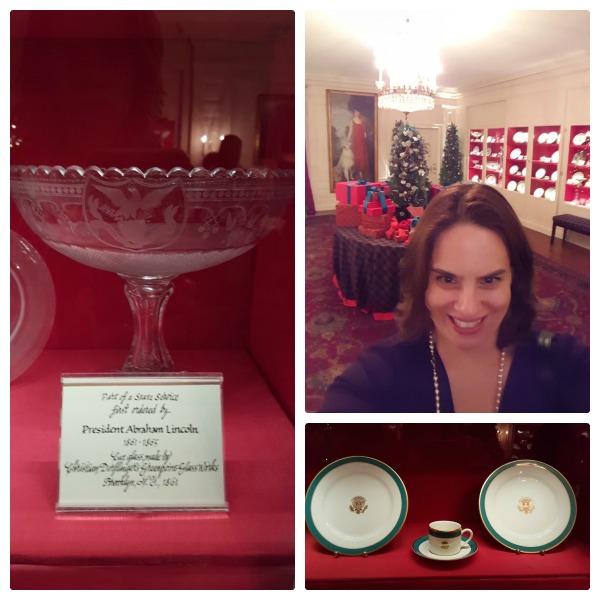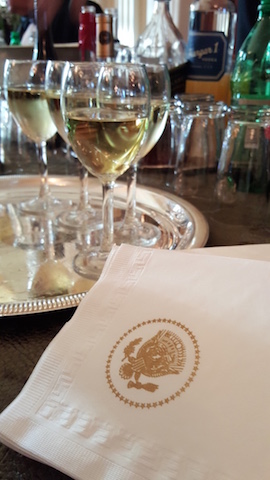 The decorations were breathtaking, including the centerpiece military honor tree, that had a ribbon with handwritten notes to those serving wrapped all around it. The library might have been my favorite room though, with six trees, all decorated with little books, and focused to warm the heart of any reader.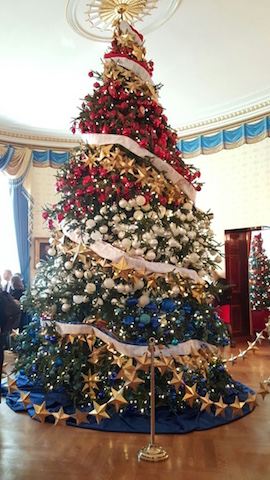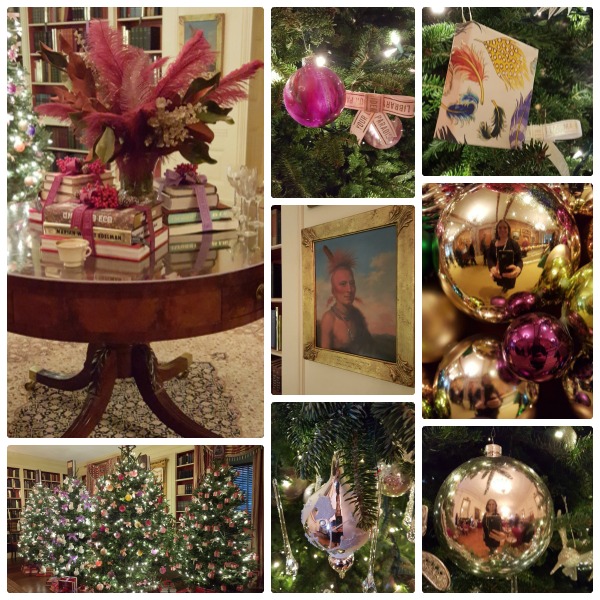 And then there was the food. Friends, let me tell you, it was fantastic. Filling both state dining rooms on either side of the East Wing, there were elaborate buffets that never emptied. For the savory foods, the pistachio crusted lamb chops might have been my favorite, but the sweet potato soufflé with marshmallows won me over too. I've been making a similar dish every Thanksgiving, but the presidential version blew mine out of the water. It was perfect in every way, as was the breadcrumb crusted macaroni and cheese that was bursting with purple cauliflower. (Luckily, I stumbled upon a blog post in December where a lucky writer from Food52 got to get a tour pre-party and got that mac and cheese recipe to share! I definitely plan on recreating this one at home and you should too while the weather still calls for it!) The latkes were crispy all afternoon, the green beans had a slight crunch, and the chickory, endive and arugula salad was perfectly balanced with local blue cheese, pomegranate seeds, candied walnuts and mint. Tables overflowed with options, and the dessert selection couldn't have been more elaborate, or delicious. Macaroons that slightly cracked with a chewy bite inside, decorated sugar cookies that tasted even better than they looked, sticky toffee pudding, coconut cake, sweet potato pie, a yule log…the list goes on. And of course, the showstopper chocolate gingerbread house, that actually included the whole complex, not just what you see in the photo below! (Obviously though, nobody was eating that one!)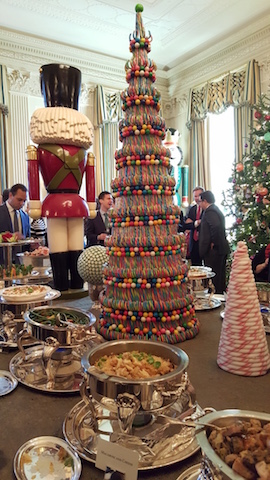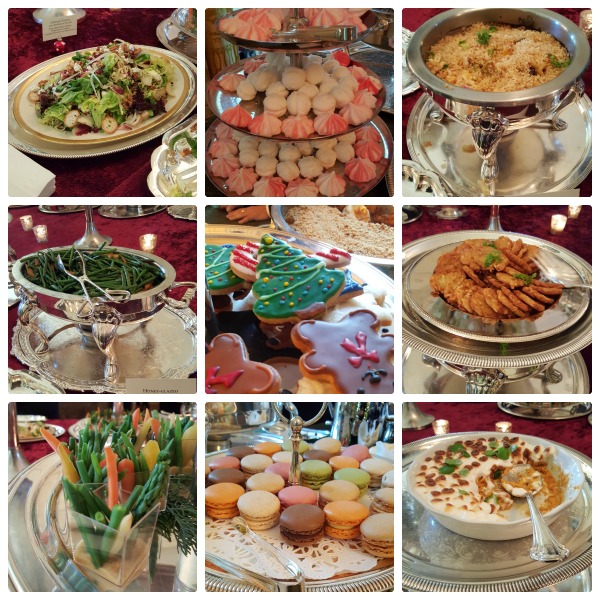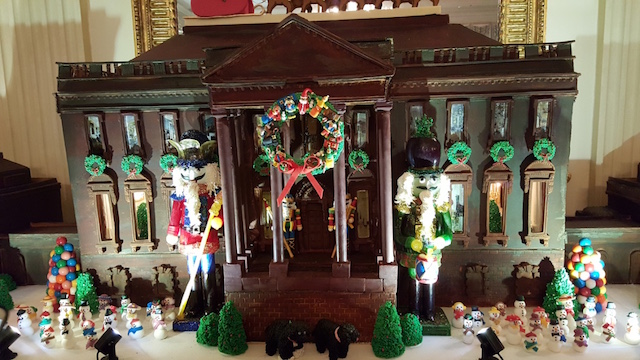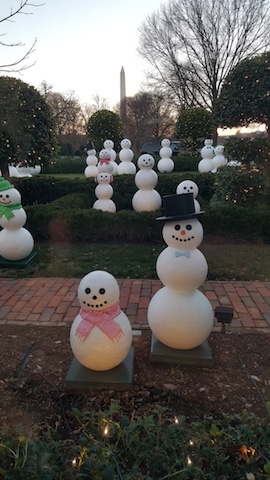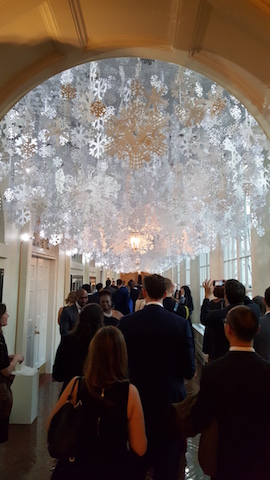 It was a magical day that I will never forget. When he spoke, President Obama joked with the crowd, "Remember, enjoy the party, but don't forget this house is just a rental. So while you shouldn't go stealing any of the forks or anything, feel free to take as many napkins as you like." We all laughed, because pocketbooks already were full of them, mine included!
Related posts: