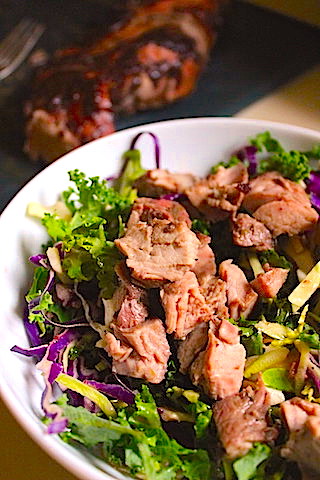 A rainy Sunday, and I am still in my pajamas at 4pm. Not only did my crazy dreams keep me up during the night, but our newest family member, Sir Charles Popcorn Roosevelt Jacob III (aka Charlie) thought it would be fun to alternate sleeping on my head and attacking my hands and feet at all sorts of odd hours. I've learned that having a ten week old kitten is oddly like having a newborn baby. Your heart overflows with love and wonder at this mysterious little creature you've surprisingly been allowed to take home, and your levels of exhaustion cannot be described. Sure, I could have kicked him out of my room, but when this little grey fluffball wants to curl up and purr in my ear while licking my cheek, it's really hard to resist! He's our first family pet, and we've pretty much won the cat lottery. Adventurous, playful, and utterly cuddly, he seems to be a dog in a feline body. I'm a little bit obsessed. And a whole lot of tired.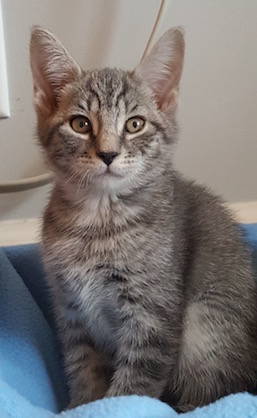 So when given the options of what to do today, I really wanted to do nothing. Not even cook. Not make my Sunday batch of granola, or do the laundry, or finish sending out holiday cards. (Wait, you think those things are supposed to go out the week after Thanksgiving? So they can be displayed all month long on people's mantels and enjoyed? Yeah, so does my husband. I….well, I can't get everything together, and a good friend told me you have until Valentine's Day to get New Year cards out, so I am going with that.) I just wanted to lie on the couch with a cat on my chest, reading my book club book. But you know, I still had to feed my family.
So what do I make when I don't want to cook, but need to make sure that I have something healthy that will keep for leftover lunches during the week? This 5 Ingredient Roast Pork Tenderloin. It is one of those back pocket recipes I have been making for years that is so easy and quick to prepare, it takes no effort. No chopping, no cutting boards, it means that everything is ready to throw in the oven even before it finishes preheating. Dijon mustard, whatever fruit preserves are open in the fridge, and dried thyme and garlic powder. I add a bit of salt too, but that doesn't count as an ingredient, right? Mix everything in a bowl, spread it on the tenderloins, roast for 40 minutes, and you're done.  It's moist and tender (go figure,) ultimately versatile (any flavor jam works, as do most dried herbs,) and you can use the pork for several days in a variety of ways. On salad to take to work, in a quesadilla with cheese and salsa, with some sweet potato fries or polenta, whatever fits your mood. At the end of it all, you strip tin foil off of your baking tray, and cleanup is super simple. Perfect for when you don't want to cook, or clean. (I never want to clean, but come on, who ever really gets excited about dishes?)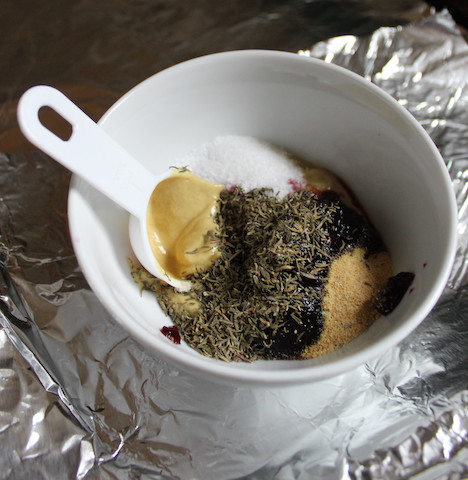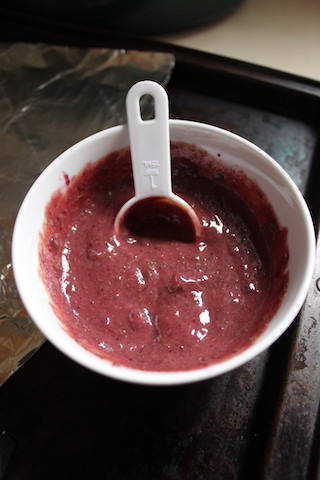 So what do you make when you don't want to cook? I would love to hear some suggestions for fast and easy favorites that help when you just aren't in the mood for being in the kitchen. Because no matter how much I love the place, and even though it normally makes me happy, sometimes it's just a practical necessity. I heard Nigella Lawson say the same thing in a podcast recently, and her take on food and cooking was affirming. I recommend checking it out.  Let me know what you think!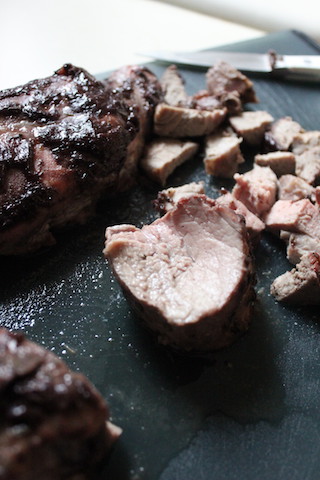 Easy 5 Ingredient Roast Pork Tenderloin
This versatile 5 Ingredient Roast Pork Tenderloin is an easy recipe that's healthy and quick to prepare. In under five minutes, you have everything ready to stick in the oven, and almost nothing to clean up. Using Dijon mustard for tang, and fruit preserves for sweetness, the flavor is balanced and allows you to use the pork in a variety of dishes. Throw small pieces on a salad, heat it in a tortilla with cheese, or serve with baked sweet potato fries. It's one of those back pocket recipes to make when you just don't feel like cooking.
Ingredients
2 pork tenderloins (totalling 2 1/2 lbs.)
4 Tablespoons (1/4 cup) fruit preserves (any flavor, mixed berry or apricot are especially good)
3 Tablespoons Dijon mustard
2 teaspoons dried thyme
1 teaspoon kosher salt
3/4 teaspoon garlic powder
Instructions
Preheat your over to 400 F/204 C. Line a baking sheet with aluminum foil, and spray with cooking spray.
In a small bowl, mix together all the ingredients. Spoon the mixture onto each tenderloin, spreading it evenly on all sides. Roast for 35-40 minutes, or until the juices run clear, and the sauce looks caramelized. Let the pork rest for 5 minutes, before slicing and serving.
Notes
*You can use any jelly, jam, or fruit preserve you like. If you choose one sweetened with fruit juice, this is refined sugar-free.
**If you don't have thyme, you can use any dry herbs you have on hand. This is incredibly flexible.
http://tastyoasis.net/2016/01/10/easy-5-ingredient-roast-pork-tenderloin/
© Tasty Oasis 2017
Related posts: