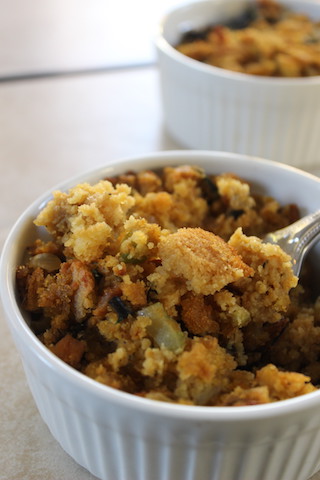 I've promised several friends that I'd share this recipe in time for Thanksgiving prep, so I think I've made it in just under the wire! As I mentioned earlier this week in my Spiced Orange Cranberry Sauce post, stuffing is one of my favorite parts of the Thanksgiving meal. I love it so much that we always have two different kinds at our table, ensuring plenty of leftovers. While some get repeated,  there are always so many recipes I want to try that I like changing it up every year. A few examples we've loved were sourdough stuffing with mushrooms, apples and sage, herb and bacon cornbread stuffing, and even wild rice, fruit and pecan stuffing, which was a bit of a departure for us one year. Last month, while I was searching for a dish to bring to my cooking club for our Vegan theme night, I went directly to one of my favorite food blogs, The First Mess. My friend Felice turned me onto it a year ago, and even though my diet doesn't skew vegan generally,  I want to make everything Laura writes about. The photographs are stunning, and her flavor combinations always excite me. Assigned to a starch dish that night, I new instantly that I wanted to try what she called her sweet potato, chipotle + chard cornbread stuffing. I figured I could use this as an opportunity to audition it for our Thanksgiving dinner, and I am so glad I did! I mostly followed the recipe, but made some slight adjustments in order to double it to fit a 9 x 13 baking dish. (You know me, if I'm going to spend time cooking, I'm going to make sure there's a large yield to serve for other meals or to freeze!) I also had to find a vegan cornbread recipe to use, because my standard one uses buttermilk (and bacon fat when I'm going all in!) Food52 pulled through for me on that end, and with a few changes there too I had a winner.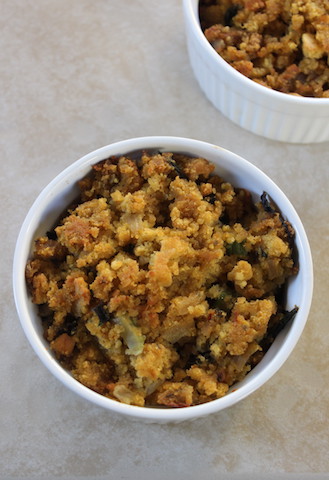 With this vegan cornbread stuffing you have the sweetness from both the bread and the sweet potatoes, the smoky spicy layer from the chipotles, and a savory earthiness from the leafy green swiss chard. It balances perfectly, stays moist on the inside, but gets slightly crispy on top. I made a large casserole dish to share with friends, but decided to bake two individual ramekins as well for my family to try. The good news? Because I waited for daylight to grab some of the shots, I didn't actually let my guys eat their stuffing for 5 days after making it! And you know what? It was just as delicious!
And it turns out it complemented the rest of our vegan cooking club meal as well. We had a fantastic lentil and nut loaf as the main course, which you shoud definitely make, but add a little smoked paprika like our host did. We had roasted spiced nuts, an eggplant dip, braised artichokes, and a broccoli and tahini soup.  As always, it was a really fun evening with tasty food-proof (not that it's needed) that a vegan menu can be flavorful and satisfying!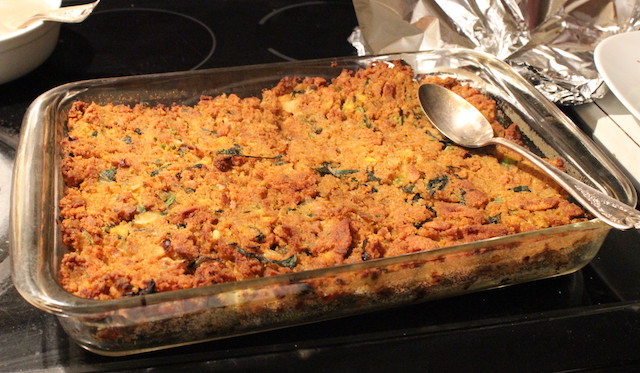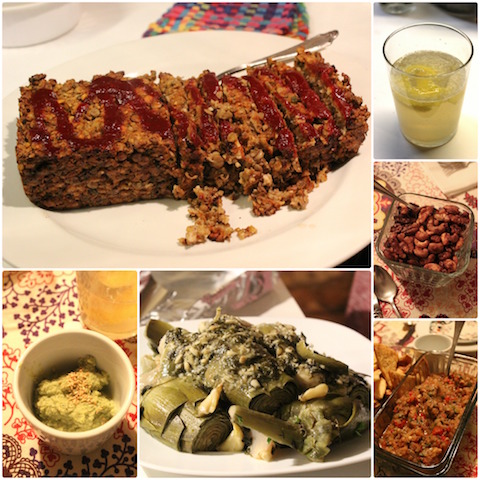 And I've got one bonus tip for you today: freeze your extra chipotles and adobo sauce! If you're anything like me, you open a can for a single chili, and are stuck with the rest in a random tupperware container that sits in the back of your fridge and grows mold until you remember it months later. Clearly, there's got to be a better solution. And surprise, there is! On your counter, lay out strips of plastic wrap, about 5 inches wide x the length of the dispenser. In the middle of it, spoon out two chipotle peppers and two tablespoons of the adobo sauce. Wrap it up like a present so it's sealed, and stick all of these packages into a Ziploc freezer bag. Next time you have need for a recipe, simply thaw the individual package in warm water. If you only need one pepper you can cut the whole block in half while it's still frozen. Either return it to the freezer, or keep it refrigerated if you actually think you'll use it within the week. Or just toss it if you can't be bothered, since it's no big loss. That's what I did when I made this stuffing a couple weeks ago; I defrosted from the freezer then, and I'll do it again this week. It just makes things easier.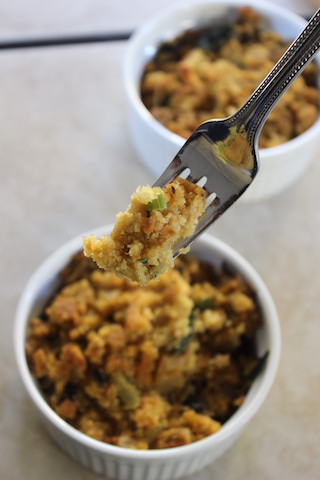 I would love to hear if you make the stuffing, or if you have another favorite to recommend, so please leave a comment and let me know!
Vegan Cornbread Stuffing with Chipotle, Swiss Chard and Sweet Potato
This Vegan Cornbread Stuffing with Chipotle, Swiss Chard and Sweet Potato is a perfect side for your Thanksgiving table. It will satisfy the vegans and the turkey eaters alike, as it balances sweetness with smoky spice, it's moist on the inside and crispy on the outside, and makes for great leftovers for days. And if you want to keep it simple, you can just make the cornbread all on its own!
Ingredients
For the Vegan Cornbread:

4 teaspoons apple cider vinegar
4 cups unsweetened almond milk
3 cups stone ground yellow cornmeal (360g)
2 cups all-purpose flour (260g)
4 teaspoons baking soda
1½ teaspoons kosher salt
¾ cup sugar (150g)
2/3 cup extra virgin olive oil
For the Vegan Cornbread Stuffing with Chipotle, Swiss Chard and Sweet Potato:

Most of a 9 X 13 baking dish of cornbread, minus a 4 X 13 strip (about 16 cups of cornbread cubed, saving three big pieces for snacking)
¼ cup +2 Tablespoons grapeseed oil, divided
2 cups diced yellow onion (from one large onion)
¾ cup diced celery (from 1½ stalks)
1 Tablespoon + 1 teaspoon minced fresh thyme leaves (from about 12 sprigs)
2 cloves of garlic, minced
3 cups swiss chard, roughly chopped (from 7 large stalks, leaves and stems)
2½ cups sweet potatoes, peeled and diced into 1 inch cubes (from 2 small potatoes)
2¾ cups vegetable stock
1 chipotle pepper with 1 Tablespoon of adobo sauce, chopped
Juice from ½ of a lemon
Salt and Pepper to taste
Instructions
For the cornbread:
Preheat the oven to 400°F/204°C. Prepare a 9 X 13 baking dish with cooking spray.
In a large measuring cup, whisk together the almond milk and vinegar until it is frothy and set it aside. In a large mixing bowl, whisk the dry ingredients together: the cornmeal, flour, baking soda, salt and sugar. Add the olive oil to the frothy almond milk/vinegar, and then pour all of that into the dry ingredients, stirring so everything is evenly combined. Pour it into the prepared dish and bake for 35 minutes, or until a toothpick comes out with some softly dried crumbs and the top is firm and it starts to turn golden. If you're just making the cornbread alone, let it cool before serving if you have the patience. But if you're going ahead with the....
Vegan Cornbread Stuffing with Chipotle, Swiss Chard and Sweet Potato:
(For the multi-tasker)
While the cornbread is baking, start chopping all the stuffing ingredients. Get the onions and celery chopped, and the thyme minced first. When those are ready, heat the 1/4 cup of oil in a large pot over medium high heat. Toss in the those three things, stirring occasionally, so that the onions start to become translucent and brown, around 5 minutes. While this is cooking, mince your garlic and chop you swiss chard. Once the onions are ready, add in the garlic and stir for around 30 seconds, until fragrant, then add the chard, continuing to stir so that it wilts. Season with a little salt and pepper at this point, and then remove it all to a small bowl.
In the same big pot, add in the diced sweet potatoes, chipotle pepper and adobo sauce and the vegetable stock, and cook over a medium heat. There should be enough stock so that it covers the potatoes by at least an inch. Cover and bring it to a boil, but once it boils turn down the heat to low, and simmer for another 10 minutes until the potatoes are tender when pierced with a fork. Then turn off the heat, add the lemon juice and a little salt and pepper, and mash it all up so that you have different sized pieces. At this point, you are just waiting for the cornbread to be ready, so go get some dishes done!
When the cornbread is finished cooking, line two large baking sheets with parchment paper. Once your cornbread is cool enough to handle, straight in the baking dish, cut up the bread and make some cubes, reserving three big pieces to snack on. Then take the cubes and toss them on top of the parchment with 2 Tablespoons grapeseed oil, 1 teaspoon of thyme, and salt and pepper (use your judgement on that, since it's really just a sprinkle,) dividing it between the two sheets. Put it back into your 400°F oven for 15 minutes to dry out the cubes and toast them a bit. While the cornbread toasts, keep doing dishes, or just take a breath and relax. Don't bother cleaning out that baking dish though, because it is going to be used again, just as is.
When the cubes have toasted, you are going to toss them into the large pot the sweet potatoes are in, and you are going to add the swiss chard mix back into it too. Stir everything together in the pot, then transfer it back to your 9 X 13 baking dish, and cover it with foil. Bake covered for 25 minutes, then remove the foil and bake uncovered for another 20 minutes, until the top is nicely browned, and your house smells amazing. Definitely serve it straight from the oven if you can, and enjoy!
Notes
http://tastyoasis.net/2015/11/22/vegan-cornbread-stuffing-with-chipotle-swiss-chard-and-sweet-potato/
© Tasty Oasis 2017
Related posts: