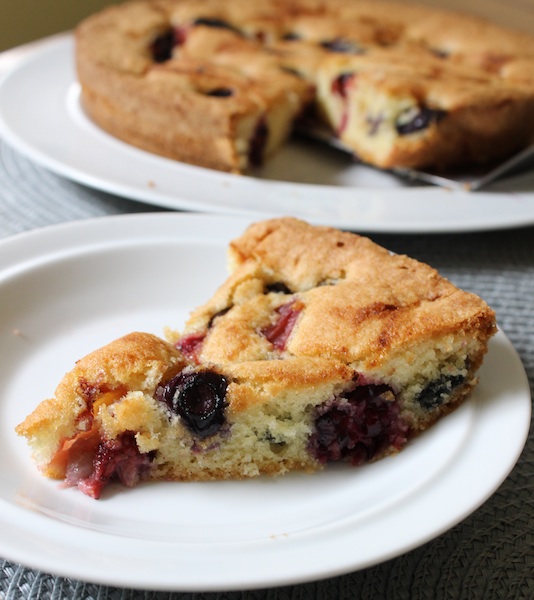 I love the feeling of falling into somebody else's world, temporarily leaving my own reality to find a place in another. In some ways, I experience that in my work. It's my privilege as an interpreter that I'm allowed into the most private moments of other people's lives, or simply that I have the opportunity to walk into situations that I would never otherwise have access to. Although that's not at the foundation of why I became a sign language interpreter, and certainly not a main reason why I continue to be one, it is a part of what keeps me balanced.
Being in the hospital room as a child is born, in the court room when a divorce is granted, on the course as someone learns to ride a motorcycle, in the classroom where they study to be a priest, a rabbi, a teacher, a lawyer, an historian or an artist, in the office when someone is fired, on the phone for a fight between a mother and her son, or on a stage in front of tens of thousands of people, it's my honor to gain perspective from other people's lives.
While my professional access to these experiences might be unique, I know I'm not alone in the desire to immerse myself in other's stories. And for as long as I can remember, I've done that with books. I was the little girl hiding with the flashlight under the covers, escaping into The Secret Garden. I was the teenager devouring trashy novels and Wuthering Heights with equal abandon (which I guess might have been trashy in its day.)  In my twenties I called the New York Public Library my second home, and missed my subway stop time and again as Barbara Kingsolver, Isabelle Allende, J. K. Rowling and David Sedaris wove their tales around me. And in my thirties I fell in love with audio books and cookbooks, returned to children's literature, and began a habit of reading electronically.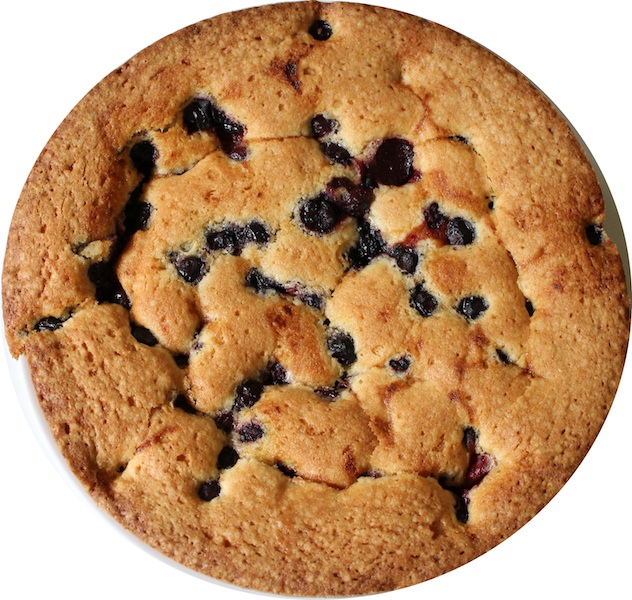 I read so much that I can't keep track of it all without maintaining a list, and so for years I've faithfully entered everything I'm reading or want to read into Goodreads. (If you haven't used it, check it out. Instead of random notes to yourself, all your books are in one place, and you can take advantage of the social media part if you choose to, but it isn't necessary.) Since I've been in book clubs for most of my adult life, my list is long, and talking about what I read transforms what is a solitary experience into a communal one.  And while I appreciate that it challenges me to explore writers and books I might not otherwise come across, I've got to be honest. We all know books aren't the only draw for a book club!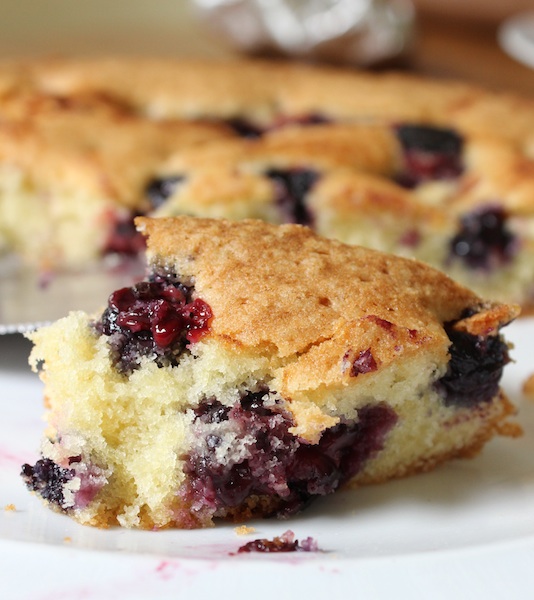 There's friends, and wine, and of course, good food. And this Summer Fruits Tea Cake is the perfect dessert to bring along to share, or to devour on your own with a cup of tea and a good story.
My friend Flora passed a version of this on to me years ago, and I have made it countless times, including this past weekend for a July 4th barbecue. I adjusted the recipe a bit, but I love that when I make it I think of her, even if we haven't been in touch in a while. That's one of the benefits of sharing a recipe with people you care about: your spirit stays in it.  This cake takes only ten minutes to throw together, it's not too sweet, it's moist and tender, and it's flexible and works with any spare fruit you have lying around.  And an hour in the oven will let you get through a few chapters, whether they're printed on paper, read on a tablet, or heard through your headphones.
And if you need some book suggestions, I am always happy to pass along some of my favorites. I won't repeat myself, so here are a few that I've read recently and loved, and would be more than happy to discuss.  This list is in no particular order, and isn't necessarily my top ten books ever, it's just 10 great books I've read recently that I couldn't put down. And isn't that what you want for a summer read?
Dandelion Wine, by Ray Bradbury. A semi-autobiographical novel of childhood, this short book takes place in the summer of 1928. It's the only thing I've read by him, and I loved the writing and stories of small town life. Summer in 2015 is over-programmed,  and this draws you into a simpler time.
The Signature of All Things, by Elizabeth Gilbert. For as much as I hated Eat, Pray, Love,  it was a leap of faith to pick this book up. I didn't get through 100 pages of her first book, but it's as if this novel of historical fiction was written by an entirely different person. I listened to the audio book, and I didn't want it to end.
Elea
nor & Park, by Rainbow Rowell.  This YA novel pulled me back into the genre, and kicked off a spree of books last summer,  including The Fault in Our Stars,  by John Green. You don't have to be a teen to read these, but they'll make you remember how you felt when you were. And you'll want to finish both of these in just a few days.
Stuffe
d: Adventures of a Restaurant Family,  by Patricia Volk. I read so many food memoirs, and could and should write whole posts about them. This one goes quickly,  and tells about multiple generations in NYC,  and all the quirkiness and poignant moments a family has.
The End
of Your Life Book Club,  by Will Schwalbe.  If you can get past the depressing title, this book is for everyone who loves to read.  Schawlbe was the former editor-in-chief of a large publishing house when his mother was diagnosed with cancer. It's a tribute to her and her life,  which is astounding and inspiring, as it chronicles the books that they read together and the lessons they took from them. It reminded me of my connection with my dad and books, and there were reflections that mirrored my own. Right when I finished it, the author came to speak at our local bookstore on a snowy night, and I appreciated his insights and his candor.
Bud
, Not Buddy,  by Christopher Paul Curtis. Winner of the Newbery medal, I started listening to this with my kids and their grandma on our car trip to Washington, DC a couple of weeks ago, and all three generations were absorbed. About a 10 year old boy in Flint, Michigan in 1936, it explores questions of race, the Depression, jazz, and a quest for family. Written with humor, and with complicated concepts explained clearly, I appreciate it's something the whole family can enjoy together. So if you have a long ride with your kids this summer, this audio book is one to pick up for sure. (But since we still have two discs left, our plan is to finish it off at night this week in our living room. I can't wait.)
All the Light We Cannot See, by Anthony Doerr. I finished this book yesterday, and understand why it won the Pulitzer Prize for fiction this year. I heard one review say something along the lines of, "Do you really want to read another book about the Holocaust? Maybe, maybe not. But you should read this book." I agree that this one should be read. It's stunning. Granted, it took me a good 50 plus pages to get into it, but once I did I couldn't put it down.  And when I went to record my review, I realized that I had read the author's memoir six year ago, and had enjoyed it too. I'd picked it up randomly at the library, simply based on the title: Four Seasons in Rome: On Twins, Insomnia, and the Biggest Funeral in the History of the World. I wish I had made the connection before I started the novel!
We Are Not Ourselves, by
Matthew Thomas. I listened to the audio version read by Mare Winingham, who does an excellent performance, and then reread passages on my phone because the writing is so extraordinary that I wanted to actually see the words in front of me as well. I originally ordered the book because I heard that Simon and Schuster bought this debut novel from a high school English teacher in New Jersey for over a million dollars, calling it the next "Great American Novel. " (His first book! Which took him ten years to write!) I think they're right. It is one of the best books I've read in years. Truly. The language itself awed me. There are word combinations and sentences that blew me away, and left me saying,  "I would never have put those together. How did he do that?" And the story pulled me in too, because it rings with an honesty that feels natural and authentic. It follows the life of Eileen, from her childhood as the daughter of Irish immigrants living in Queens, through her journey that covers a marriage, a son, a move, and the curveballs that life throws. I don't want to tell you too much about it, but I can say that I sat in my car more than once with tears streaming down my face as somebody else's truth touched my heart. It made me think about my own relationships, and reminded me to appreciate what I have right now. That I am so lucky for all the little things that I often take for granted. Like everyone, I need to be reminded, and when great writing can do that I am especially grateful.
I could have gone on for pages with other books I have known and loved, but hopefully this list can be a boost for your own summer reading. If you do pick one of these up, I would love to hear what you think in the comments. And if you're willing to share your own list, I'm always eager for suggestions! Up next for my book club is The Other Wes Moore, One Name, Two Fates, by Wes Moore, and Dirty Love, by Andre Dubus III, and I am looking forward to both. And yes, I do plan on bringing this Summer Fruits Tea Cake to our next gathering!
(Full disclosure: this post contains affiliate links.)
This lightly sweetened Summer Fruits Tea Cake is easy to prepare, tender, and conveniently works with any fruit you have at home, either fresh or frozen. It stays moist for several days, but also freezes well. It's perfect for company, or just to snack on while enjoying a good book.
Ingredients
½ cup unsalted butter (115 grams), room temperature
¾ cup sugar (150 grams)
2 large eggs, room temperature
1 teaspoon vanilla extract
1 cup all-purpose flour (130 grams)
1 teaspoon baking powder
¼ teaspoon kosher salt
1-1½ cups bite size pieces of fruit (blueberries, blackberries, plums, pitted cherries, or anything you like)
Instructions
Preheat your oven to 350 F/177 C. Butter and flour an 8 inch cake pan. If you really want to make removing the pan extra easy, line it with parchment or wax paper too, but it isn't strictly required.
Using an electric mixer, cream together the butter and sugar until it is light and fluffy. This should take a few minutes. Then add in each egg, scraping down the sides of the bowl in between. Then add in the vanilla extract.
In a small bowl, whisk together the flour, baking soda and salt, and then slowly mix it into the creamed butter until it's just combined. (If you want to be lazy and save washing another dish, it's not the end of the world to just add it straight into your creamed butter and sugar mix without whisking. I won't tell.)
Pour your batter into the prepared pan, and then scatter your fruit over the top. Some of it will sink in while baking, and others you will see, so just spread it out evenly and see what happens! Bake for 1 hour, or until lightly browned on top, and a cake tester/toothpick comes out dry or with a dry crumb clinging to it.
Enjoy with a good book and a cup of tea.
Notes
*If you don't have a round cake pan, use an 8 x 8 baking dish, or double the recipe and use a 9 x 13 inch pan.
**This freezes well. Just make sure to wrap it tightly in plastic wrap before placing it in a bag or storage container.
***This is a flexible recipe. Is it fall? Add in the zest of an orange to the creamed butter, increase the sugar to 1 cup (200 grams), and scatter 1½ cups of fresh cranberries that have been tossed with 1 tablespoon of sugar over the top of the cake. Do you have pears or cherries? Add in ½ teaspoon almond extract, and if you want to go crazy sprinkle a few sliced almonds on top. No fresh fruit? Frozen works just fine, as long as it's good quality and flavorful. And it's the perfect use for leftover fruit salad after a party.
http://tastyoasis.net/2015/07/08/summer-fruits-tea-cake/
© Tasty Oasis 2017
Related posts: