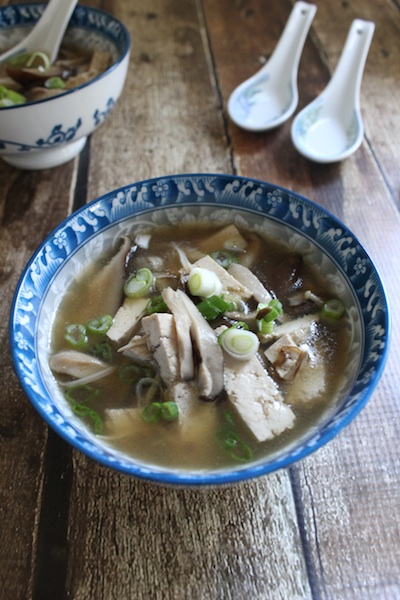 It's been a while since I updated you on the cooking club I participate in. I wrote a general "how-to" guide for cooking clubs, I told you about our inaugural Israeli night, I shared the Apple Cider Rum Punch from the Caribbean dinner, and I filled you in on Indonesia by way of an Avocado Shake with Kahlua and Godiva Liqueur. But there have been three others that I've kept you waiting on! While Mexico and Greece are on standby, I'd like to catch you up on our incredible Chinese meal and let you know about one of my new favorite cookbooks.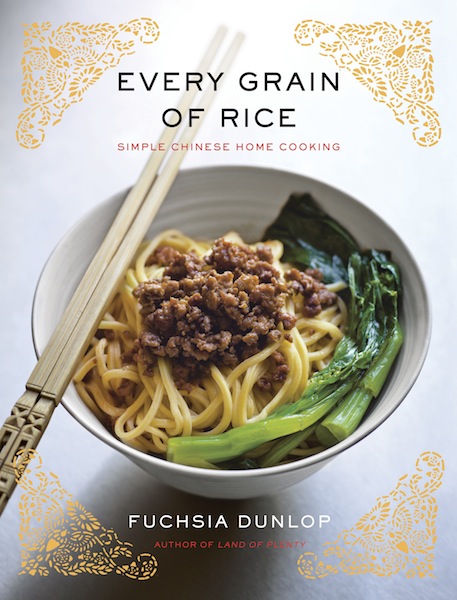 In order to expand my options in the kitchen lately, I keep ordering new cookbooks at the library and actually (shockingly!) cook out of them.  But after years of collecting cookbooks for the sake of collecting, I have become much more selective.  If I find one I really like, that I am willing to make a permanent space for on my bookshelf, I go ahead and buy it. This is one of those books. Fuchsia Dunlop was the first Westerner to study at the Sichuan Institute of Higher Cuisine in central China, and while not a native Chinese cook, she has become a prominent cookbook author. Her latest book, Every Grain of Rice: Simple Chinese Home Cooking is easy to follow, filled with healthy recipes and beautiful photographs that show food you'll want to cook on a regular weeknight basis. Experimenting with Chinese cooking was on my to-do list, but this book pushed me to finally do it. It's a perfect introductory book, and I can't recommend it enough. (Full disclosure, the link is an affiliate link. It doesn't mean you'll be charged any extra, it's just that I'll get a few pennies to buy an extra mushroom or two if you purchase anything after clicking through.)
The one thing to know is that you will need to pick up a few specialty ingredients for your pantry, but once you have them you'll be prepared to throw together quick and easy meals that will beat Chinese take-out ten times over. It will be healthier, more flavorful, cheaper, and can be made in less time than it takes to place an order and get it. That's definitely true of her Spicy Buckwheat Noodles, her Sweet and Spicy Cold Noodles (which I've already made at least half a dozen times!,) and her Spicy Sesame Noodles, which all can be made in the same amount of time it takes to make boxed mac and cheese. Seriously. They're incredible. But admittedly, for a girl who's definition of soy sauce was the low sodium bottle from Trader Joe's, I had some shopping to do to stock my pantry. I was lucky though to have a Taiwanese friend take me on a tour of our local new Asian grocery store, and after 90 minutes of wandering the aisles, I was ready to go. If you don't have the same resources near you, remember you can always find ingredients online. Don't let your location stop you!
Which brings me back to the recipe that I chose for cooking club: Fuchsia Dunlop's Hot and Sour Mushroom Tofu Soup. Besides increasing the quantity, I followed her recipe almost exactly (leaving out dried day lily flowers and playing with amounts.)  I figure if you're going to go to the effort of getting these ingredients, you might as well make a large batch and freeze the leftovers or share it with friends. This soup is not complicated, but does have its share of slicing involved. So just put on a good audiobook, podcast or music and the time will fly. While the hot and sour soup you find at typical Chinese American restaurants tends to coat your mouth with an unpleasant thickness, this is lighter and cleaner tasting, or in Fuchsia's words, "subtler." If you fear the "hot" part, rest assured this is not a spicy soup. The heat comes from fresh ginger and ground white pepper, and you can adjust it according to your taste. Also, while I used chicken stock, Fuchsia says vegetarians can opt for vegetable stock and it will still be delicious. It's comforting, but impressive, so it's perfect for nursing a cold or serving for company. It's definitely worth making.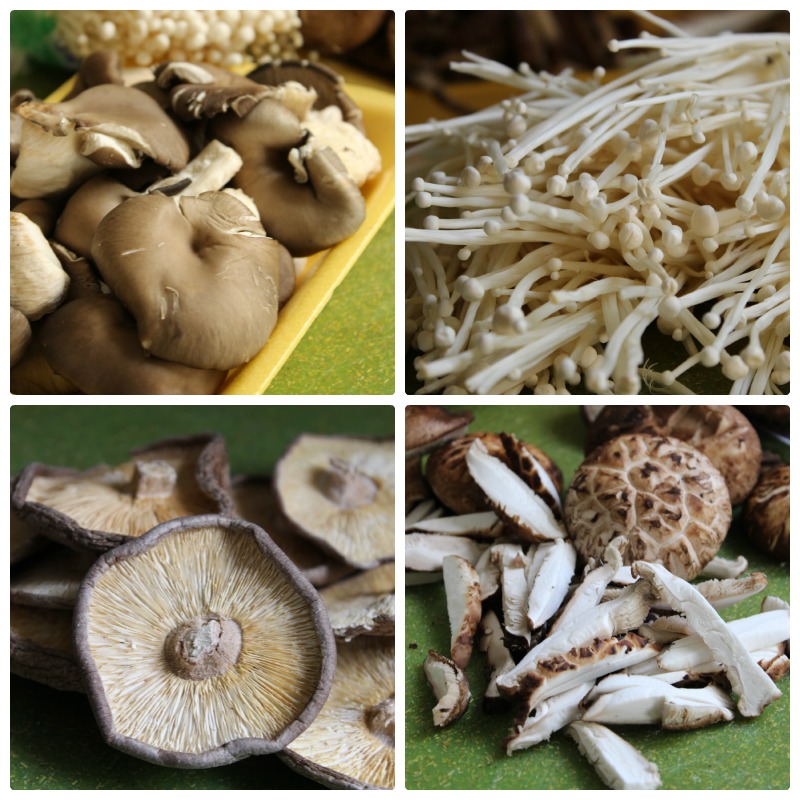 Mushrooms are the star of this soup, and it calls for a variety, each with their own flavor. Oyster mushrooms and enoki mushrooms are on the top, and both dried shitake and fresh shitake are pictured below. The first thing you'll do is get those dried shitake mushrooms soaking in hot water to reconstitute them.  While they're doing their thing, your knife will be busy prepping all the rest. When you're done though, don't toss out that water! Store it in a Ziploc freezer bag and use it to add to other soups or cook your rice in it.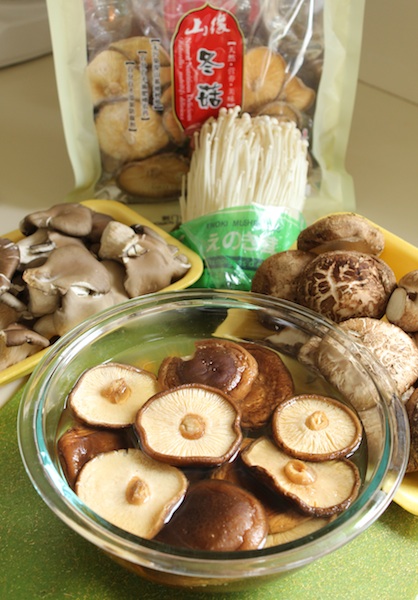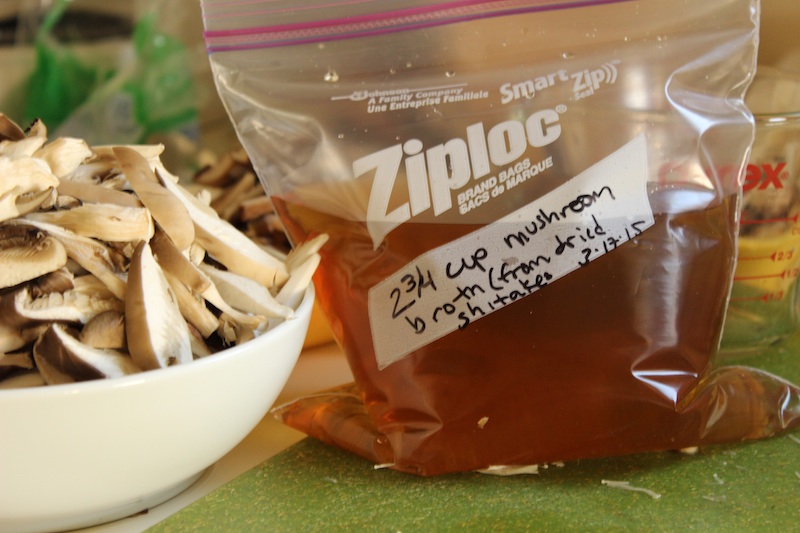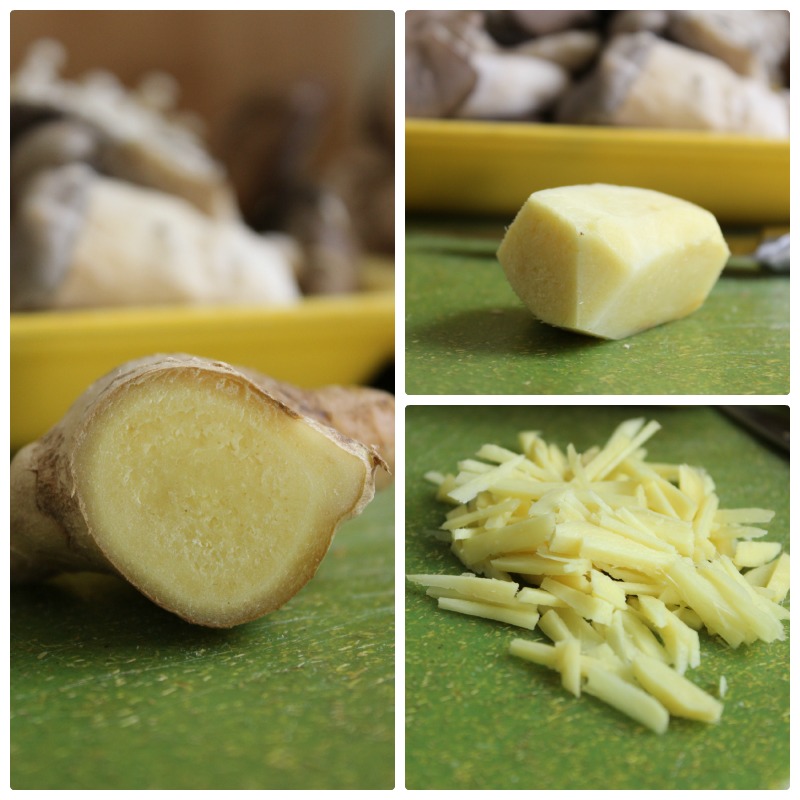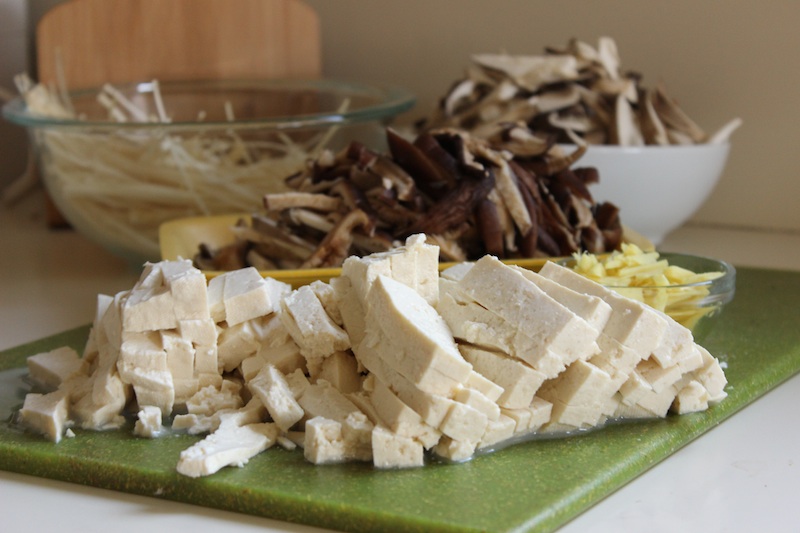 So while Sour and Hot Mushroom Soup is great as its own meal, it also fits into a Chinese feast. I was fortunate to have friends make incredible dishes that introduced me to new ingredients and techniques. There was a spicy ginger cocktail with vodka, orange juice and seltzer, dumplings, ground pork with chive flowers, stir fried luffa gourd with dried scallops and gochi berries on top of fried dough (!!!), Lion's Head which is pork stuffed cabbage, noodles, and preserved kumquats served over vanilla ice cream with homemade almond cookies. It's inspiring to see everyone's creativity and a pleasure to have a night of fantastic food and fun conversation. It is a highlight of my month, and I love being able to share that with all of you! While not all of you readers would fit around our table or be able to make it to cooking club, I hope that you give this soup a try and experience some of the joy I felt that night. And if you do, I would love to hear about it! And if you pick up a copy of Every Grain of Rice, let me know if you make anything!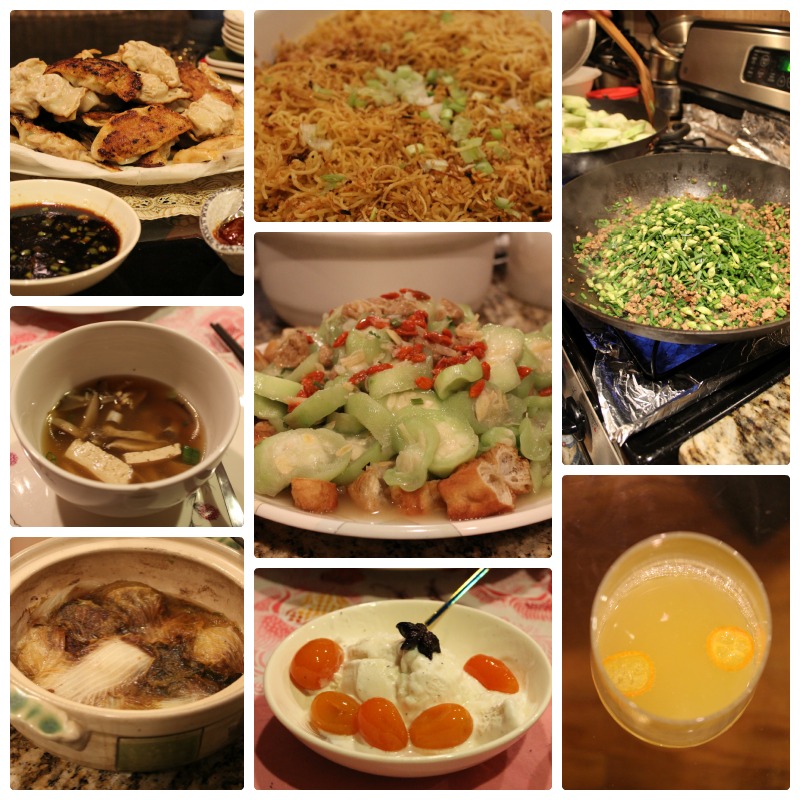 Fuchsia Dunlop's Sour and Hot Mushroom Tofu Soup

Fuchsia Dunlop's Sour and Hot Mushroom Tofu Soup is a healthy, lighter version of a Chinese take-out favorite. With four types of mushrooms, it's hearty enough as its own meal, or the perfect compliment to a feast. It's comforting and impressive, and this large batch will leave you with plenty to freeze for future bowls. If specialty ingredients seem out of reach, remember you can always look for them online and that your location shouldn't stop you from trying something new.

Ingredients
12 dried shitake mushrooms
8 oz (200 grams) fresh shitake mushrooms
8 oz (200 grams) fresh oyster mushrooms
6 oz (150 grams) fresh enoki mushrooms
1 oz (45 grams) piece of ginger, peeled
24 oz (675 grams) firm white tofu
3 quarts/liters (12 cups) low sodium chicken stock (or vegetable stock)
1 Tablespoon cooking oil
2 Tablespoons light soy sauce
1¼ teaspoons dark soy sauce
1½ teaspoons kosher salt
7½ Tablespoons Chinkiang vinegar
1 teaspoon ground white pepper
1 teaspoon pure sesame oil
6 Tablespoons finely sliced green onions (for garnish)
Instructions

First, soak the dried shitake mushrooms in hot water that you heat in a kettle, pot or microwave. They need to sit for at least an hour, so get this going right away. While these reconstitute, get all of your slicing done.
For the ginger, slice it into thin strips that you wouldn't mind eating. For thel shitake and oyster mushrooms and the tofu, you want to slice them thinly (1/8-3/8 inch/ 1/2-1 cm.) For the fresh shitake, make sure to first remove the stalks, and only slice the caps. The enoki only need to be gently pulled apart (they look like sprouts or noodles, so just leave them like that.) Save the dried shitake for last, because you should make the most of their soaking time while you prep everything else.
In your largest stock pot, heat all of the chicken or vegetable stock. In a wok if you've got it, or a large skillet or dutch oven if you don't (I used the dutch oven, and it was totally fine) heat your cooking oil over a high heat and add the ginger. Let it cook for a minute or two so that it becomes fragrant, and then add all of your mushrooms and stir-fry it all together, letting it cook half way through. (Fuchsia tells you that it smells wonderful at this point, and it is true!)
Carefully transfer your mushroom stir-fry into your large pot of heated stock, and bring to a boil. Once it is boiling, gently stir in the sliced tofu. (It's okay if the tofu breaks apart.) Then add in the soy sauces and salt (I used 1¼ teaspoons, but you decide how much yours needs.)
Reduce the heat to a simmer, and stir in the vinegar and ground white pepper. After a minute, turn off the heat and stir in the sesame oil. Finally, ladle your soup into bowls, and top with the sliced green onions. Be amazed that you made sour and hot mushroom tofu soup and that it is awesome.

Notes

*This is barely adapted from Fuchsia Dunlop's book Every Grain of Rice. I've tripled her recipe and changed some of the proportions so that you can have plenty left over to freeze or share with friends. Feel free to make a smaller batch if that is better for your home.

**The freezer is your friend. Freeze your mushroom soaking water for later, freeze your extra ginger, and freeze portions of soup in labeled Ziploc freezer bags. They will stack well and you won't miss your regular rotation of tupperware if they hang out in the freezer for while.

http://tastyoasis.net/2015/05/19/fuchsia-dunlops-sour-and-hot-mushroom-tofu-soup/

© Tasty Oasis 2017



Related posts: