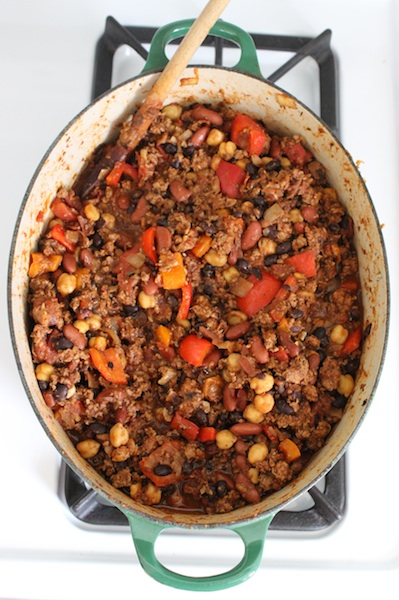 I was pretty happy when the phone rang Wednesday night declaring a snow day. We'd already decided that if the call came, it was my turn to stay home with the kids, and I was pretty psyched about it. Granted, as a freelance interpreter that means I would lose 8 hours of income, but staying in my pajamas all day cuddling, cooking and baking seemed like the perfect bright spot for my week. Sure enough, the kids climbed in the bed Thursday morning, and under the fluffy white comforter we finished the graphic novel we had been reading together, El Deafo, by Cece Bell. It's a memoir about a little girl losing her hearing at 4 years old, what it was like going to school with a giant hearing aid, feeling like an outsider, imagining herself as a superhero, and finally finding her way.  It just won the Newberry Honor Award (that should tell you how good it is!),  and we absolutely loved it. It appealed to the 8 year old and the 39 year old equally, and even the 4 year old got something out of it. If you don't have experience with graphic novels, please pick this up. The words written are touching, but the drawings bring the story to life. I am in awe of such talent.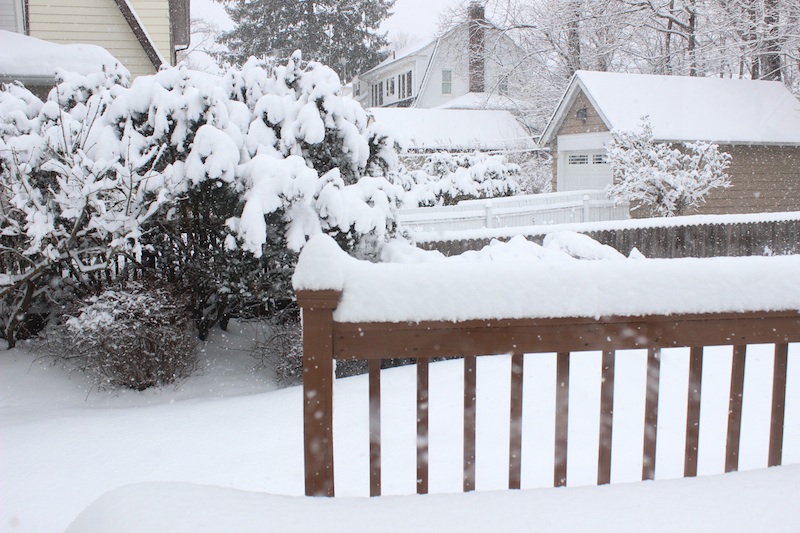 Once our little book club ended, we headed down to the couch and watched the ever colorful Jungles episode of Planet Earth, escaping the snow that was turning everything white outside our windows. Of course, that lead to the a request for Frozen….because, you know, it's Thursday. So with TV as a babysitter (way to go, Mom!), I got my chance to finally make and photograph this Three Bean Turkey Chili for you all.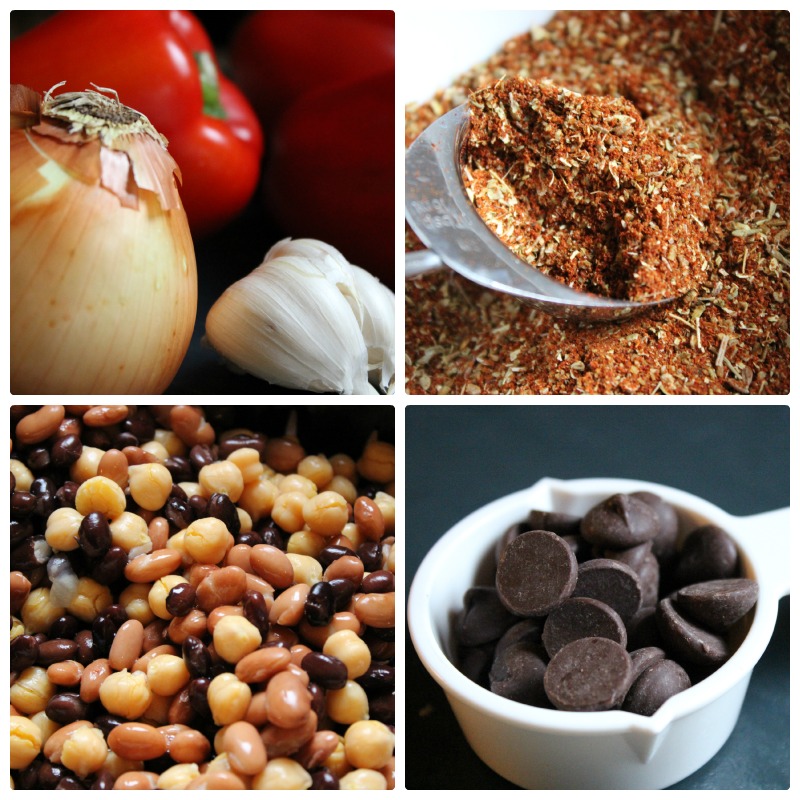 This is a meal that I have wanted to share with you forever. I have been making this chili for probably 15 years, but the catch is that I make it time and again by instinct. A little of this, a little more of that, and some extra thrown in here and there. I had no measurements, and didn't know how to recreate it in a way that was recipe friendly. So over the last several months I have tried documenting each shake of spice and spoonful of sweetness so that you can make this Three Bean Turkey Chili in your own home and have it turn out the way I do. It was harder than I thought, but I finally got it right. The trick to simplifying it is that I took all those spices that I throw in haphazardly and created a Chili Spice Mix that you can use to flavor the pot as you go along. The key to this is to layer, and to not pour everything in at once. The aromatics get seasoned, then the turkey, then the beans, and so on, but all in stages. You've got the smokiness from chipotles and paprika, warmth from cinnamon, and the traditional coriander, cumin and oregano that you'll find in most chilies. And my secret ingredient is a little bit of chocolate, which adds depth without being obvious. (Trust me on this; it may sound odd, but think about a Mexican mole sauce-cinnamon and chocolate will make everything better.)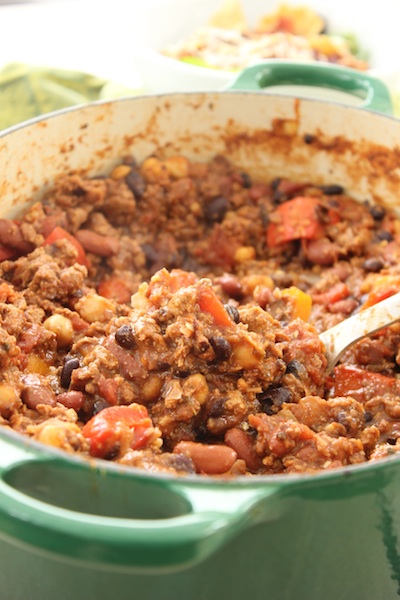 This is a family favorite, and I make it in a large dutch oven so that I have tons left over for the freezer. It's a healthy and hearty dish that is perfect for a snow day, because it is comfort food you can feel good about. It's what I bring to friends with new babies, it can serve a crowd, and it gets better the longer it sits in the fridge. In our house, it's eaten straight up, or on top of a big bowl of greens with some shredded cheese and chips. Simply spending an hour and fifteen minutes on the weekend making this has a huge return. I portion out at least three extra meals into labeled Ziploc freezer bags, and stack them in my freezer for those nights when I don't have time to cook. (Flattened freezer bags defrost quickly under running warm water, and also save space in small freezers. Stack them up, and keep your tupperware in circulation. They're so much easier!)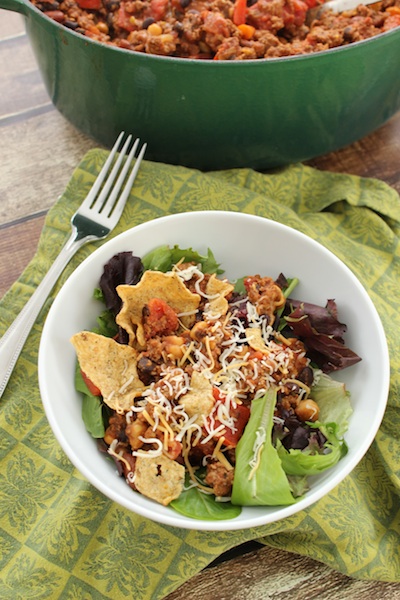 Oh, and in case you are wondering about that baking reference I made in the beginning, rest assured my oven has been going constantly these days, recipe testing something special for you.  And it may or may not have the word Nutella in it……
This Three Bean Turkey Chili is a healthy and hearty dish on a cold night. With layers of flavor, the mix of smoked paprika, chipotle, cinnamon and even a touch of chocolate warms you with every bite. This recipe is "big batch cooking," so you can serve a crowd or pack portions away in the freezer for future meals, making life easier down the road. It's comfort food that you can feel good about.
Ingredients
4 teaspoons extra virgin olive oil
1 large onion, diced
5 cloves of garlic, peeled and minced
3 pounds ground dark meat turkey (93% lean, 7% fat)
3 large red bell peppers, chopped into bite size pieces
2 15 ounce cans of black beans, drained and rinsed
2 15 ounce cans of pinto beans, drained and rinsed
2 15 ounce cans of garbanzo beans, drained and rinsed
3 15 ounce cans of diced tomatoes (preferably fire roasted if possible)
4 Tablespoons tomato paste
1/3 cup semisweet chocolate chips
1 Tablespoon kosher salt (or more to taste)
Chili Spice Mix:

2½ Tablespoons dried oregano
2 Tablespoons ground coriander
2 Tablespoons ground cumin
1½ Tablespoons smoked paprika
1 Tablespoon chili powder
1½ teaspoons ground cinnamon
¾-1 teaspoon chipotle chili powder
Instructions
In a large dutch oven or pot, heat the extra virgin olive oil over a low-medium heat. When it's hot, add the onions, and stir frequently for 8 minutes, or until they appear soft and translucent, but not browned. While the onions are cooking, combine all of the Chili Spice Mix ingredients in a small bowl and stir to combine. Also use this time to mince the garlic. Once the onions are ready, add the minced garlic and stir for one minute, making sure it doesn't burn. Add 1½ Tablespoons of the Chili Spice Mix into the onions and garlic, stirring for an additional minute, so that the spices toast and cover the aromatics.
Add all of the ground turkey to the pot, and raise the temperature to a medium-high heat. Stir quickly to mix together the onions, garlic and spices into the meat. Then add 1½ Tablespoons more of the Chili Spice Mix to the turkey, and 1½ teaspoons of kosher salt. Stir again, and allow the meat to brown. (This takes around 5-7 minutes.)
While the meat cooks, chop the bell peppers, and drain and rinse all of the beans in a colander.
Once the meat is browned and mostly cooked through, use the lid of the pot to act as a barrier, and pour out the liquid that has released from the turkey. Return the pot to the burner, and reduce the heat down to medium. Add in the peppers and beans, and another 2 Tablespoons of Chili Spice Mix, and stir to combine. Then add in the 3 cans of diced tomatoes, the tomato paste and the chocolate, the rest of the Chili Spice Mix and the final 1½ teaspoons of kosher salt. Stir everything to combine, prop the lid on to mostly cover the pot and reduce the heat to a low simmer. Allow all the flavors to marry together for at least ten, but hopefully 30 minutes longer. Stir, taste, and add any additional spices or salt according to your preference.
Serve with shredded cheese, tortilla chips, and a green salad, or pack it up for the freezer for another time!
Notes
*Cooking time is around 1 hour and 15 minutes.
**This yields a huge amount of chili (maybe 10-15 servings,) perfect for dinner tonight, a party, or to package in stacked and labeled Ziploc freezer bags for future meals. It lasts in the freezer for up to 4 months.
***Consider toasting and grinding your own spices. It makes a huge impact on flavor. Check out my post on how to do it quickly and easily.
****This is not a spicy chili, but it has layered flavors. The chipotle chili pepper packs a punch, so start with ¾ teaspoon, but feel free to add more!
http://tastyoasis.net/2015/03/07/three-bean-turkey-chili/
© Tasty Oasis 2017
Related posts: