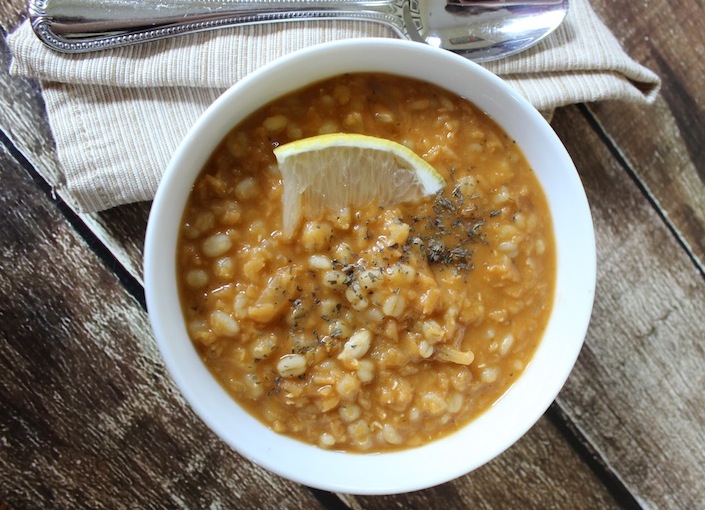 Holiday cards. The last few weeks brought a slew of them to our mailbox, which I always look forward to. I love hearing from friends near and far, seeing the photos, amazed at how the years have passed. I especially love the notes on them, and make the effort to write something personal on each one that we send out. I spend a ridiculous amount of time designing ours, writing a family update on the back, with the intention of giving the people in our lives an idea of what the past year looked like. It's the version that I want people to see. "Hey everyone! Look at all we did! Go us!" And yes, I am honestly so proud of our accomplishments and want to share that, but I can't say it's the full picture of the year. First or all, I'm wearing makeup and I actually used a hair dryer and put on earrings (at least on the front of the card.) Those who see me daily know that rarely happens, even though I feel better about myself when I do such things. But mostly, it's the end results that we share, and none of the process. And often, the process isn't pretty.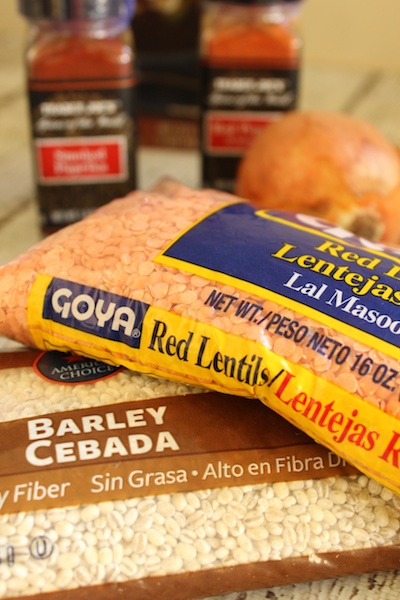 It's the piles of laundry that overflow from hampers, that when washed remain in the laundry basket for days and even weeks before getting folded, let alone returned to drawers. It's the fight with the front door, that is warped and should be replaced, but instead is patched and painted, and then warps all over again with the weather and is impossible to close. It's the fact that I am the messy one, and I drive Brian crazy with the clutter that I leave everywhere, despite my endless promises to try harder. It's the battle over lies that come from a seven year old mouth, that might seem harmless but need to be nipped in the bud. It's the refrain "I'm bored…." which is uttered in the 90 seconds between waking up and walking into my bedroom, that really means, "Mom, can I play Minecraft?" It's the tears of frustration and exhaustion at the end of a 15 hour day in a foreign country, when I feel like a fraud and a failure as an interpreter because 30 deaf people in a room with as many different language needs talking about terrorism is just not something I can handle well at 10 o'clock at night. It's months of health issues that had me sleeping in my car during lunch every day so that I could make it through the afternoon, and it's lying on the couch binge-watching trash television (yes, I've seen four episodes of Scandal in the last two days) until way into the night, despite the need to wake at the crack of dawn. It's burning the candle at every end, so that the wick has withered away, and my body gives out and I have to cancel work, which makes me feel even worse.
It's the conversation that happens as I try to get out the door. Since it's school break, my in-laws arrived a few minutes earlier to spend the day with the kids. My older guy is being obnoxious and demanding something from his brother in our front room, and I hear his grandfather say, "Don't raise your voice to him. Where did you learn that behavior?" And with perfect timing, he looks straight at me and says, "I learned it from Mom. She raises her voice all the time." I try not to laugh and not to cry, and I take a breath and say, "You know better than that." And not two minutes later I snap at him, right in front of my mother-in-law, as I panic to find the car keys that were there a second ago, right before I had put them into my pocket. "Has anyone seen my keys?!!?!" is being interrupted by "Mom, can I…….?" and I lose it, and raise my voice in an ugly and unnecessary way. And then I stick my hand in my pocket, and the keys are there, and I feel awful for yelling. My apology is rushed because I'm late, and is probably inadequate, but it's what I've got. And it's what I gave. Then I climbed into my car, turned on my audiobook, and tried to forget the whole thing.
We don't always show the truest version of our lives, and that's okay. Presumably, the ones closest to you will know it anyway, and that's what's important. But we all have our struggles, and I don't think it hurts to be a little more honest about that. Because when you open up, it's amazing the kindness people share, and the support that can come.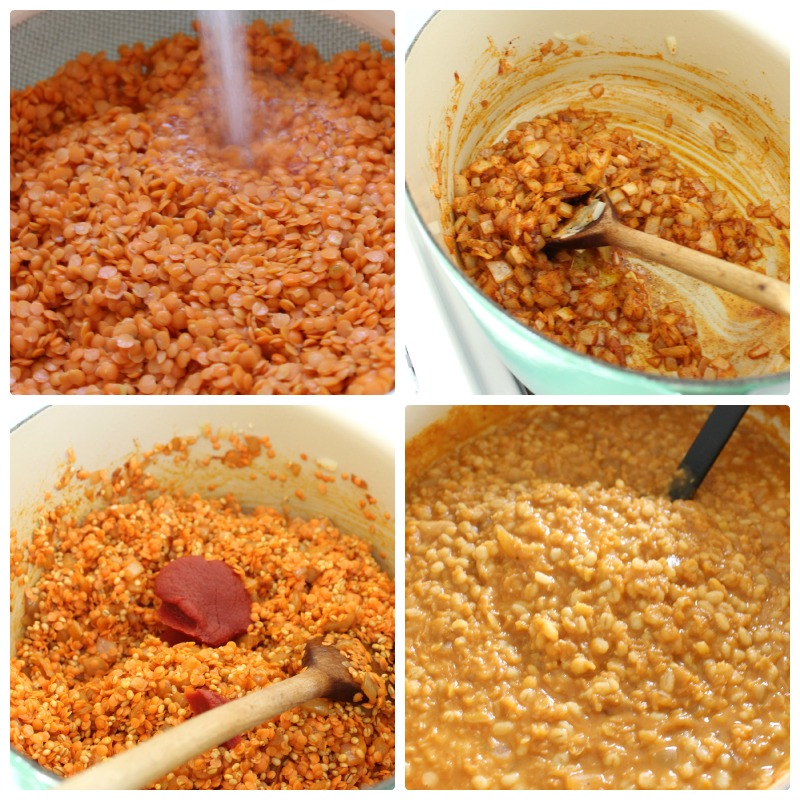 And so I give this Red Lentil Barley Soup to you, my readers, because it is warm and soothing and is the type of soup that you just want to crawl up into for comfort. It's nothing complicated, but it is full of flavor and perfect for a cold winter day. When the first cooking club I belonged to had Turkish night, a version of this soup by a friend named John was a huge hit. I'm not sure where he got the original recipe, but he typed it up and sent it out to the group. Over the years I have played with the ingredients and proportions and this has become one of my all time favorites. The lentils and barley make this hearty, and it's laced with smoked paprika, and brightened with dried mint and fresh lemon juice. It's the type of soup you make for a friend who's ill, a new mom, the grieving neighbor, or simply so that you can pack lunch for work tomorrow. It's company-worthy and freezer-friendly, and knock your socks off delicious. When your kitchen seems bare, this is one of those pantry soups that you can pull off with surprising results.  It isn't necessarily a pretty soup, and the process isn't that stunning either. But there are moments to it when the colors are vibrant, the smells are amazing, and you know that it leads towards something to be proud of.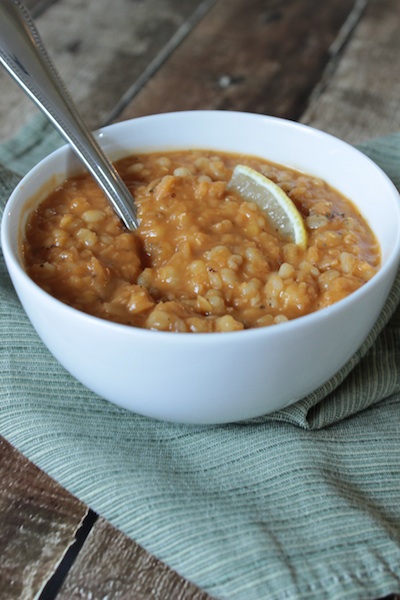 So as we approach the new year, I wish you all a very happy and healthy 2015. I hope that the months ahead are filled with laughter, peaceful times for you, your families, and the world around us, and new adventures that get you excited. But in that honest version, there will be hard times, so when they happen I hope that turning here might bring a little comfort to your days. You'll have a chance to see that it isn't always perfect in my world (far from it,) and that nobody expects it to be in yours.
This Red Lentil Barley Soup is warm and soothing on a cold winter day, easy to make, and freezer-friendly. The lentils and barley make this hearty, it's laced with smoked paprika, and brightened with dried mint and fresh lemon juice. It's a soup from your pantry that takes very little prep work, but is absolutely company worthy.
Ingredients
4 Tablespoons unsalted butter
2 onions, diced
1 Tablespoon smoked paprika
1/4 teaspoon cayenne pepper
2 cups dried red lentils
1 cup barley
4 Tablespoons tomato paste
8 cups beef stock
2 cups water
1/2 teaspoon dried mint
fresh lemon juice (from a half or whole lemon, depending on size and taste)
salt and pepper to taste
Instructions
In a large pot or dutch oven, melt the butter over a medium-low heat. Once melted, saute the onions until softened, but not brown. (Around 8 minutes.) While the onions cook, rinse your lentils in a colander. Once the onions are soft, add in the smoked paprika and cayenne and stir for one minute until you smell everything coming together.
Add the lentils and barley, and stir to coat them with the onions and spices. Next, stir in the tomato paste. Pour in the stock and 2 cups of water, mix everything together and cook over a medium-low heat for at least 45 minutes, but as long as 90. I tend to partially cover the pot while it simmers, especially when letting it sit for the longer time. Right before serving, stir in the dried mint and the fresh lemon juice, and season with salt and pepper to taste.
Notes
*You can replace the beef stock with chicken or vegetable, but the beef really has a much better flavor for this combination. If you're not opposed, it really is worth it.
**This soup is very freezer-friendly. Pack individual servings away for weekday lunches, or large batches in Ziploc freezer bags for meals over the next few months.
http://tastyoasis.net/2014/12/30/red-lentil-barley-soup/
© Tasty Oasis 2017
Related posts: