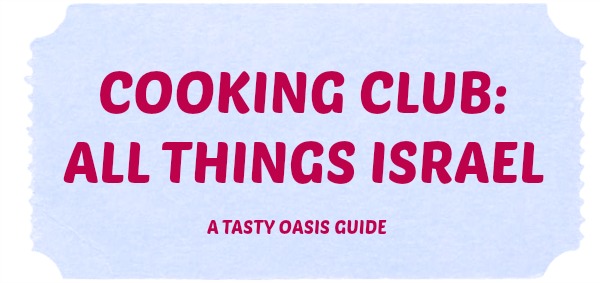 A few weeks ago, I wrote about starting a new cooking club (also known as a supper club,) and gave a step by step guide on how to go about creating your own. If you missed it, you should definitely click on the link and see what the whole cooking club idea is about. The main idea though is that a group of friends gets together once a month to explore new recipes, techniques and ingredients so that we can all expand our repertoires in the kitchen. Our first gathering was in the middle of September, and the theme for the night was Israeli cooking. Having just gone to Israel for the first time this summer (a mix of work and pleasure, and I will be writing more about it soon,) I was eager to recreate the flavors of my trip and wanted an excuse to make something else from one of my new go-to books: "Jerusalem, A Cookbook," by Yottam Ottolenghi and Sami Tamimi. Ottolenghi and Tamini are partners who come from two different parts of Jerusalem, one from the Jewish western part, and the other from the Muslim east. The foods they share reflect their different cultures and experiences, and their writing makes you eager to taste each dish. Filled with gorgeous photos, the recipes are ones that an average home cook can actually make with resounding success. There's nothing intimidating about it, with flavor combinations that are creative, yet manageable. Even when there are specialty ingredients mentioned, alternative options are often suggested so that it is practical for everyday cooking. I've already shared a riff on their Turkey and Zucchini burgers, but the Tahini Cookie recipe in this book is also one of my favorites. I made it before I even had the book, thanks to a great post on the blog Eating From The Ground Up.  Since I was hosting, I chose the theme for the night, but I didn't expect that everyone would be cooking from the same book. But to my surprise, four of the dishes came out of it!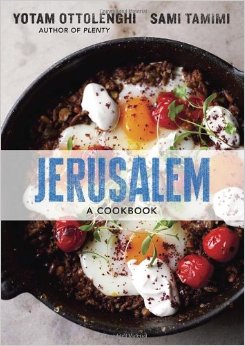 Our evening started out with drinks and appetizers. As I explained before, our goal is to keep our wine budget to under $12 per bottle and both the white and red were delicious. The white was a 2012 Lafage Cote Est Catalan, and since I don't have a clue how to describe wines in an articulate way, I found a description online by Wine Gems that writes, "Super crisp and tank-fermented on its lees, this racy white is bursting with a stunning perfume of dried apricots, honeyed citrus and white flowers. The lovely aromatics are followed by a crisp, elegant, slightly more textured, medium-bodied white with wonderful purity, freshness and length. It is long and flavorful on the finish." (See, I never could have written that. I don't even know what lees are.)  The red was  the 2012 Bila-Haut Cotes du Roussillon Villages, and the same website writes, "Bila-Haut Cotes du Roussillon Villages is a red blend of Syrah, Grenache and Carignan. It is deep garnet red in color with a beautiful nose of black cherry, plums, black currants, pepper and garrigue. Full-bodied with lean tannins, it offers intense flavors of cassis, kirsch and spice. Well balanced to enjoy over the next 3-4 years, it is rich with lingering fruit on the finish."  (And again, if I wrote the review you might have gotten "I think maybe you could say there was a taste of cherry and pepper in there." And the only time I will probably write about noses is when I'm telling you that all I do is wipe little ones. So not helpful.) But I loved it, and will definitely be buying it again.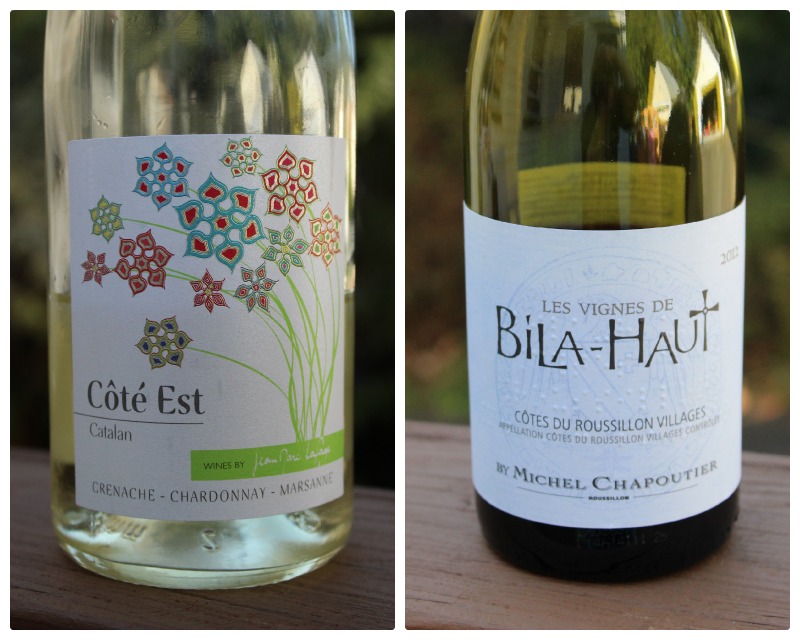 The cocktail was an Arak Madu, inspired by this article on the anise flavored liqueur. Known as a "poor man's margarita," it is simply arak, lime juice, honey and water stirred together and served in a cocktail glass. It was light and a little too drinkable, because almost the entire pitcher was done by the end of the night! If you're someone who likes Greek ouzo, it's worth trying.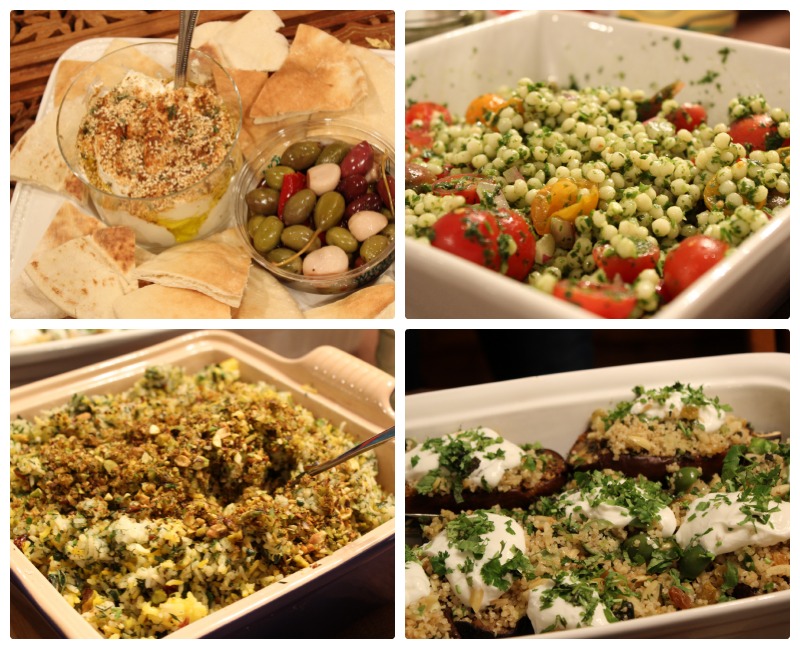 The appetizer was homemade labaneh served with pita and olives. Labaneh is a traditional cheese made with plain yogurt that is strained overnight and seasoned with sesame seeds, olive oil and spices. We all agreed it was like having cream cheese on an everything bagel, but so much better. (I tried to get photos of all the courses that night, but I just don't know how to take quick food photos in a room with artificial light. I don't know if you've noticed, but almost every picture on Tasty Oasis is taken during the day with natural light. And it takes me about a million shots before I get decent ones to post. Seeing I didn't want to make my friends wait around for my self-indulgent photo shoot, I did the best I could, but the results are certainly not stellar. I tried to make up for it with some pictures the next day of the leftovers, so at least there's that.)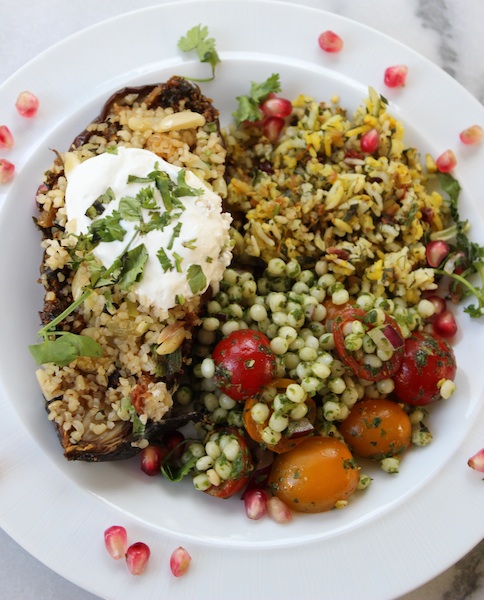 For our salad course, we had tabbouleh made with Israeli couscous,which was a combination of several different recipes, but all the rest of the dishes were from the "Jerusalem" cookbook. We had Saffron Rice with Barberries, Pistachios and Mixed Herbs, Chermoula Eggplant with Bulgur and Yogurt, and for the entree I made Lamb Stuffed Pears with Pomegranate and Cilantro. The original recipe called for quince, but gave the suggestion that hard pears would be a good substitute if you couldn't get your hands on it. (I was so excited to use quince for the first time, but I didn't go shopping until the morning of the cooking club and my last minute approach meant that I couldn't go trekking around looking for them. I tried Whole Foods, and despite the fact that they typically carry them, I was out of luck and decided just not to stress about it.) The technique of baking fruit stuffed with meat was a new one for me, and I am glad that I tried it. It was also the first time I used pomegranate molasses, and now I am throwing it into everything I make because it is layered with so many flavors.  Every part of the meal was fantastic, including the dessert which was Poached Pears with Cardamom and Saffron, served with homemade crème fraîche.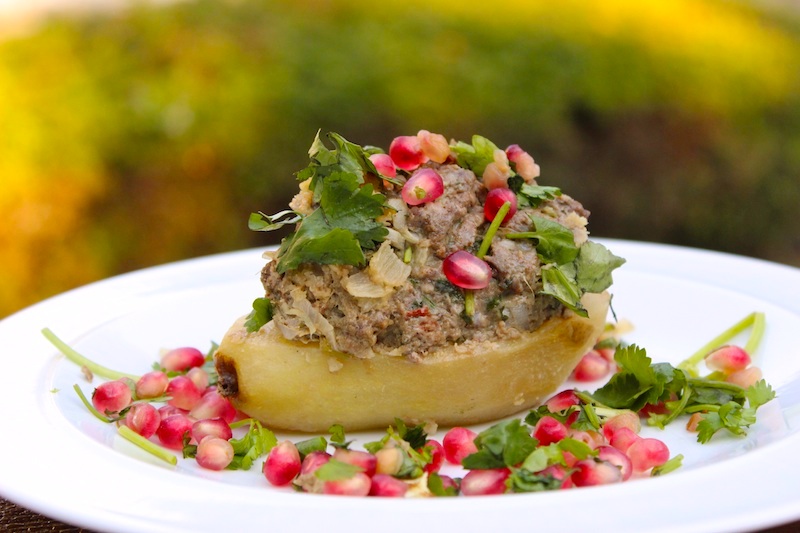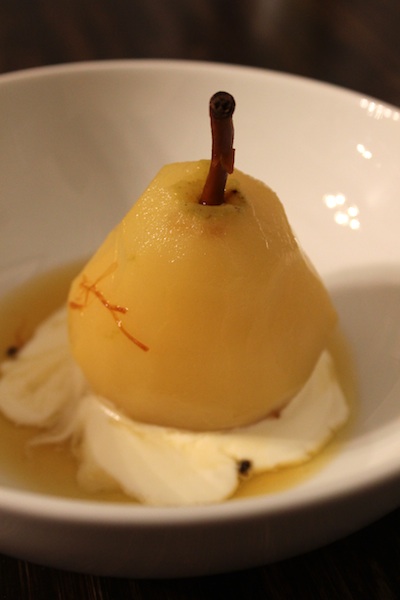 Throughout the meal we talked about how we made our dishes, questions and ideas on how things could be done differently, and our personal experiences with cooking. We went on a whole lot about feeding our families, and the nonsense we all get from our kids and how we handle it. (Fussy eaters, kids who take eight hours to get through a meal, and the frustration that causes.) Funny enough, the next day I saw that one of my favorite bloggers, Amber Dusick over at Crappy Pictures, drew a cartoon that night that captured our whole conversation in one panel.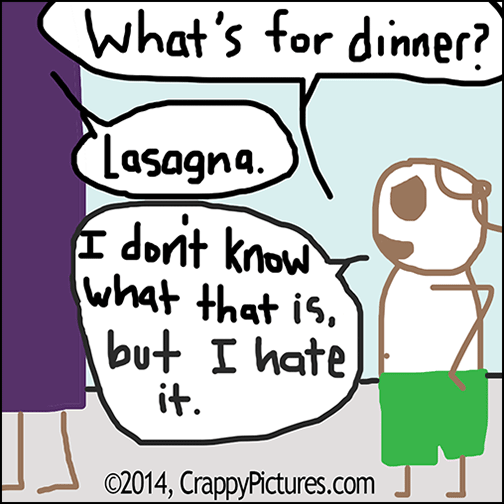 All in all, it was an outstanding evening. Great food, lovely company, and we all pushed ourselves to try new things in the kitchen. Far removed from the everyday, it was another way to take a time out from the regular routine and escape life's craziness by finding comfort in the kitchen and around the table with good friends.  Caribbean night is this Tuesday, and I can't wait! I'm on cocktails, so I'll share that recipe with you soon!
Related posts: