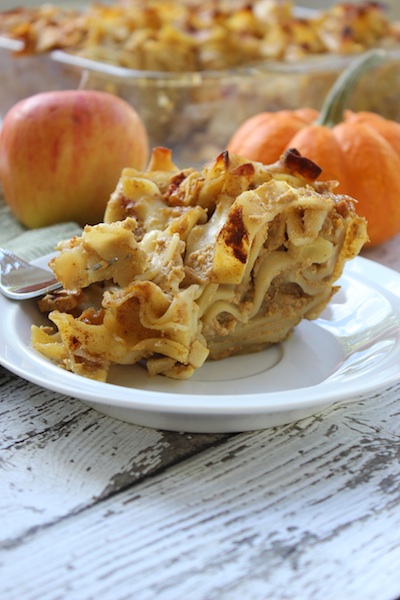 I know my last post was a bit on the heavy side, so I have decided to go easy on you today. This one is all uplifting, so sit back and relax.  First of all, I have some fun news: despite (and who knows, maybe partly because of) the serious nature of what I wrote on Wednesday, people clearly are drawn to all the words in the title Brown Butter Brownies with Dark Chocolate Chunks, because they have gone wild for it on Pinterest! In just five days, almost 350 people have pinned the recipe! As someone who is just starting to learn about Pinterest, I find this kind of amazing. I don't yet get exactly how the whole thing works, but am thrilled that people see the picture of these brownies and want to remember them. If you're reading this now, and are one of those people, thank you! Every picture on Tasty Oasis is easily "pinnable," so if you want to have a visual collection of recipes, pin away! It has boosted the traffic to this blog tremendously in such a short period of time, and even more people have subscribed to get emails about new posts. (Have you? It takes just a minute, and you'll be notified every time something new comes out. You can click right here to do it now.)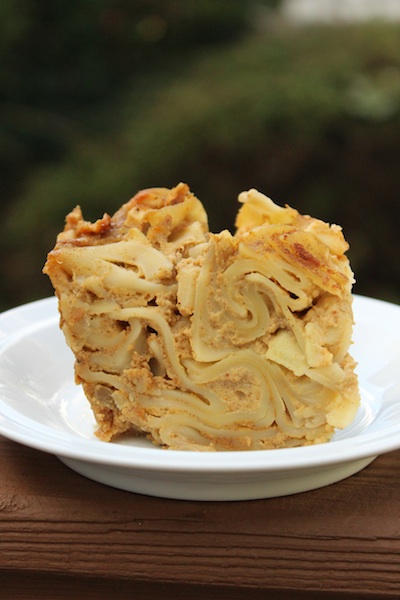 A couple of weeks ago I posted a recipe for Noodle Pudding with Cinnamon and Raisins , also called kugel, which is a traditional side dish served at the Jewish holidays this time of year. Only slightly sweet, it's a lightened version of an old family favorite, and one that I make year after year. But as luck would have it, later that same day I happened to see an article on Food52 called How to Make Kugel Without a Recipe, by Sarah Jampel. She has a great write-up about all the different ways you can take your kugel, and you should definitely check it out. But in one line she off-handedly mentioned pureed pumpkin, and all of a sudden my wheels started turning.  Why had I never considered this before? It's fall, and pumpkin recipes are everywhere! And then I thought about my other fall love: apples. So I had to rush to the store immediately for more noodles and got started on recipe testing. 
As I have told you before, I am only going to share recipes here that are absolutely worth making. This isn't a space for me to go on about, "Hey, I made this last night, and it wasn't anything fabulous, but I want to show it off to you anyway." I get annoyed when I see those posts on other food blogs, and I promise I am not going to do that to you. I know your time is valuable, and if I am going to suggest that you make something, it's only because I really enjoy eating it and I want to share that pleasure with you. If you're going to spend money on groceries and time in your kitchen, I want you to feel successful at the end of the project, whether it takes you twenty minutes or two hours. To that end, I made several versions of this Pumpkin Apple Noodle Kugel before I felt ready to reveal it. Which means that I kind of missed the whole kugel window. Okay, kugel window? Maybe I'm the only person that has ever uttered those two words together, but for some reason people think this is just a holiday food. Which is nonsense, because once you have it you are bound to ask yourself, "Why don't we eat this all year long?" And since this new version is pretty non-traditional anyway, I don't think there's a need to put any limits on when you serve it! (But if you want an official reason for it, the holiday Sukkot is still going on for a few more days, which celebrates the harvest among other things; and what could be more perfect than sweet pumpkin and apples eaten outdoors?)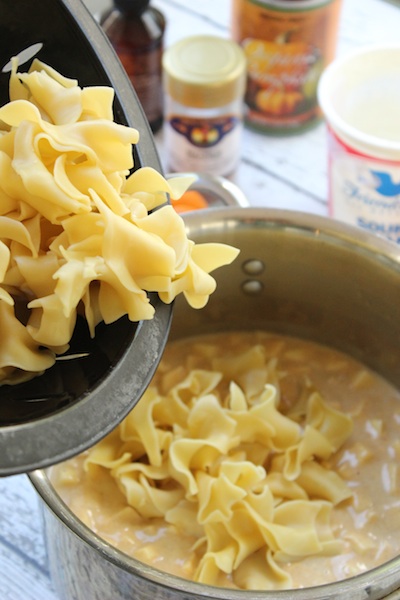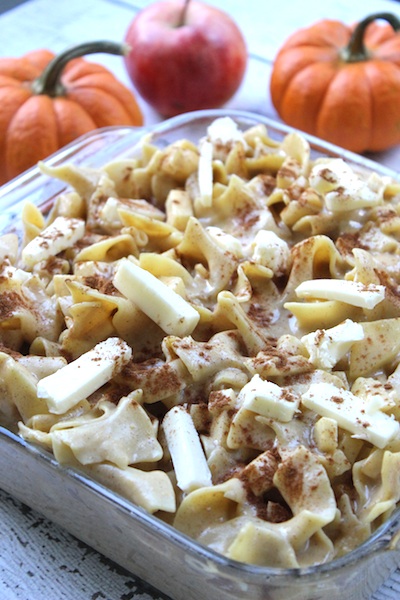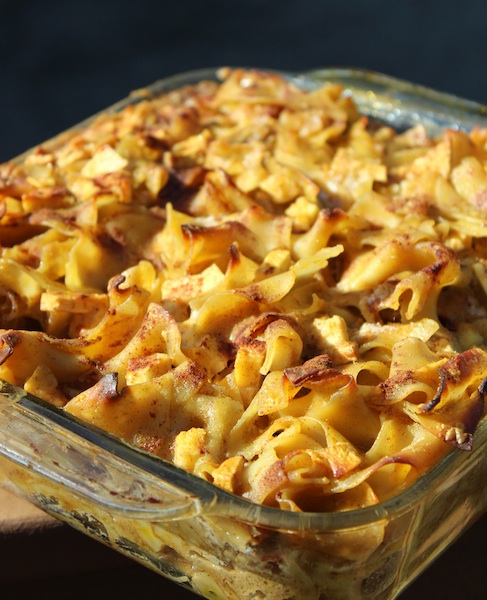 This Pumpkin Apple Noodle Kugel feels decadent compared to the first noodle pudding I shared. If you are a pumpkin pie fan, then this is the kugel for you. It's really easy to put together, and while it bakes in the oven there aren't even that many dishes to clean up.  Made in an 8″ x 8″ baking dish, the yield is smaller, and the filling is sweetened with brown sugar, maple syrup and vanilla, and all the spices you are used to seeing: cinnamon, nutmeg, allspice and cloves. If you want to feel better about the amount of sour cream in it, just remember that you are getting vegetables and fresh apples in every bite! The inside is warm, tender and creamy, with bursts of apple throughout, but the noodles on top achieve that perfect crunchy texture, so that you find yourself sneakily picking them off while nobody is looking.  While I grew up with kugel as a side dish, this leans more towards the dessert category, but I had it for breakfast this morning with coffee and I couldn't have been happier. It would also be perfect to share with friends on a rainy, windy fall afternoon with some tea.
I would love to hear what you think of this alternative take on the ubiquitous pumpkin treat, especially if you end up making it! Comforting in so many ways, this is absolutely worth trying. Enjoy!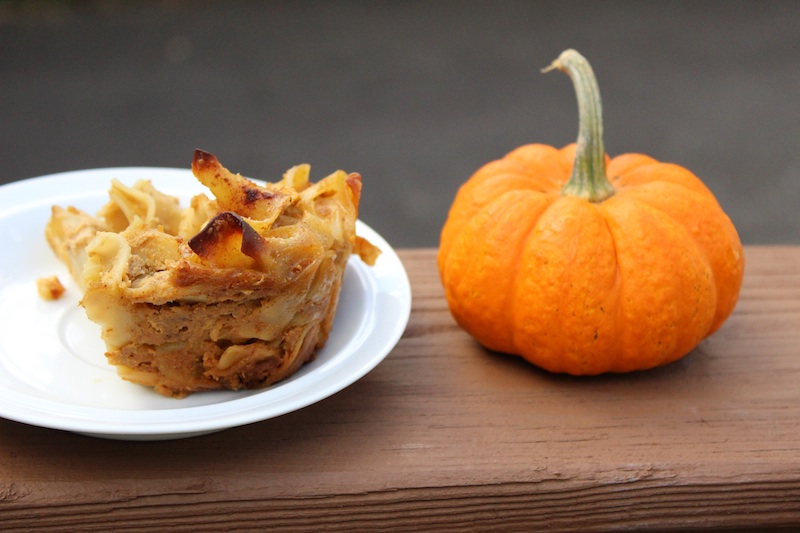 Pumpkin Apple Noodle Kugel
This Pumpkin Apple Noodle Kugel is a warm and creamy pudding that includes all the best flavors of fall. Easy to prepare, it's a non-traditional take on a Jewish holiday favorite, and is perfect for breakfast, afternoon tea and especially dessert. The crunchy noodles on top are hard to resist, while the insides are decadent and comforting.
Ingredients
12 ounces (340 grams) extra wide egg noodles
16 ounces sour cream (from one pint container)
15 ounces pureed pumpkin (from one can, not pumpkin pie filling)
2 large eggs, mixed with a fork before adding
1/2 cup maple syrup
1/2 cup (105 grams) light brown sugar
1 teaspoon vanilla
1 teaspoon kosher salt
2 teaspoons ground cinnamon
1/2 teaspoon ground nutmeg
1/4 teaspoon ground cloves
1/4 teaspoon ground allspice
2 large apples, peeled and diced, (about 1½ cups)
Top the Kugel With

1/4 teaspoon ground cinnamon
1½ Tablespoons unsalted butter, cut into small pieces
Instructions
Preheat your oven to 350 degrees Fahrenheit, and coat an 8" x 8" glass baking dish with cooking spray. Bring a large pot of water to boil and cook you noodles one minute less than the package indicates, typically 7-9 minutes.
While your noodles are cooking, in a large bowl combine all of the remaining ingredients (sour cream through allspice,) except the apples. Mix until you have a smooth batter, and then gently stir the apples into the custard.
When the noodles are finished, drain them in a colander. While they sit in the colander, pour your custard into your large pot so that you have more room if you need it, and then gently fold your noodles into your custard. You can do this either in the original mixing bowl, or the pot, whatever is bigger. When all of the noodles are evenly coated, transfer everything into your prepared baking dish.
Sprinkle ¼ teaspoon cinnamon on top of the noodles, and dot the kugel with the small pieces of butter. Cover the entire dish with aluminum foil, and bake for 70 minutes. Remove the foil, and then continue to bake for an additional 30 minutes until the custard is completely set and the noodles on top are slightly crispy and browned.
Cut into squares and serve warm for breakfast, dessert or tea.
Notes
*This yields 9-12 servings.
**The prep time before going in the oven is no more than 15-20 minutes, so even though this will take about two hours from beginning to end, it's mostly unattended baking time.
***This lasts in the refrigerator for five days, but leftovers freeze well, so you can tuck some away for a treat later on.
http://tastyoasis.net/2014/10/13/pumpkin-apple-noodle-kugel/
© Tasty Oasis 2017
Related posts: