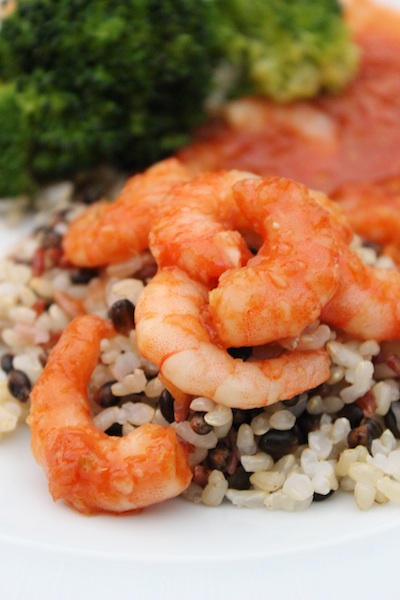 Hangin' in there.
Busy, but good. Trying to figure out the whole balance thing.
Those are the two standard answers I've been giving people lately when they ask, "How're you doing?" And by lately, I mean the last eight years or so. (Yay! Parenthood!) Yeah, sometimes I want to say, "Do you really want to know?" But come on, that's reserved for the close friends and family who already know I'm crazy.  "Hangin' in there" typically means I'm trying to remember that things aren't that difficult and that I need to get some perspective on life, because really, I may feel exhausted or overwhelmed (mostly from my own doing, but that's another story,) but I know I've got to get over myself.  The second line is my more "upbeat response," but even that gives away the fact that I don't have it all under control. (Surprise!) So I'm working towards being at a place in my life where I spontaneously answer, "I'm great! How are you?" I'm getting there…I'm definitely closer than I have been in a long time, but it's taking a conscious effort. It's recognizing and being grateful for the little things, as well as the big ones. (The big ones are too many to list here right now, but being healthy is one at the top.) Little ones are more manageable: chocolate babka with a candle in it delivered bedside on my birthday. A rainy day that let me spend hours reading with my 7 year old. Hearing him cry, "It's not fair!!!! Why does the library have to be closed on Sunday?!?!" Kids that finally sleep through the night. (Which is not such a little thing.) Watching my niece clap her hands and realize she can make a whole room laugh with her. Having a dance party before bedtime. Getting a card from a friend that says "Shitake Happens." Being able to run two miles without stopping. (Again, not feeling little. Maybe even feeling a bit huge.) Getting a haircut. And color…because the grays…oh, the grays.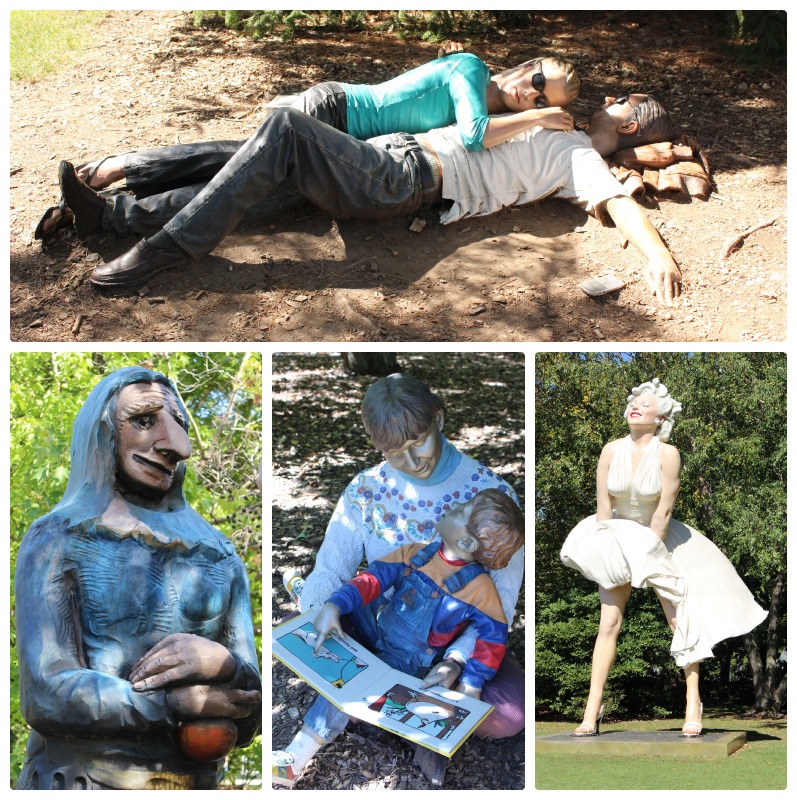 And this weekend I went on an adventure with my guys, even when the list of things to do at home was endless. We've lived in New Jersey for 8 years, but had never been to Grounds for Sculpture down in Trenton. An outdoor sculpture park, they've got an incredible exhibit going on that is a retrospective of the founder Seward Johnson's work. It felt like a summer day, and we spent three hours traipsing around, amazed by what we saw, especially his life-like sculptures. If you live locally, choose a date and go. It's really worth your time.

We pulled back into our neighborhood though at 4:30pm. Worn out and hungry, I knew that the fridge was pretty bare. Needing dinner and fixings for lunches, I braved a quick trip to Trader Joe's. (Let me tell you, as much as I love grocery shopping, Sunday evenings are not fun there.)  So even though it wasn't a work day, I still had the mindset that I needed a fast and easy dinner, because nobody was going to wait patiently while I fussed in the kitchen. It'd been a while since I'd made this sweet and spicy chili shrimp dish, but I knew it took little effort and has a huge payoff in flavor. I grabbed a bag of frozen, pre-cooked shrimp that were already peeled and deveined, an extra knob of fresh ginger, and some limes. Twenty minutes after unpacking the groceries, we were sitting down to eat, that's how simple this meal is. It's a recipe that is only slightly adapted from one Mark Bittman wrote for the New York Times  about street food in Singapore exactly nine years ago. I've been making it ever since,  but I have adjusted the measurements for the sauce so that there is plenty of extra to spoon on top of the brown rice and broccoli I typically serve it with.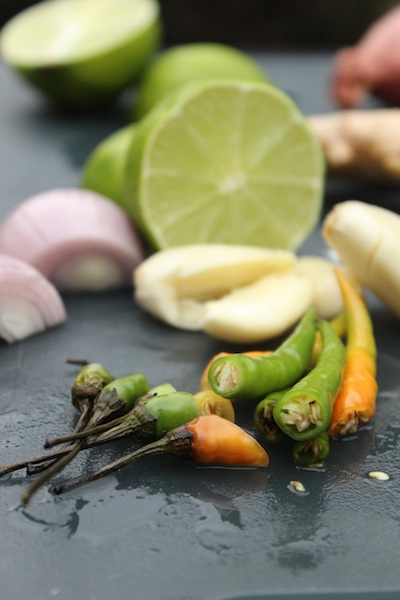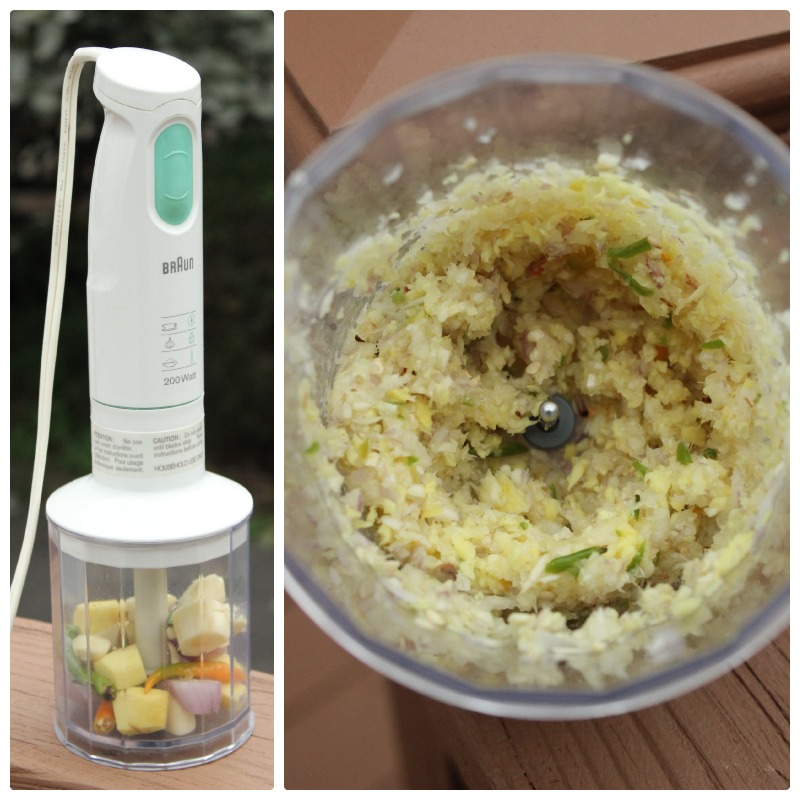 It's spicy, just like the name says, but the tomato gives it a sweetness that's helped along with a little sugar, so don't automatically shy away from it if spice is normally not your thing. Feel free to adjust the amount of chilies you add the first time you make it. Nervous, try one, or three. Feeling braver? Use all five. The lime juice gives it a brightness, and the fish sauce deepens the flavor and isn't overpowering at all.  My little guys puckered their faces a bit with this one, but I got the review "This is definitely blog worthy, Mom!" from the older one, and the little one said, "I need more milk, but I want 16 more pieces!"  And when I asked if they minded eating it again this week so I could take some pictures, I was rewarded with, "PLEASE! I WANT MORE!" I think that's a pretty good sign.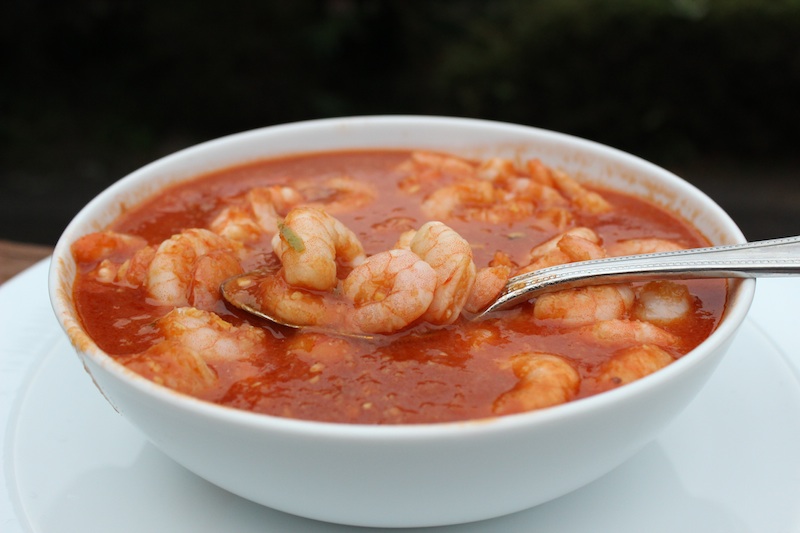 I'm grateful for reliable recipes that get dinner on the table quickly and stress-free, and for a family that will eat whatever I make. (At least most of the time.) It brings comfort to my crazy days, and I hope that by sharing these recipes it does the same for you. And at the end of dinner Sunday night, if someone asked me how I was doing, I would have answered, "I'm great. How are you?"
Sweet and Spicy Chili Shrimp
This Sweet and Spicy Chili Shrimp is fast and easy, and perfect for a weeknight dinner. You can use fresh or frozen shrimp, and in less than 20 minutes you have a bright and flavorful dish that is healthy and beats anything you can get from take out. With enough extra sauce, you'll want to make sure you have some rice and green vegetables to go with it.
Ingredients
3 Tablespoons grapeseed oil (or any other neutral high-flashpoint oil, like canola)
1 4-inch piece of ginger, peeled and cut into chunks
2 shallots, peeled and divided
4 large garlic cloves, peeled
5 Thai chilies, top stems cut off
1/4 cup fresh lime juice (from 2-3 limes)
1/4 cup tomato paste (which is 4 Tablespoons, if that is easier for you)
1/4 cup water
3 Tablespoons sugar
2 Tablespoons Thai fish sauce (nam pla)
4 teaspoons (reduced sodium) soy sauce
1 pound of shrimp, either extra large (31-40 count) OR medium shrimp (70-110 count) depending on preference, peeled and deveined (fresh or frozen is fine)
Instructions
If you are using frozen shrimp, place them in a colander, and run them under room temperature running water to defrost for 3-5 minutes. Peel and devein them if necessary if they are uncooked, but you can leave the tails on. (If they are already cooked and prepped, you've got nothing to worry about.) After running the water and slightly massaging them for a minute or two, simply let the thawing shrimp sit in the colander while you prepare the sauce and they will be defrosted sufficiently by the time the you're ready to add them to the pan.
In a small food processor or blender, mince together the ginger, shallots, garlic, and chilis. (Or just use a knife if that's what you've got.)
In a measuring cup, combine the lime juice, tomato paste, water, sugar, fish sauce, and soy sauce, so that it is ready to go.
Heat 3 Tablespoons of grapeseed oil in large pan over medium high heat. Once it's hot (about a minute,) add the the ginger, shallots, garlic and chili combination and stir it together for 30 seconds. Add in the rest of your sauce ingredients, mixing it together until it is smooth and simmering, about two minutes.
Add your shrimp and toss to coat in the sauce. If you are using fresh or frozen (defrosted) uncooked shrimp, cook for around 5 minutes, or until the shrimp turns pink and before the tails curl in too tightly (which is a sign you've overcooked the little guys.) If you are using already cooked frozen shrimp (defrosted,) you will only need to warm them through, about 2 minutes.
Quickly remove to a bowl so that the shrimp don't continue to cook once you turn the pan off.
Serve with brown rice or farro and a bright green vegetable.
Notes
*This recipe is only slightly adapted from Mark Bittman's Chili Shrimp.
**Serves 4 as a main dish.
***Can't find Thai chilies? Try a half to a whole jalapeno pepper. If you don't like things too spicy, cut back on the chilies and add more next time if you like it. Feeling nervous? Start with 3 and work your way up.
****Frozen shrimp is affordable and convenient. You don't even have to plan ahead to use it, so just start keeping it in your freezer for quick dinners.
*****If you buy frozen pre-cooked brown rice, you can pop it in the microwave and steam some broccoli all before the shrimp is even done.
http://tastyoasis.net/2014/09/29/sweet-and-spicy-chili-shrimp/
© Tasty Oasis 2017
Related posts: