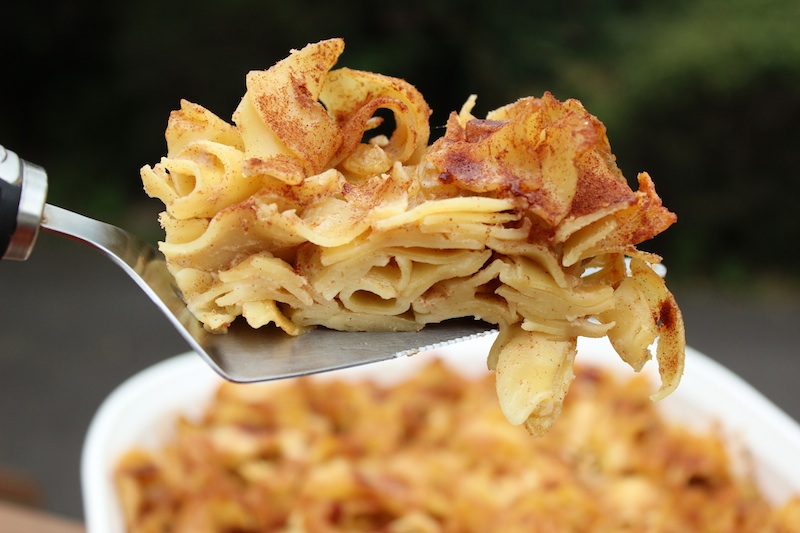 As a kid,  there was always good food in my house:  healthy, nourishing,  and comforting.  But I was never aware of how it came to be.  I have vivid memories of grocery shopping with my mom (two overflowing carts to feed our household of six,)  but very few of her actually cooking  because I didn't participate in it.  She tells me that she spent hours sitting on the kitchen floor pouring over "Gourmet" magazines, looking for recipes when my brothers and I were young,  but it doesn't even sound familiar.  I know in theory that she cooked a Shabbat dinner most Friday nights until I was nine,  but I can't tell you what we had at them. For a family that wasn't very religious, I somehow only remember the special occasion foods she made like brisket and latkes with homemade applesauce at Hanukkah,  harroset (an apple, walnut and red wine mix served during the Seder) at Passover, and one of my very favorites: kugel on Rosh Hashana.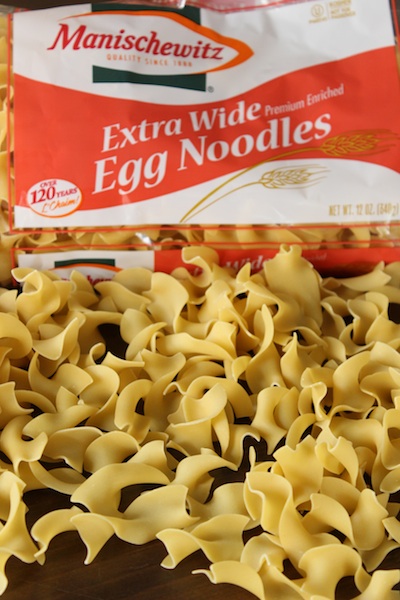 For us, kugel meant a slightly sweetened noodle casserole served as a side dish at the holidays. But as I grew older I learned that kugel means different things to different people. Both noodle "pudding"  and a savory potato version (that's basically a casserole approach to latkes, potato pancakes, hash browns, or whatever you want to call them,) come from Eastern Europe and are a traditional part of Ashkenazi Jewish cooking . There's even a carrot kugel, which we called carrot pudding that looks nothing like pudding at all (at least not in the Bill Cosby Jell-O sort of way,) but more like a bundt cake. It's hard to believe it's in the same category because it doesn't even slightly resemble the kugel I share with you today. (But stick around, because I've got a pretty great recipe for that carrot one and hopefully I'll get to it soon!)  If you want to know even more about kugel, there's a detailed write up about it here.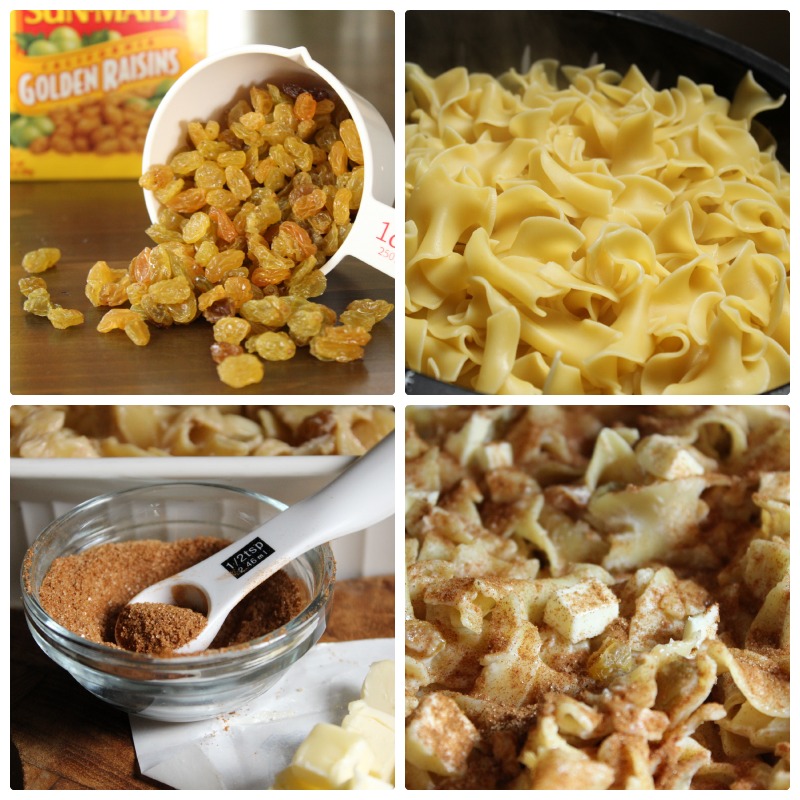 Rosh Hashanah is the Jewish new year, and part of how we celebrate is to eat foods that reflect the wish for sweet beginnings and good things to come in the year ahead. Apples dipped in honey start the night, and honey cake often ends it. But the main meal can incorporate that theme too. Which is why this slightly sweetened noodle pudding is the perfect side dish to serve at the holiday table with brisket or a roasted chicken, or even Spice-Crusted Roasted Salmon. Made with broad egg noodles, it's a bit creamy, with the warmth of cinnamon and a juicy pop from the golden raisins sprinkled throughout. The top gets nicely browned, so not only is it delicious, it's pretty to look at.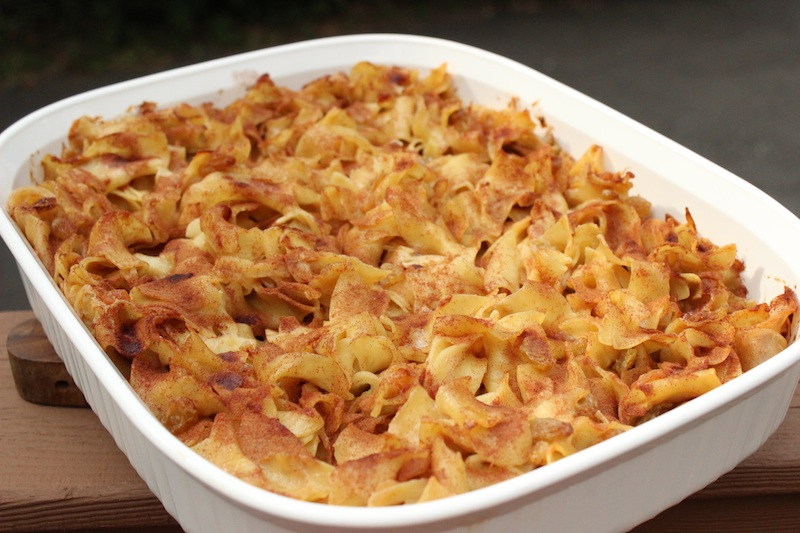 Growing up we called this "Sunny's Kugel," after one of my mom's closest friend's mother. The original recipe was hers, and when I began cooking myself I got nostalgic around the holidays and called home asking my mom for the recipe. She hadn't made it in years, (having gone off dairy almost two decades before,) so she scrambled around looking for where it could have been kept. She came back to the phone, reading off her notes from a faded hand-written card. As luck would have it, the measurements of the ingredients were vague ("small carton of sour cream, cinnamon,") and she didn't have very clear instructions. They looked like:
1. Cook noodles
2. Mix it all together
3. Baking dish-grease
4. Cook 1 hour at 350° or 400°?
It's probably because she'd made it so many times that she hadn't relied on a recipe, but the years that passed made it so she couldn't clarify what to do. Lucky for all of you, I have now made this kugel in my own home for family and friends more times than I can count, and I have taken notes so I can tell you what's needed. I've changed it a bit, lightening it slightly, and cutting much of the sugar, but it still reminds me of happy gatherings around the table.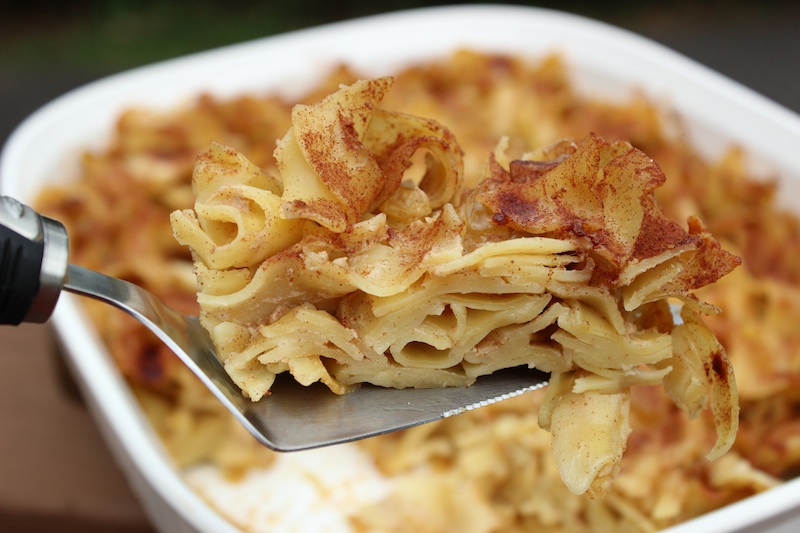 This noodle kugel is versatile and easy to put together. The leftovers make for a great breakfast, or afternoon snack with a cup of coffee, and it's definitely both kid and freezer-friendly, so there's no reason not to make the whole thing. And if you're looking for more options, it's a perfect brunch or potluck dish, and with an extra 1/2 cup of sugar you can even call it dessert!
La'Shana Tova to all who are celebrating this week, and I hope that if you try this warm cinnamon noodle kugel it brings sweetness to your table and the year ahead.
And as always, I'd love to hear if you make it, or if you have any thoughts on holiday cooking. Do you have a favorite holiday dish from your childhood? And do you still make it? I can't wait to see it in the comments below!
Noodle Kugel with Cinnamon and Raisins
This slightly sweetened Noodle Kugel with Cinnamon and Raisins is versatile and easy to put together. Perfect as a holiday side dish, the leftovers make for a great breakfast, or afternoon snack with a cup of coffee. Both kid and freezer-friendly, you can serve it for brunch or bring it to your next potluck, or add a little extra sugar and call it dessert!
Ingredients
For The Main Kugel

2 bags of extra wide egg noodles (24 oz or 680 grams)
2 Tablespoons unsalted butter (look below, you need more for the topping)
16 oz container of reduced fat sour cream
1/2 cup sugar (100 grams)
2 teaspoons ground cinnamon
1 teaspoon kosher salt
1 teaspoon vanilla extract
2 large eggs
1 cup golden raisins
For The Topping

2 Tablespoons unsalted butter, cut into small little cubes, about 1/2 inch in size
1 Tablespoon sugar
1 teaspoon ground cinnamon
Instructions
Preheat the oven to 350° Fahrenheit. Coat a 9"x13" baking dish with cooking spray.
In your largest pot, cook the noodles according to the directions on the package, less one minute so that they're not too soft. (This probably means 7 minutes.) Drain the noodles in a colander and return them to the large pot.
First, stir in the 2 Tablespoons of butter so that they coat the warm noodles, then mix in all of the sour cream, the vanilla, sugar, salt and cinnamon. This will cool your noodles down a bit, so that you can now add in the eggs, one at a time, mixing with a wooden spoon or spatula so that everything is evenly coated. (If you did this first, you would take the risk of them cooking like scrambled eggs against the hot noodles.) Finally, mix in the raisins so they're distributed throughout.
Transfer your noodles to the prepared baking dish. Dot your little butter cubes all over the top of the kugel. Mix your sugar and cinnamon together, and sprinkle all of it equally over the noodles.
Cover the dish loosely with aluminum foil, and bake for 1 hour at 350°F. Serve warm or at room temperature.
Notes
*Yields 10-12 servings as a side dish.
**To freeze, wrap individual portions in plastic wrap and then place in tupperware or a Ziploc freezer bag to grab some time in the next three months.
***Would you rather serve this for dessert? Increase the sugar to 1 cup, and sprinkle on 2 teaspoons of cinnamon mixed with 3 Tablespoons of sugar.
****Full fat sour cream is delicious in this, so feel free to splurge. You can always balance it with the "No Yolks" brand of egg noodles to make yourself feel better!
http://tastyoasis.net/2014/09/21/noodle-kugel-with-cinnamon-and-raisins-2/
© Tasty Oasis 2017
Related posts: