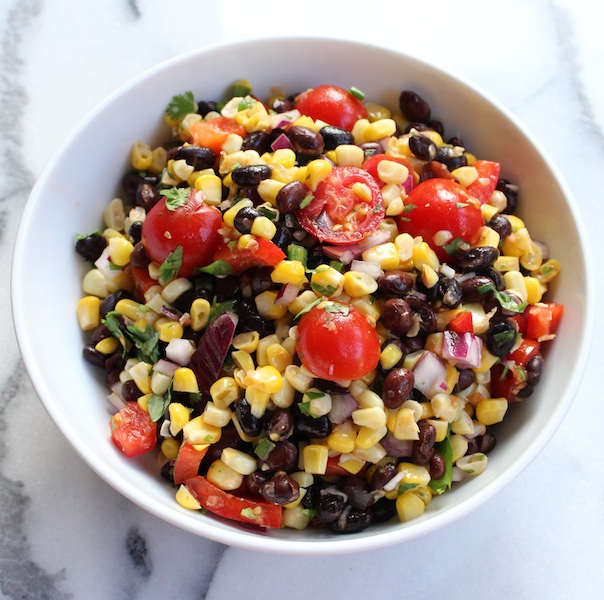 I love when I have time to play in the kitchen, but the truth is I don't always make the time to play. I get wrapped up in my own drama, make a bigger deal out of my schedule than I need to, and sometimes become a deer in the headlights at the thought of everything before me. (How's that for honest?) The truth is my life isn't as complicated as I sometimes think it is, and I know that. But frequently I just need a reminder. So what if I work, have crazy amounts of commuting time, kids that need attention and piles of paper everywhere?  So do most of the people I know. And really, I am lucky to have a career I love, lucky to have a car to commute in and audiobooks to pass the time, lucky as all get out to have my amazing kids, and that paperwork….well, that's just life. And I am lucky that I am a healthy and competent enough person that if I choose to, I can get all those papers under control. (And someday, maybe I will.)
Just like everyone else, I often cook just to get food on the table or ready to pack in lunch bags.  It can get repetitive and boring, unless I make a conscious effort to change things up a little.   Taking a few extra minutes to make a big batch of something colorful and full of flavor can go a long way for my sanity and my happiness.
This Corn and Black Bean Salad is a perfect example of that. Adapted slightly from a recipe in "Cooking Light" from way back in 2003, my oil-stained, ripped magazine page is filed away in my "keepers" binder and is covered with notes of my alterations and who I've served it to.  With garlicky corn, sweet popping tomatoes, a little heat from jalapeños, and a citrus kick, it's versatile and easy to make. It reminds me of summer picnics in the park, and it's something I've brought to potlucks for years, because it can sit out for a while and will taste better and better. You can follow a recipe exactly, or throw whatever vegetables or canned beans you have laying around into the mix. As you can see from the photos, I don't bother stressing over getting everything diced perfectly. My peppers and red onions are any which size, and it doesn't make any difference at all. I'll make a big bowl of this to keep for the week, and use it to jazz up different dishes. It can be my side salad with a turkey burger, I can serve it as a dip with tortilla chips, it can be my filling for a burrito with some cheese and rice thrown in, or I'll just take it to work in tupperware with some mixed greens. (And if you do the same, make sure to put the Corn and Black Bean Salad on the bottom of the tupperware with the greens on top.  Right before eating, shake your container to mix everything around, and your greens won't be all soggy!) It lasts in the fridge for a good five days, which makes life and meal planning so much easier. And we can all use a bit of easy in our lives.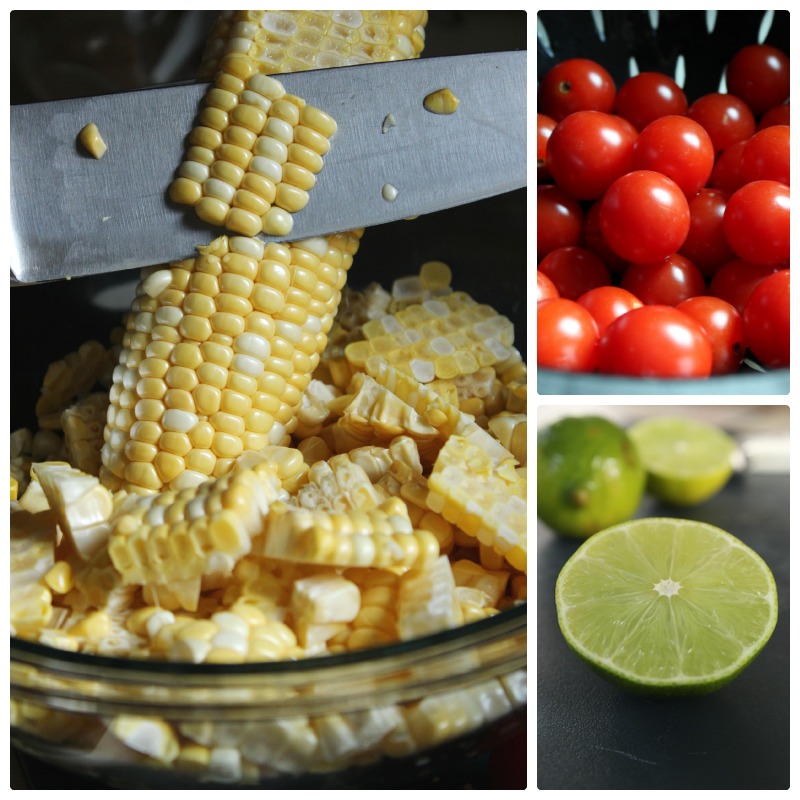 Speaking of easy, if you hate cutting the kernels off an ear of corn, try doing it inside of a bowl. Just stand the cob up and cut downwards, and all the kernels should just collect in the bottom instead of flying all over your kitchen and off of your cutting board.  And if you don't want to break your hand squeezing juice from a lime or lemon, roll them around on the counter for a minute, pressing your palm down hard, or stick them in the microwave for ten seconds, and the juice comes out like a breeze. And I've read some trick about slicing little cherry tomatoes by putting them on a plate in one layer, then covering them with a second plate, face down. You can supposedly take your knife and then insert it in the space between the two plates, and slice all the way across, splitting each and every tomato along the way. It sounds awesome, but I keep forgetting to try it out. Have any of you done this yet? Does it work for you? Please tell me it works!
Oh, and this dressing? So light and good. I use the cumin I've toasted and ground, but regular old store-bought ground cumin is totally fine. Unlike a traditional vinaigrette, the ratio of oil to vinegar/acid is flipped, meaning a whole lot less oil, which makes this an even healthier dressing with a little extra bite. I combine fresh lime juice and red wine vinegar most of the time, but you can substitute lemon juice or any vinegar of your choice, so don't worry if you're missing something.
And that's basically my whole approach in the kitchen: DON'T WORRY if it's not perfect. Just try something different and see if it works. Most of the time it does.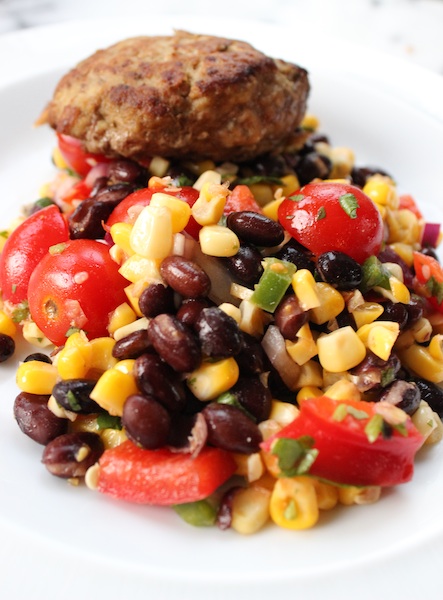 Corn and Black Bean Salad With Cumin-Lime Vinaigrette
Corn and Black Bean Salad with Cumin-Lime Vinaigrette is versatile and easy to make. A healthy dish that lasts in your fridge for a good five days, you can bring it to a picnic, serve it as a dip with chips, a filling for burritos, or as a perfect main dish for your packed lunch. The longer this one sits, the better it tastes.
Ingredients
For the Salad

2 teaspoons extra virgin olive oil
3 garlic cloves, minced
4 ears of corn, shucked and the kernels cut off (about 2.5 cups)
1.5 cups halved grape tomatoes (about 1 pint)
1 cup diced red bell peppers (1 big pepper)
3/4 cup diced red onion (from one medium red onion)
2-3 Tablespoons minced jalapeño pepper (1 pepper stemmed and seeded)
2 (15 oz.) cans of black beans, rinsed and drained
3/4 cup chopped fresh cilantro
For the Dressing

1/4 cup fresh lime juice (from 2 limes)
1/4 cup red wine vinegar
2 Tablespoons extra virgin olive oil
1 Tablespoon ground cumin
1 teaspoon salt
Instructions
Over medium-hight heat, spray a large pan with cooking spray (preferably olive oil) and add the 2 teaspoons of extra virgin olive oil. When it's warm, sauté the garlic for about a minute, making sure that it doesn't brown, but just infuses the oil. Then add in the corn kernels and sauté for 8-10 minutes, stirring periodically so that the corn is slightly browned.
While the corn cooks, combine the rest of your salad ingredients in a large bowl, except for the fresh cilantro which gets added at the end. (I'm normally busy chopping everything during this time, and in those ten minutes it is possible to get most everything else prepped and thrown together.)
Add the warm corn to the bowl, or if you are more patient than I am, you can let it cool first.
In a large measuring cup, whisk all of the ingredients for the dressing together, and then pour it over the salad. Finally add in the fresh cilantro and toss the salad, dressing and cilantro all together.
Enjoy!
Notes
*Adapted slightly from a recipe in Cooking Light, July 2003.
**Try to make this at least an hour before serving, but the night before is even better.
***No fresh corn available? Rest assured I have made this several times with frozen corn; I simply thaw it before sautéing with garlic, and it's still delicious.
****Serves 8 as a side salad, and yields enough to give you multiple meal options all week long.
http://tastyoasis.net/2014/09/08/corn-and-black-bean-salad-with-cumin-lime-vinaigrette/
© Tasty Oasis 2017
Related posts: